On Improving Your Bird Photography
Consider joining me on a BIRDS AS ART Instructional Photo-Tour (IPT). The DeSoto, San Diego, Homer, and the yet-to-be announced July 2023 Jacksonville IPTs, and July 2024 Galapagos Photo-Cruise of a Lifetime, all offer the opportunity for you to dramatically improve your skills both in the field and at the computer and to make some astounding images as well. Click here and see which IPT might be best for you.
What's Up?
I walked early on Saturday morning. Most of the world was covered by thick clouds, but the eastern horizon was dead clear. I headed to the Vulture Trees knowing that I would get to photograph the birds against dark lead-blue skies. I did just that, and came away with 30 nice keepers of perched birds and two very nice flight sequences, one of a Turkey Vulture and one of a Black Vulture. All in all it was a great morning for photography. And yes, the breeze was from the northeast.
Astoundingly, the tree pictured in Image #1 is the very same tree that is picture in Image #2!
Today is Sunday 2 October 2022. Wherever you are, and whatever you are doing, I hope that you too have a great day. This blog post took more than 90 minutes to prepare makes one hundred ninety-one days in a row with a new one.
Please remember to use the B&H and Amazon links that are found on most blog pages and to use the BIRDSASART discount code at checkout when purchasing your new gear from Bedfords to get 3% back on your credit card and enjoy free second-day air FedEx. Please, also, consider joining a BAA IPT. You will be amazed at how much you will learn!
Instagram
Follow me on Instagram here. I am trying to feature both new and old images, especially images that have not appeared recently on the blog. Or search for birds_as_art.
BIRDS AS ART Image Optimization Service (BAA IOS)
Send a PayPal for $62.00 to birdsasart@verizon.net or call Jim at 863-692-0906 and put $62.00 on your credit card. Pick one of your best images and upload the raw file using a large file sending service like Hightail or DropBox and then send me the link via e-mail. I will download and save your raw file, evaluate the exposure and sharpness, and optimize the image as if it were my own after converting the raw file in Adobe Camera Raw. Best of all, I will make a screen recording of the entire process and send you a link to the video to download, save and study.
Induro GIT 304L Price Drop
Amazingly, we have two, brand-new-in-the-box Induro GIT 304L tripods in stock. They are $699.00 each (were $799.00) and the price now includes the insured ground shipping to the lower 48 states. Weekday phone orders only: 863-692-0906. Order yours here while they last.
Please Remember
You can find some great photo accessories (and necessities, like surf booties!) on Amazon by clicking on the Stuff tab on the orange/yellow menu bar above. On a related note, it would be extremely helpful if blog-folks who, like me, spend too much money on Amazon, would get in the habit of clicking on the Amazon logo link on the right side of each blog post when they shop online. As you might expect, doing so will not cost you a single penny, but would be appreciated tremendously by yours truly. And doing so works seamlessly with your Amazon Prime account.
Please remember that if an item — a Delkin flash card, or a tripod head — for example, that is available from B&H and/or Bedfords, is also available in the BAA Online Store, it would be great, and greatly appreciated, if you would opt to purchase from us. We will match any price. Please remember also to use my B&H affiliate links or to earn 3% cash back at Bedfords by using the BIRDSASART discount code at checkout for your major gear purchases. Doing either often earns you free guides and/or discounts. And always earns my great appreciation.
Brand-New and As-Good-As-Ever Bedfords BAA Discount Policy
Folks who have fallen in love with Bedfords can now use the BIRDSASART coupon code at checkout to enjoy a post-purchase, 3% off-statement credit (excluding taxes and shipping charges) on orders paid with a credit card. The 3% credit will be refunded to the card you used for your purchase. Be sure, also, to check the box for free shipping to enjoy free Second Day Air Fed-Ex. This offer does not apply to purchases of Classes, Gift Cards, or to any prior purchases.

Money Saving Reminder
Many have learned that if you need a hot photo item that is out of stock at B&H and would like to enjoy getting 3% back on your credit card along with free 2nd Day Air Fed-Ex Air shipping, your best bet is to click here, place an order with Bedfords, and enter the coupon code BIRDSASART at checkout. If an item is out of stock, contact Steve Elkins via e-mail or on his cell phone at (479) 381-2592 (Central time). Be sure to mention the BIRDSASART coupon code and check the box for Free Shipping. That will automatically upgrade to free 2nd Day Air Fed-Ex. Steve has been great at getting folks the hot items that are out of stock at B&H and everywhere else. The waitlists at the big stores can be a year or longer for the hard-to-get items. Steve will surely get you your gear long before that. For the past year, he has been helping BAA Blog folks get their hands on items like the SONY a 1, the SONY 200-600 G OSS lens, the Canon EOS R5, the Canon RF 100-500mm lens, and the Nikon 500mm PF. Steve is personable, helpful, and eager to please.
Important Note
As an Amazon Associate, I earn a small percentage when you purchase from Amazon after using any of the Amazon links on the blog (including the logo-link on the right side of each blog post page). My affiliate link works fine with Amazon Prime and using it will not cost you a single cent. Huge thanks, BTW 🙂
Gear Questions and Advice
Too many folks attending BAA IPTs and dozens of photographers whom I see in the field and on BPN, are — out of ignorance — using the wrong gear, especially when it comes to tripods and more especially, tripod heads. And the same is true in spades when ordering new camera bodies or lenses. My advice will often save you some serious money and may help you avoid making a seriously bad choice. Please know that I am always glad to answer your gear questions via e-mail. If you are desperate, you can try me on my cell at 863-221-2372. Please leave a message and shoot me a text if I do not pick up.
Sony Cyber-shot DSC-RX10 IV 24-600mm Digital Camera (with extras)
Multiple IPT veteran Bill Schneider is offering a Sony Cyber-shot DSC-RX10 IV Digital Camera with extras for a very low $1049.00. The sale includes the original box, the front lens cover, two extra batteries — (a $54 value each), three in all, a dual battery charger (a $25 value), a Sony 64GB card, and insured ground shipping via major courier to lower-48 US addresses only. Your item will not ship until your check clears unless other arrangements are made.
Please contact Bill via e-mail.
I began bird photography with this great premium super-zoom bridge-camera. It was a great bang for my buck. I was able to get on those small, far away birds, and at the same time, it was a great macro lens. Not to mention everything in between! Anke Frohlich
This super-zoom bridge camera sells new for $1698.00. You can save a handsome $650.00 by grabbing Bill's DSC-RX10 IV now. artie
Providing speed, reach, and versatile recording features, the Cyber-shot DSC-RX10 IV from Sony is a compact solution for the multimedia image-makers. Featuring an updated 20.1MP 1″ Exmor RS BSI CMOS sensor and BIONZ X image processor, the RX10 IV is capable of up to 24 fps shooting at ISO 12800, as well as recording UHD 4K/30p or Full HD 1080/120p video. The sensor's back-illuminated and stacked technologies afford a high degree of image quality with notable clarity and reduced noise to suit working in challenging lighting conditions. Complementing the shooting speed of the sensor and processor combination, this camera also offers a quickened 315-point focal plane phase-detection autofocus system for focus speeds as fast as 0.03 seconds.
Balancing the imaging capabilities, the RX10 IV is also characterized by its 25x ZEISS Vario-Sonnar T* zoom lens, which spans an impressive 24-600mm equivalent focal length range and uses Optical SteadyShot image stabilization to minimize the effects of camera shake by up to 4.5 stops. Its optical design incorporates eight extra-low dispersion elements and six aspherical elements to control a variety of aberrations throughout the zoom range, and its f/2.4-4 maximum aperture range benefits working in low-light conditions.
Rounding out the RX10 IV is its characteristic robust form factor, which includes both a 2.36m-dot OLED electronic viewfinder along with a tilting 3.0″ 1.44m-dot touchscreen LCD. The intuitive design also features three dedicated control rings on the lens-a zoom ring, a manual focus ring, and an aperture ring-and the aperture ring can be de-clicked for smooth, silent aperture adjustments. The magnesium-alloy body is also weather-sealed to permit working in trying environments. Additionally, for sharing and control flexibility, built-in Wi-Fi and Bluetooth are also available for wireless image sharing and remote camera control from a linked smartphone or tablet. Sony & B&H
Canon EF 85mm f/1.2 L USM Lens
John Nelson is offering a Canon 85mm f/1.2 L USM EF-Mount lens in Excellent condition for a very love $699.00. The sale includes the front and rear lens caps, the lens hood, and the lens pouch, and insured ground shipping via major courier to lower-48 US addresses only. Your item will not ship until your check clears unless other arrangements are made.
Please contact John via e-mail.
With a large maximum aperture of f/1.2, this professional lens is one of the fastest telephoto lenses in any class. One aspherical lens element and two high-refraction elements give sharp images with little flare even at maximum aperture. The floating system corrects coma for high image quality. The EF 85mm f/1.2L USM is superlative for portrait and low light shooting; It's a highly acclaimed lens designed to separate creative pros from the crowd. Keh and Canon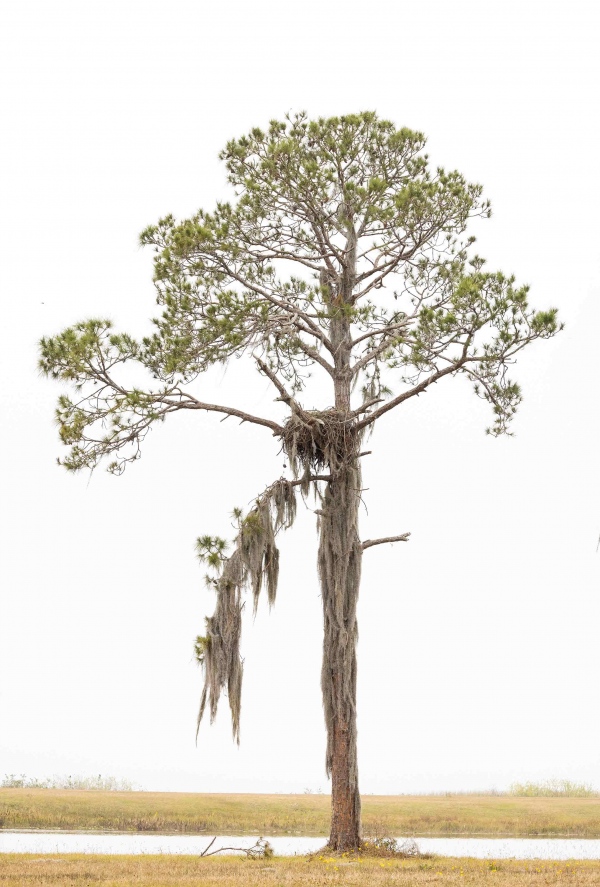 This image was created on 6 February 2021 down by the lake near my home. I used the handheld Canon RF 100-500mm f/4.5-7.1L IS USM lens (at 151mm) and the highly touted 45MP Canon EOS R5 Mirrorless Digital camera body. ISO 1250. Exposure determined via the in-viewfinder histogram and highlight alert evaluation. 1/500 sec. at f/5 in Manual mode. AWB at 8:59.32am on a foggy morning.
AI Servo AF was active at the moment of exposure and performed fine as you would expect.
Click on the image to see a larger version.
Image #1: The eagle nest tree on a foggy morning t

The Winter 2021/2022 Breeding Timetable
After hanging around the nest tree for two years, the ILE eagles began sitting — probably on one egg, in early December 2021. Thirty-five days later, some time in very early January 2022, a tiny white baby Bald Eagle made its way out of the egg. The young bird grew quickly and began exercising its wings in the nest at the end of February. It branched in early March, and made its first flight to a nearby tree during the third week of that month. It hung around the nest for an additional month. I saw it often flying around the South Peninsula and roosting in a pine there as well. I never saw the young bird after mid-April 2022. Since then, the adult eagles have remained in the vicinity of the nest tree. In late September, I saw one of the pair rip a branch off a pine tree and return to the nest with it. And then came Ian.
Destructive Renovation Courtesy of Hurricane Ian
Walking down Banyan on Thursday morning past, I was startled when the eagle nest tree came into view: the main trunk of the big pine tree had been severed just above the nest. If the eagles opt to nest this winter, photography should be spectacular. With most of the canopy gone, the nest is now wide open. I was glad to see both adult eagles at the renovated nest tree on Saturday morning
Mornings with winds with an easterly component, particularly winds from the east or the northeast, should offer fabulous incoming flight photography. I am hoping to create an image of an adult eagle flying in with a Marsh Rabbit in its talons, and one of a young eagle exercising its wings on the perch that the adult eagle in Image #2 was leaving. One can dream.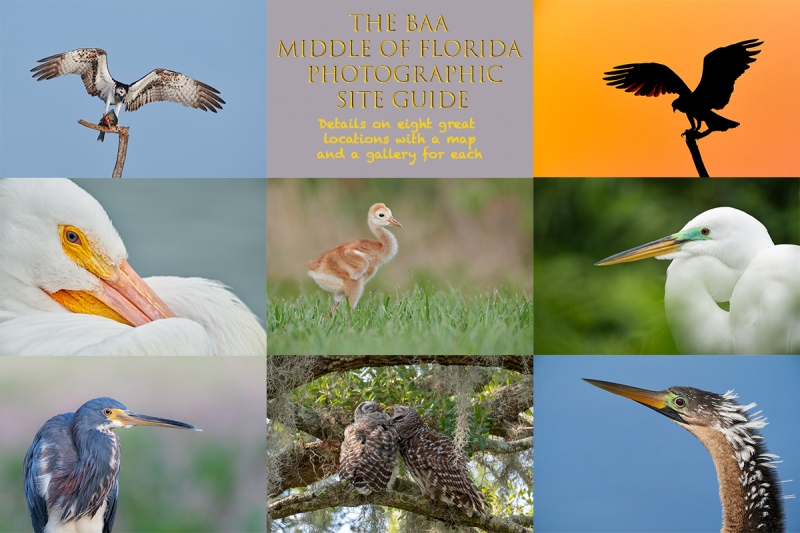 The BAA Middle of Florida Photographic Site Guide
You can purchase your copy here in the BAA Online Store.
The BAA Middle of Florida Photographic Site Guide
126 pages, 87 photographs by Joe Przybyla and Arthur Morris.
The PDF for this e-Guide is an electronic download sent via e-mail.
Purchase your copy here in the BAA Online Store.
I had thought about doing a guide to some of the great but little-known photo hotspots around central Florida for about a decade, but those plans never came to fruition. I met Joe online in the Avian Forum at BirdPhotographer's.Net about two years ago. Joe's photography has improved tremendously over the past few years; he credits the BAA blog, my books and PDFs, and his participation on BPN. The one thing that I learned right from the get-go about Joe is that he is a hard and tenacious worker, always striving to improve his skills and to grow his knowledge base. As he knew of more than a few good spots in central Florida, I broached the idea of us doing a photographic site guide that covered many of the little-known photographic hotspots from Brandon to Lakeland to Joe Overstreet Road to Indian Lake Estates (my Florida home for the past 20 years or so). After more than many, many dozens of hours of effort, The BIRDS AS ART Middle of Florida Photographic Site Guide is now a reality. Thanks to Joe's wife Dottie for her review of our writing. We all learned once again that writing is a process, a back and forth process. All thanks to the white pelicans of Lakeland. Here are the locations that are detailed in this e-Guide:
Indian Lake Estates: Sandhills Cranes with chicks and colts, lots of vultures, and Ospreys up the kazoo!
Gatorland, Kissimmee: Learn to make great images of wading birds in a cluttered rookery.
The Brandon Rookery: Great for nesting Wood Storks, Great Egrets, and more.
Circle Bar B Reserve, Lakeland: Here you will find a great variety of avian subjects in a great variety of habitats.
Lake Morton, Lakeland: There are lots of silly tame birds here including and especially American White Pelican during the colder months.
Lake Mirror, Lakeland: Tame Anhingas, Limpkins, and a zillion White Ibises at times.
West Lake Parker, Lakeland: Here you will have a chance for two difficult birds, Snail Kite, and Purple Gallinule.
Joe Overstreet Road, Kenansville: Crested Caracara, meadowlarks, Loggerhead Shrike, and much more on the fenceposts and barbed wire.
Each location includes a map, a detailed description of the best spots, best season, light and time of day instructions, the expected species, and an educational and inspirational gallery that is designed to open your eyes as to the possibilities.
You can purchase a copy here in the BAA Online Store.
Typos
With all blog posts, feel free to e-mail or to leave a comment regarding any typos or errors.