Please Help Stop a Deadly Killer
Please schedule an annual check-up with your physician. If you do not have a physician, find one by asking neighbors and friends.
If your doctor does not include an a1c test with your blood work, insist that he or she adds it. If they refuse, find a new doctor.
Bob Ries (say "reese") signed up for two full days, on the third DeSoto IPT. He is 52. It was a pleasure working with him. Right off the bat, he shared his story with me. He had quit seeing a doctor for quite some time because he was feeling fine. At age 51, he began having problems with his left eye. In about a week, he lost all vision in that eye. As it turns out, and as many of you have guessed by now, Bob was an undiagnosed Type II diabetic. His a1c was over 12. He saw a doctor and in short order had his blood sugar controlled easily with diet, exercise, and a daily pill.
For the past two years I have been enjoying ice cream once or twice a week. Along with some cookies and a baked potato or two. My a1c had crept up slowly after from ten years at 5.0 (when I was on insulin) to 6.7. Meeting and working with Bob has inspired me to deal more responsibly with my blood sugar.
Coincidentally, I saw my ophthalmologist on Monday for my 9-month checkup. Macula? Perfect. My comprehensive dilated eye exam showed no retinopathy. And last but not least, the pressure in both eyes was normal with no sign of glaucoma. I have been lucky. Now I plan on being good.
If you have been remiss, give your doctor a buzz. And learn your a1c.
What's Up?
Another tropical storm is headed toward the East Coast of Florida and is likely to become a hurricane. It was cool and breezy at ILE today. I swam twice and took a late walk on the golf course. I got lots of work done on my Event Space program. And am finalizing the letter to concerned NANPA members.
Today is Tuesday 8 November 2022. I am thinking of heading over to Circle B Bar Preserve in Lakeland in the morning. Wherever you are, and whatever you are doing, I hope that you too have a great day. This blog post took about an. hour to prepare and makes two hundred twenty-six days in a row with a new one.
Please remember to use the B&H and Amazon links that are found on most blog pages and to use the BIRDSASART discount code at checkout when purchasing your new gear from Bedfords to get 3% back on your credit card and enjoy free second-day air FedEx. Please, also, consider joining a BAA IPT. You will be amazed at how much you will learn!
You can find some great photo accessories (and necessities, like surf booties!) on Amazon by clicking on the Stuff tab on the orange/yellow menu bar above. On a related note, it would be extremely helpful if blog-folks who, like me, spend too much money on Amazon, would get in the habit of clicking on the Amazon logo link on the right side of each blog post when they shop online. As you might expect, doing so will not cost you a single penny, but would be appreciated tremendously by yours truly. And doing so works seamlessly with your Amazon Prime account.
Please remember that if an item — a Delkin flash card, or a tripod head — for example, that is available from B&H and/or Bedfords, is also available in the BAA Online Store, it would be great, and greatly appreciated, if you would opt to purchase from us. We will match any price. Please remember also to use my B&H affiliate links or to earn 3% cash back at Bedfords by using the BIRDSASART discount code at checkout for your major gear purchases. Doing either often earns you free guides and/or discounts. And always earns my great appreciation.
Brand-New and As-Good-As-Ever Bedfords BAA Discount Policy
Folks who have fallen in love with Bedfords can now use the BIRDSASART coupon code at checkout to enjoy a post-purchase, 3% off-statement credit (excluding taxes and shipping charges) on orders paid with a credit card. The 3% credit will be refunded to the card you used for your purchase. Be sure, also, to check the box for free shipping to enjoy free Second Day Air Fed-Ex. This offer does not apply to purchases of Classes, Gift Cards, or to any prior purchases.

Money Saving Reminder
Many have learned that if you need a hot photo item that is out of stock at B&H and would like to enjoy getting 3% back on your credit card along with free 2nd Day Air Fed-Ex Air shipping, your best bet is to click here, place an order with Bedfords, and enter the coupon code BIRDSASART at checkout. If an item is out of stock, contact Steve Elkins via e-mail or on his cell phone at (479) 381-2592 (Central time). Be sure to mention the BIRDSASART coupon code and check the box for Free Shipping. That will automatically upgrade to free 2nd Day Air Fed-Ex. Steve has been great at getting folks the hot items that are out of stock at B&H and everywhere else. The waitlists at the big stores can be a year or longer for the hard-to-get items. Steve will surely get you your gear long before that. For the past year, he has been helping BAA Blog folks get their hands on items like the SONY a 1, the SONY 200-600 G OSS lens, the Canon EOS R5, the Canon RF 100-500mm lens, and the Nikon 500mm PF. Steve is personable, helpful, and eager to please.
Important Note
As an Amazon Associate, I earn a small percentage when you purchase from Amazon after using any of the Amazon links on the blog (including the logo-link on the right side of each blog post page). My affiliate link works fine with Amazon Prime and using it will not cost you a single cent. Huge thanks, BTW 🙂
Gear Questions and Advice
Too many folks attending BAA IPTs and dozens of photographers whom I see in the field and on BPN, are — out of ignorance — using the wrong gear, especially when it comes to tripods and more especially, tripod heads. And the same is true in spades when ordering new camera bodies or lenses. My advice will often save you some serious money and may help you avoid making a seriously bad choice. Please know that I am always glad to answer your gear questions via e-mail. If you are desperate, you can try me on my cell at 863-221-2372. Please leave a message and shoot me a text if I do not pick up.
Catching Up, in Reverse
Lots of Fishing But Not Much Catching
In yesterday's "Lots of Fishing But Not Much Catching" blog post here, my favorite image was #3, the T-shot. One commenter summed up my thoughts exactly:
Milinda Nonis
November 8, 2022 at 1:52 am
I will go with No:3. Like the symmetry, the exposure, and the clouds.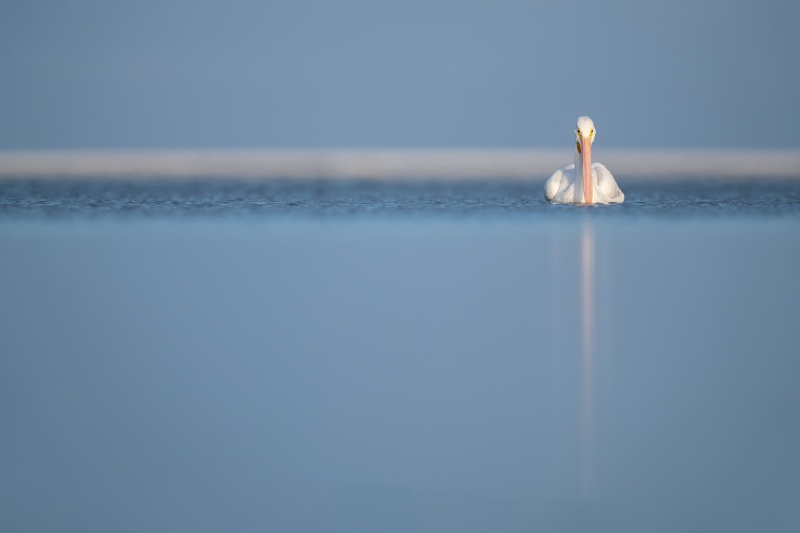 This image was also created on 3 November 2022, the wonderful fourth morning of the third DeSoto IPT. Again, while seated in six inches of water, I used the foot-pod technique (with some trepidation) with the handheld Sony FE 400mm f/2.8 GM OSS lens
the Sony FE 1.4x Teleconverter, and The One, the Sony Alpha 1 Mirrorless Digital Camera). The exposure was determined via Zebra technology with ISO on the Thumb Dial. ISO 400. 1/2500 sec. at f/4 (wide open) in Manual mode. When evaluated in RawDigger, the raw file exposure was determined to be perfect. AWB at 8:37:22am on a sunny morning.
Tracking: Spot S/AF-C with Bird Face/Eye detection enabled performed perfectly. Be sure to click on the image to enjoy a high-res version.
Image #8: American White Pelican — small-in-the-frame swimming with its reflection

Your browser does not support iFrame.
Blog Post to Inspire Your Compositional Creativity
In the very popular Blog Post to Inspire Your Compositional Creativity here, my very favorite image was #8, above. My runner-up was #7. I really get juiced by the ultra-low perspective images. Both #8 and #7 were made using the foot-pod technique with the wavelets lapping against the lens hood of my 400mm f/2.8 GM lens.
Adam
November 5, 2022 at 1:43 pm
Image 8 is my favorite for the composition and use of negative space. Fantastic image and perspective in all respects.
Craig Elson
November 6, 2022 at 12:19 pm
#2 and #8 for me as well Artie, and I will take #8 for top billing. The low angle, the layering, the compression of space, the exaggerated reflection of the bill and the composition all come together to create a brilliant image.
David Pugsley
November 5, 2022 at 7:53 pm
My favorites are 2 and 8. If I had to pick one I'd take 8. I believe your favorite bird in 7 is the one doing the head throw to the left.
The Jackpot Question Answers
Several folks correctly assumed that I did not like the merge of the wings of two pelicans on our right in Image #4. Somewhat ironically, several folks really liked Image #2. That was the second image in the really-bugged-me category. Why? When the bird was in the perfect position with regards to the vegetation, the pelican's head was (and still is) turned about one degree away. I had fired a burst of about eight images at the right moment and the head angle was the same in each one. 🙁
The Out-of-Focus Vegetation
While several folks did not like the out-of-focus vegetation in Images #1 and #2, others picked #2 as one of the two best. #1, with the pink/purple/blue water, was my third pick.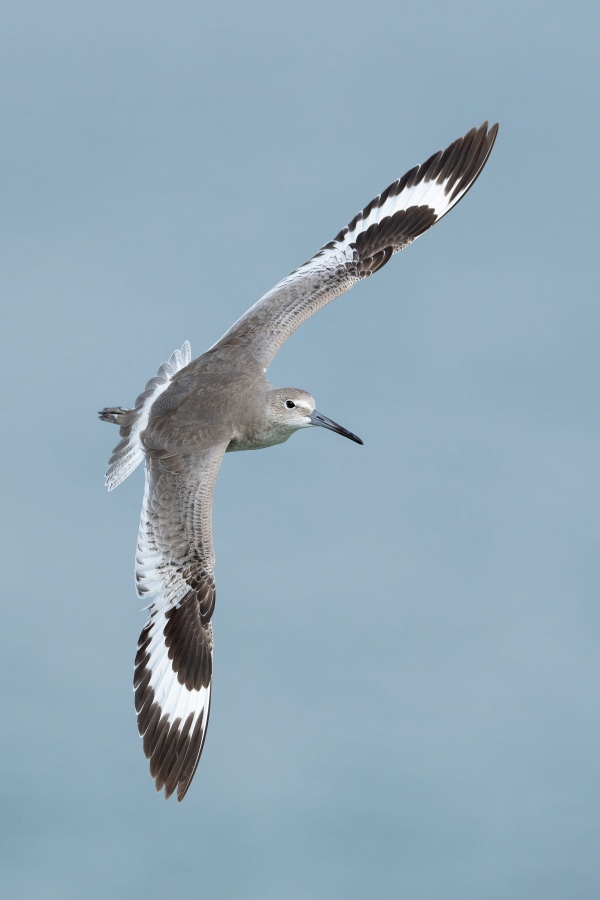 This, the same image flopped, image was created on the computer.
Image #2: Willet in flight banking to land/flopped
Your browser does not support iFrame.
Beating the Dead Horse. Is Flopped Better?
In the "Beating the Dead Horse. Is Flopped Better?" here, you were given a choice between a Willet banking from our right to left and the same image flopped with the bird flying from our left to right. I have always been a member of the it-doesn't-matter/birds-don't-read club, but the funny thing is, I liked Image #2, above, better.
David Pugsley
November 4, 2022 at 12:31 pm · Reply · Edit
I prefer #2. Likely for the simple reason that we read left to right. It just makes more sense to my conditioned brain.
I've Been Thinking
I've been thinking about rotating the image above about 15-20 degrees counter-clockwise. What do you think about having the bird more vertical in the frame?
Typos
With all blog posts, feel free to e-mail or to leave a comment regarding any typos or errors.