What's Up?
Again, not much. I swam a mile — 44 lengths in the morning, and then 44 more in the afternoon.
Many wonder why I spend so much time watching every NFL game on TV (courtesy of Direct TV's NFL Package). The ending of the Buffalo Bill/Minnesota Vikings game was far beyond remarkable. The Vikings had trailed 27-10 in the third quarter. With two minutes to go and the Vikings trailing by only four, Justin Jefferson made one of the all-time great catches, stealing the ball from a Bills' cornerback with one hand while crashing to the ground and controlling the ball. You can see that catch at the beginning of the video here. On the ensuing Minnesota drive, Justin Jefferson apparently won the game with a catch that was ruled a touchdown. But they ruled him down just short of the goal line.
It looked as if the Vikings would score to win the game, but the Bills stuffed a quarterback sneak from the 1/2-yard line. The Bills win! Or not? Bill's QB Josh Allen fumbled the snap on the next play and a Minnesota player fell on it for the game-winning touchdown. Or not? After the kickoff, Kelly moved the Bills down the field in less than forty seconds for a game-tying field goal (benefitted by a bad call on a bobbled catch). In overtime, the Vikings drove the length of the field on a six-minute 16-second drive that stalled on the 15-yard line. They kicked the go-ahead field goal with 3:44 left in overtime. The Bills answered with a drive of their own and were in position on the 20-yard line to win the game with a touchdown or settle for a game-tying field goal. Watch the video to the end to see the stunning conclusion to the NFL game of the year.
Yesterday's Post
Of yesterday's featured images, I'd have to agree with Jim Saxon:
James Saxon/November 14, 2022 at 3:37pm
I don't think I can pick a favorite considering that from the beginning to end they all tell a story about survival. I like the sequence and feel you need all images to tell the story. #3 is my favorite because of the amount of snake still visible which provides a sense of scale with the heron's prey. Thanks for sharing the entire sequence.
Today is Tuesday 15 November 2022. I got lots accomplished yesterday but still have tons more work to do on the urgent and ongoing problems at NANPA (North American Nature Photography Association). This blog post took about 90 minutes to prepare and makes two hundred thirty-three days in a row with a new one. Wherever you are and whatever you are doing, I hope that you too have a great day.
Please remember to use the B&H and Amazon links that are found on most blog pages and to use the BIRDSASART discount code at checkout when purchasing your new gear from Bedfords to get 3% back on your credit card and enjoy free second-day air FedEx. Please, also, consider joining a BAA IPT. You will be amazed at how much you will learn!
You can find some great photo accessories (and necessities, like surf booties!) on Amazon by clicking on the Stuff tab on the orange/yellow menu bar above. On a related note, it would be extremely helpful if blog-folks who, like me, spend too much money on Amazon, would get in the habit of clicking on the Amazon logo link on the right side of each blog post when they shop online. As you might expect, doing so will not cost you a single penny, but would be appreciated tremendously by yours truly. And doing so works seamlessly with your Amazon Prime account.
Please remember that if an item — a Delkin flash card, or a tripod head — for example, that is available from B&H and/or Bedfords, is also available in the BAA Online Store, it would be great, and greatly appreciated, if you would opt to purchase from us. We will match any price. Please remember also to use my B&H affiliate links or to earn 3% cash back at Bedfords by using the BIRDSASART discount code at checkout for your major gear purchases. Doing either often earns you free guides and/or discounts. And always earns my great appreciation.
Some days are stones. Except when they are not!
Wednesday past was totally boring as compared to Tuesday past. I walked for almost three hours without much to show for my efforts. Then, at the four-trail intersection, I came across the great blue that fishes there regularly. And then the fun began.
Why the Rig Change?
On the previous day, I had killed with the lighter albeit slower by four clicks Sony 200-600mm lens on a lightweight tripod. Yet the next day, I switched tracks and carried the heavier 400mm f/2.8 GM lens with the 1.4X TC and the monopod. Why the change? On Wednesday, the first morning, the skies were partly cloudy with hints of blue. So, I knew that I would have a decent amount of light to work with. On that excellent morning I had one GBH with the armored catfish carcass, and one with the snake. In between, I added the 1.4X TC to work two different backlit Anhingas. But on Thursday, 9 November, the skies were solidly cloudy when I arrived. Therefore, going with the 400 f/2.8 and the 1.4X TC, I would have four clicks more light: f/4 as compared to f/6.3. That yields four clicks less ISO. Again, my instincts turned out to be perfect.
Armored Catfish
There are three invasive species of Armored Catfish in Florida. They are almost impossible to exterminate. They displace native species, can cause severe bank erosion, and harass and cause problems for the manatees.
Living and Learning from Mistakes
On 8 November, I went with 1/500 sec as my minimum shutter speed when working the GBH subduing the snake. That was not fast enough to freeze the action when the bird shook the snake violently. So, the next day, with a faster rig, I upped that to 1/1000 second when photographing the great blue trying to kill and swallow the catfish. The change in strategy paid off with one very special image (out or more than 200).
The Background Clean-Up
During the raw conversion I upped the Luminosity of the GREENs and the YELLOWs on the Color Mixer tab. That had the effects of softening the background. But I found some of the stuff in background around the prey item to be distracting. To clean those up, I used my usual cadre of clean-up tools and techniques. Those included the Clone Stamp Tool (used in conjunction with Divide and Conquer), the Patch Tool, the Spot Healing Brush, Content-Aware Fill, a series of small Quick Masks refined by the addition of a Regular Layer Mask, and Protect and Defend Cloning on a Layer. (The latter is found only in the original Digital Basics.)
Lastly, I applied a layer of Gaussian Blur to the whole image, added a Hide-All (Black, or Inverse layer mask), and painted in the effects at 33% increments as needed to smooth over my clean-up efforts.
While the optimized version maintains the natural history of the moment, it looks a heck of a lot better to me.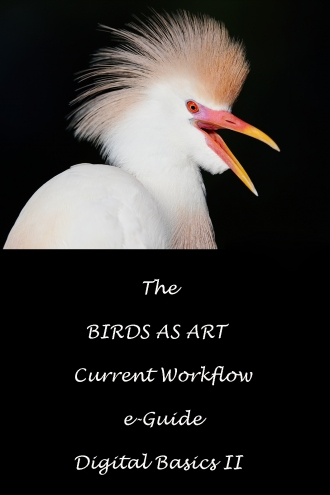 The BIRDS AS ART Current Workflow e-Guide (Digital Basics II).
You can order your copy from the BAA Online Store here, by sending a PayPal for $40 here, or by calling Jim or Jennifer weekdays at 863-692-0906 with your credit card in hand. Be sure to specify Digital Basics II.
The BIRDS AS ART Current Workflow e-Guide (Digital Basics II)
The techniques mentioned above and tons more great Photoshop tips and techniques — along with my complete digital workflow, Digital Eye Doctor Techniques, and all my personalized Keyboard Shortcuts — are covered in detail in the BIRDS AS ART Current Workflow e-Guide (Digital Basics II), an instructional PDF that is sent via e-mail. Note: folks working on a PC and/or those who do not want to miss anything Photoshop may wish to purchase the original Digital Basics along with DB II while saving $15 by clicking here to buy the DB Bundle.
Folks who learn well by following along rather than by reading can check out the complete collection of MP 4 Photoshop Tutorial Videos by clicking here. Note: most of the videos are now priced at an amazingly low $5.00 each.
You can learn how and why I converted all of my Canon digital RAW files in DPP 4 in the DPP 4 RAW Conversion Guide here. More recently, I became proficient at converting my Nikon RAW (NEF) files in Adobe Camera Raw. About three years ago I began converting my Nikon and Sony RAW files in Capture One and did that for two years. You can learn more about Capture One in the Capture One Pro 12 Simplified MP4 Video here. The next step would be to get a copy of Arash Hazeghi's "The Nikon Photographers' Guide to Phase One Capture One Pro e-Guide" in the blog post here. Today, I convert my Sony raw files in Photoshop with Adobe Camera Raw.
You can learn advanced Quick Masking and advanced Layer Masking techniques in APTATS I & II. You can save $15 by purchasing the pair.
Typos
With all blog posts, feel free to e-mail or to leave a comment regarding any typos or errors.