What's Up?
Again, not much. I swam a mile — 48 lengths in the morning and that was about it as I had to run into town to do some errands.
Today is Wednesday 16 November 2022. I got lots accomplished yesterday but still have tons more work to do on the urgent and ongoing problems at NANPA (North American Nature Photography Association). In addition, I began working on my next B&H Event Space program. Details on that tomorrow. This blog post took about 90 minutes to prepare and makes two hundred thirty-four days in a row with a new one. Wherever you are and whatever you are doing, I hope that you too have a great day.
Please remember to use the B&H and Amazon links that are found on most blog pages and to use the BIRDSASART discount code at checkout when purchasing your new gear from Bedfords to get 3% back on your credit card and enjoy free second-day air FedEx. Please, also, consider joining a BAA IPT. You will be amazed at how much you will learn!
You can find some great photo accessories (and necessities, like surf booties!) on Amazon by clicking on the Stuff tab on the orange/yellow menu bar above. On a related note, it would be extremely helpful if blog-folks who, like me, spend too much money on Amazon, would get in the habit of clicking on the Amazon logo link on the right side of each blog post when they shop online. As you might expect, doing so will not cost you a single penny, but would be appreciated tremendously by yours truly. And doing so works seamlessly with your Amazon Prime account.
Please remember that if an item — a Delkin flash card, or a tripod head — for example, that is available from B&H and/or Bedfords, is also available in the BAA Online Store, it would be great, and greatly appreciated, if you would opt to purchase from us. We will match any price. Please remember also to use my B&H affiliate links or to earn 3% cash back at Bedfords by using the BIRDSASART discount code at checkout for your major gear purchases. Doing either often earns you free guides and/or discounts. And always earns my great appreciation.
Brand-New and As-Good-As-Ever Bedfords BAA Discount Policy
Folks who have fallen in love with Bedfords can now use the BIRDSASART coupon code at checkout to enjoy a post-purchase, 3% off-statement credit (excluding taxes and shipping charges) on orders paid with a credit card. The 3% credit will be refunded to the card you used for your purchase. Be sure, also, to check the box for free shipping to enjoy free Second Day Air Fed-Ex. This offer does not apply to purchases of Classes, Gift Cards, or to any prior purchases.

Money Saving Reminder
Many have learned that if you need a hot photo item that is out of stock at B&H and would like to enjoy getting 3% back on your credit card along with free 2nd Day Air Fed-Ex Air shipping, your best bet is to click here, place an order with Bedfords, and enter the coupon code BIRDSASART at checkout. If an item is out of stock, contact Steve Elkins via e-mail or on his cell phone at (479) 381-2592 (Central time). Be sure to mention the BIRDSASART coupon code and check the box for Free Shipping. That will automatically upgrade to free 2nd Day Air Fed-Ex. Steve has been great at getting folks the hot items that are out of stock at B&H and everywhere else. The waitlists at the big stores can be a year or longer for the hard-to-get items. Steve will surely get you your gear long before that. For the past year, he has been helping BAA Blog folks get their hands on items like the SONY a 1, the SONY 200-600 G OSS lens, the Canon EOS R5, the Canon RF 100-500mm lens, and the Nikon 500mm PF. Steve is personable, helpful, and eager to please.
Important Note
As an Amazon Associate, I earn a small percentage when you purchase from Amazon after using any of the Amazon links on the blog (including the logo-link on the right side of each blog post page). My affiliate link works fine with Amazon Prime and using it will not cost you a single cent. Huge thanks, BTW 🙂
Gear Questions and Advice
Too many folks attending BAA IPTs and dozens of photographers whom I see in the field and on BPN, are — out of ignorance — using the wrong gear, especially when it comes to tripods and more especially, tripod heads. And the same is true in spades when ordering new camera bodies or lenses. My advice will often save you some serious money and may help you avoid making a seriously bad choice. Please know that I am always glad to answer your gear questions via e-mail. If you are desperate, you can try me on my cell at 863-221-2372. Please leave a message and shoot me a text if I do not pick up.
The Next Keeper
I created today's featured image nearly three minutes after the heron had tossed the catfish in the air. I had turned the camera to vertical, but the first few frames were not very successful as the bird had stooped forward. I was, however, duly rewarded when the bird stood tall and tipped its head back.
I should have mentioned yesterday that I was able to lean against a tall post to steady the monopod. Tripods will always be more solid than monopods, but their lighter weight and portability are very attractive to the elderly (and to others as well).
The background clean-up for today's image was less extensive than it was for yesterday's.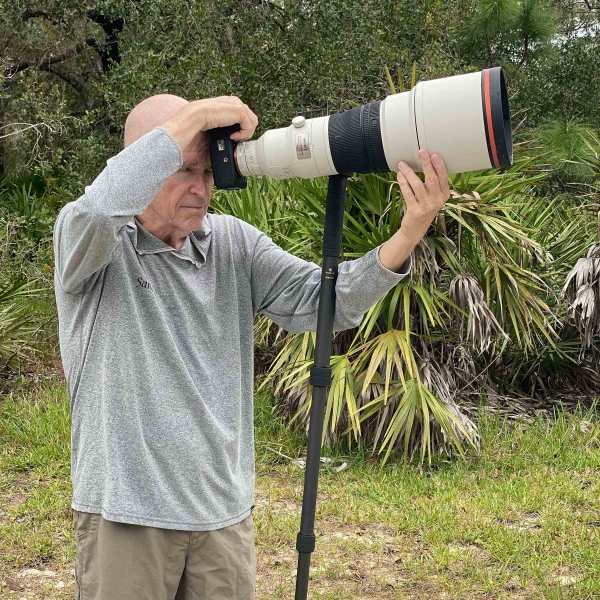 iPhone photo by Jim Litzenberg
Image #2: The traditional over-the top grip for shooting verticals
The Traditional Over-the-top Grip for Shooting Verticals
If you are on a tripod and not using a vertical grip with the camera controls, the traditional approach to shooting verticals is to rotate your telephoto lens counterclockwise in the tripod collar. This places your hand above the camera as seen in Image #2 above. I quickly realized that when you are working off a monopod that the traditional approach increases the height of the rig. You might say that increases the length of the lever-arm and creates additional instability.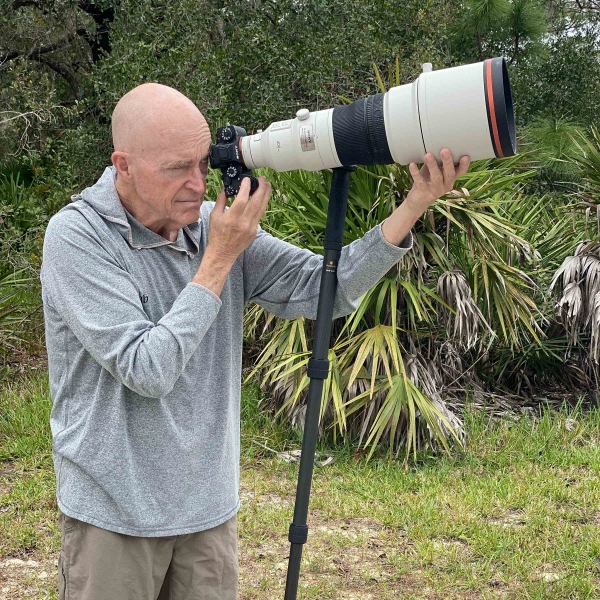 iPhone photo by Jim Litzenberg
Image #3: The non-traditional hand-below grip for shooting verticals
Building the Better Mouse Trap
Rather than deal with the instability that resulted from using the traditional over-the-top grip for shooting verticals, I experimented by rotating the lens clockwise in the tripod collar. This made the whole set-up shorter, reduced the length of the lever-arm, and made the monopod rig much steadier. Thinking back, I can recall using the same approach with a big lens on a tripod when another photographer was behind and slightly to my right. Rotating the lens clockwise will get your elbow out of their shot when the going is tight.
Note that in Images #2 and 3 that the monopod is resting against the inside of my left elbow. That to further increase stability.
Typos
With all blog posts, feel free to e-mail or to leave a comment regarding any typos or errors.