What's Up?
I received this e-mail from Pat Fishburne yesterday.
Dear Friends and Family:
Shortly after Hurricane Ian destroyed our home, Stokes fell and broke his hip. He had hip surgery, but at 86, his health declined rapidly thereafter. He entered Hospice Care on Nov 7th and died this morning. His passing was very peaceful, for which we are grateful.
Denise was with us for three weeks, leaving this past Sunday. Michelle arrived on Saturday and will be here until February. They have been a tremendous help and a comforting presence for both Stokes and me.
I hope you will join me in celebrating the life of this brilliant, kind man with whom I was fortunate enough to share my life with for almost 66 years. I am so very grateful, as are Michelle, Denise, Alex and Kristin.
Fondly,
Pat
Today is Friday 2 December. With Stokes' passing, the world will not be quite as warm a place as it had been for the past eight decades. Condolences to Pat and the girls and to all who knew Stokes.
Circle — Harry Chapin
Click here to play the video.
Suggestion: read the words below while considering your life, those you've known, those you've loved, and those you've lost.
All my life's a circle;
Sunrise and sundown;
Moon rolls thru the nighttime;
Till the daybreak comes around.
All my life's a circle;
But I can't tell you why;
Season's spinning round again;
The years keep rollin' by.
It seems like I've been here before;
I can't remember when;
But I have this funny feeling;
That we'll all be together again.
No straight lines make up my life;
And all my roads have bends;
There's no clear-cut beginnings;
And so far no dead-ends.
I found you a thousand times;
I guess you done the same;
But then we lose each other;
It's like a children's game;
As I find you here again;
A thought runs through my mind;
Our love is like a circle;
Let's go 'round one more time.
I found you a thousand times;
I guess you done the same;
But then we lose each other;
It's like a children's game
Harold Forster Chapin (December 7, 1942 – July 16, 1981) was an American singer-songwriter and philanthropist best known for his folk rock and pop rock songs. His band did Circle at every concert. The band donated a ridiculously large part of their earnings to various world hunger projects. The most ironic verse above is And so far no dead-ends. Why? Harry died in a car crash on the Long Island Expressway on the way to perform at a free benefit concert at Eisenhower Park in East Meadow, in 1981.
Harry's most popular song was Cat's in the Cradle, but his lifelong fans are enamored by his various story songs, most of which received little air play. In the amazingly interesting Wikipedia article linked to above, I learned that Harry attended Brooklyn Technical High School (as I did), and that in 1968 (four years after I graduated Tech), he directed Legendary Champions, a boxing documentary that was nominated for an Academy Award.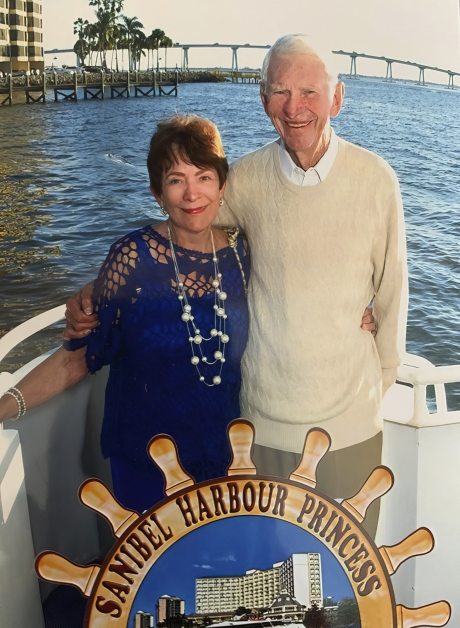 Pat and Stokes Fishburne two years ago celebrating their 63rd wedding anniversary
One of the many great things in my life …
One of my many blessings along the road have been meeting some really great folks who have become lifelong friends. Pat and Stokes are just two of many. We met of course, on an IPT, more than twenty years ago. They came on many more – ten in all, many twice. The first to Southwest Florida, was the year before they left on a seven year motorhome odyssey. Their favorite IPT by far was a Galapagos Photo-Cruise. Pat, who will be 84 in March, and Stokes, who would have been 86 in February, are two of the nicest, sweetest people you could ever hope to meet.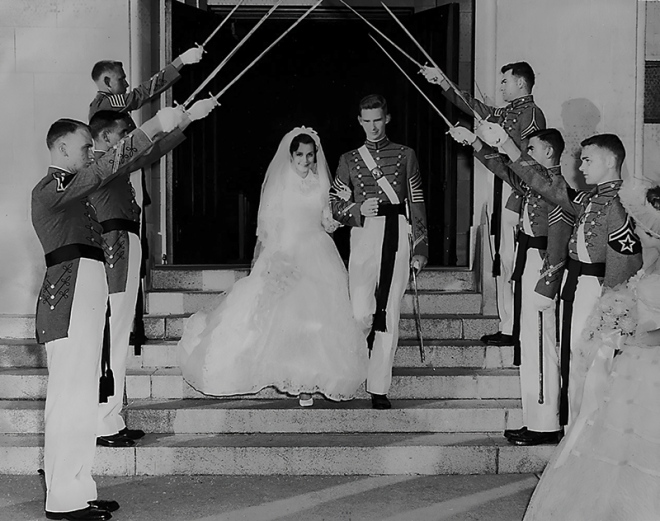 Pat and Stokes (formal) wedding ceremony
A Strikingly Beautiful Image From More Than 60 Years Ago
I think that even if you have never met Stokes and Pat, this image would touch you deeply. So much tradition. So much beauty. They eloped on Dec. 31, 1956, but when Stokes graduated in June 1957, they had a formal wedding at the Citadel Chapel. The Citadel — The Military College of South Carolina, commonly known simply as The Citadel, is a military college in Charleston, South Carolina. Amazingly, Pat's warm smile has not changed one bit over the years.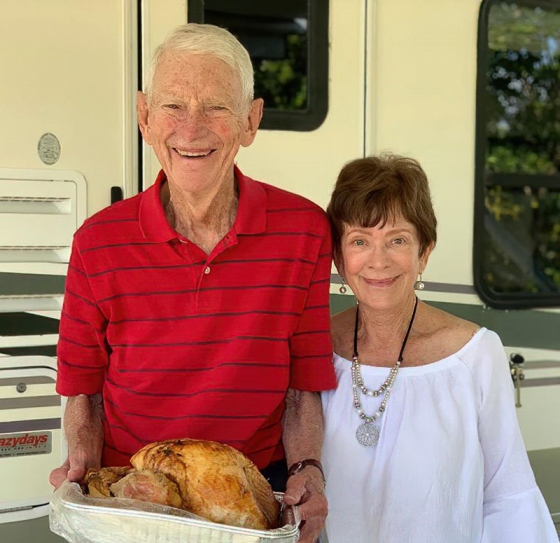 Pat and Stokes at Thanksgiving 2020
Ordinary People; Extraordinary Lives
Stokes wanted to be a pilot in the Air Force, but when he attended ROTC camp the summer before his senior year, they did an in-depth medical exam and discovered that he was profoundly color blind and had severe hearing loss. As you might imagine, that was the end of his military career and his dreams of becoming a pilot. After reading the Wikipedia article on The Citadel (link above), I asked Pat — already knowing the answer — if Stokes had ever gotten any Demerits. She replied, Stokes was on the Regimental Command in his senior year — you don't get that kind of job if you had any demerits.
After graduating from The Citadel, Stokes got a Ph.D. from Ohio State University where he was involved in running the Rocket Research Lab at Ohio State University. After Stokes got his Ph.D. at Ohio State, he became the Deputy Director of the Lab. Then, he went to work at Bethpage, Long Island with Grumman Aircraft, the manufacturer of the lunar excursion module. When Stokes went into work on the morning after the Apollo 13 problem occurred, NASA called to say they had three hours to help figure out how to bring the astronauts back to earth. Stokes and his partner, Dick Oman, used slide rulers (not computers!) to do the needed calculations.
I did an article for Bird Watcher's Digest many years ago entitled Hummingbird Hosts about Wally and Marion Patton. The Pattons invited folks into their Patagonia, Arizona backyard to watch the hummers at their feeders. When I interviewed Wally I learned that he ran a lost wax foundry that made parts for gyroscopes used in the lunar excursion modules! Indeed, all our lives are circles.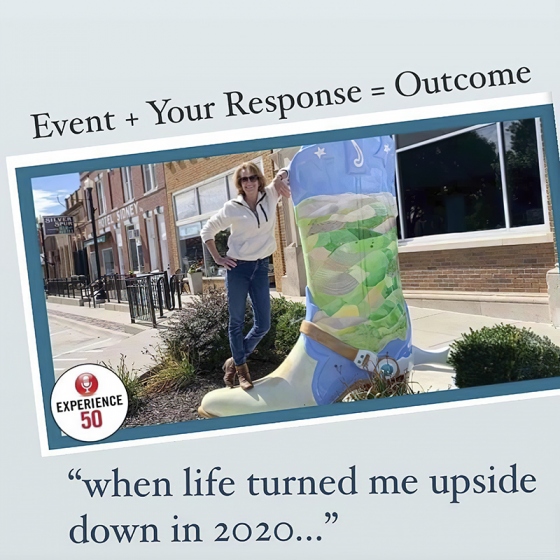 Michelle Fishburne: Who We Are Now
The Fishburne Family
Pat earned a Ph.D. in sociology from NYU. She was a vice president at Response Analysis in Princeton, NJ for ten years, and planned to retire when she left. But many of her clients needed her, so she formed her own consulting firm — Patricia Fishburne Associates, and continued to do social research. For ten more years, she worked long hours, traveled constantly, and earned a lot of money.
In 1979, Stokes formed SciTec, a cutting-edge Princeton, NJ firm that focused on scientific and technological innovation. After ten years, he sold SciTec to TRW, a former American corporation involved in a variety of businesses including aerospace, automotive, and credit reporting. In 1995, Stokes retired, and the Fishburnes moved to Sanibel, FL. Stokes continued consulting for TRW. In 2002, Pat and Stokes sold their Sanibel home, bought a motorhome, and spent 7 wonderful years touring and photographing in the U.S.
Before I lost my beloved wife Elaine Belsky Morris to breast cancer in 1994, I thought that some folks might get through life without ever having to deal with any great change, without having to deal with any difficult and challenging situations, or without having to deal with any great losses. Obviously I was wrong. I do know that Patricia Fishburne has guided her family through some very tough times. Always with her chin up, and always with a smile.
Pat and Stokes have two daughters and two grandchildren. One of those, an inventor, did a Ted Talk at age 15! Their youngest daughter, Denise Fishburne, has worked at Cisco Systems for more than 24 years. Denise has been making yearly presentations at Cisco Live, both in the U.S. and in Europe. She was named to the Cisco Live Speaker Hall of Fame years ago. Last year she was elevated to "Elite," a status achieved by only a few people worldwide.
Their oldest daughter, Michelle Fishburne, is a lawyer who has worked in public relations for the past decade. This excerpt is from Pat and Stokes 2020 Christmas letter. It tells you what Michelle has been doing recently.
Our oldest daughter, Michelle, has a much more interesting story, but I will let her tell it: "Sometimes life turns you upside down, dumps you on the floor, and asks 'so what are you going to do about it?' That's what happened to me in 2020. I lost some of my hearing, I lost some of my balance, I lost my job, and I became a single empty nester without a house. That's what I didn't have. What I did have, including a positive attitude, has led to one of the happiest periods of my life, traveling throughout the U.S. in my RV and interviewing people about their 2020 experiences."
The name of Michelle's project is "Who We Are Now." Beginning in September she traveled from North Carolina to Wyoming, interviewing a wide variety of people, from mayors and food bank operators to teachers and entertainers. After Christmas, she will take the southern route to California, interviewing people along the way. Click here to learn, in their own words, how people are dealing with their changed lives during COVID.
Typos
In all blog posts and Bulletins, feel free to e-mail or to leave a comment regarding any typos or errors.