Today's NANPA Tidbit of the Day
NANPA Executive Director Susan Day wrote in a recent e-mail to me:
The other document (sic) that you requested (a copy of the agreement between NANPA and ASMP signed by both parties) is confidential, so I obviously cannot share them.
The message to NANPA Members here is very clear: Listen to information we presented at the Town Hall. Everything that we said is true. Oh, you want to see proof of that, the agreement in which we sold NANPA and its members down the river? Sorry, that is confidential. You'll just have to believe us. We have nothing to hide. Nothing but the agreement.
Without access to the signed agreement between NANPA and ASMP, it is not possible for anyone to know the truth, to know what is really going on.
One wonders just what they are hiding.
What's Up?
I made it down to the lake in the morning on both Thursday and Friday. Thursday was blustery with a strong north wind. Conditions on Friday were much better, but I did not come away with anything to brag about on either day. My Thursday sunset session was equally productive.
In the AM & PM. 1200 & 200-600. What Excites Me 🙂 blog post here, my favorite image by five miles was the dancing crane sunset silhouette. While I do like the Green Heron image, this one was a no-contest for me. Several folks disagreed.
Today is Saturday 3 December 2022. I will be heading down to the lake by 7:15am. This blog post took about 90 minutes to prepare and makes two hundred fifty-one days in a row with a new, educational post just for you. Wherever you are and whatever you are doing, I hope that you too have a great day.
Please remember to use the B&H and Amazon links that are found on most blog pages and to use the BIRDSASART discount code at checkout when purchasing your new gear from Bedfords to get 3% back on your credit card and enjoy free second-day air FedEx. Please, also, consider joining a BAA IPT. You will be amazed at how much you will learn!
You can find some great photo accessories (and necessities, like surf booties!) on Amazon by clicking on the Stuff tab on the orange/yellow menu bar above. On a related note, it would be extremely helpful if blog-folks who, like me, spend too much money on Amazon, would get in the habit of clicking on the Amazon logo link on the right side of each blog post when they shop online. As you might expect, doing so will not cost you a single penny, but would be appreciated tremendously by yours truly. And doing so works seamlessly with your Amazon Prime account.
Please remember that if an item — a Delkin flash card, or a tripod head — for example, that is available from B&H and/or Bedfords, is also available in the BAA Online Store, it would be great, and greatly appreciated, if you would opt to purchase from us. We will match any price. Please remember also to use my B&H affiliate links or to earn 3% cash back at Bedfords by using the BIRDSASART discount code at checkout for your major gear purchases. Doing either often earns you free guides and/or discounts. And always earns my great appreciation.
Brand-New and As-Good-As-Ever Bedfords BAA Discount Policy
Folks who have fallen in love with Bedfords can now use the BIRDSASART coupon code at checkout to enjoy a post-purchase, 3% off-statement credit (excluding taxes and shipping charges) on orders paid with a credit card. The 3% credit will be refunded to the card you used for your purchase. Be sure, also, to check the box for free shipping to enjoy free Second Day Air Fed-Ex. This offer does not apply to purchases of Classes, Gift Cards, or to any prior purchases.

Money Saving Reminder
Many have learned that if you need a hot photo item that is out of stock at B&H and would like to enjoy getting 3% back on your credit card along with free 2nd Day Air Fed-Ex Air shipping, your best bet is to click here, place an order with Bedfords, and enter the coupon code BIRDSASART at checkout. If an item is out of stock, contact Steve Elkins via e-mail or on his cell phone at (479) 381-2592 (Central time). Be sure to mention the BIRDSASART coupon code and check the box for Free Shipping. That will automatically upgrade to free 2nd Day Air Fed-Ex. Steve has been great at getting folks the hot items that are out of stock at B&H and everywhere else. The waitlists at the big stores can be a year or longer for the hard-to-get items. Steve will surely get you your gear long before that. For the past year, he has been helping BAA Blog folks get their hands on items like the SONY a 1, the SONY 200-600 G OSS lens, the Canon EOS R5, the Canon RF 100-500mm lens, and the Nikon 500mm PF. Steve is personable, helpful, and eager to please.
Important Note
As an Amazon Associate, I earn a small percentage when you purchase from Amazon after using any of the Amazon links on the blog (including the logo-link on the right side of each blog post page). My affiliate link works fine with Amazon Prime and using it will not cost you a single cent. Huge thanks, BTW 🙂
Gear Questions and Advice
Too many folks attending BAA IPTs and dozens of photographers whom I see in the field and on BPN, are — out of ignorance — using the wrong gear, especially when it comes to tripods and more especially, tripod heads. And the same is true in spades when ordering new camera bodies or lenses. My advice will often save you some serious money and may help you avoid making a seriously bad choice. Please know that I am always glad to answer your gear questions via e-mail. If you are desperate, you can try me on my cell at 863-221-2372. Please leave a message and shoot me a text if I do not pick up.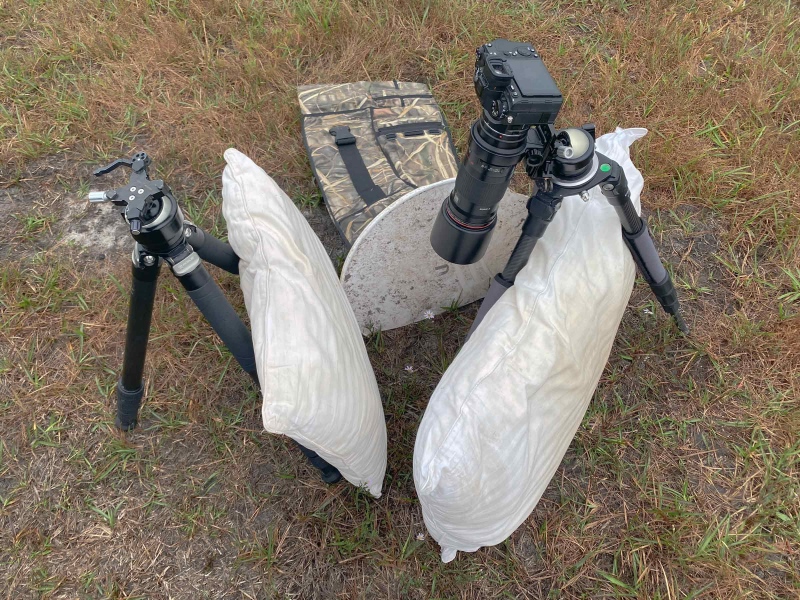 Image #1: Wind blocker set-up

Your browser does not support iFrame.
Creating the Wind-shield Set-up
On a windy and drizzly morning, I had gotten out of my SUV to walk around the south end of the South Field hoping for some vulture or Osprey fly-bys. As I wandered, I noticed some small white blossoms in perfect condition. The flowers had a bit of a magenta tinge. I had the macro lens in the vehicle but wondered if I could deal with the wind and low light. First, I moved the car into position to block the north wind, but the flowers were still blowing around as the wind swirled under and around my X5. I looked in the trunk and in front of the rear row of seats for something to use a a wind blocker. The first thing that I found was an oddly-shaped piece of white plastic trash that I had picked up somewhere with the intention of throwing it out. I used the end of a lens bag to hold it in place, but still the tiny flowers shook. Next, I grabbed an extra tripod and two pillows and completed the wind-chill set-up. The most pristine flower was perfectly still. You can see that blossom just in front of the bottom of the plastic trash. The white pillows were a plus as they acted a bit like reflectors.
With all the FlexShooter heads, you can loosen the black lever and point the lens down by placing the stem of the black (outer) ball into the large cutout notch in the housing. It is best to do this with the silver knob and the tripod collar tightened. As there is very little play once the black lever is full tightened, it is fairly easy to get the lens on the flower. The you can loosen the silver know and/or the tripod collar to fine-tune your framing.
As I mention here often, much of nature photography involves problem solving in the field on an almost daily basis to deal with a great variety of always-changing conditions. Join me on an IPT to see exactly how that works.
Rice Button Aster?
After consulting my wildflower guides, the best I could come up with is Rice Button Aster (Symphyotrichum dumosum). Roger Hammer's Complete Guide to Florida Wildflowers states: The 1/2 to 3/4″ flower heads have white to lavender rays and yellow disks.
I do have a (pretty bad) cell phone image of the whole plant that shows the leaves; if you might be able to help with the ID, please get in touch via e-mail.
Typos
With all blog posts, feel free to e-mail or to leave a comment regarding any typos or errors.