Homer Late Registration Discounts
If you are interested in traveling to Homer, AK with me in FEB/MAR 2023 to photograph Bald Eagles, shoot me an e-mail for late registration discount info. Several folks are in the process of registering so do not tarry. The first IPT is looking sold out as I await the last deposit check.
What's Up?
I headed down to the lake on Thursday morning with the 400mm f/2.8/a1 rig in the passenger seat. It was a cold dreary morning and there was not much going on. I was pleased to note two 4-5 weeks old, charcoal gray baby eagles in the nest.
In yesterday's blog post, I preferred Image #2 with the bird on the right side of the frame looking back. Why? There is more tension in Image @2 than in Image #1.
Today is Friday 27 January 2023. I have lots of work to do. This blog post took about an hour to prepare (including the time spent on the image optimization) and makes three hundred-four days in a row with a new, educational post. Wherever you are and whatever you are doing, I hope that you too have a great day.
Please, please, pretty please remember to use my B&H or Bedford's affiliate programs for all your new gear purchases.
The plan is to continue to post every day until the streak reaches one year and one day and then go back to posting every other day.
Please remember to use the B&H and Amazon links that are found on most blog pages and to use the BIRDSASART discount code at checkout when purchasing your new gear from Bedfords to get 3% back on your credit card and enjoy free second-day air FedEx. Please, also, consider joining a BAA IPT. You will be amazed at how much you will learn!
You can find some great photo accessories (and necessities, like surf booties!) on Amazon by clicking on the Stuff tab on the orange/yellow menu bar above. On a related note, it would be extremely helpful if blog-folks who, like me, spend too much money on Amazon, would get in the habit of clicking on the Amazon logo link on the right side of each blog post when they shop online. As you might expect, doing so will not cost you a single penny, but would be appreciated tremendously by yours truly. And doing so, works seamlessly with your Amazon Prime account.
Please remember that if an item — a Delkin flash card, or a tripod head — for example, that is available from B&H and/or Bedfords, is also available in the BAA Online Store, it would be great, and greatly appreciated, if you would opt to purchase from us. We will match any price. Please remember also to use my B&H affiliate links or to earn 3% cash back at Bedfords by using the BIRDSASART discount code at checkout for your major gear purchases. Doing either often earns you free guides and/or discounts. And always earns my great appreciation.
Induro GIT 304L Tripod
Out of production for more than two years, BAA sold its last one in December. The good news? We now have two more new-in-the-box tripods. They are now available for shipping. Best to order yours now to be sure that you get one. The 304L was my go-to tripod for more than a decade. Best to grab order yours right now to avoid being disappointed.
Bedfords Amazing BAA Discount Policy
Folks who have fallen in love with Bedfords can now use the BIRDSASART coupon code at checkout to enjoy a post-purchase, 3% off-statement credit (excluding taxes and shipping charges) on orders paid with a credit card. The 3% credit will be refunded to the card you used for your purchase. Be sure, also, to check the box for free shipping to enjoy free Second Day Air Fed-Ex. This offer does not apply to purchases of Classes, Gift Cards, or to any prior purchases.

Money Saving Reminder
Many have learned that if you need a hot photo item that is out of stock at B&H and would like to enjoy getting 3% back on your credit card along with free 2nd Day Air Fed-Ex Air shipping, your best bet is to click here, place an order with Bedfords, and enter the coupon code BIRDSASART at checkout. If an item is out of stock, contact Steve Elkins via e-mail or on his cell phone at (479) 381-2592 (Central time). Be sure to mention the BIRDSASART coupon code and check the box for Free Shipping. That will automatically upgrade to free 2nd Day Air Fed-Ex. Steve has been great at getting folks the hot items that are out of stock at B&H and everywhere else. The waitlists at the big stores can be a year or longer for the hard-to-get items. Steve will surely get you your gear long before that. For the past year, he has been helping BAA Blog folks get their hands on items like the SONY a 1, the SONY 200-600 G OSS lens, the Canon EOS R5, the Canon RF 100-500mm lens, and the Nikon 500mm PF. Steve is personable, helpful, and eager to please.
Important Note
As an Amazon Associate, I earn a small percentage when you purchase from Amazon after using any of the Amazon links on the blog (including the logo-link on the right side of each blog post page). My affiliate link works fine with Amazon Prime and using it will not cost you a single cent. Huge thanks, BTW 🙂
Gear Questions and Advice
Too many folks attending BAA IPTs and dozens of photographers whom I see in the field and on BPN, are — out of ignorance — using the wrong gear, especially when it comes to tripods and more especially, tripod heads. And the same is true in spades when ordering new camera bodies or lenses. My advice will often save you some serious money and may help you avoid making a seriously bad choice. Please know that I am always glad to answer your gear questions via e-mail. If you are desperate, you can try me on my cell at 863-221-2372. Please leave a message and shoot me a text if I do not pick up.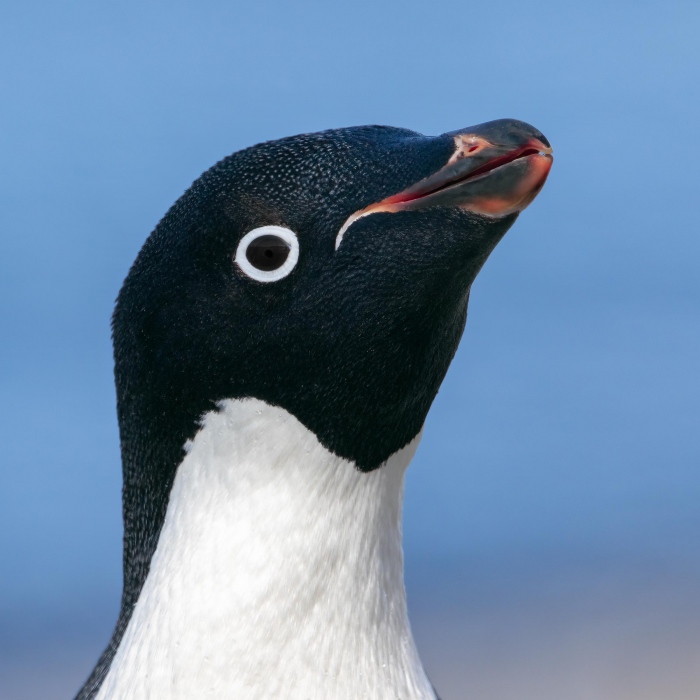 This image was created on 31 December 2014 at Brown Bluff, Antarctica. Seated on packed snow and rock, I used the knee-pod technique with the Canon 300mm f/4L IS II lens, a 2X TC, and the EOS 7D Mark II. The exposure was determined via histogram review. ISO 400: 1/1600 sec. at f/10 (stopped down 2 2/3-stops). When evaluated in RawDigger, the raw file exposure was determined to be about one stop too dark. AWB at 4:09pm on a sunny afternoon.
Adélie penguin head and neck portrait
Coldie Oldie But Goodie Canon Cutie
I remember each of the 2014/2015 landings in Antarctica almost as if they were yesterday. To see an Adélie Penguin colony, you need to get down to the seventh continent. They are endearingly cute. For me, they are by far the cutest penguins outside ofone or two species in the Ross Sea.
I made lots of great images on that trip with my Canon gear. Using the 300mm f/2.8 L IS II with the 2X TC and the crop factor 7D Mark II yielded an effective focal length of 960mm — 19.2X magnification! When handholding high magnification rigs, you need to employ both high shutter speeds and impeccable sharpness techniques. Why? Unsharpness caused by gear shake is a factor of the square of the focal length.
The Lesson
The longer the effective focal length, the more careful you need to be in order to create sharp images. High shutter speeds and excellent sharpness techniques rule the roost. While a tripod is recommended if at all possible, the freedom and mobility that comes with handholding often wins out.
Handholding Questions
What is the longest focal length that you are comfortable handholding? What lens/TC combination? What is your minimum shutter speed for creating sharp images handheld with that rig?
Typos
With all blog posts, feel free to e-mail or to leave a comment regarding any typos or errors.