The Homer IPTs
No Reasonable Offer Refused
I hate sailing with a less than full boat. If you would like to make a low-ball offer on one or more of the Bald Eagle IPTs below, please click here.
IPT #1: MON 20 FEB 2023 through the full day on FRI 24 FEB 2023. Five full days/20 hours on the boat: $5500.00. Limit 5 photographers/Openings: 1.
IPT #2: SAT 25 FEB 2023 through the full day on THURS 2 MAR 2023. Six full days/24 hours on the boat: $6600.00. Limit 5 photographers/Openings: 3.
IPT #3: FRI 3 MAR 2023 through the full day on TUES 7 MAR 2023. Five full days/20 hours on the boat: $5500.00. Limit 5 photographers. Openings: 1.
Rooms at Lands End Resort are available for all of the dates above.
What's Up?
I will share my thoughts on the two Tricolored Heron images in yesterday's blog post tomorrow as folks are still commenting.
I continue to feel better. I may get back in the pool again on Wednesday. Again, I got lots accomplished, especially on my 2022 taxes. I was glad to learn that Andrew Schonbek signed up for DeSoto #3. May is a wonderful time to be at DeSoto. But heck, so are March and April!
I could not choose a favorite from yesterday's three running shorebird images as all were sharp, perfectly exposed, and nicely designed. And I loved the backgrounds.
Today is Wednesday 1 February 2023. I will continue to work on my 2022 taxes, catch up on e-mails, plan the 2023/24 San Diego IPT dates, and begin work on a San Diego January flight photography video. This blog post took about two hours to prepare and makes three hundred-nine days in a row with a new, educational post. Wherever you are and whatever you are doing, I hope that you too have a great day.
Please, please, pretty please remember to use my B&H or Bedford's affiliate programs for all your new gear purchases.
The plan is to continue to post every day until the streak reaches one year and one day and then go back to posting every other day.
Please remember to use the B&H and Amazon links that are found on most blog pages and to use the BIRDSASART discount code at checkout when purchasing your new gear from Bedfords to get 3% back on your credit card and enjoy free second-day air FedEx. Please, also, consider joining a BAA IPT. You will be amazed at how much you will learn!
You can find some great photo accessories (and necessities, like surf booties!) on Amazon by clicking on the Stuff tab on the orange/yellow menu bar above. On a related note, it would be extremely helpful if blog-folks who, like me, spend too much money on Amazon, would get in the habit of clicking on the Amazon logo link on the right side of each blog post when they shop online. As you might expect, doing so will not cost you a single penny, but would be appreciated tremendously by yours truly. And doing so, works seamlessly with your Amazon Prime account.
Please remember that if an item — a Delkin flash card, or a tripod head — for example, that is available from B&H and/or Bedfords, is also available in the BAA Online Store, it would be great, and greatly appreciated, if you would opt to purchase from us. We will match any price. Please remember also to use my B&H affiliate links or to earn 3% cash back at Bedfords by using the BIRDSASART discount code at checkout for your major gear purchases. Doing either often earns you free guides and/or discounts. And always earns my great appreciation.
All of today's great images were created with the Sony 600mm f/4 GM OSS lens. Several folks are interested in this lens but are quibbling over price. My advice: grab it now!
Sony FE 600mm f/4 GM OSS Lens with extras
Blog regular Anthony Ardito is offering a Sony FE 600mm f/4 GM OSS lens (USA warranty) in like-new condition for a very low $10,498.00. The sale includes the rear lens cap, the lens trunk, the original front lens cover, the lens strap, the original product box (and everything that came in it), a Rolanpro Nylon Waterproof Lens Camouflage Rain Cover (a $118.00 value), a CR-X Low Foot (a $122.00 value), and insured ground shipping via major courier to lower 48 US addresses only. Your item will not ship until your check clears unless other arrangements are made.
Please contact Anthony via e-mail at e-mail.
The 600mm f/4 lenses have been the state-of-the-art super-telephotos for birds, nature, wildlife, and sports for many decades. I never leave home without mine. In short, they are the weapons of mass destruction for nature and sports photographers. The Sony 600 GM is the best ever as it is super-sharp with both the 1.4X TC and the 2X TC. I even shoot flight at 1200mm! It is the lightest 600 f/4 ever manufactured. And with most of the weight to the rear, it the best balanced 600 out there, and thus, it is easier to handhold than any of its competitors. This lens sells new for $12,998.00 and is almost universally out of stock. If you have been dreaming of a Sony 600mm f/4 for years, grab Anthony's pretty much new lens right now and put $2,500.00 in savings into your pocket. artie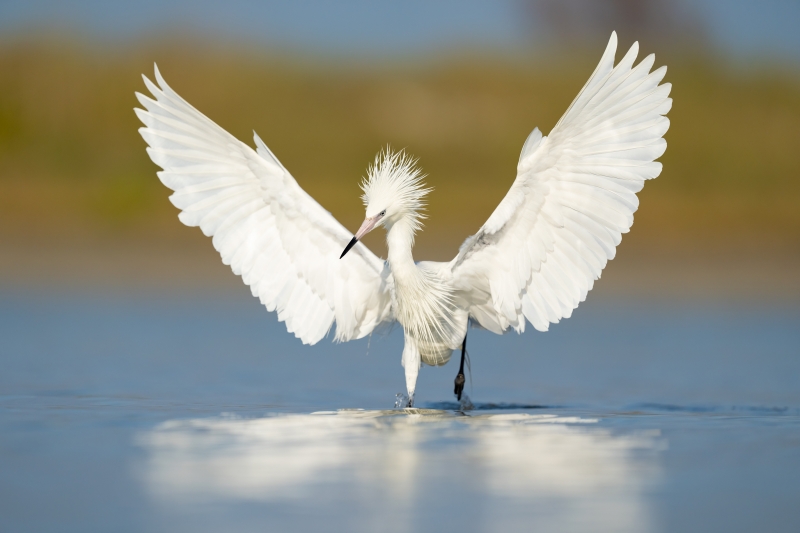 This image was created at Fort DeSoto Park by Brendan Burns. He used the handheld Sony FE 600mm f/4 GM OSS lens and The One, the Sony Alpha 1 Mirrorless digital camera. ISO 400. 1/6400 sec. at f/4 (wide open).
Image #1: Reddish Egret white morph fishing
Image courtesy of and copyright 2022: Brendan Burns
Your browser does not support iFrame.
In Love With Low
Last year, a young photographer named Brendan Burns joined me for two days on the Hooptie Deux then again on a Spring DeSoto IPT. It seemed to me that he did not spend a single minute in the field with either group. Why? He is totally in love with getting low. He works very hard to get his lens exactly two inches above the water. His favorite angle of declination to the birds is zero degrees. Heck, in some of his featured images below he is actually shooting up at the subject! In addition, he loves to go off on his own to explore.
So why did he attend two IPTs last spring? See the next item below, "The Mystery."
The Mystery
Brendan seemed to enjoy himself on the two IPTs and participated vigorously in the image review and Photoshop sessions before, during, and after our extensive working brunches at the Neptune Grill in Gulfport. I was, however, puzzled as to why he always wandered away from the group in the field, so I asked him what he found valuable about the two IPTs. Here is what he said:
The most valuable part of the IPT for me was drawing on your four decades of experience in everything from camera set-up to post-processing. I thought I had a solid grasp of the basics, but I was able to train my eye and develop better attention to detail through your iterating sessions in the field and the images critiques. As a result, I left the IPT with a higher "photographer IQ" as a result. The instruction helped me make the most of each opportunity, and there is no better shortcut to improving your skills than by learning from someone with vastly more experience so you can avoid making the same mistakes repeatedly.
In response to your previous e-mail – yes, I do have Photoshop, but I have a long way to go in terms of using it more effectively. I need to pick up a copy of Digital Basics II! As always, there is a lot to learn. I am going through a lot of my images and re-optimizing them as we discussed.
(Brendan must have spent more time with the group more than I remembered.)
From Merriam-Webste.com:
iterate
transitive verb: to say or do again, or again and again
How He Does It
Brendan has used a variety of techniques to get his lens just above water level. For a while he used a Wimberley VII Head on a Skimmer II, but quickly grew to find that too limiting when he needed to work in water deeper than a few inches. Today, he simply handholds his 600 whether he is lying down on the ground, the beach, a mudflat, or even in several inches of water! When working in deeper water he may sit, kneel, or stand, sometimes in water up to his chest! He is obviously strong, fit, and confident. He is fanatical about getting super-low, and as you can see here, the results are spectacular.
How Low Can You Go?
I have never seen anyone consistently work with their lens as close to the water as Brendan. In the spectacular image above, he is shooting up at a bird that is flying less than a foot above the surface of the lagoon!
Problem Solving
During the IPT Brendan mentioned that he was having some AF problems when photographing wading birds taking flight. We discussed it at length. After understanding what happened, I suggested that he try moving the zone up a notch. He was thrilled with the solution.
And by the way, Brendan uses Tracking: Zone for all of his low perspective photography. He will be trying the new AF option that was detailed very recently in SONY Alpha a1 Set-up and Info Notes Group e-Mail E.
Note: Brendan sent me this image as a (somewhat cramped) horizontal. As it was sharp with superb image quality, I expanded canvas using Content-Aware Crop and then cropped to the vertical above.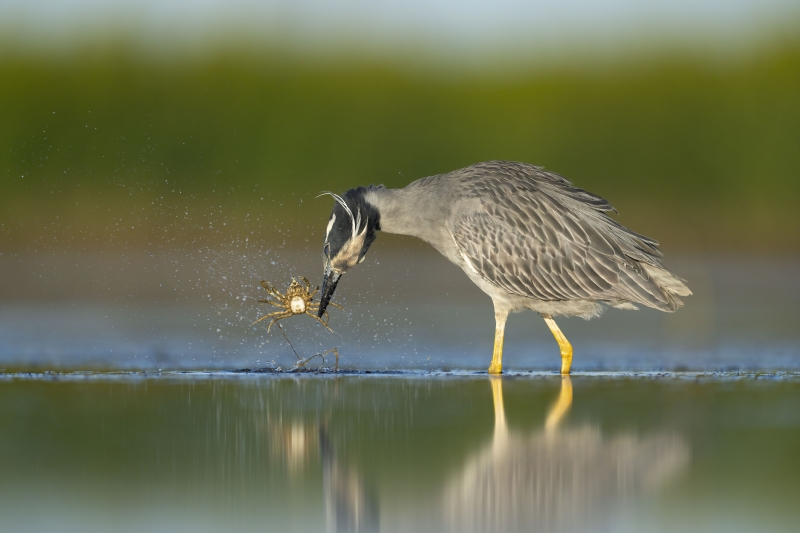 This image was created at Fort DeSoto Park by Brendan Burns. He used the Sony FE 600mm f/4 GM OSS lens and The One, the Sony Alpha 1 Mirrorless digital camera. ISO 500. 1/2500 sec. at f/4 (wide open).
Image #6: Yellow-crowned Night-Heron shaking crab
Image courtesy of and copyright 2022: Brendan Burns
Your browser does not support iFrame.
What Brendan Loves About Fort DeSoto
Though Brendan does not live in Florida, he visits DeSoto several times each year. Here's why he loves it:
1) There are at least three locations in the park that are just off the charts photography-wise. By paying a lot of attention to tides and going dozens of times, I've been figuring out how to be in the right place at the right time quite consistently.
2) The colors are exceptional. I hate overcast days at De Soto and much prefer cloudless and windless days with powder-blue water and a lot of contrast on the subject.
3) The ease of obtaining subject-background separation and getting the camera down to water level. You can reliably find "clean" situations and focus on everything else.
4) It's easily accessible from St. Petersburg and Gulfport where inexpensive lodging may be found.
5) You never know what you might see. One day I saw a bald eagle take down a gull. Another day I found a 5-foot long Eastern Diamondback boxattlesnake in the road.
6) Perhaps most importantly, you have almost-total freedom to walk around and pick your subject and composition. I hate boardwalks, raised trails, scenic drives, and other places where either the terrain or the rules limit this flexibility. De Soto rewards you for working hard and covering a lot of ground.
Your Difficult Call?
Which of Brendan's exquisite images do you like best? All are invited to leave a comment and let us know why they made their choice or choices. I have a clear favorite.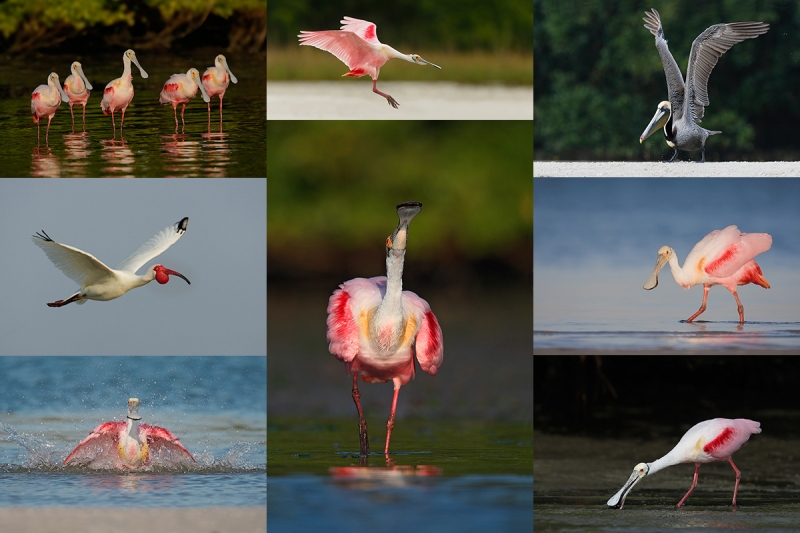 All images on this card were created by Arthur Morris on the Hooptie Deux at Alafia Banks
2023 Spoonbill Boat 1-1/2 DAY MINI-IPT: $1199.00.00. Limit: 5 photographers/Openings: 2.

A full day on WED 15 FEB and the morning of Thursday 16 FEB 2023: 1 1/2 days.

Two morning and one afternoon photo session (weather permitting) via customized pontoon boat.
For early-arriving folks, artie is throwing in a free afternoon In-the-Field session at a little-known but very active rookery in North Tampa on Tuesday 14 February.
We will be leaving the dock in Gibsonton, FL very early for the morning sessions in hopes of photographing a pre-dawn White Ibis blast-off and creating some dramatic silhouettes or pleasing blurs. The morning sessions are planned for the Alafia Banks Roseate Spoonbill Rookery. We have several options for the afternoons including returning to Alafia. We may spend one afternoon on foot at the North Tampa rookery mentioned above. There will be lots of opportunities for flight photography of several species including and especially Roseate Spoonbill. Also likely for flight photography are nesting Brown Pelican, Great Blue Heron, and Double Crested Cormorant, many carrying nesting material. This IPT includes all boat and guide fees, in-the-field instruction from two great leaders, chest waders (feel free to bring your own of course to assure a perfect fit), and three working lunches (Monday thru Wednesday). For the most part we will be standing in mid-calf to knee-deep water behind our tripods. We help you get in and out of the boat safely with your gear. This is likely not the best trip for folks with mobility or balance problems. Note however that some folks opt to stay on the boat to photograph. They usually have lots of chances for flight photography of spoonbills and other species but are almost always pretty far away from the spoonbills that land.
Mid-February is prime time for photographing spoonbills at the absolute peak of breeding plumage. For unknown reasons, the spoonbills at Alafia are much more colorful than the birds that breed at Stick Marsh later in the season. The Hooptie IPT represents an incredible opportunity and I do hope that you can join us. All of the images on the cards were made on the Hooptie Duex during the last two weeks of February, prime time for the spoonies in mega-breeding plumage.
You may hold your spot with an e-mail request. Then, you may either secure your spot by calling Jim or Jennifer at the office at 863-692-0906 and leaving the $599 deposit on credit card or sending your check for payment in full to us as follows with the check made out to:
BIRDS AS ART
Please send it via US mail here:
BIRDS AS ART
PO BOX 7245
Indian Lake Estates, FL 33855
If you call to leave your deposit, you will be asked to mail your check for the balance ASAP. Be sure to give us your e-mail address.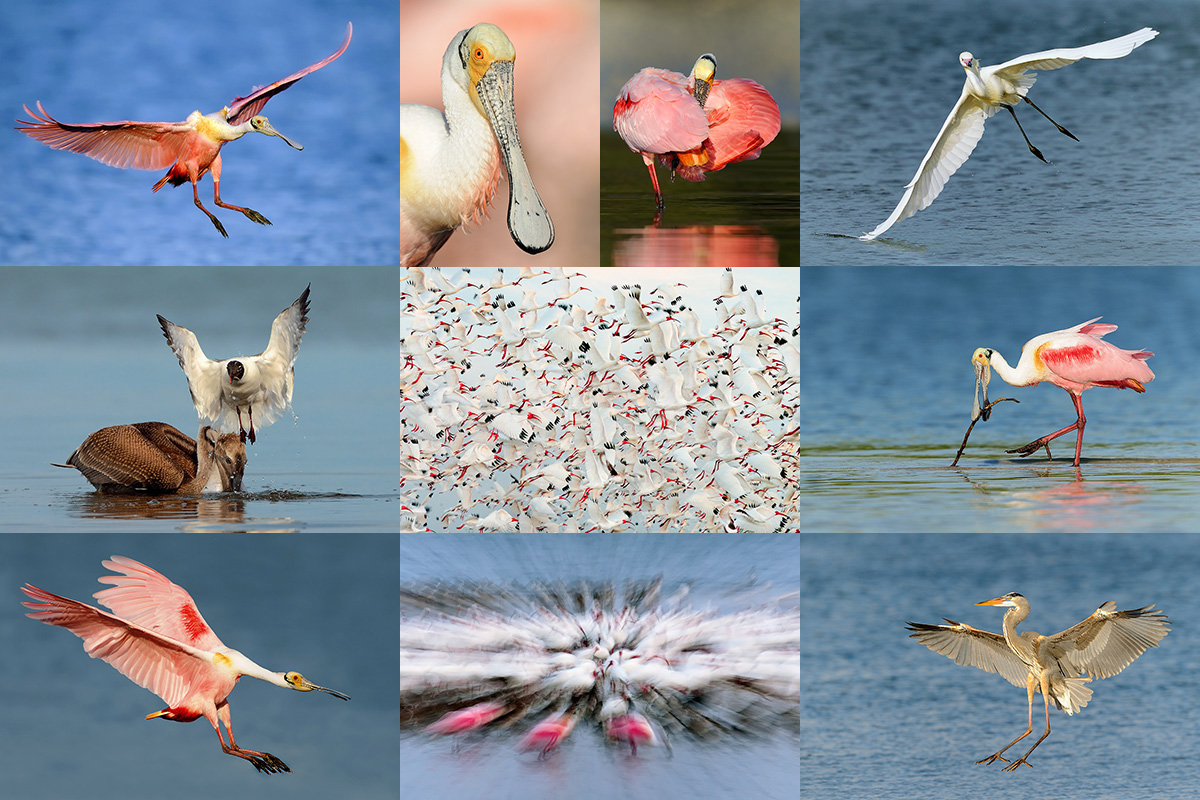 Images courtesy of our guide; copyright 2017 Captain James Shadle (aka Froggie). All of the images here were created at Alafia Banks. Card creation and design by Arthur Morris/BIRDS AS ART.
Everybody Wants Spoonbills!
Roseate Spoonbill is one of if not the most sought after avian photographic subjects in Florida. They are generally hard to find and somewhat difficult to approach. They are relatively easy to find at Alafia Banks—heck, you can't miss seeing them, but even there they can on some days be somewhat difficult to approach. On some days we may be able to get ridiculously close to them. The huge incentive to get out to Alafia Banks in mid-February is the chance to photograph this species at the height of its spectacular breeding plumage…. with long telephoto lenses. A 500 or 600 with a 1.4X TC is perfect for flight.
As above, there will — weather permitting — three boat trips — 2 mornings and 1 afternoon — on this MINI IPT. All to Alafia Banks for spoonbills and Brown Pelicans (with lots of flight photography often with the birds likely carrying nesting material), Double-crested Cormorants, ibises (both Glossy and White) in breeding plumage. Many of the White Ibises will be sporting their spectacular, distended, red, naked (un-feathered) throat pouches—typically larger in the females. In addition, we may get to photograph egrets including Great and Reddish, both in full breeding plumage, shorebirds, and more. There will be lots of flight photography opportunities. Afternoon trips either to Alafia Banks for spoonbills and more or to a more sheltered inland rookery location for a variety of nesting birds. In the event of horrific weather artie will either take the group to Fort DeSoto or will conduct an image review/Photoshop session. This IPT includes lunches on the full day with small group image sharing and review and some over-the-shoulder Photoshop instruction.
Typos
With all blog posts, feel free to e-mail or to leave a comment regarding any typos or errors.