What's Up?
I picked up Gary Chappel early on Tuesday morning in Winter Haven at his home on Lake Roy. We got to Lakeland well before sunrise and enjoyed a great morning of photography with about 40 very cooperative American White Pelicans. That was followed by a long working brunch nearby at a place called Keke's Cafe South: great omelets and great coffee.
We met Mike De Rosa and wife Norma at the North Tampa Rookery. The winds were from the east with sunny skies, began to turn to the west and then died. Flight photography, therefore, was difficult. We did have a very few chances and things were looking dire until some teenage picnickers decided to share their leftover pizza with the Wood Storks. After dinner at an Outback in Carrolwood we drove down to our AirBnb in Riverview. Tomorrow is day one on the Hooptie Deux in hopes of spoonbills. And more.
Today is Wednesday 15 February 2023. The forecast for Alafia Banks is perfect: clear skies with an east breeze. This blog post took about 90 minutes to prepare and makes three hundred twenty-three days in a row with a new educational post. Wherever you are and whatever you are doing, I hope that you too have a great day.
Please, please, pretty please remember to use my B&H or Bedford's affiliate programs for all your new gear purchases. If you use B&H, please be sure to click on any B&H link in the blog to start your search. Or simply start with this link. There is always the option of e-mailing me for gear advice and for the correct links.
The plan is to continue to post every day until the streak reaches one year and one day and then posting every other day.
Please remember to use the B&H and Amazon links that are found on most blog pages and to use the BIRDSASART discount code at checkout when purchasing your new gear from Bedfords to get 3% back on your credit card and enjoy free second-day air FedEx. Please, also, consider joining a BAA IPT. You will be amazed at how much you will learn!
You can find some great photo accessories (and necessities, like surf booties!) on Amazon by clicking on the Stuff tab on the orange/yellow menu bar above. On a related note, it would be extremely helpful if blog-folks who, like me, spend too much money on Amazon, would get in the habit of clicking on the Amazon logo link on the right side of each blog post when they shop online. As you might expect, doing so will not cost you a single penny, but would be appreciated tremendously by yours truly. And doing so, works seamlessly with your Amazon Prime account.
Please remember that if an item — a Delkin flash card, or a tripod head — for example, that is available from B&H and/or Bedfords, is also available in the BAA Online Store, it would be great, and greatly appreciated, if you would opt to purchase from us. We will match any price. Please remember also to use my B&H affiliate links or to earn 3% cash back at Bedfords by using the BIRDSASART discount code at checkout for your major gear purchases. Doing either often earns you free guides and/or discounts. And always earns my great appreciation.
Canon EOS R6 Mirrorless Camera Body
BAA Record-low Price!
Price Reduced $200 on 14 FB 2023
Chip Schilling is offering a Canon EOS R6 Mirrorless Camera Body in like-new condition with the latest firmware update for a BAA record-low $1699.00. The sale includes the original box, the front cap, one battery and the charger, the strap, the manual, and insured ground shipping to lower-48 US addresses only. Your item will not ship until your check clears unless other arrangements are made.
Please contact Chip via e-mail or by phone (or text him) at 315-481-0916.
The R6 is virtually identical to the R5 but for the 20 MP raw files and the smaller price tag. The Menu is easy to navigate. The Face Detection plus Tracking technology (though not perfect) is superb. The Custom shooting modes (C1-C3) allow the user to save many items including and especially Customize Buttons, Customize Dials, and Shutter Mode settings. That makes the Custom shooting modes a huge plus for users who do not need to waste time fiddling around with various settings. One of three different Mount Adapters EF-EOS R enable folks to use their Canon EF lenses seamlessly with all of the great R6 features maintained. AF performance with the adapters and EF lenses is superb. With an R6, a Standard Mount Adapter EF-EOS R, and the Canon EF 100-400mm f/4.5-5.6L IS II USM lens, you will have a great rig for bird and nature photography.
Purchase Chip's body and enjoy a $25.00 discount on the R5/R6 Camera User's Guide. artie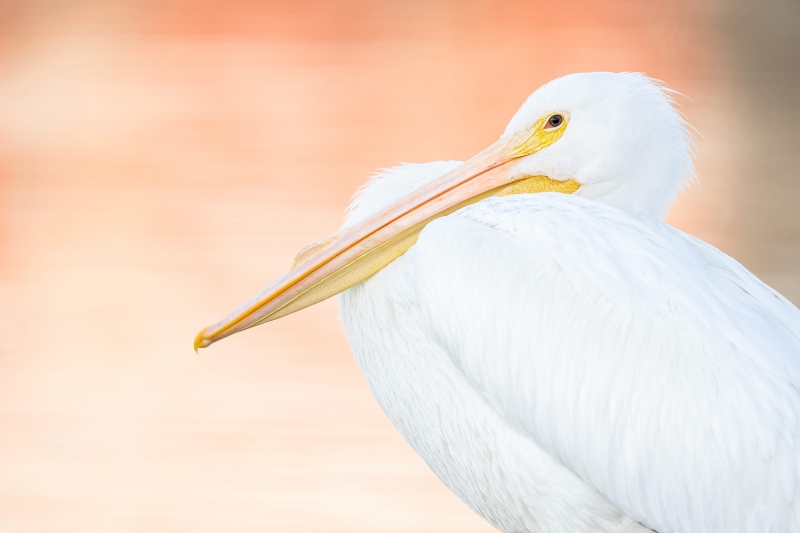 This image was created on 14 February 2023 at Lakeland, FL. While seated on wet grass, I used the no-longer available Induro GIT 304L tripod/Levered-Clamp FlexShooter Pro-mounted
Sony FE 600mm f/4 GM OSS lens and The One, the Sony Alpha 1 Mirrorless digital camera. ISO 1600. Exposure was determined via Zebras with ISO on the rear dial: 1/250 sec. at f/4 (wide open). AWB at 7:08:20am in the shade on what would be a clear morning.
Tracking: Spot S/AF-C was active at the moment of exposure and performed perfectly. Be sure to click on the image to enjoy the larger version.
Image #1: American White Pelican set against salmon-colored water

Your browser does not support iFrame.
Pre-dawn Light
If you know where to be in Lakeland, the predawn light is very sweet as are the backgrounds. Before the sun comes over the trees and buildings to the east, there are no shadows to deal with. A fast lens, high ISOs, relatively slow shutter speeds, and tripods are the tickets to success. It is one of my favorite times of day.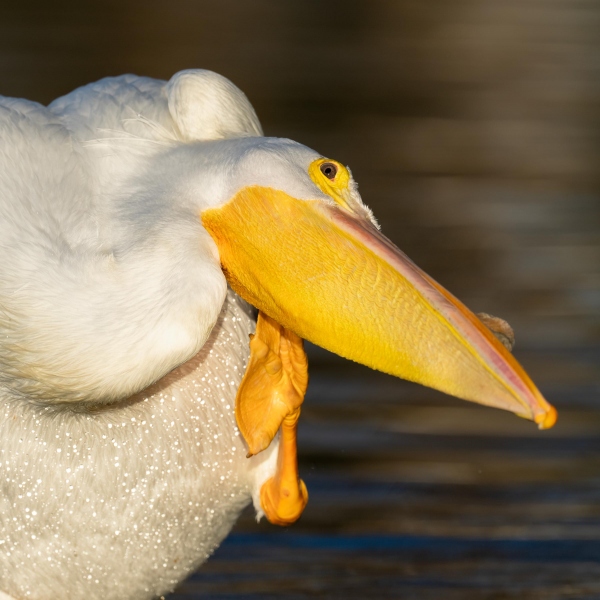 This image was created on 14 February 2023 at Lakeland, FL. While seated on wet grass, I used the lowered, no-longer available (except from BAA) Induro GIT 304L tripod/Levered-Clamp FlexShooter Pro-mounted Sony FE 600mm f/4 GM OSS lens with the Sony FE 1.4x Teleconverter, and The One, the Sony Alpha 1 Mirrorless Digital Camera.. ISO 400. The exposure was determined by Zebras with ISO on the rear wheel: 1/1600 second at f/5.6 (wide open) in Manual mode. RawDigger showed that the exposure was perfect. AWB at 7:44:56am on sunny morning.
Tracking: Expand Spot/AF-C with Bird-Eye/Face Detection performed perfectly. Click on the image to enjoy the high-res version.
Image #2: American White Pelican scratching

Your browser does not support iFrame.
When Something Unexpected Happens …
Yes, you have heard it here before. When something unexpected happens, push the shutter button. Do not attempt to change anything. Trust the AF system and fire away. In less than one second, I created nine frames of this bird scratching. Had I tried to change any settings or to frame the image more carefully, the action would have been over. Once I saw the images, the square crop was an obvious choice.
Your Call?
Which of today's two featured images do you like best? All are invited to leave a comment and let us know why they made their choice. I am on the fence.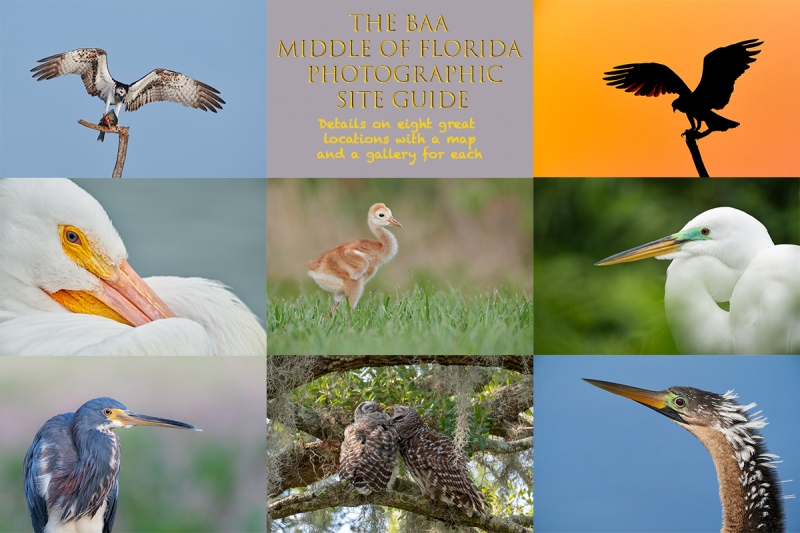 The BAA Middle of Florida Photographic Site Guide
You can purchase your copy here in the BAA Online Store.
Nancy Fischer
IPT veteran Nancy Fisher enjoyed a wonderful Tuesday morning at ILE with the eaglets and Ospreys. Please e-mail me proof of purchase for directions to the eagle nest.
The BAA Middle of Florida Photographic Site Guide
126 pages, 87 photographs by Joe Przybyla and Arthur Morris.
The PDF for this e-Guide is an electronic download sent via e-mail.
Purchase your copy here in the BAA Online Store.
I had thought about doing a guide to some of the great but little-known photo hotspots around central Florida for about a decade, but those plans never came to fruition. I met Joe online in the Avian Forum at BirdPhotographer's.Net about two years ago. Joe's photography has improved tremendously over the past few years; he credits the BAA blog, my books and PDFs, and his participation on BPN. The one thing that I learned right from the get-go about Joe is that he is a hard and tenacious worker, always striving to improve his skills and to grow his knowledge base. As he knew of more than a few good spots in central Florida, I broached the idea of us doing a photographic site guide that covered many of the little-known photographic hotspots from Brandon to Lakeland to Joe Overstreet Road to Indian Lake Estates (my Florida home for the past 20 years or so). After more than many, many dozens of hours of effort, The BIRDS AS ART Middle of Florida Photographic Site Guide is now a reality. Thanks to Joe's wife Dottie for her review of our writing. We all learned once again that writing is a process, a back and forth process. All thanks to the white pelicans of Lakeland. Here are the locations that are detailed in this e-Guide:
Indian Lake Estates: Sandhills Cranes with chicks and colts, lots of vultures, and Ospreys up the kazoo!
Gatorland, Kissimmee: Learn to make great images of wading birds in a cluttered rookery.
The Brandon Rookery: Great for nesting Wood Storks, Great Egrets, and more.
Circle Bar B Reserve, Lakeland: Here you will find a great variety of avian subjects in a great variety of habitats.
Lake Morton, Lakeland: There are lots of silly tame birds here including and especially American White Pelican during the colder months.
Lake Mirror, Lakeland: Tame Anhingas, Limpkins, and a zillion White Ibises at times.
West Lake Parker, Lakeland: Here you will have a chance for two difficult birds, Snail Kite, and Purple Gallinule.
Joe Overstreet Road, Kenansville: Crested Caracara, meadowlarks, Loggerhead Shrike, and much more on the fenceposts and barbed wire.
Each location includes a map, a detailed description of the best spots, best season, light and time of day instructions, the expected species, and an educational and inspirational gallery that is designed to open your eyes as to the possibilities.
You can purchase a copy here in the BAA Online Store.
Typos
With all blog posts, feel free to e-mail or to leave a comment regarding any typos or errors.