Galapagos 2023 Opening
Due to a cancellation, I have an opening for a single male photographer on the Galapagos 2023 Photo-Cruise of a Lifetime IPT, the world's finest photographic cruise of the famed archipelago. I am offering it with a substantial discount. If you are interested in joining a great group, or have questions, please get in touch via e-mail ASAP.
What's Up?
The last morning of the 3rd Homer IPT was yet another fabulous one. We enjoyed loads of diving, twisting, and turning eagles in flight, still blue water, butter light, and flocks of Pacific Loons in front of Iliamna Volcano. Charlie Curry and Mark Harrington caught the 4:40pm flight to Anchorage. Monte Brown, Bob Eastman, and I headed out at 5:00pm to try for Short-eared Owl and struck out. The bird was on a perch close to the road as we drove up only to see it driven off by crows, never to be seen again. We did come across a lovely mom moose with a large calf and then enjoyed yet another gorgeous sunset. Uncharacteristically, we rarely saw a cloud on the last IPT.
Photography has been so good that I am far behind in picking my keepers. I have about 15,000 images from the past few days to get through.
As for yesterday's two similar featured images, I felt that Image #2 was by far the best. The wings-swept-back landing pose with outstretched talons was far more dramatic than the static flight pose in Image #1. And I loved the wider view at 70mm. I created Image #1. Bob Eastman created Image #2. Thanks to all who commented and to those who liked my image best, but as I see things, it was really no contest. Two very skilled bird photographers, Cliff Beittel and Brian Small, agreed emphatically with me.
I will reply to each comment as soon as today's offering is posted. And then I need to get packing.
I asked Bob Eastman to classify himself as a photographer, expecting him to answer "intermediate." His answer, "OK." I'd guess that those are about the same. Bob has worked hard at his photography and made great sacrifices to attend the first and third Homer IPTs. He has been a great roommate and is a great guy; we get along famously and are very much on the same page. We say "Hi" to everyone we pass and clown around with the kids we see in the hallway. On one hand, Bob has consistently made many great images over the past two plus weeks. On the other hand, his work has improved dramatically. He does, of course, use the Sony a1 (along with an a7r IV for scenics and the rest). A future blog post or two will feature more of Bob's excellent images and his incredible life story.
Anyhoo, today's best gear makes it easy for beginning and intermediate photographers to create fantastic images as long as they listen to their instructors and work hard. 🙂
First-timer Charlie Curry sent me the lovely text below (as he unexpectedly left earlier than planned).
Arthur, thanks for the great Eagle IPT in Homer. You are a gentleman and a scholar. Your Socratic method is unique for photography workshops and is very effective. I had heard that you were a great teacher. Now I know that it is true. I appreciate your attention to detail and your willingness to teach.
Best, Charlie
I have my dates for the two February 2024 Homer/Kachemak Bay Bald Eagle IPTs. If you are interested in doing both 5-day trips and driving from Anchorage and Homer and back with me (with a big discount), or are interested in the $500 early-registration discount, please get in touch via e-mail. Please note that several spots are already sold.
Today is Wednesday 8 March 2023. Bob Eastman, Monte Brown, and I will be driving up o Anchorage for dinner at So Thai. Then we will return the rental SUV and hang out at the airport for our red-eye flights to Seattle (Bob and I) and to Denver (Monte). This blog post took 90 minutes to prepare including the time spent on the two image optimizations and makes three hundred forty-three days in a row with a new educational post written just for you. Wherever you are and whatever you are doing, I hope that you too have a great day.
One thing is for sure — it will be a long trip home as I will not be back to ILE until about 9:00pm on Thursday evening.
The plan is to continue to post every day until the streak reaches one year and one day and then begin posting every other day.
Please remember to use the B&H and Amazon links that are found on most blog pages and to use the BIRDSASART discount code at checkout when purchasing your new gear from Bedfords to get 3% back on your credit card and enjoy free second-day air FedEx. Please, also, consider joining a BAA IPT. You will be amazed at how much you will learn!
You can find some great photo accessories (and necessities, like surf booties!) on Amazon by clicking on the Stuff tab on the orange/yellow menu bar above. On a related note, it would be extremely helpful if blog-folks who, like me, spend too much money on Amazon, would get in the habit of clicking on the Amazon logo link on the right side of each blog post when they shop online. As you might expect, doing so will not cost you a single penny, but would be appreciated tremendously by yours truly. And doing so, works seamlessly with your Amazon Prime account.
Please remember that if an item — a Delkin flash card, or a tripod head — for example, that is available from B&H and/or Bedfords, is also available in the BAA Online Store, it would be great, and greatly appreciated, if you would opt to purchase from us. We will match any price. Please remember also to use my B&H affiliate links or to earn 3% cash back at Bedfords by using the BIRDSASART discount code at checkout for your major gear purchases. Doing either often earns you free guides and/or discounts. And always earns my great appreciation.
B&H
Many folks have written recently stating that they purchased a Sony a1 from B&H and would like their free membership in the Sony 1 Info and Updates Group, a $150.00 value. When I check my affiliate account, their orders have not been there. When I let them know that they get credit for B&H purchases only if they use one of the many B&H affiliate links on the blog or begin their searches with this link, they are always disappointed. If in doubt, please contact me via e-mail and request a BH link. I am always glad to help and to guide you to the right gear.
Induro GIT 304L Tripod
Price reduced $50.00 on 16 FEB 2023
Out of production for more than two years, BAA sold its last one in December. The good news? We have two more new-in-the-box tripods. They are now available for only $649.00 (were $699.00). The 304L was my go-to tripod for more than a decade. Best to grab order yours right now by clicking here to avoid being disappointed.
Bedfords Amazing BAA Discount Policy
Folks who have fallen in love with Bedfords can now use the BIRDSASART coupon code at checkout to enjoy a post-purchase, 3% off-statement credit (excluding taxes and shipping charges) on orders paid with a credit card. The 3% credit will be refunded to the card you used for your purchase. Be sure, also, to check the box for free shipping to enjoy free Second Day Air Fed-Ex. This offer does not apply to purchases of Classes, Gift Cards, prior purchases.
Visit the Bedfords website here, shoot Steve Elkins an e-mail, or text him on his cell phone at (479) 381-2592.

Money Saving Reminder
Many have learned that if you need a hot photo item that is out of stock at B&H and would like to enjoy getting 3% back on your credit card along with free 2nd Day Air Fed-Ex Air shipping, your best bet is to click here, place an order with Bedfords, and enter the coupon code BIRDSASART at checkout. If an item is out of stock, contact Steve Elkins via e-mail or on his cell phone at (479) 381-2592 (Central time). Be sure to mention the BIRDSASART coupon code and check the box for Free Shipping. That will automatically upgrade to free 2nd Day Air Fed-Ex. Steve has been great at getting folks the hot items that are out of stock at B&H and everywhere else. The waitlists at the big stores can be a year or longer for the hard-to-get items. Steve will surely get you your gear long before that. For the past year, he has been helping BAA Blog folks get their hands on items like the SONY a 1, the SONY 200-600 G OSS lens, the Canon EOS R5, the Canon RF 100-500mm lens, and the Nikon 500mm PF. Steve is personable, helpful, and eager to please.
Important Note
As an Amazon Associate, I earn a small percentage when you purchase from Amazon after using any of the Amazon links on the blog (including the logo-link on the right side of each blog post page). My affiliate link works fine with Amazon Prime and using it will not cost you a single cent. Huge thanks, BTW 🙂
Gear Questions and Advice
Too many folks attending BAA IPTs and dozens of photographers whom I see in the field and on BPN, are — out of ignorance — using the wrong gear, especially when it comes to tripods and more especially, tripod heads. And the same is true in spades when ordering new camera bodies or lenses. My advice will often save you some serious money and may help you avoid making a seriously bad choice. Please know that I am always glad to answer your gear questions via e-mail. If you are desperate, you can try me on my cell at 863-221-2372. Please leave a message and shoot me a text if I do not pick up.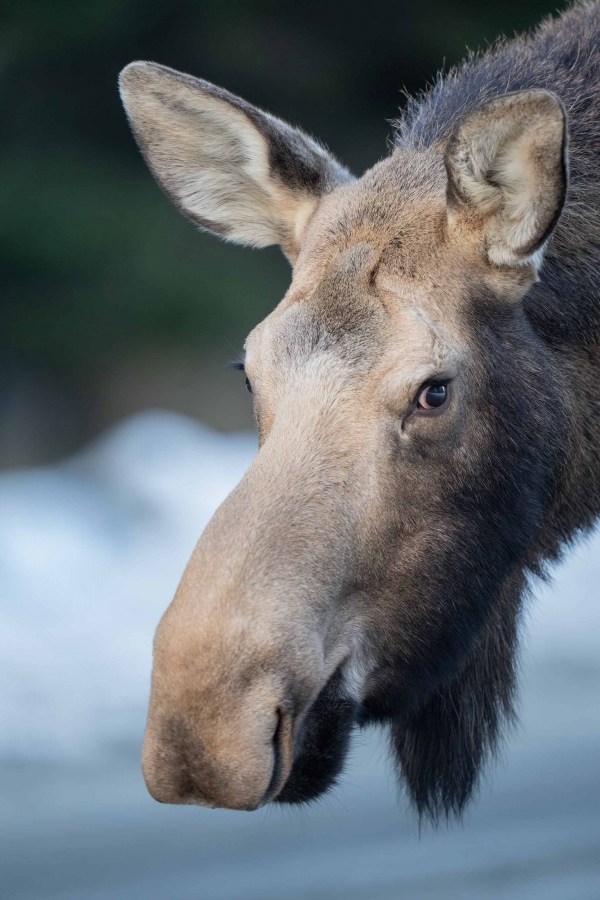 This image was created on 7 March 2023 at Homer, AK. Standing at full height on a snow bank along the side of the road, I used the no-longer available Induro GIT 304L tripod/Levered-Clamp FlexShooter Pro-mounted Sony FE 400mm f/2.8 GM OSS lens and The One, the Sony Alpha 1 Mirrorless Digital Camera). The exposure was determined via Zebra technology with ISO on the Thumb Dial. ISO 2000. 1/400 sec. at f/2.8 (wide-open) in Manual mode. When evaluated in RawDigger, the raw file brightness was determined to be dead-solid perfect (with a bit of the snow properly showing as over-exposed to ensure detail in the dark fur). AWB at 6:04:44pm in the shade on a mostly sunny afternoon.
Tracking: Expand Spot/AF-C with Bird Face/Eye detection enabled performed to perfection. Be sure to click on the image to enjoy a high-res version.
Image #1: Moose female, head portrait

Your browser does not support iFrame.
The Mooses
As we drove down the airport road, we spotted two Moose browsing along the edge of the road, a momma and her large calf. As we exited the SUV with our gear, the large animals were totally at peace with us. The continued to feed on leaves and twigs of small trees and bushes. Having taken my tripod along because the arthritis in my left thumb and wrist had flared up near the end of the trip turned out to be the winning move as the light levels were extremely low and the dark-toned animals were completely in the shade.
Yes, I know that Moose is the plural of Moose 🙂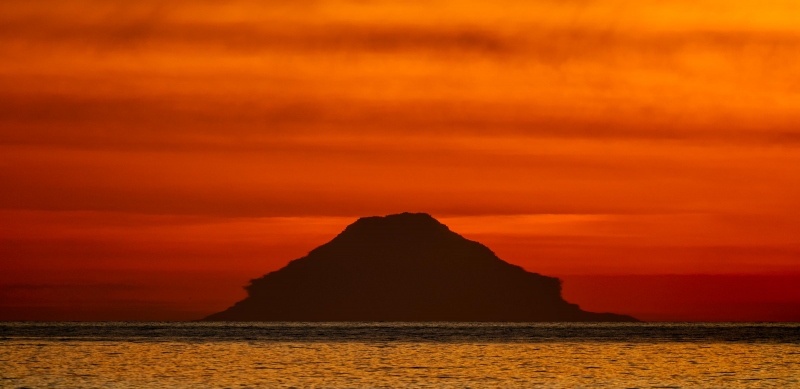 This image was created on 7 March 2023 at Homer, AK. Standing at full height on a patch of grass adjacent to an icy parking lot, I used the no-longer available Induro GIT 304L tripod/Levered-Clamp FlexShooter Pro-mounted Sony FE 400mm f/2.8 GM OSS lens with the Sony FE 2.0x Teleconverter, and The One, the Sony Alpha 1 Mirrorless Digital Camera). The exposure was determined via Zebra technology with Exposure Compensation on the thumb dial. Shutter Priority +2-stops. AUTO ISO set ISO 500: 1/3200 sec. at f/5.6 (wide open). When evaluated in RawDigger, the raw file exposure was determined to be about 1/6 stop short of perfect. AWB at 6:26:44pm just before the sunset.
Manual Focus with Focus Peeking performed perfectly at 180mm. Be sure to click on the image to enjoy a high-res version.
Image #2: Augustine Volcano at sunset

Your browser does not support iFrame.
Big Glass
Though we were a lot closer to Augustine on the Homer Spit than we were in China Post Bay across the Cook Inlet, I went to my longest focal length — the 400mm f/2.8 and the 2X TC. As I was shooting through a lot of humid atmosphere, I selected the edges of the volcano and used the masking feature in Topaz Sharpen AI to sharpen the edges of the volcano. As Monte had Bob had only their 200-600s with them, they each opted to put a card in my camera and make a few images. The Moose and the sunset put a nice finishing touch on the end of our Homer visit.
Your Call?
Which of today's two vastly different featured images do you like best? Why?
Typos
With all blog posts, feel free to e-mail or to leave a comment regarding any typos or errors.