Stick Marsh In-the-Field Sessions
I am offering two Stick Marsh In-the-Field Sessions, one on Thursday and one on Friday: $300 for two solid hours of detailed photographic instruction. I have one sign-up for each day, and old friend Mike Gotthelf is joining me for both days (and a pool deck dinner on Thursday evening). I still have room for one or two more folks. There are many, many reasons to attend one or both of these sessions. If you are at all interested in learning why or in joining me, please get in touch via e-mail immediately.
Galapagos 2023 Opening
Due to a cancellation, I have an opening for a single male photographer on the Galapagos 2023 Photo-Cruise of a Lifetime IPT, the world's finest photographic cruise of the famed archipelago. I am offering the spot with a substantial discount. If you are interested in joining a great group, or have questions, please get in touch via e-mail ASAP.
Iceland
My decades-long dream of spending time on Grimsey Island, Iceland, with the puffins — 13 days in this case!, will be realized this coming July. I am doing back-to-back trips as a participant. If anyone would like information on the world's greatest Iceland/Atlantic Puffin trip this coming July, please contact me via e-mail.
Canon EF 500mm f/4L IS II USM Lens
BAA Record-low Price!
Richard Huberty is offering a Canon EF 500mm f/4L IS II USM lens in mint condition for a BAA record low $5,499.00. The sale includes the front lens cover, the rear lens cap, the lens strap, a LensCoat, both original feet, a replacement Arco-Swiss compatible foot, the lens trunk, and insured UPS ground shipping to lower 48 US addresses only. Your new lens will not ship until your check clears.
Please contact Richard via e-mail or by phone at 1-520-403-1145 (Mountain time zone — Arizona).
When I shot Canon, I always owned a 500mm. I loved them because they were smaller and lighter and thus easier to handhold, focused closer, and were much easier to travel with than the 600. No longer in production, used ones at B&H sells for anywhere from $6,658.95 (8+ condition) to $7,378.95 (9+ condition). Compare those with Richard's 10 condition copy and realize that you will be saving some handsome dollars. Unfortunately, Sony does not have an FE 500mm lens in its line-up. Score one for Canon. But of all, with a Canon Mount Adapter EF-EOS R ($99.00), this lens performs perfectly with an EOS R, R5, R6, or R7! artie
What's Up?
Again, not much. With mixed clouds and sun and a brisk north wind, I spent some time with the ridiculously tame small crane colt. The two very small chicks were right on the edge of the marsh; they should be coming up onto the grass any day now. One of the adults is still sitting on the third crane nest in the South Marsh. If you would like to join me on Saturday morning or thereafter to photograph the baby cranes (and more), please get in touch via e-mail. Both eaglets are fledged and flying. They hang around the nest or the nest tree most days. The parents spend much of their time sitting on the pier railings. The lake is down about two feet since Ian so the Green Herons should be taking to the pilings soon.
Thanks to the many who commented yesterday on Carolyn Johnson's fine work.
Today is Wednesday 15 March 2023. I will, of course, be heading down to the lake early to check things out. This blog post took about an hour to prepare and makes three hundred fifty days in a row with a new educational post written just for you. Wherever you are and whatever you are doing, I hope that you too have a great day.
My plan is to continue to post every day until the streak reaches one year and one day and then begin posting every other day. It won't be long now!
Please remember to use the B&H and Amazon links that are found on most blog pages and to use the BIRDSASART discount code at checkout when purchasing your new gear from Bedfords to get 3% back on your credit card and enjoy free second-day air FedEx. Please, also, consider joining a BAA IPT. You will be amazed at how much you will learn!
You can find some great photo accessories (and necessities, like surf booties!) on Amazon by clicking on the Stuff tab on the orange/yellow menu bar above. On a related note, it would be extremely helpful if blog-folks who, like me, spend too much money on Amazon, would get in the habit of clicking on the Amazon logo link on the right side of each blog post when they shop online. As you might expect, doing so will not cost you a single penny, but would be appreciated tremendously by yours truly. And doing so, works seamlessly with your Amazon Prime account.
Please remember that if an item — a Delkin flash card, or a tripod head — for example, that is available from B&H and/or Bedfords, is also available in the BAA Online Store, it would be great, and greatly appreciated, if you would opt to purchase from us. We will match any price. Please remember also to use my B&H affiliate links or to earn 3% cash back at Bedfords by using the BIRDSASART discount code at checkout for your major gear purchases. Doing either often earns you free guides and/or discounts. And always earns my great appreciation.
Fan Mail
The comment below was up for moderation.
Homer Photographer
Mr. Morris,
I am a resident of Homer, Alaska and an (ethical) wildlife photographer.
I was shocked to learn of the behavior of you and your group with regards to our local Great Gray Owl on your last day in Homer (Weds, March 8, 2023). You and your group participants all carried large lenses, yet you felt compelled to approach the GGO at a close range, swinging your hats and slapping your coats in an attempt to get the sleeping owl to open its eyes or flush. This is not what I would have expected from you (or anyone in your group).
Lastly, as a bird photographer, you know that it is not ethical to disclose the exact location of a GGO, which is (sic) considered a sensitive subject.
The GGO who had been seen daily for many weeks has not been seen since your group pulled it stunts. The photographers in Homer, Alaska are really disappointed in your behavior.
Here is my response:
Dear whatever-your-name-is,
I hope that you are well and safe. Thanks for letting me know about your concerns. My experience over the last 40 years is that the folks who complain loudly and publicly about the field behavior of others, will disturb the birds at will when nobody is looking. It is, therefore, good to know that you are an "ethical" wildlife photographer. At least we have your word for it. Perhaps thou doth protest too loudly?
Just so you know, in my experience, it is polite to sign your name to an e-mail or a comment. Is there a reason you did not sign your name? Are you hiding anything?
Thanks, by the way, for attempting to trash me on my blog (whiteout having the facts straight) by leaving a comment rather than by e-mailing me. I appreciated that a lot. My first thought was to ignore your comment, delete it, and spam you. But as occurrences and allegations like this are all too common, I thought that I would respond to you on the blog. Once you've made a name for yourself in this industry, it is very much like having a target on your back.
Now, I will address your comment point by point.
You wrote:
I was shocked to learn of the behavior of you and your group with regards to our local Great Gray Owl on your last day in Homer (Weds, March 8, 2023).
You say that you were shocked to learn of … But in fact, you witnessed us that day. Is that not correct?
As far as us being too close to the owl, that is ridiculous. We stayed at least 30-40 feet back. When we left, the owl was sitting on the same branch as when we arrived. Many Great Grey Owls are notoriously accepting of humans.
Is carrying a large lens a crime?
Now I need to clear up a few things. My third IPT ended the day before. I was out photographing with two friends, new friend Bob Eastman, and old friend Monte Brown. In no way was I in charge of a group (as you incorrectly assumed).
You continued with this: you we were swinging your hats and slapping your coats in an attempt to get the sleeping owl to open its eyes or flush.
Monte did not swing his hat or slap his coat. I did not swing my hat or slap my coat. Thus, I am not sure why you would wrongly accuse Monte and me of such behavior. Bob did wave his cap gently at the bird and slap his coat several times in an effort to get the sleepy owl to open its eyes. I suggested that he quit it.
I knew that immediately after you walked up right behind us (were you also not "too close" at that point?) and then left, that you texted or e-mailed the Sergius guy to complain about us. (Sergius is a local photographer who takes folks out to photograph the owls in Homer for money.) When I asked Bob where he got the idea for getting the owl to open its eyes he stated, "That is what Sergius did. He also whistled and squeaked. And when another photographer walked right up to the owl tree to get it to fly; Sergius did not say a word." Bob sent me two photos of the guy right beneath the owl from that morning.
Perhaps you were barking up the wrong tree?
As far as unethically disclosing the exact location of the owl, I said that it was "in a grove of trees near the airport." Where I come from, that is pretty vague. Every photographer visiting Homer in winter knows that that species hangs out by the airport. I had seen them in previous years when picking up clients. In reality, I was not disclosing anything.
As far as this, The GGO who had been seen daily for many weeks has not been seen since your group pulled it stunts, you know that it is untrue. The day before we went out, Bob texted Sergius and asked about the GGO. He stated that the bird had not been seen for four days. Bob had found the owl on his own in the spot where you saw us several days before, photographed it, and left it undisturbed. How he spotted it from a distance on the morning of 8 March is beyond me.
As far as the local photographers being disappointed, perhaps, now that the truth has been revealed, they might find someone else to be disappointed in. Unless the ethical locals are permitted certain behaviors that are taboo for visiting photographers.
On a personal note, handholding the Canon RF 100-500 in low light with its f/7.1 aperture at the long end is not recommended. You might consider getting yourself a sturdy tripod with a Levered-Clamp FlexShooter Pro atop it. That would enable you to make sharp images at slower shutter speeds with much lower ISOs.
best and love, artie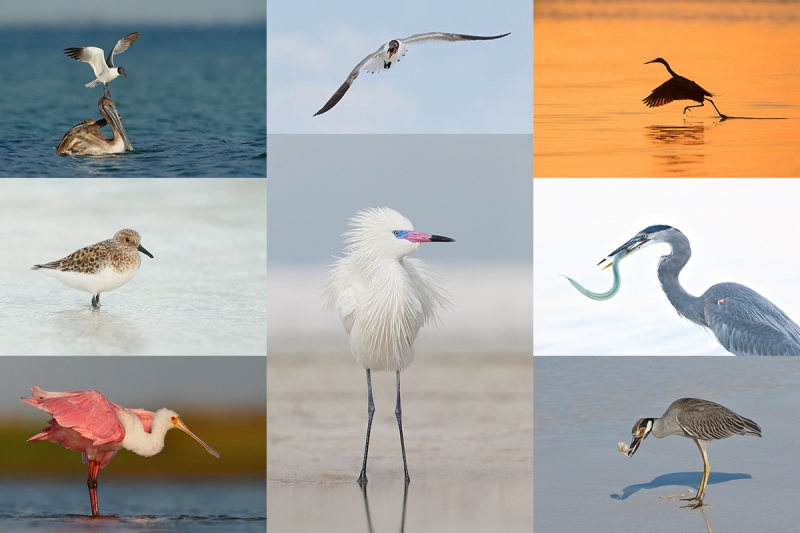 Fort DeSoto in spring is rife with tame birds, many in full breeding plumage. Click on the composite to enjoy a larger version.
Clockwise from upper left around to center: Laughing Gull landing on head of Brown Pelican, Laughing Gull in flight, Reddish Egret sunrise silhouette, Great Blue Heron with needlefish, Yellow-crowned Night Heron with ghost crab, Roseate Spoonbill, Sanderling in breeding plumage, and white morph Reddish Egret in glorious breeding plumage.
The 2023 Spring Fort DeSoto Instructional Photo Tours (IPTs)
Spring Fort DeSoto IPT #1: Tuesday 28 March through the morning session on 31 March 2023. 3 1/2 Days: $1899.00 includes three working brunches. Limit six photographers/Openings: five.

Spring Fort DeSoto IPT #2: Tuesday 11 April through the morning session on 14 April 2023. 3 1/2 Days: $1899.00 includes three working brunches. Limit six photographers/Openings: four.

Spring Fort DeSoto IPT #3: Tuesday 9 May through the morning session on 12 May 2023. 3 1/2 Days: $1899.00 includes three working brunches. Limit six photographers. /Openings: five.
Fort DeSoto, located just south of St. Petersburg, FL, is a mecca for terns and gulls, wading birds, and shorebirds in spring. Many of the birds will be in full breeding plumage. Simply put, DeSoto is the new Ding Darling. Migrant shorebirds are in abundance, and many are exceedingly tame. We should have great chances on Royal and Sandwich Terns and both white- and dark-morph Reddish Egrets. Great Egret, Snowy Egret, Great Blue Heron, Tricolored Heron, and White Ibis are easy as well and we will almost surely come up with a tame Yellow-crowned Night-Heron or two along with some American Oystercatchers. We will enjoy lots of great flight photography, especially with the Brown Pelicans.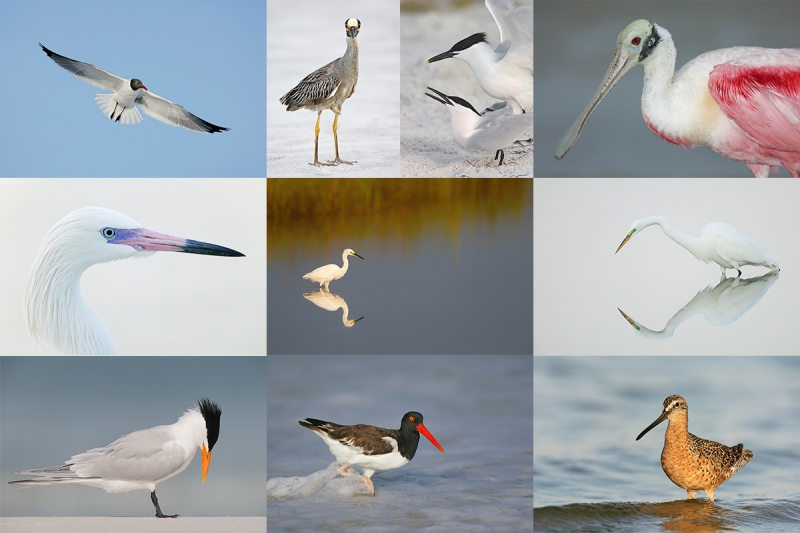 Again, Fort DeSoto in spring is rife with tame birds, most in breeding plumage. Click on the composite to enjoy a larger version.
Clockwise from upper left around to center: Laughing Gull in flight, Yellow-crowned Night-Heron, Sandwich Terns copulating, Roseate Spoonbill, Great Egret with reflection, breeding plumage Short-billed Dowitcher, American Oystercatcher, Royal Tern, white morph Reddish Egret, and Snowy Egret in marsh.
In Addition!
We should also get to photograph a variety of other shorebirds including Black-bellied, Semipalmated, Wilson's, Snowy, and Piping Plovers, Willet, Dunlin, Short-billed Dowitcher, Marbled Godwit, and most especially, Red Knot, with many individuals in their handsome breeding plumages. In spring the T-shaped peninsula and the newly formed sandbar, Outback Key, are literally packed with avian treasures.
With just a bit of luck, we may get to photograph one of Florida's most desirable species: Roseate Spoonbill. And we will surely get to do some Brown Pelican flight photography. With luck, they will have Laughing Gulls landing on their heads. And though not guaranteed, Wood Stork might well be expected. And we will be on the lookout for a migrant passerine fallout in the event of a thunderstorm or two.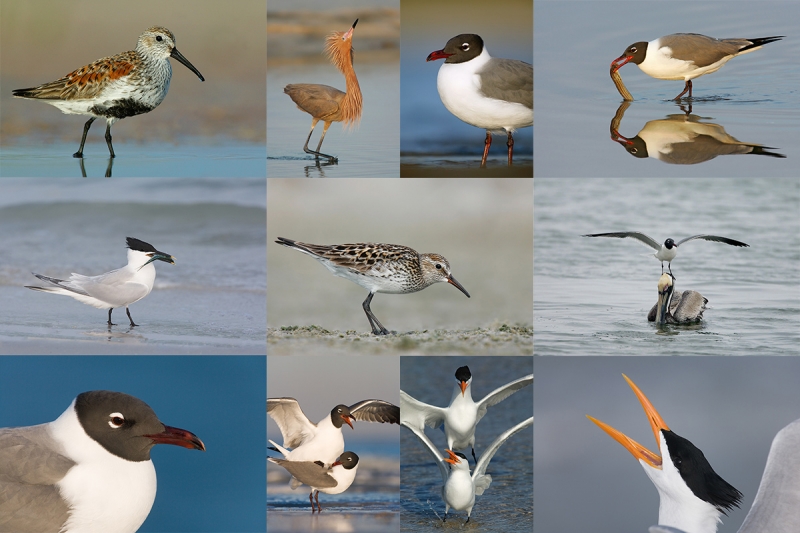 Yes, Fort DeSoto in spring is rife with tame birds, most in breeding plumage. Click on the composite to enjoy a larger version.
Clockwise from upper left around to center: breeding plumage Dunlin, dark morph Reddish Egret displaying, Laughing Gull vertical front-end portrait, Laughing Gull with prey item, landing on head of Brown Pelican, breeding plumage Royal Tern displaying, Royal Terns — pre-copulatory stance, Laughing Gulls copulating, Laughing Gull head portrait, breeding plumage Sandwich Tern with fish, and a rare treat, a breeding plumage White-rumped Sandpiper.
What You Will Learn on a DeSoto IPT
1- The basics and fine points of digital exposure; how to get the right exposure every time after making a single test exposure (or before if you are using SONY gear).
2- How and why to work in Manual mode (even if you're scared of it).
3- How to approach free and wild birds without disturbing them.
4- Lots about bird behavior and how to use that knowledge to help you create better images.
5- To age and identify many species of shorebirds including various sandpipers, plovers, dowitchers, and possibly yellowlegs.
6- To spot good situations and to choose the best perspective.
7- To see, evaluate, and understand the light.
8- To design pleasing images by mastering your camera's AF system.
9- And perhaps most importantly, to evaluate wind and sky conditions and understand how they affect bird photography.
10- More than you could ever imagine.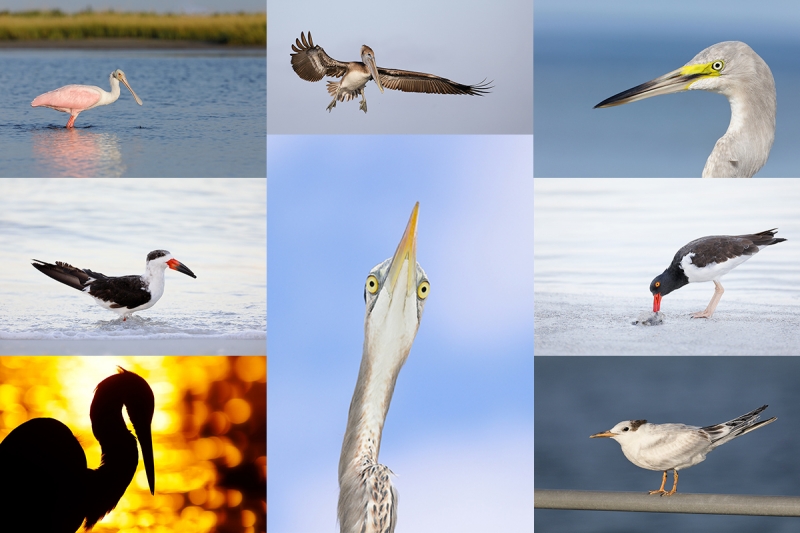 You got it by now! Fort DeSoto in spring is rife with tame birds, most in breeding plumage. Click on the composite to enjoy a larger version.
Clockwise from upper left around to center: Roseate Spoonbill, immature Brown Pelican in flight, the heron/egret hybrid, American Oystercatcher feeding, immature Royal Tern on railing, Great Egret morning silhouette, Black Skimmer in surf, and underside head portrait of Great Blue Heron.
The Details
Morning sessions will run two and one-half to three hours; afternoon sessions about two. There is never a set schedule on an IPT — we adapt to the conditions. On cloudy mornings with the right wind, we may opt to photograph till noon and skip the afternoon session. That especially when the afternoon weather is looking iffy. We may opt to visit a great North Tampa rookery if conditions warrant that.
There will be a Photoshop/Image Review session before and after brunch (included) each of the three full days. That will be followed by Instructor Nap Time. Each of these IPTs will run with only a single registrant as I do not like disappointing anyone. The best airport is Tampa (TPA). Once you register, you will receive an e-mail with lodging information. Do know that it is always best if IPT folks stay in the same general area (rather than at home or at a friend's place a good distance away).
Folks attending this IPT will be out in the field as early as possible and stay out late to take advantage of sunrise and sunset colors; this is pretty much a staple on almost all BIRDS AS ART Instructional Photo-Tours. Doing so will often present unique photographic opportunities, opportunities that will be missed by those who need their beauty rest and those who need to get home for a proper dinner. I really love it when I am leaving the beach at 9:30am on a sunny morning after a great session just as a carful or two of well-rested photographers are arriving … We will be getting wet.
Your $599 deposit is due now. Credit cards are OK for that. You can register by calling Jim or Jennifer during weekday business hours at 863-692-0906 with a credit card in hand. Once you leave a deposit, you will receive an e-mail with your balance statement and instructions for sending your balance check three months before the trip begins. If you wish to pay in full right off the bat, you can make your check out to BIRDS AS ART and send it via US mail here: BIRDS AS ART, PO BOX 7245, Indian Lake Estates, FL 33855. You will receive a confirmation e-mail with detailed instructions, and clothing and gear advice two months before the trip. Please shoot me an e-mail if you plan to register or if you have any questions.
IPT veterans and couples or friends signing up together may e-mail for discount information.
Typos
With all blog posts, feel free to e-mail or to leave a comment regarding any typos or errors.