Your Call?
Which of today's two featured images do you like best? Please leave a comment and let us know why you made your choice.
Thanks to the many who left thoughtful comments on the two very similar Pacific-race Brown Pelican images yesterday. My very great preference was for Image #2 because it was sexier and more dynamic than Image #1. But that does not mean that my choice was the correct one.
ILE Baby Crane and Eagle In-the-Field Sessions
This morning I was wishing that you were with me at ILE. Right now, I have five tame baby cranes and two baby eagles here at ILE. And lots more. The timing for a great learning and photo session here has never been better. $300 for two solid hours of detailed photographic instruction from this Sunday through next Sunday. We can fine-tune your date for the best weather. If you are interested in joining me, please get in touch via e-mail.
Galapagos 2023 Opening Filled!
Lake Morton In-the-Field veteran Bob Matyas will be joining the smallest Galapagos 2023 Photo-Cruise of a Lifetime IPT group ever. Why? Two folks signed up for single cabins. This trip is by far the world's finest photographic cruise of the famed archipelago. I will be returning in August 2024. If you are interested or have questions, please get in touch via e-mail ASAP.
Iceland
My decades-long dream of spending time on Grimsey Island, Iceland, with the puffins — 13 days in this case!, will be realized this coming July. I am doing back-to-back trips as a participant. If anyone would like information on the world's greatest Iceland/Atlantic Puffin trip this coming July, please contact me via e-mail.
What's Up?
It was cold and windy here this morning with a brisk W/NW wind. Despite the conditions, I had a great morning. See why below.
If you are looking for a Canon 100-400 II lens, please shoot me an e-mail as I have one in the pipeline.
I was glad to learn that Bear Bob Sabine will be doing both 2024 Kachemak Bay sessions and that IPT veteran Sanjeev Nagrath has left a deposit for the second 2024 Bald Eagle IPT. Please do not hesitate too long if you are thinking of joining me next year in Homer.
Today is Monday 20 March 2023. I am headed into town early for a blood draw for my regular check-up and if I have any brains, I will skip photography for just one morning to catch up on work.
This blog post took more than 90 minutes to prepare and makes three hundred fifty-four days in a row with a new educational post written just for you. Wherever you are and whatever you are doing, I hope that you too have a great day. My plan is to continue to post every day until the streak reaches one year and one day and then begin posting every other day. I can see the light at the end of the tunnel!
Please remember to use the B&H and Amazon links that are found on most blog pages and to use the BIRDSASART discount code at checkout when purchasing your new gear from Bedfords to get 3% back on your credit card and enjoy free second-day air FedEx. Please, also, consider joining a BAA IPT. You will be amazed at how much you will learn!
You can find some great photo accessories (and necessities, like surf booties!) on Amazon by clicking on the Stuff tab on the orange/yellow menu bar above. On a related note, it would be extremely helpful if blog-folks who, like me, spend too much money on Amazon, would get in the habit of clicking on the Amazon logo link on the right side of each blog post when they shop online. As you might expect, doing so will not cost you a single penny, but would be appreciated tremendously by yours truly. And doing so, works seamlessly with your Amazon Prime account.
Please remember that if an item — a Delkin flash card, or a tripod head — for example, that is available from B&H and/or Bedfords, is also available in the BAA Online Store, it would be great, and greatly appreciated, if you would opt to purchase from us. We will match any price. Please remember also to use my B&H affiliate links or to earn 3% cash back at Bedfords by using the BIRDSASART discount code at checkout for your major gear purchases. Doing either often earns you free guides and/or discounts. And always earns my great appreciation.
The Stick Marsh Site Guide Subscription Service
The Site Guide Subscription Service was a new concept last year. I e-mailed the first issue in late-March 2022. The Basics e-mail includes specific directions to the site, and a map of the rookery area with specific instructions and wind, weather, and where-to-be advice. Sign up now to receive last year's five e-mails and tomorrow's very important update. Unfortunately, things at Stick Marsh are changing very soon.
To sign up for the Stick Marsh Site Guide Subscription Service, call Jim in the office weekday afternoons at 863-692-0906 with your credit card in hand or send a PayPal for the $100.00 to us at birdsasart@verizon.net. Please be sure to include the words Stick Marsh with your PayPal.
I fully understand that you can go to Google Maps, find Stick Marsh, visit, and likely make some good images. You might think, I can do fine just without artie's advice. But you will do a whole lot better with it. Especially considering the new conditions and the big change coming very soon.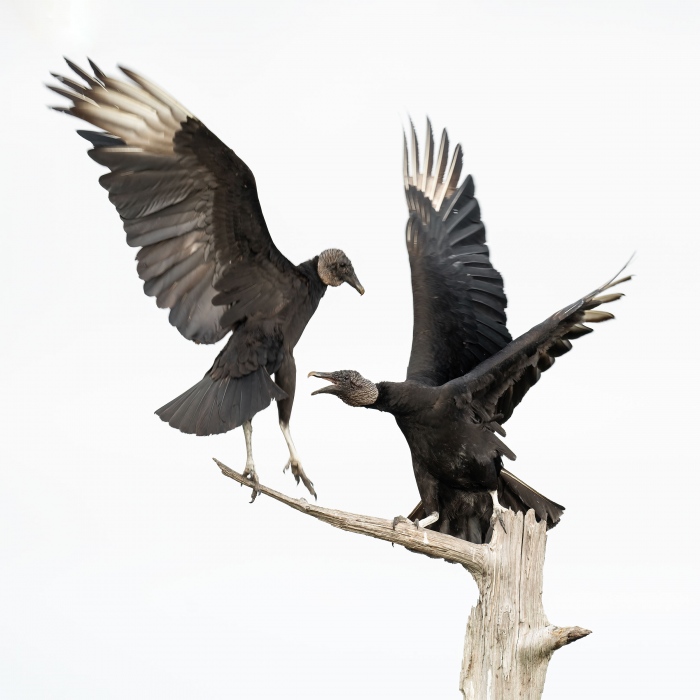 This image was created on 19 March 2023 down by the lake near my home at ILE. Seated in the front seat of my SUV I used the BLUBB-supported Sony FE 600mm f/4 GM OSS lens and The One, the Sony Alpha 1 Mirrorless digital camera. ISO 640. Exposure was determined via Zebras with ISO on the rear dial: 1/500 sec. at f/4 (wide open). When evaluated in RawDigger, the raw file brightness was determined to be perfect (ho hum). AWB at 8:27:37 am on a cloudy morning.
Tracking: Expand Spot/AF-C with Bird/Face-eye detection enabled was active at the moment of exposure and performed just fine. Be sure to click on the image to enjoy the larger version.
Image #1: Black Vultures squabbling on The Perch II
Your browser does not support iFrame.
The Same Old Lesson Re-learned
With the stiff wind, there were dozens of vultures (both species) flying around near the base of the pier. There was a Turkey Vulture on The Perch II when I drove by the first time. On the way back it had been replaced by a Black Vulture (BV); it as the first one I had ever seen on the perch that I erected two years ago with lots of help from my neighbor Ralph. A second BV flew in and after a brief squabble, knocked the first one off the perch. I never even pressed the shutter button. But since bird behavior is often repetitive, I vowed to fire away if it happened again. When it did, I did not worry about where the AF point was. I just pressed the shutter button. And came up with two very nice keepers. My favorite is above. A bit of motion blur was cleaned up to some degree with the masking feature in Topaz AI Sharpen.
When unexpected action occurs, do not think. Just push the shutter button.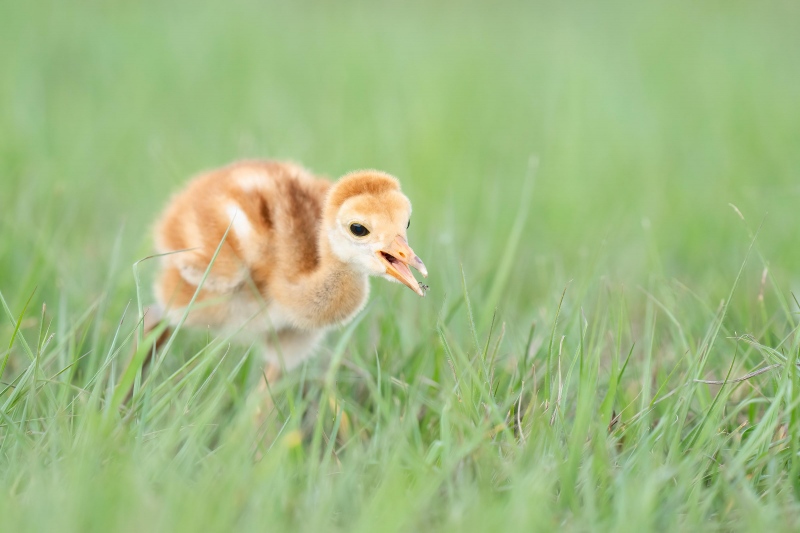 This image was also created on 19 March 2023 down by the lake near my home at ILE. Seated on the grass, I used the lowered Robus RCM-439 4-Section Carbon Fiber Monopod, 65/Wimberley MonoGimbal Head-supported Sony FE 400mm f/2.8 GM OSS lens and The One, the Sony Alpha 1 Mirrorless Digital Camera). The exposure was determined via Zebra technology with ISO on the Thumb Dial. ISO 1000. 1/1250 sec. at f/3.2 (stopped down 1/3-stop) in Manual mode. When evaluated in RawDigger, the raw file brightness was determined to be dead-solid perfect (ho hum). AWB at 8:52:29am on cloudy morning.
Tracking: Expand Spot/AF-C with Bird Face/Eye detection enabled performed to perfection. Be sure to click on the image to enjoy a high-res version.
Image #2: Sandhill Crane chick eating tiny bug

Your browser does not support iFrame.
The Tiny, Hungry Crane Chick; One of Two
After visiting The Perch II twice and spotting the crane colt is a residential backyard, I went off in search of the two 2-chick families. I found the tiny chicks up out of the marsh and, freezing cold and under-dressed without any gloves, stayed with them for more than an hour. I tried something new by sitting and using the 400 f/2.8 on the shortened monopod in lieu of the knee-pod technique. It worked quite well as it greatly reduced fatigue while providing a fairly steady base of support. I need to do better switching to vertical orientation.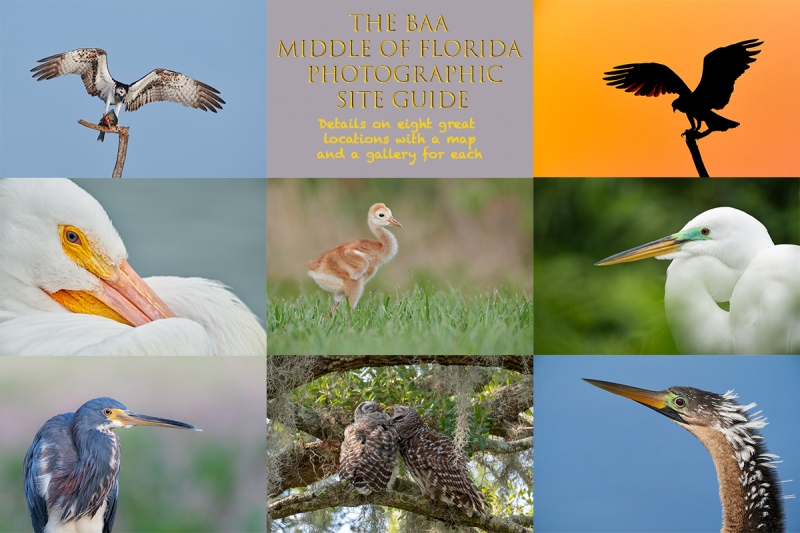 The BAA Middle of Florida Photographic Site Guide
You can purchase your copy here in the BAA Online Store.
The BAA Middle of Florida Photographic Site Guide
126 pages, 87 photographs by Joe Przybyla and Arthur Morris.
The PDF for this e-Guide is an electronic download sent via e-mail.
Purchase your copy here in the BAA Online Store.
I had thought about doing a guide to some of the great but little-known photo hotspots around central Florida for about a decade, but those plans never came to fruition. I met Joe online in the Avian Forum at BirdPhotographer's.Net about two years ago. Joe's photography has improved tremendously over the past few years; he credits the BAA blog, my books and PDFs, and his participation on BPN. The one thing that I learned right from the get-go about Joe is that he is a hard and tenacious worker, always striving to improve his skills and to grow his knowledge base. As he knew of more than a few good spots in central Florida, I broached the idea of us doing a photographic site guide that covered many of the little-known photographic hotspots from Brandon to Lakeland to Joe Overstreet Road to Indian Lake Estates (my Florida home for the past 20 years or so). After more than many, many dozens of hours of effort, The BIRDS AS ART Middle of Florida Photographic Site Guide is now a reality. Thanks to Joe's wife Dottie for her review of our writing. We all learned once again that writing is a process, a back and forth process. All thanks to the white pelicans of Lakeland. Here are the locations that are detailed in this e-Guide:
Indian Lake Estates: Sandhills Cranes with chicks and colts, lots of vultures, and Ospreys up the kazoo!
Gatorland, Kissimmee: Learn to make great images of wading birds in a cluttered rookery.
The Brandon Rookery: Great for nesting Wood Storks, Great Egrets, and more.
Circle Bar B Reserve, Lakeland: Here you will find a great variety of avian subjects in a great variety of habitats.
Lake Morton, Lakeland: There are lots of silly tame birds here including and especially American White Pelican during the colder months.
Lake Mirror, Lakeland: Tame Anhingas, Limpkins, and a zillion White Ibises at times.
West Lake Parker, Lakeland: Here you will have a chance for two difficult birds, Snail Kite, and Purple Gallinule.
Joe Overstreet Road, Kenansville: Crested Caracara, meadowlarks, Loggerhead Shrike, and much more on the fenceposts and barbed wire.
Each location includes a map, a detailed description of the best spots, best season, light and time of day instructions, the expected species, and an educational and inspirational gallery that is designed to open your eyes as to the possibilities.
Please note: It seems that Gatorland is not offering a Photographer's Pass Program this year.
You can purchase a copy here in the BAA Online Store.
Typos
With all blog posts, feel free to e-mail or to leave a comment regarding any typos or errors.