Thanks!
Thanks to all who commented on Bob Eastman's fine photographs in yesterday's post. My favorite image was #3, the banking eagle for its sheer artistic perfection and the evenly lit underwings.
Nikon AF-S NIKKOR 500mm f/4E FL ED VR Lens
John Doskoch is offering a Nikon AF-S Nikkor 500mm F4 FL ED VR lens in near-mint condition for a very low $5995.00. The sale includes a Wimberley P-30 (Arca-Swiss compatible) lens plate (a $55 value), the soft front lens cover, the lens hood, the lens strap, the unused hard case, and insured ground shipping via major courier to lower-48 US addresses — please inquire for shipping to other locations. Your item will not ship until your check clears unless other arrangements are made.
Please contact John via e-mail by phone at (231) 675-7688.
When I shot Canon, I always owned a 500mm. I loved them because they were smaller and lighter and thus easier to handhold, focused closer, and were much easier to travel with than the 600. Unfortunately, Canon, Sony, and Nikon do not currently offer a mirrorless 500mm f/4 lens and have no plans to do so. With a D5 or D850 or D 500, or with a Z9 and the adapter, this lens would be a valuable addition to anyone's kit. B&H is offering this item used in similar condition for $7,928.50! Doubt me? Click here. To make things worse, they offered John $4200.00 for his lens. artie
Nikon AF-S Teleconverter TC-1.4 III
BIRDS AS ART Record-Low Price
John Doskoch is offering a Nikon AF-S Teleconverter TC-1.4 III in excellent plus condition fora BAA record-low $276.95. The sale includes the front and rear caps, the pouch, the original box, and insured ground shipping via major courier to lower-48 US addresses — please inquire for shipping to other locations. Your item will not ship until your check clears unless other arrangements are made.
Please contact John via e-mail by phone at (231) 675-7688.
Regular readers know teleconverters are so important to what I do, that I travel with back-ups for each one. I actually bring three 1.4X TCs on every trip! This, the latest version of the Nikon 1.4X, sells new for $496.95 so you can save a whopping $220.00 by grabbing John's 1.4X TC. artie
What's Up?
With too much to do on Monday morning, I stayed in to get ready for a week in St. Pete for the 1st DeSoto Spring IPT. I headed west at about 4:00pm.
Today is Tuesday 28 March. This blog post took less than an hour to prepare including the time spent on the image optimization and makes three hundred sixty-two days in a row with a new educational post written just for you. Wherever you are and whatever you are doing, I hope that you too have a great day. My plan is to continue to post every day until the streak reaches one year and one day and then begin posting every other day. It won't be long now.
Please remember to use the B&H and Amazon links that are found on most blog pages and to use the BIRDSASART discount code at checkout when purchasing your new gear from Bedfords to get 3% back on your credit card and enjoy free second-day air FedEx. Please, also, consider joining a BAA IPT. You will be amazed at how much you will learn!
You can find some great photo accessories (and necessities, like surf booties!) on Amazon by clicking on the Stuff tab on the orange/yellow menu bar above. On a related note, it would be extremely helpful if blog-folks who, like me, spend too much money on Amazon, would get in the habit of clicking on the Amazon logo link on the right side of each blog post when they shop online. As you might expect, doing so will not cost you a single penny, but would be appreciated tremendously by yours truly. And doing so, works seamlessly with your Amazon Prime account.
Please remember that if an item — a Delkin flash card, or a tripod head — for example, that is available from B&H and/or Bedfords, is also available in the BAA Online Store, it would be great, and greatly appreciated, if you would opt to purchase from us. We will match any price. Please remember also to use my B&H affiliate links or to earn 3% cash back at Bedfords by using the BIRDSASART discount code at checkout for your major gear purchases. Doing either often earns you free guides and/or discounts. And always earns my great appreciation.
Iceland
My decades-long dream of spending time on Grimsey Island, Iceland, with the puffins — 13 days in this case!, will be realized this coming July. I am doing back-to-back trips as a participant. If anyone would like information on the world's greatest Iceland/Atlantic Puffin trip this coming July, please contact me via e-mail.
B&H
Many folks have written recently stating that they purchased a Sony a1 from B&H and would like their free membership in the Sony 1 Info and Updates Group, a $150.00 value. When I check my affiliate account, their orders have not been there. When I let them know that they get credit for B&H purchases only if they use one of the many B&H affiliate links on the blog or begin their searches with this link, they are always disappointed. If in doubt, please contact me via e-mail and request a BH link. I am always glad to help and to guide you to the right gear.
Bedfords Amazing BAA Discount Policy
Folks who have fallen in love with Bedfords can now use the BIRDSASART coupon code at checkout to enjoy a post-purchase, 3% off-statement credit (excluding taxes and shipping charges) on orders paid with a credit card. The 3% credit will be refunded to the card you used for your purchase. Be sure, also, to check the box for free shipping to enjoy free Second Day Air Fed-Ex. This offer does not apply to purchases of Classes, Gift Cards, prior purchases.
Visit the Bedfords website here, shoot Steve Elkins an e-mail, or text him on his cell phone at (479) 381-2592.

Money Saving Reminder
Many have learned that if you need a hot photo item that is out of stock at B&H and would like to enjoy getting 3% back on your credit card along with free 2nd Day Air Fed-Ex Air shipping, your best bet is to click here, place an order with Bedfords, and enter the coupon code BIRDSASART at checkout. If an item is out of stock, contact Steve Elkins via e-mail or on his cell phone at (479) 381-2592 (Central time). Be sure to mention the BIRDSASART coupon code and check the box for Free Shipping. That will automatically upgrade to free 2nd Day Air Fed-Ex. Steve has been great at getting folks the hot items that are out of stock at B&H and everywhere else. The waitlists at the big stores can be a year or longer for the hard-to-get items. Steve will surely get you your gear long before that. For the past year, he has been helping BAA Blog folks get their hands on items like the SONY a 1, the SONY 200-600 G OSS lens, the Canon EOS R5, the Canon RF 100-500mm lens, and the Nikon 500mm PF. Steve is personable, helpful, and eager to please.
Important Note
As an Amazon Associate, I earn a small percentage when you purchase from Amazon after using any of the Amazon links on the blog (including the logo-link on the right side of each blog post page). My affiliate link works fine with Amazon Prime and using it will not cost you a single cent. Huge thanks, BTW 🙂
Gear Questions and Advice
Too many folks attending BAA IPTs and dozens of photographers whom I see in the field and on BPN, are — out of ignorance — using the wrong gear, especially when it comes to tripods and more especially, tripod heads. And the same is true in spades when ordering new camera bodies or lenses. My advice will often save you some serious money and may help you avoid making a seriously bad choice. Please know that I am always glad to answer your gear questions via e-mail. If you are desperate, you can try me on my cell at 863-221-2372. Please leave a message and shoot me a text if I do not pick up.
Sony AF
I have no idea how Sony A1 AF got through the vegetation and found the bird's face and eye. But I am glad that it did. Though there are dozens and dozens of spoonbills flying with nesting material, but 99% of them are angling away. In Stick Marsh Group e-mail #7, sent last night, I shared my thoughts on where, when, and how to make images like this. Scroll down for details.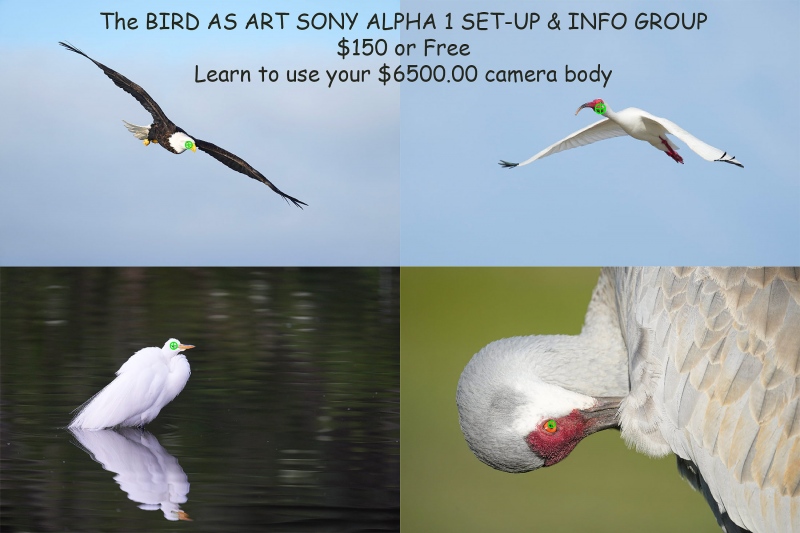 Click on the image to better see the green eye-AF boxes in action.
Sony Alpha 1 Flight Photography AF Points!
The SONY Alpha a1 Set-up Guide and Info Group: $150.00 (or Free)
The SONY Alpha a1 Set-up Guide and Info Group is going great guns as more and more folks chime in with thoughtful questions and experience-based answers. As the a1 is becoming more readily available, more and more folks are getting their hands on this amazing body. By June 1, 2022, the group was up to an astounding 124 lucky and blessed folks. (More than a few folks own two or more a1 bodies! Early on, we discussed the myriad AF options. I gave my opinion as to the best one for flight and general bird photography. The best news is that everyone in the group receives an e-mail that includes a .DAT file with my a1 settings on it, and explicit directions on how to load my settings onto your a1; talk about convenience! I am now offering a .DAT file compatible with firmware update 1.20. Your entry into the group includes a consolidated Sony a1 CAMSETA2 INFO & GUIDE. New a1 folks will now receive six e-mails instead of the previous 28! You will receive new e-mails as they are published. Simply put, this e-mail guide is an incredible resource for anyone with an a1.
All who purchased their Alpha 1 bodies via a BAA affiliate link — B&H or Bedfords — will receive a free Sony Alpha a1 Set-Up Guide and free entry into the Info Updates group after shooting me their receipts via e-mail. (Note: it may take me several days to confirm B&H orders.). Others can purchase their guide here in the BAA Online Store.
Figuring Stuff Out
I had heard about Stick Marsh for several years. The word on the street was that the birds were far away and that you needed a boat to be successful there. When I finally visited in 2020, I was aboard Clemens Van der Werf's flats boat. After the first five minutes I said to myself, "The last thing that you need here is a boat."
When you visit a new location, it takes a while to figure out where to be on what wind with what sky conditions. And that is true even for a place as small at Stick Marsh. After nearly 40 years of bird photography, that is something that I have gotten pretty good at. I pride myself in being able to size a place up and put myself and my groups in the best spots to make great images.
That skill, along with my ability to write good how-to, led to the huge popularity of BIRDS AS ART Site Guides. And the best way to learn those skills is to join me on an IPT. Any IPT.
The Stick Marsh Site Guide Subscription Service
I fully understand that you can go to Google Maps, find Stick Marsh, visit, and likely make some good images. You might think, I can do fine just without artie's advice. But you will do a whole lot better with it.
I will be e-mailing this year's second update tomorrow. It will detail my thoughts on the effects of the current construction project and the best strategies to employ for the rest of this season.
The Site Guide Subscription Service was a new concept last year. I e-mailed the first issue in late-March 2022. The Basics e-mail includes specific directions to the site, and a map of the rookery area with specific instructions and wind, weather, and where-to-be advice. Sign up now to receive last year's five e-mail, Stick Marsh Site Guide e-Mail #6, the March 20, 2023 Update, and e-Mail #7 coming soon to a theater near you. To sign up for the Stick Marsh Site Guide Subscription Service, call Jim in the office weekday afternoons at 863-692-0906 with your credit card in hand or send a PayPal for the $100.00 to us at birdsasart@verizon.net. Please be sure to include the words Stick Marsh with your PayPal order.
Typos
With all blog posts, feel free to e-mail or to leave a comment regarding any typos or errors.