My Call
In Wednesday's blog post, I liked Image #3 best — the B&W version of the Ring-necked Duck swimming with the orange eye painted back in. Why? I thought that it was a pretty clever optimization.
What's Up?
I will be taking the Auto Train north on Sunday afternoon and will be spending a few days at Nickerson Beach before my trigger finger surgery on this coming Thursday. Today is Wednesday 17 May 2023. Wherever you are and whatever you are doing, I hope that you too have a great day.
All are cordially invited to join me next year on a Homer IPT.
The Fact$ of Life
Right now, the market for editorial sales of natural history images has virtually disappeared. The incomes of the world's top stock photographers are down by at least 90%. Like me, most depend on income from photo trips, the sale of educational materials, and income from this or that affiliate program.
In 2001, BAA sold the publication rights to images for nearly one-quarter million US dollars. That amount dropped to about $20,000 by 2011, and in 2017, to slightly more than $2,000.00. We've stopped counting. IPTs used to fill within days. Now I am happy to go with one or two folks, but I'd much rather have you along. And so it goes. In 2009, I turned to creating educational blog posts, now to the tune of 4034. Yes, 4034 educational blog posts. So, please remember to use either my B&H or Bedfords affiliate links for your major purposes. It does not cost you one cent to do either.
B&H
Many folks have written recently stating that they purchased a Sony a1 from B&H and would like their free membership in the Sony 1 Info and Updates Group, a $150.00 value. When I check my affiliate account, their orders have not been there. When I let them know that they get credit for B&H purchases only if they use one of the many B&H affiliate links on the blog or begin their searches with this link, they are always disappointed. If in doubt, please contact me via e-mail and request a BH link. I am always glad to help and to guide you to the right gear.
B&H Simplified
To ensure that I get credit for your B&H purchases, you can always click here. The tracking is invisible but greatly appreciated. And, you can use your PayBoo card. You must use the website to order. Thanking me for the past 4000 educational blog posts could not be any easier and will not cost you one penny. Please shoot me your B&H receipt for major purchases.
Bedfords Simplified
Click here to start your search. Choose standard shipping, and when you get to the payment page, enter BIRDSASART in the discount code box and hit apply. You will be upgraded to free second day air Fed-Ex and receive 3% cash back on your credit card once your stuff ships. Either is greatly appreciated by yours truly.
Iceland
My decades-long dream of spending time on Grimsey Island, Iceland, with the puffins — 13 days in this case!, will be realized this coming July. I am doing back-to-back trips as a participant. If anyone would like information on the world's greatest Iceland/Atlantic Puffin trip this coming July, please contact me via e-mail.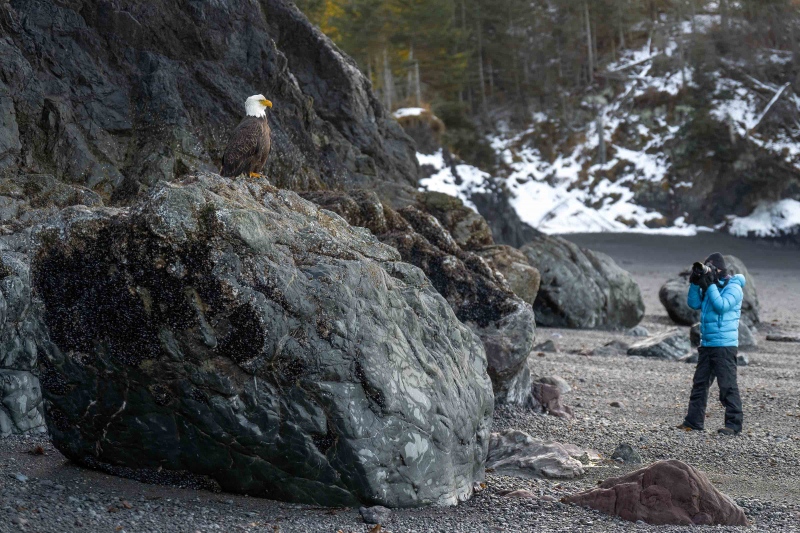 This image was created on 21 February 2023 on an Instructional Photo-Tour at Kachemak Bay, Homer, AK. I used the hand held Sony FE 70-200mm f/2.8 GM OSS II lens (at 115mm) and The One, the Sony Alpha 1 Mirrorless Digital Camera.. The exposure was determined via Zebras with Exposure Compensation on the thumb dial. ISO 1250: 1/1250 sec. at f/4 (stopped down one stop) in Manual mode. AWB at 2:34:37pm on a cloudy day.
Tracking: Spot S AF/C with Bird-Eye/Face Detection enabled performed perfectly (despite the fact that I focused on Vasili. Click on the image to enjoy a high-res version.
Image #1: Vasil Chernishof and cooperative Bald Eagle

Your browser does not support iFrame.
Vasili Chernishof
Vasili is an anesthesiologist from Pasadena, CA. He is relatively young as far as bird photographers go. He first signed up for the 2023 Galapagos Photo Cruise of a Lifetime and then decided to join me on the 2nd Homer IPT. It was a pleasure meeting and working with him.
A Very Cooperative Eagle
We had been photographing eagles in flight trying for frozen waterfall backgrounds. I noticed a single eagle posed in the same spot for more than twenty minutes. So, I had everyone get off the boat cautiously and move slowly to the right. The handsome bird posed and posed and posed. I encouraged folks to vary their perspectives for two reasons:
1- Get different angles on the bird.
2- Vary the backgrounds.
The bird sat and posed for an additional thirty minutes. When we headed back for lunch, we left it sitting in the same spot.
Note that the bird has turned its head slightly to its left to provide a perfect head angle for Vasili.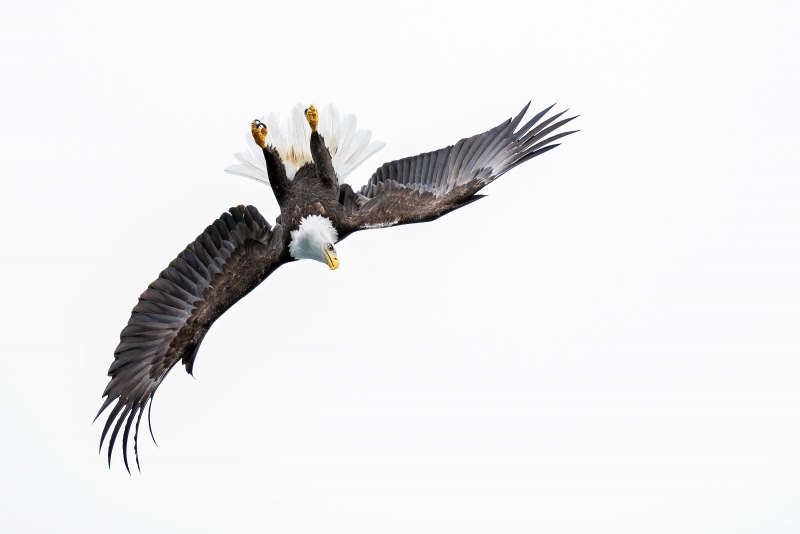 This image was created by Vasili Chernishof on 23 February 2023 on an Instructional Photo-Tour at Kachemak Bay, Homer, AK. He used the hand held Canon EF 70-200mm f/2.8L IS III USM lens (at 102mm) with the Canon EOS-1D X Mark III DSLR Camera. ISO 4000: 1/2000 sec. at f/2.8 (wide open)in Manual mode. AWB at 10:58:22am on a cloudy morning.
Click on the image to enjoy a high-res version. Image optimization by Arthur Morris/BIRDS AS ART.
Image #2: Bald Eagle upside-down bank
Image courtesy of and copyright 2023: Vasili Chernishof

Your browser does not support iFrame.
Blasé
Ten years ago, images like this were often honored in international photography competitions. With today's top-of-the-line camera bodies, they have become relatively commonplace. That said, getting one almost completely upside down is an accomplishment.
Image Optimizations on IPTs
On all IPTs, I wind up optimizing one or two images for participants who have shared their work with the group (and/or with me). I make a screen capture video of the raw conversions and image optimizations and send them to the group at the end of the trip.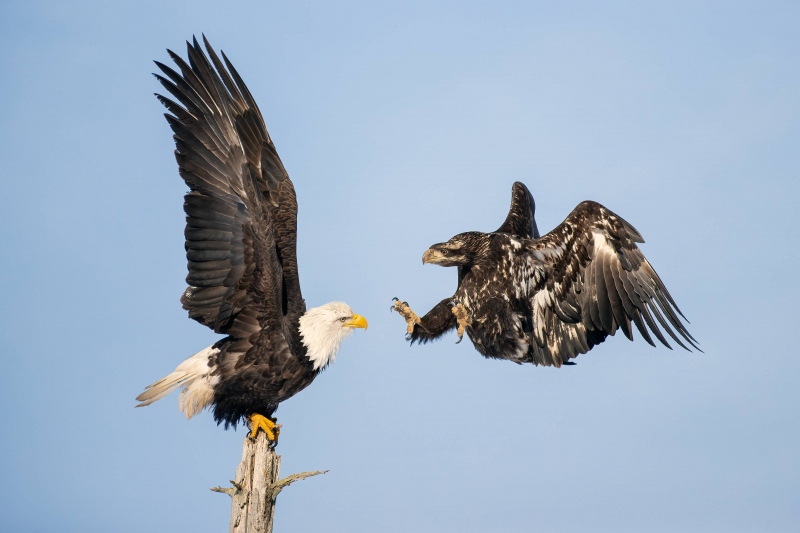 This image was created by Vasili Chernishof on 23 February 2023 on an Instructional Photo-Tour at Kachemak Bay, Homer, AK. He used the hand held Canon EF 70-200mm f/2.8L IS III USM lens with the Canon Extender EF 1.4X III (at 280mm) with the Canon EOS-1D X Mark III DSLR Camera. ISO 800: 1/4000 sec. at f/4 (wide open)in Manual mode. AWB at 3:51:40m on a sunny afternoon.
Click on the image to enjoy a high-res version. Image optimization by Arthur Morris/BIRDS AS ART.
Image #3: Young Bald Eagle attacking adult on perch
Image courtesy of and copyright 2023: Vasili Chernishof

Your browser does not support iFrame.
The Daily Plan
On most IPTs, I have a rough plan for each day. Those plans are often changed in response to the weather (including and especially the wind direction and sky conditions) and so that we can adapt to local conditions in an effort to maximize the photographic opportunities. At Homer, things are 100% variable. We do not finalize a sailing plan until we awake at Land's End Resort and look out the windows. When we head out for our first session, we never know if we will be out for two hours or for seven. If the skies are looking clear for the early evening and an east wind is predicted, we will usually head back to the harbor so that we can sail again late in the day in hopes of making some great silhouettes.
Folks often ask at lunch, "What's the plan for this afternoon?" My response is always the same: "I'll let you know when I get up from my nap."
Sunny Afternoons with Winds from the West
When conditions are prefect for afternoon perched and flight photography, we will strive to visit our favorite spit, a beach that is loaded with attractive natural perches. Vasili and his 1DX III did a great job with this killer action shot on our second sailing on 23 February past.
Remember that perfect afternoon conditions for flight photography (wind and sun together) are far less than ideal for sunset silhouettes. For those, you want the wind blowing towards the sun so that the birds are flying at you with the sky color behind them.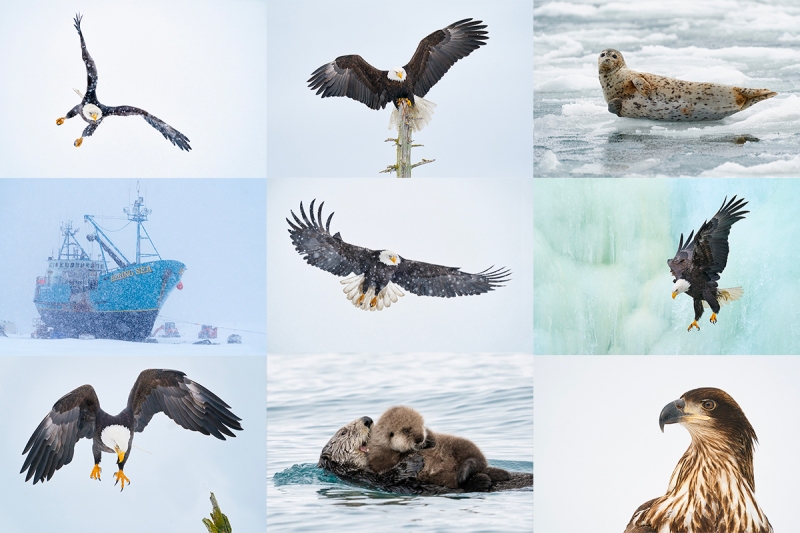 All images from Homer or Kachemak Bay, AK
2024 Homer/Kachemak Bay Bald Eagle IPTs
IPT #1: WED 21 FEB 2024 through the full day on SUN 25 FEB 2024. Five full days/20 hours on the boat: $5500.00. Limit 5 photographers/Openings 2.

IPT #2: MON 26 FEB 2024 through the full day on FRI 1 MAR 2024. Five full days/20 hours on the boat: $5500.00. Limit 5 photographers/Openings 2.
Register for both trips to maximize your travel dollars and enjoy a $1000 discount while you are at it.
This trip features non-stop flight photography as well as many opportunities to create both environmental and point-blank portraits of one of North America's most sought-after avian subjects: Bald Eagle (Haliaeetus leucocephalus). Other reliable subjects will include Sea Otter, Glaucous-winged and Short-billed (formerly Mew) Gulls.
In addition, we should see Common Murre, Black Guillemot, Pelagic Cormorant, two or three species of loons, and a smattering of ducks including two species of merganser, all three scoters, Common and Barrow's Goldeneyes, Bufflehead, Harlequin, and Long-tailed Ducks. Close-range photographic chances for these species will require some good luck. Some of these species, especially when in flocks, can, however, often be used effectively when pleasing creating bird-scapes.
If we need to be out early, we will be the first boat out. If the conditions are great, we will stay out. And when there is a chance for sunset silhouettes, we will be in the right spot.
We will be traveling through gorgeous wilderness country; landscape and scenic opportunities abound.
Also featured is a professional leader, often referred to as the world's most knowledgeable bird photography trip leader and instructor. He is conversant in Canon, Nikon, and Sony. You will learn practical and creative solutions to everyday photographic problems. You will learn to see the shot, to create dynamic images by fine-tuning your compositions, to best utilize your camera's AF system, and how to analyze the wind, the sky conditions, and the direction and quality of the light. This is one of the very few trips Homer trips available where you will not be simply put on the birds and told to have fun. You will learn to be a better photographer. But only if that is what you want.
You will learn to get the right exposure when it is sunny, when it cloudy-bright, when it is cloudy, when it is cloudy-dark, or when it is foggy. Not to mention getting the right exposure when creating silhouettes.
You will learn to make pleasing blurs working in manual mode and to create silhouettes working in Shutter Priority mode.
Most importantly you will learn to pick your best flight photographs from tens of thousands of images.
,
You will enjoy working with the best and most creative boat captain on his sturdy, photography-spacious, seaworthy, open-deck watercraft.
Only five photographers (not the usual six), plus the leader.
Small group Photoshop, Image Review, and Image Critiquing sessions.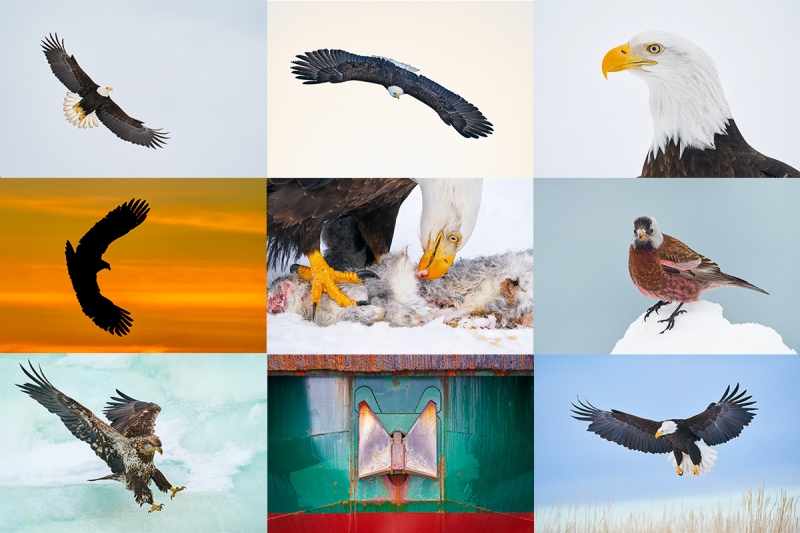 All images from Homer or Kachemak Bay, AK
What's Included
One four hour or two two-hour boat trips every day (weather permitting), all boat fees and boat-related expenses (excluding tips), ground transportation to and from the dock and back to the hotel each day, in-the-field instruction and guidance, pre-trip gear advice, small group post-processing and image review sessions, and a thank you dinner for all well-behaved participants.
What's Not Included
Your airfare to and from Homer, AK (via Anchorage), the cost of your room at Land's End Resort, all personal items, all meals and beverages, and tips for the boat captain and/or the first mate.
Please Note
On great days, the group may wish to photograph for more than four hours. If the total time on the boat exceeds 20 hours for the five-day trips the group will share the additional expense at a rate of $225/hour. The leader will pay for the bait.
Some folks may wish to rent their own vehicle to take advantage of local photographic opportunities around Homer. In 2023 those included Moose, Great Grey, and Short-eared Owls.
Deposit Information
A $3000 non-refundable deposit/trip is required. You may pay your deposit with credit card or by personal check (the latter made out to BIRDS AS ART) and sent via US mail only to Arthur Morris. PO Box 7245. Indian Lake Estates, FL 33855. Your balance, due 90 days before the date of departure, is payable only by check (as above).
In Closing
I have been going to Homer off and on for close to two decades. Every trip has been nothing short of fantastic. Many folks go in mid-March. The earlier you go, the better the chances for snow. The only way to assure that you are on the best of these two trips is to sign up for all of them. Can you keep up with me? If you have any questions, or are good to go for one, or two of these great trips, please let me know via e-mail or give me a call on my cell phone at 863-221-2372.
Typos
With all blog posts, feel free to e-mail or to leave a comment regarding any typos or errors.