What's Up?
With a tame American Oystercatcher family with two chicks along with several thousand Black Skimmers and Common Terns, Nickerson has been great. In addition to working the oystercatcher chicks, there has been lots of great flight photography with both the terns and skimmers. And at most, there have been only a handful of bird photographers on the beach.
I am having my trigger finger surgery done at Precision Care Surgery Center in East Setauket, Long Island tomorrow at noon. Then I will hanging loose for at least a few days. Today is Thursday 25 May 2023. Wherever you are and whatever you are doing, I hope that you have a great day too.
David Pugsley Knows Me Too Well
Blog Post Comment: May 23, 2023 at 8:56am
1 and 3 for me with an edge to 1. Love the simplicity of the design, the open bill and the patented DeSoto background.
Sand Crabs
If you see a Sand Crab with a spongy orange "cluster" around its belly (as above), it is actually a female crab with a case of eggs ready to be released.
Emerita is a small genus of decapod crustaceans, known as Sand Crabs. These small animals burrow in the sand in the swash zone and use their antennae for filter feeding. They are also called Mole Crabs, Beach Fleas, Sand Bugs, and Sand Fiddlers. The Atlantic Sand crab is a small (1 inch in length or less), gray-tan colored crab with very short legs that they use to dig down backwards into the sand. Check out the fabulously interesting and informative video entitled For Pacific Mole Crabs It's Dig or Die here.
Unfortunately for the Sand Crabs, they have plenty of predators lurking along beaches on both coasts. Sand Crabs are prime targets for many species of fish as well as shorebirds like Willet, Marbled Godwit, Sanderling, and many more. At Nickerson, and throughout their northeastern breeding range, Common Terns catch them regularly by diving in the wash as a wave recedes. The smaller gull species partake as well. The life of a Sand Crab is a daily exercise in trying to avoid becoming prey to ocean, sky, and land dwelling species, an exercise that can be daunting and, depending on the local Outer Banks wildlife population, seldom fruitful.
The good news for the sand crabs is that reproduction occurs in vast numbers, with a female laying up to 45,000 eggs at a time. The sand crab breeding season occurs from February until October, and once laid, these eggs drift out to the ocean and take about a month to hatch. After hatching, it will take an additional 4 or 5 months to become fully adult sand crabs. Granted, a number of eggs become lost during the incubation period to predators as well as rough ocean surf, but generally enough survive to create what biologists call "recruits" that live along the beaches. These baby Sand Crabs can also be found during the summer, and are distinguished by their almost iridescent bodies, and incredibly small size – most of them are a centmeter long at the most.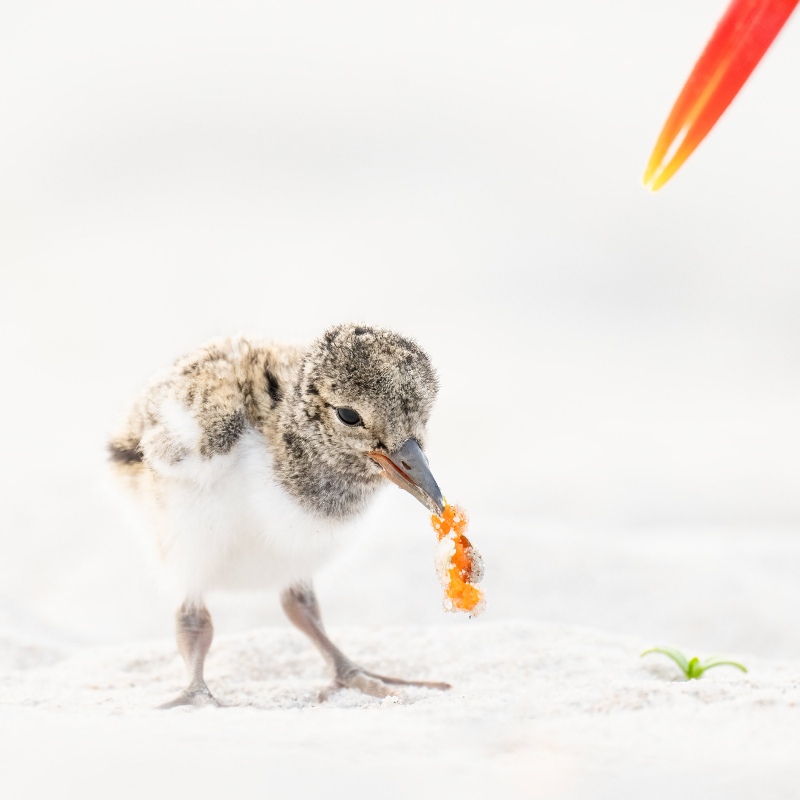 This image was created less than three seconds after the first image on 23 May 2023 at Nickerson Beach Park, in Nassau County, Long Island, NY. I used the rear screen while working off my flattened Robus RC-5558-3 Vantage Series 3 Carbon Fiber Tripod/Levered-Clamp FlexShooter Pro-mounted Sony FE 600mm f/4 GM OSS lens, the Sony FE 2.0x Teleconverter, and The One, the Sony Alpha 1 Mirrorless Digital Camera). The exposure was determined via Zebra technology with ISO on the thumb dial. ISO 3200. 1/500 sec. at f/8 (wide open) in Manual mode. When evaluated in RawDigger, the raw file brightness was determined to be der solid perfect. AWB at 6:55:53am on a blessedly cloudy morning.
Tracking: Expand Spot/AF-C with Bird-Eye/Face Detection performed perfectly. Click on the image to enjoy the high-res version.
Image #2: American Oystercatcher chick eating Sand Crab with eggs

Your browser does not support iFrame.

Your browser does not support iFrame.
Oystercatcher Chick Photo Strategy
The mother oystercatcher would lie down on the beach every few minutes, inviting the chicks to snuggle up under her. She is brooding the young. The trick was to move into position and be patient. When the male would return from a trip to the shore, the chicks would quickly run out to grab the latest morsel from the sea. With clouds to the east, sun angle was not a limiting factor. This pattern was repeated over and over again. On Wednesday morning, the father bird brought in several large Sandworms. I used to pay $4.00/dozen for those to use as bait for Striped Bass.
On Wednesday afternoon, dozens of Common Terns were fishing in the wash for baby Sand Crabs (not to be confused with Sandworms).
Can You Spot the Two Post-processing Differences?
Aside from the different crops, the position of the Sand Crab, and the inclusion of the adult's bill in Image #2, in what two ways are the images different? Note: the differences I am looking for are the result of the image optimizations.
Do you like the inclusion of the bill in #2?
Which of today's two featured images do you like best? Why?
I have a favorite that I will share with you here on Saturday.
Typos
With all blog posts, feel free to e-mail or to leave a comment regarding any typos or errors.