Thursday's Blog Post
Kudos to John Storjohann who was the only one to note that I added a catchlight to the chick's eye in Image #1.
As I love both of them, I could not choose between the two featured images. As I do like the position of the crab and the egg case best in Image #1 and love the inclusion of the bill of one of the parents in Image #2, it would be easy to add the bill to the first image.
A Nickerson Beach IPT
I will be offering a Nickerson Beach Skimmer/Tern/Oystercatcher IPT before I head home on 29 June. If you are interested and would like to lobby for dates, please get in touch via e-mail or call me on my cell at 863-221-2372. All weekdays would be best.
What's Up?
My trigger finger surgery went splendidly and my recovery is progressing perfectly. A local anesthetic was used and I was sedated, so I felt nothin'. I seemed to be awake and remember waiting to feel the sting of the numbing agent being injected into my right hand. That's when the anesthesiologist, Dr. Malik, said, "It's all done.' I have had zero pain. And am following the doctor's orders to a T in hopes of avoiding infection like the one I had twelve years ago. As much as I already loved Dr. Puopolo, having seen him in charge in the operating room brought a new level of respect — think of a happy, smiling drill sergeant, confident and 100% in command. The whole team at Precision Care Surgery Center in East Setauket was wonderful, especially Mary Jo.
I learned yesterday that there is a breeding plumage Curlew Sandpiper at the Coast Guard Station at Jones Beach West End. And I am on light duty only 🙁 I have not seen one in about 45 years. I spent about four hours working on the flight photography guide that I am doing with Arash Hazeghi, and will be hammering away at it until I can get back to doing bird photography.
Today is Saturday 27 May 2023. This blog post took about 2 1/2 hours to prepare. Wherever you are and whatever you are doing, I hope that you too are gonna have a great day.
All are cordially invited to join me next year on a Homer or a San Diego Instructional Photo Tour (IPT). I will be announcing fall dates for two or three Fort DeSoto IPTs soon. Not to mention a Galapagos Photo-Cruise of a Lifetime in August 2024.
Please remember to use the B&H and Amazon links that are found on most blog pages and to use the BIRDSASART discount code at checkout when purchasing your new gear from Bedfords to get 3% back on your credit card and enjoy free second-day air FedEx. Please, also, consider joining a BAA IPT. You will be amazed at how much you will learn!
You can find some great photo accessories (and necessities, like surf booties!) on Amazon by clicking on the Stuff tab on the orange/yellow menu bar above. On a related note, it would be extremely helpful if blog-folks who, like me, spend too much money on Amazon, would get in the habit of clicking on the Amazon logo link on the right side of each blog post when they shop online. As you might expect, doing so will not cost you a single penny, but would be appreciated tremendously by yours truly. And doing so works seamlessly with your Amazon Prime account.
Please remember that if an item — a Delkin flash card, or a tripod head — for example, that is available from B&H and/or Bedfords, is also available in the BAA Online Store, it would be great, and greatly appreciated, if you would opt to purchase from us. We will match any price. Please remember also to use my B&H affiliate links or to earn 3% cash back at Bedfords by using the BIRDSASART discount code at checkout for your major gear purchases. Doing either often earns you free guides and/or discounts. And always earns my great appreciation.
Nikon Z7 II Mirrorless Camera/with extras!
BAA Used Gear Page veteran David Rice is offering a Nikon Mirrorless Z7 II in excellent plus condition for a very low $1746.95. The sale includes the original box and the manual, three Nikon batteries (a $138.00 extra value) with the charger, the front body cap, a 64GB XQD Lexar Memory Card, the strap, the front body cap, a RRS L-Bracket (a $210.00 value), and insured ground shipping via major courier to lower-48 US addresses only.
Please contact David via e-mail.
High-Resolution Image Making
Improved processing, greater versatility, but familiar in design, the Nikon Z7 II takes everything that was great from the original and ups its capabilities even more. Sporting a high-resolution 45.7MP FX-format BSI CMOS sensor and dual EXPEED 6 image processors, the Z7 II is clearly aimed at the detail-obsessed image-maker. Improving upon their initial efforts, Nikon has revised the Z7 platform to offer more speed, faster processing, and greater versatility without sacrificing the beloved qualities of the original camera. The sensor's design omits the optical low-pass filter for greater detail recording capability and the sensor supports a native sensitivity range down to ISO 64 for lush, rich captures. Updated processing also yields faster speeds, including a 10 fps continuous shooting rate and a deeper buffer for working with moving subjects. Updated autofocus now includes Eye and Face Detection for both humans and animals in the Wide-Area AF mode, for both photo and video recording. Nikon and B&H
If you are a general nature photographer looking to get into Nikon mirrorless without spending $5,500.00 on a Z9, you are in the right place. I've seen some great flight images with the Nikon Z6 II so I have no doubt that the Z7 II can do the same even better. As this body sells new for $2,996.95, you can save a bundle by being the one to grab David's Z7 II along with some great extras. artie
The Fact$ of Life
The market for editorial sales of natural history images has virtually disappeared. The incomes of the world's top stock photographers are down by at least 90%. Like me, most depend on income from photo trips, the sale of educational materials, and income from this or that affiliate program.
In 2001, BAA sold the publication rights to images for nearly one-quarter million US dollars. That amount dropped to about $20,000 by 2011, and in 2017, to slightly more than $2,000.00. We've stopped counting. IPTs used to fill within days. Now I am happy to go with one or two folks, but I'd much rather have you along. And so it goes. In 2009, I turned to creating educational blog posts, now to the tune of 4026. Yes, 4026 educational blog posts. So, please remember to use either my B&H or Bedfords affiliate links for your major purposes. It does not cost you one cent to do either.
B&H
Many folks have written recently stating that they purchased a Sony a1 from B&H and would like their free membership in the Sony 1 Info and Updates Group, a $150.00 value. When I check my affiliate account, their orders have not been there. When I let them know that they get credit for B&H purchases only if they use one of the many B&H affiliate links on the blog or begin their searches with this link, they are always disappointed. If in doubt, please contact me via e-mail and request a BH link. I am always glad to help and to guide you to the right gear.
B&H Simplified
To ensure that I get credit for your B&H purchases, you can always click here. The tracking is invisible but greatly appreciated. And, you can use your PayBoo card. You must use the website to order. Thanking me for the past 4000 educational blog posts could not be any easier and will not cost you one penny. Please shoot me your B&H receipt for major purchases.
Bedfords Simplified
Click here to start your search. Choose standard shipping, and when you get to the payment page, enter BIRDSASART in the discount code box and hit apply. You will be upgraded to free second day air Fed-Ex and receive 3% cash back on your credit card once your stuff ships. Either is greatly appreciated by yours truly.
Iceland
My decades-long dream of spending time on Grimsey Island, Iceland, with the puffins — 13 days in this case!, will be realized this coming July. I am doing back-to-back trips as a participant. If anyone would like information on the world's greatest Iceland/Atlantic Puffin trip this coming July, please contact me via e-mail.
Sitting Behind Your Lowered Tripod
Sitting behind a lowered tripod had many advantages. For the chick feeding images, being elevated about eighteen inches provided a pleasing low perspective and a decent look at the bird's feet that you usually miss if you are working on a flattened tripod or a panning ground pod. In addition, working off the lowered tripod makes it a lot easier to follow running or flying birds. I had raised my ISO and shutter speed in anticipation of the male flying to or from the shoreline where he picked up a variety of tasty tidbits for the two cute chicks. Understanding bird behavior and being prepared often pays huge photographic dividends. You can learn a ton by joining an Instructional Photo-Tour.
Firming the tripod into the sand and then leveling the Levered-Clamp FlexShooter Pro enabled me to pan with confident, ease, and impunity without having to worry about creating square to the world images without have to rotate the big lens in the tripod collar when panning.
The Robus RC-5558 Vantage Series 3 Carbon Fiber Tripods
For reasons that I do not understand, the prices of both the 3-leg section Robus RC-5558-3 Vantage Series 3 Carbon Fiber tripod and the 4-leg section Robus RC-5558 Vantage Series 3 Carbon Fiber tripod have been drastically reduced. They are available only from B&H and are currently priced at a ridiculously low $399.95, about 1/3 the price of a comparable Really Wrong Stuff (RWS) tripod. Right now the 3-leg section version is my go-to tripod.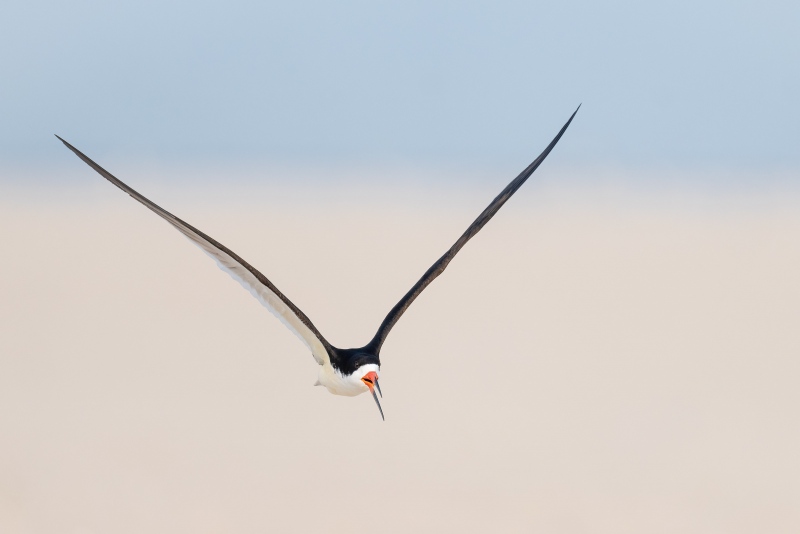 This image was also created on 24 May 2023 at Nickerson Beach Park, Lido Beach, Long Island, NY. Seated on dry sand, I used the handheld Sony FE 600mm f/4 GM OSS lens and The One, the Sony Alpha 1 Mirrorless Digital Camera.. ISO 800: 1/4000 second at f/4 (wide open) in Manual mode. AWB at 7:32:20am on a mostly sunny morning.
Tracking: Zone with Bird Face/Eye detection enabled performed quite well. Be sure to click on the image to enjoy the high-res version.
Image #2: Black Skimmer headed back to the colony

Your browser does not support iFrame.
Why Sit for Flight?
As I was photographing the oystercatcher family, I kept noticing skimmers flying from the ocean back to the colony about thirty yards south of where I was sitting. I decided that I would move to my left, sit down, and try handholding the 600 f/4 for flight. Another great advantage of the Levered-Clamp FlexShooter Pro is that it takes about one second to take the lens off the tripod. At Sebastian Inlet, I can actually release the lens from the clamp almost instantly as an Osprey is flying right at me; you must handhold to make the t-shot as the bird flies directly overhead.
Anyhoo, in short order, I grabbed the lens, moved left, and sat down on the dry sand again to photograph the incoming skimmers. Image #2 was created less than two minutes after Image #1. So, why sit for flight?
1- You can rest the lens on your left knee while waiting for a bird to fly by. Raising the lens to shooting position as it rests on your knee is a lot easier than having to raise it from your side time and time again. Fatigue is greatly reduced.
2- With most of the birds flying low over the sand, you effectively move the beach background farther from the subject, rendering it beautifully out of focus. In addition, you can often introduce Atlantic blue as the upper background. If you are standing and shooting down at the skimmers, the details on the beach will become distracting, and you will never have the ocean in the upper background.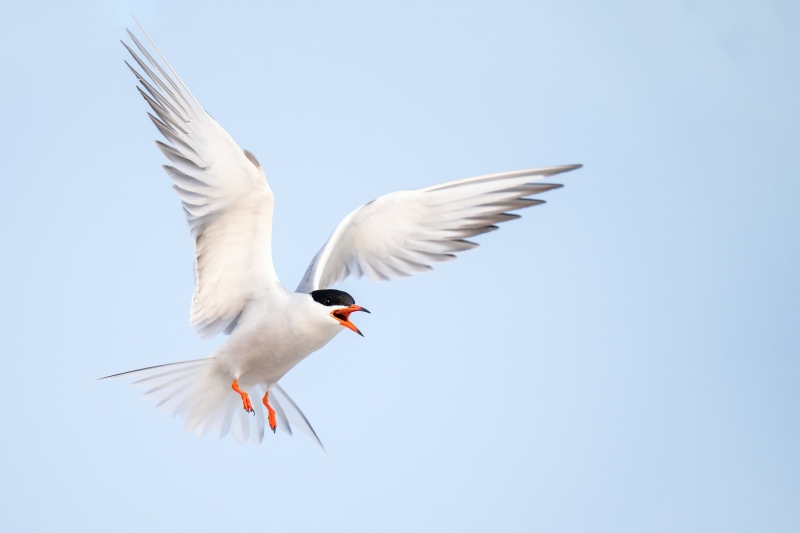 This image was also created on 24 May 2023 at Nickerson Beach Park, Lido Beach, Long Island, NY. Standing at full height, I used the handheld Sony FE 400mm f/2.8 GM OSS lens with the Sony FE 1.4x Teleconverter and The One, the Sony Alpha 1 Mirrorless Digital Camera.. ISO 3200: 1/3200 second at f/4 (wide open) in Manual mode. AWB at 6:52:47pm on an increasing cloudy afternoon.
Tracking: Zone with Bird Face/Eye detection enabled performed perfectly. Be sure to click on the image to enjoy the high-res version.
Image #3: Common Tern defending nest with eggs from marauding Laughing Gull

Your browser does not support iFrame.
400mm f/2.8 with 1.4X TC for Flight Photography
Though this combo weighs pretty much the same as the bare (no TC) 600mm f/4, it is much easier for me to handhold it for flight photography because the lens is physically much shorter than the big six and it is better balanced with more of the weight to the rear off the lens. It puts me at 560mm at f/4 and fatigue when doing flight photography is pretty much a non-issue.
Your Calls?
Which on one of today's featured images has a less than ideal head angle?
Which image do you like best? Why?
Typos
With all blog posts, feel free to e-mail or to leave a comment regarding any typos or errors.