What's Up?
Yesterday I created the first three-image optimization BAA Digital Basics III Video. It will be in the store and offered for sale here on Thursday. Speaking of Thursday, the forecast for the end of this week has changed a bit. The wind and sky conditions are looking good for Thursday morning and even better for Friday morning. See the next item if you would like to join me for a morning or two and learn the ropes at this great fall location.
Today is Tuesday 7 November 2023. I have not yet decided if I will head down to the lake for a bit as the forecast is for a gentle NE wind. At this time of year, with the sun rising in the east/southeast, a northeast wind is OK early on but gets worse each minute as the sun makes its way to the south. Wherever you are a whatever you are doing, I hope that you too have a great day.
Please remember to use the B&H and Amazon links that are found on most blog pages and to use the BIRDSASART discount code at checkout when purchasing your new gear from Bedfords to get 3% back on your credit card and enjoy free second-day air FedEx. Please, also, consider joining a BAA IPT. You will be amazed at how much you will learn!
You can find some great photo accessories (and necessities, like surf booties!) on Amazon by clicking on the Stuff tab on the orange/yellow menu bar above. On a related note, it would be extremely helpful if blog-folks who, like me, spend too much money on Amazon, would get in the habit of clicking on the Amazon logo link on the right side of each blog post when they shop online. As you might expect, doing so will not cost you a single penny, but would be appreciated tremendously by yours truly. And doing so works seamlessly with your Amazon Prime account.
If an item — a Delkin flash card, or a tripod head — for example, that is available from B&H and/or Bedfords, is also available in the BAA Online Store, it would be great, and greatly appreciated, if you would opt to purchase from us. We will match any price. Please remember also to use my B&H affiliate links or to earn 3% cash back at Bedfords by using the BIRDSASART discount code at checkout for your major gear purchases. Doing either often earns you free guides and/or discounts. And always earns my great appreciation.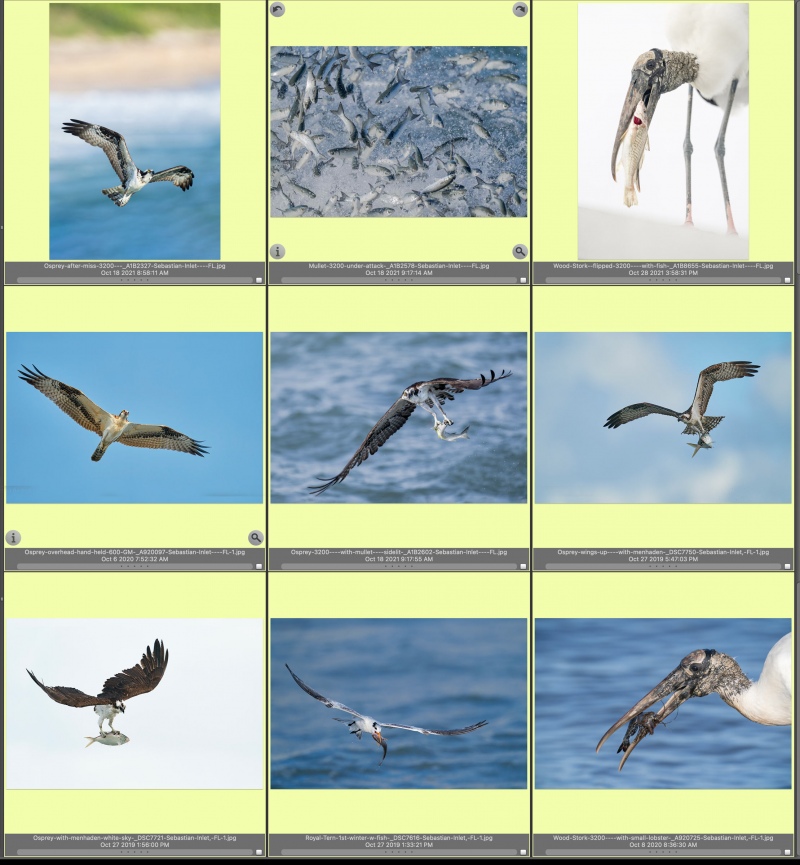 Clockwise from the upper left back around to center: Osprey gaining altitude after missed strike; school of mullet under attack from below; Wood Stork with Southern Whiting; Osprey with Menhaden; Wood Stork with small lobster; Royal Tern with large baitfish; Osprey with Menhaden; juvenile Osprey directly overhead "t-shot"; Osprey taking flight with freshly caught Mullet.
Sebastian Inlet In-the-Field Sessions
Join me for 3 hours of morning In-the-Field Instruction at Sebastian Inlet for only $300.00/session. The main target will be Ospreys fishing for a variety of migrating saltwater fish that visit the inlet each fall. Back-up subjects include fishing gulls, terns, and Brown Pelicans, Wood Stork, a variety of herons and egrets, sunrise cloud-scapes, and the occasional sea turtle or manatee.
November Dates: 9-11 & 20-25, 2023.
Please get in touch via e-mail to book one or more sessions.
B&H Simplified
To ensure that I get credit for your B&H purchases, you can always click here. The tracking is invisible but greatly appreciated. And, you can use your PayBoo card. You must use the website to order. B&H will reopen on Fri April 14. Thanking me for the past 4000 educational blog posts could not be any easier and will not cost you one penny. Please shoot me your B&H receipt for major purchases.
Bedfords Simplified
Click here to start your search. Choose standard shipping, and when you get to the payment page, enter BIRDSASART in the discount code box and hit apply. You will be upgraded to free second day air Fed-Ex and receive 3% cash back on your credit card once your stuff ships. Either is greatly appreciated by yours truly.
B&H
Many folks have written recently stating that they purchased a Sony a1 from B&H and would like their free membership in the Sony 1 Info and Updates Group, a $150.00 value. When I check my affiliate account, their orders have not been there. When I let them know that they get credit for B&H purchases only if they use one of the many B&H affiliate links on the blog or begin their searches with this link, they are always disappointed. If in doubt, please contact me via e-mail and request a BH link. I am always glad to help and to guide you to the right gear.
Bedfords Amazing BAA Discount Policy
Folks who have fallen in love with Bedfords can now use the BIRDSASART coupon code at checkout to enjoy a post-purchase, 3% off-statement credit (excluding taxes and shipping charges) on orders paid with a credit card. The 3% credit will be refunded to the card you used for your purchase. Be sure, also, to check the box for free shipping to enjoy free Second Day Air Fed-Ex. This offer does not apply to purchases of Classes, Gift Cards, prior purchases.
Visit the Bedfords website here, shoot Steve Elkins an e-mail, or text him on his cell phone at (479) 381-2592.

Important Note
As an Amazon Associate, I earn a small percentage when you purchase from Amazon after using any of the Amazon links on the blog (including the logo-link on the right side of each blog post page). My affiliate link works fine with Amazon Prime and using it will not cost you a single cent. Huge thanks, BTW 🙂
Gear Questions and Advice
Too many folks attending BAA IPTs and dozens of photographers whom I see in the field and on BPN, are — out of ignorance — using the wrong gear, especially when it comes to tripods and more especially, tripod heads. And the same is true in spades when ordering new camera bodies or lenses. My advice will often save you some serious money and may help you avoid making a seriously bad choice. Please know that I am always glad to answer your gear questions via e-mail. If you are desperate, you can try me on my cell at 863-221-2372. Please leave a message and shoot me a text if I do not pick up.
The Situation
Just about a block from my house, a stand of Blazing Star blooms every year in November where one of the many run-off canals in the neighborhood meets the road, in this case, Toronto Drive. I have photographed the flowers in previous years with my Canon 180mm macro lens, the Metabones adapter, and an a7R IV or more recently, an a-1. As I never came up with anything interesting, I tried a new approach on Sunday morning by working with the tripod-mounted 400mm f/2.8 lens. The super-fast aperture worked perfect for the shaded conditions — there are fairly dense pine woods on both sides of the road. The trees also acted as a windbreak protecting the flowers from the 15mph breeze down by the lake.
The Same-Old Depth-of-Field Question in a Different Form
Why did the wide open f/2.8 aperture provide more than enough d-o-f to render the entire blossom sharp?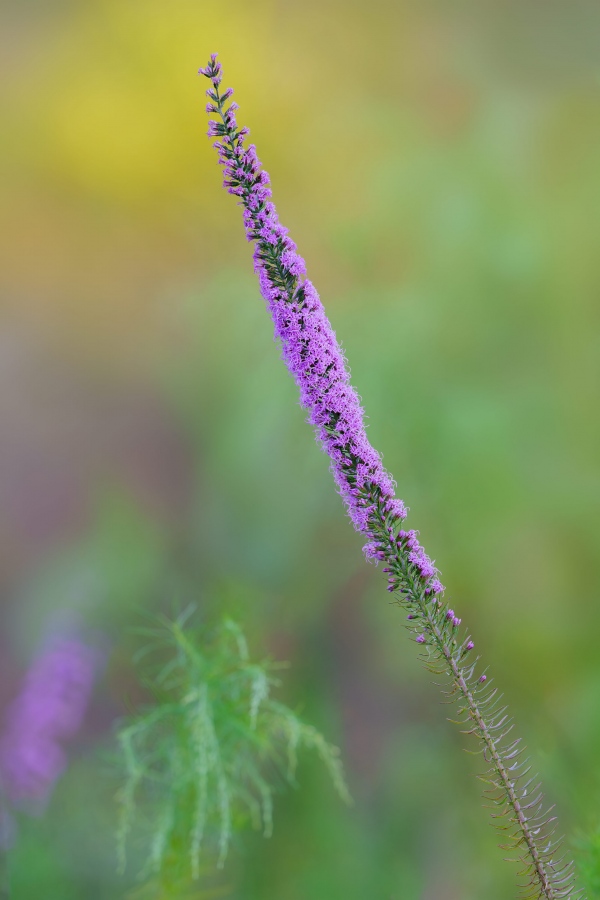 This image was also created on 5 November 2023 about one block from my home at Indian Lake Estates, FL. Crouching just a bit, I used the Robus RC-5558 Vantage Series 3 Carbon Fiber Tripod/Levered-Clamp FlexShooter Pro-mounted Sony FE 400mm f/2.8 GM OSS lens and The One, the Sony Alpha 1 Mirrorless Digital Camera). The exposure was determined via Zebra technology with ISO on the Thumb Dial. ISO 640. 1/125 sec. at f/4 (stopped down one-stop) in Manual mode. When evaluated in RawDigger, the raw file exposure as determined to be dead-solid perfect (ho hum). AWB at 8:33:25am in the shade on a sunny morning.
Tracking: Expand Spot/AF-C performed to perfection. Be sure to click on the image to enjoy a high-res version.
Image #2: Blazing Star blossom (and more)

Your browser does not support iFrame.
Your Calls?
1- Which image features the more complete, more perfect blossom?
2- Which image is the stronger, more interesting photograph. Why?
I have a very clear favorite that I will share with you here on Thursday.
Typos
With all blog posts, feel free to e-mail or to leave a comment regarding any typos or errors.