What's Up
We saw the sun on the Fall DeSoto IPT for a total of perhaps five minutes. We did not get to photograph American White Pelican. We did not see a single Roseate Spoonbill. And it rained the first two afternoons. What seemed on the surface to be an absolute disaster, turned out, however, to be a huge success. After suggesting that John Dupps switch from rear button to shutter button focus, rely on the in-viewfinder histogram to expose to the right, and check the JPEGs for blinkies, he began making consistently good images with his Nikon Z8 Mirrorless camera body and the Nikon NIKKOR Z 180-600mm f/5.6-6.3 VR lens. It took me a while to get first timer Paul Marbourg to realize that he could easily get closer to the very tame birds at DeSoto, that he need to use only Multi Metering with his a-1, and that he needed to expose to the right by raising the ISO for each and every image. I am proud to say that he got those messages and implemented them successfully. It did, however, take some tough love.
Alan Goodwin showed up with his first ever super telephoto lens, a brand new Sony 600mm f/4 GM, and his brand new Sony a-1. We shared an AirBnB. He added a pre-IPT day on Monday. On Sunday night, sitting on the couch at our place, I loaded my settings on his a1 and then taught him AF and exposure my way. The next morning, he began making some very good images right off the bat. I will be sharing many of the fine images he created on the IPT in a video here soon, along with the rest of the amazing tale of his early bird photography success. When I asked him at the end of the IPT how difficult it was to use the a-1, he replied, "It was easy."
On Tuesday and Wednesday mornings, with afternoon rain in the forecast, our photo sessions ran four or five hours. After getting cleaned up, we met at the fabulous Neptune Grill in Gulfport, had a great lunch, and then enjoyed a four hour educational session. We shared images and got everyone set up with Photo Mechanic and more. The forecast for Thursday was rain all day. It never rained. We had a great morning session and then met at my (and Alan's) AirBnb where I prepared a great brunch that was enjoyed by all but Alan who does his own thing eating all organic. Then we created the image optimization screen capture video detailed below. When the skies cleared, we met at East Beach for a short photo session before heading to Pia's Veranda for an incredible thank you dinner. Everyone loved their meals. My Bone-in Veal Schnitzel with melted gruyere cheese, spaetzel, and braised cabbage with apples and onions was a top-five-ever meal for me. I did, however, finish the whole thing with the expected effect on my blood sugar. My bad, but it sure was good.
Today is Saturday 18 November. With only north and NW winds forecast for the next few days here at ILE, the photography outlook is looking rather bleak for at least a while. Wherever you are a whatever you are doing, I hope that you too have a great day.
Please remember to use the B&H and Amazon links that are found on most blog pages and to use the BIRDSASART discount code at checkout when purchasing your new gear from Bedfords to get 3% back on your credit card and enjoy free second-day air FedEx. Please, also, consider joining a BAA IPT. You will be amazed at how much you will learn!
You can find some great photo accessories (and necessities, like surf booties!) on Amazon by clicking on the Stuff tab on the orange/yellow menu bar above. On a related note, it would be extremely helpful if blog-folks who, like me, spend too much money on Amazon, would get in the habit of clicking on the Amazon logo link on the right side of each blog post when they shop online. As you might expect, doing so will not cost you a single penny, but would be appreciated tremendously by yours truly. And doing so works seamlessly with your Amazon Prime account.
If an item — a Delkin flash card, or a tripod head — for example, that is available from B&H and/or Bedfords, is also available in the BAA Online Store, it would be great, and greatly appreciated, if you would opt to purchase from us. We will match any price. Please remember also to use my B&H affiliate links or to earn 3% cash back at Bedfords by using the BIRDSASART discount code at checkout for your major gear purchases. Doing either often earns you free guides and/or discounts. And always earns my great appreciation.
B&H Simplified
To ensure that I get credit for your B&H purchases, you can always click here. The tracking is invisible but greatly appreciated. And, you can use your PayBoo card. You must use the website to order. B&H will reopen on Fri April 14. Thanking me for the past 4000 educational blog posts could not be any easier and will not cost you one penny. Please shoot me your B&H receipt for major purchases.
Bedfords Simplified
Click here to start your search. Choose standard shipping, and when you get to the payment page, enter BIRDSASART in the discount code box and hit apply. You will be upgraded to free second day air Fed-Ex and receive 3% cash back on your credit card once your stuff ships. Either is greatly appreciated by yours truly.
B&H
Many folks have written recently stating that they purchased a Sony a1 from B&H and would like their free membership in the Sony 1 Info and Updates Group, a $150.00 value. When I check my affiliate account, their orders have not been there. When I let them know that they get credit for B&H purchases only if they use one of the many B&H affiliate links on the blog or begin their searches with this link, they are always disappointed. If in doubt, please contact me via e-mail and request a BH link. I am always glad to help and to guide you to the right gear.
Bedfords Amazing BAA Discount Policy
Folks who have fallen in love with Bedfords can now use the BIRDSASART coupon code at checkout to enjoy a post-purchase, 3% off-statement credit (excluding taxes and shipping charges) on orders paid with a credit card. The 3% credit will be refunded to the card you used for your purchase. Be sure, also, to check the box for free shipping to enjoy free Second Day Air Fed-Ex. This offer does not apply to purchases of Classes, Gift Cards, prior purchases.
Visit the Bedfords website here, shoot Steve Elkins an e-mail, or text him on his cell phone at (479) 381-2592.

Important Note
As an Amazon Associate, I earn a small percentage when you purchase from Amazon after using any of the Amazon links on the blog (including the logo-link on the right side of each blog post page). My affiliate link works fine with Amazon Prime and using it will not cost you a single cent. Huge thanks, BTW 🙂
Gear Questions and Advice
Too many folks attending BAA IPTs and dozens of photographers whom I see in the field and on BPN, are — out of ignorance — using the wrong gear, especially when it comes to tripods and more especially, tripod heads. And the same is true in spades when ordering new camera bodies or lenses. My advice will often save you some serious money and may help you avoid making a seriously bad choice. Please know that I am always glad to answer your gear questions via e-mail. If you are desperate, you can try me on my cell at 863-221-2372. Please leave a message and shoot me a text if I do not pick up.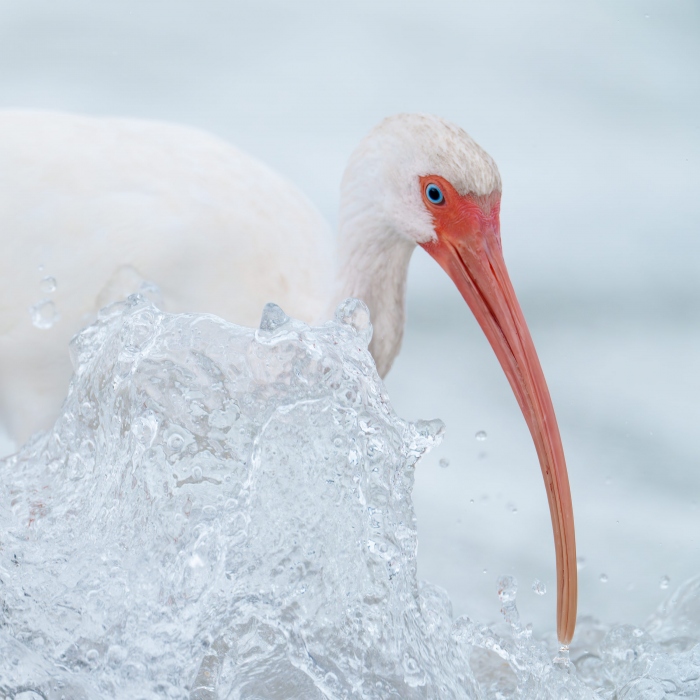 This image was created on 14 November on Fall Fort DeSoto IPT #4 by participant Alan Goodwin. Standing at full height he used the no-longer available Induro GIT 304L tripod/Levered-Clamp FlexShooter Pro-mounted Sony FE 600mm f/4 GM OSS lens with the Sony FE 1.4x Teleconverter, and The One, the Sony Alpha 1 Mirrorless Digital Camera.. ISO 2000. The exposure was determined by Zebras with ISO on the rear wheel: 1/2000 second at f/5.6 (wide open) in Manual mode. RawDigger showed that the raw file brightness was dead solid perfect. AWB at 12:31:32pm on a cloudy early afternoon.
Tracking: Zone/AF-C with Bird-Eye/Face Detection performed just fine in a difficult situation. Click on the image to enjoy the high-res version.
Image courtesy of and copyright 2023: Alan Goodwin
Image #1: White Ibis non-breeding smacked by a wave while feeding in surf
Image processing by BIRDS AS ART

Your browser does not support iFrame.
My Oft Scoffed At Belief Justified
For the past few years, whenever the talk has turned to bird photography, I have stated often that in flight and action situations, total beginners using one of day's amazing mirrorless camera bodies with their cameras set up correctly and a modicum of instruction, are capable of creating images equal to or better than images made by experience professionals.
The reaction has consistently been "No way." Or astonishment.
After I saw Alan photographing this bird, I joined him and created more than 200 images. I deleted every one of them. Alan Goodwin, with a grand total of 1 1/2 days of experience with the Sony a-1 and a super telephoto lens, created a family jewel while I came up empty. With 481 over-exposed pixels in the specular highlights of the breaking wave (out of 51 million pixels), he had created a sharp image with a dead-solid perfect exposure.
QED (quod erat demonstrandum); my overall argument has just been proven. Thanks, Alan!
Image Optimization Sessions
Near the end of every IPT, I grab at least one image from each participant and get them on my Apple 16″ MacBook Pro (M2 Max, Silver), add one of mine, convert each raw file, and optimize each image from soup to nuts. I create a Camtasia screen recording, send a link to the video to the group, and suggest that they purchase the DB III Video Series 🙂
With Alan's fine ibis image, we cropped it to a square, ran my new two-step noise reduction technique, cooled it down by reducing the color temperature, brightened it, improved the color with the new Luminance Targeted Adjustment Tool, and used the new Remove Tool to clean up the bill.
The Digital Basics III Video Series YouTube Promo
The Digital Basics and Digital Basics II PDFs have taught more than 8000 nature photographers to process their raw files optimally, to make them look great. In the new DB III Video Series, I will be doing three image optimizations/video. Each will include the three raw conversions. Keep reading to learn more.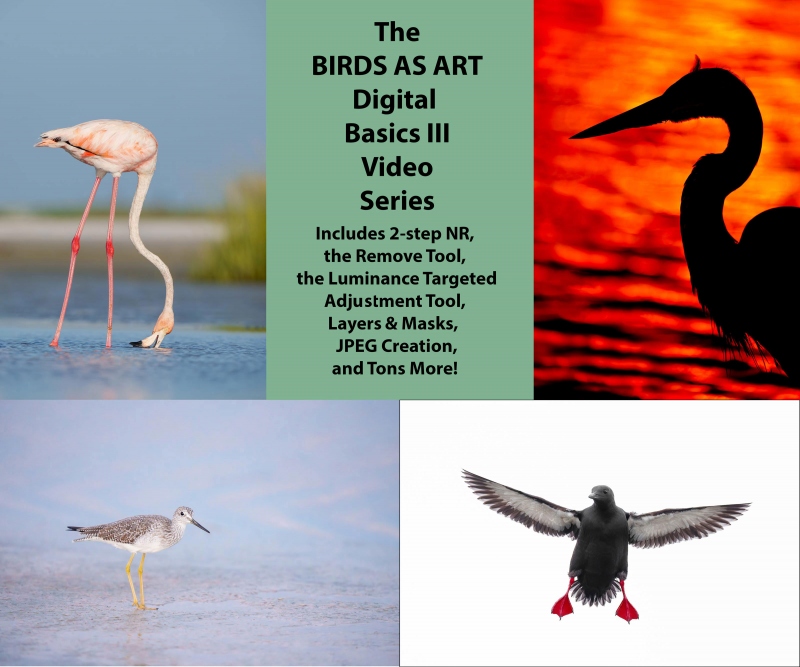 The Digital Basics III Video Series
The Digital Basics III Video Series
I realized about a year ago that my digital workflow had changed significantly and was toying with the idea of writing a Digital Basics III. More recently, I have learned and begun working with two great new Photoshop Tools, the Remove Tool and the Luminance Targeted Adjustment Tool. The former is like a smarter Spot Healing Brush Tool on steroids and the latter is a huge step up from the fabulous Color Mixer Tool. During that same time frame, I came up with a new and improved 2-step noise reduction technique. I still use Divide and Conquer, Quick Masks, Layer Masks, an expanded array of personalized keyboard shortcuts, and tons of other stuff from both versions of Digital Basics.
As soon as I realized that I did not want to take on another large writing project, I realized that by creating a series of videos I could much more easily share all the details of my current digital workflow and much more easily incorporate additional new tips, techniques, and tools as I went. And so, The Digital Basics III Video Series was born. Keep reading to learn about Digital Basics III Volume I/#1. As below, you might opt to purchase single videos or to subscribe to Volume I and save $26 by ordering the first five videos in one fell swoop. You can purchase the five videos in Volume I by clicking here.
For folks using the latest version of Photoshop (2024) or Lightroom. Topaz DeNoise AI and Topaz Sharpen AI are a plus.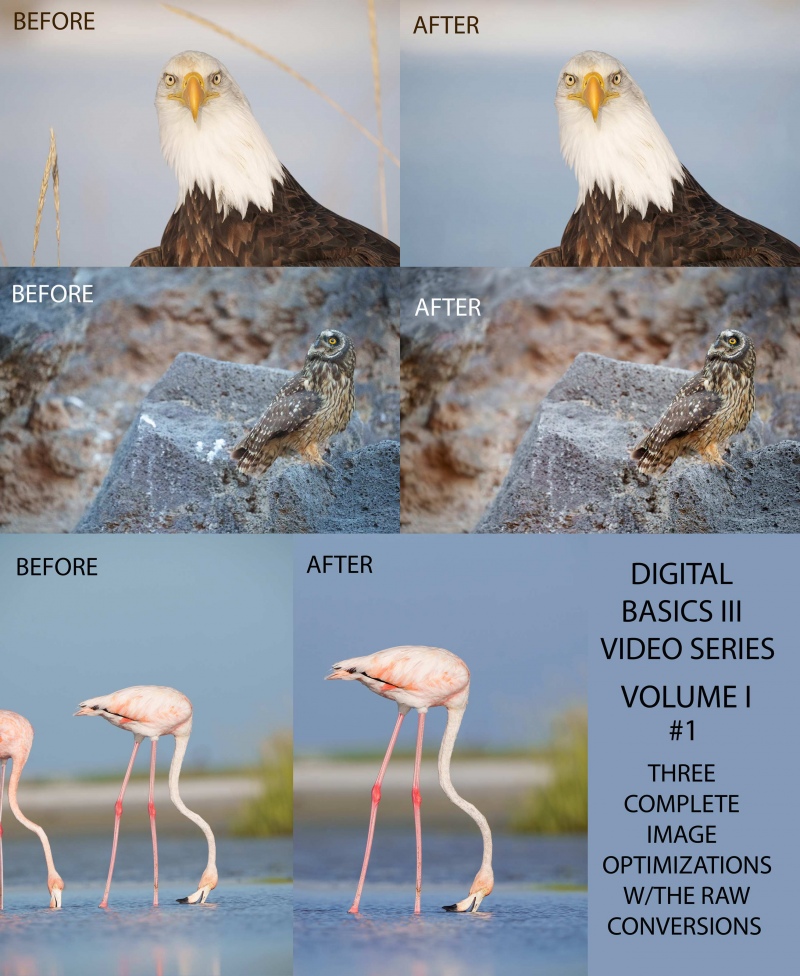 Digital Basics III Volume I/#1
Digital Basics III Volume I/#1
Nearly an hour in length, DB III/VOL I/#1 has you sitting by my side at my Apple 16″ MacBook Pro (M2 Max, Silver) as I optimize the three images above. You will see that I use and recommend only Photo Mechanic (for both MACs and PCs) for picking my keepers and browsing and that I do my raw conversions using Camera Raw (Version 16.0.0.1677) in Adobe Photoshop 2024 (25.0.0 Release). Note that Camera Raw is identical in Lightroom.
Right off the bat you will learn to customize the panels (sometimes called tabs) and put them in the order you wish to use them. For me, those include Color, Light, Detail, and Color Mixer. Then, for each image, I take you through all the raw conversion sliders including the Color Temperature (White Balance), setting the White and Black points, adjusting the Highlight and Shadow sliders, and rarely, setting the Exposure and Contrast sliders. You will learn to use the new Remove Tool, the new Luminance Targeted Adjustment Tool, and my two-step noise reduction strategy. I use all three of those on virtually every image that I process. The second image, the Short-eared Owl, was created at ISO 12800. You will learn why and how I used Topaz Sharpen AI on various images.
After the master .TIF files are saved, you will learn how I size and sharpen the stunning JPEGs that you see on the blog every day.
You can purchase DB III/Volume I/#1 for $25.00 by clicking here in the BAA Online Store. Or, you can opt to purchase the Volume I series, videos #1 to 5, for the bargain rate of $99.00 for the first five videos (as noted above). The plan is to publish about 1 video/week. If the project is well received, there will be future volumes. I have already picked the images for DB III, Volume I/#2!
Typos
With all blog posts, feel free to e-mail or to leave a comment regarding any typos or errors.