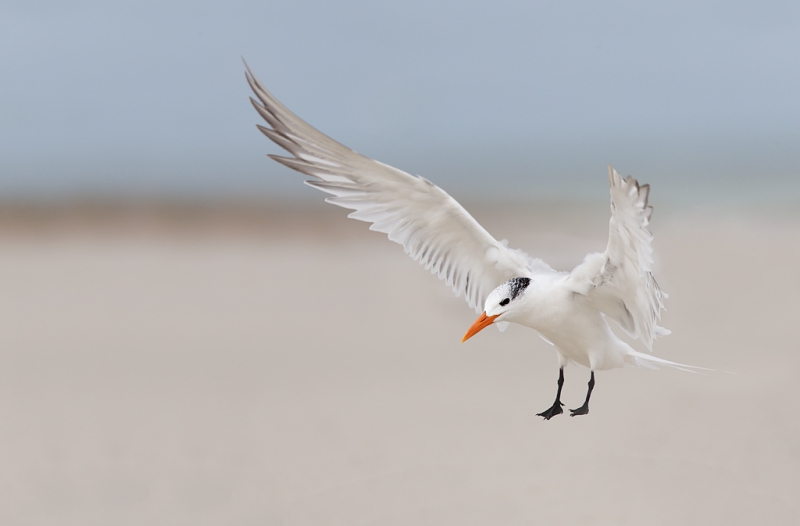 This image of a Royal Tern coming in for a landing was created at Fort DeSoto with the hand held Canon 500mm f/4L EF IS II lens, the Canon 1.4x EF tele-extender III, and the Canon EOS-1D X. ISO 800. Evaluative metering +2/3 stop off the sky: 1/2000 sec. at f/6.3 in Manual mode.
Central sensor/Surround/AI Servo Rear Focus AF active at the moment of exposure. Click here if you missed the Rear Focus Tutorial. Click on the image for a larger version.
Your browser does not support iFrame.
A Great Morning at Desoto
This is another of the many wonderful images that I created on the morning of Sunday, September 16 at Fort Desoto Park just south of St. Petersburg, FL. For more on that wonderful day (including lots of great images and a 100% crop that will knock your socks off) click here and here.
The image above was created from the original image below.
What Would You Do?
What changes did I make during post-processing? (Hint: there are at least six major ones.)
What would you have done?
Was what I did to the image wrong?
Would you have done anything else?
Which image do you like better, the original below or the master file above?
NYC Weekend Nature Photography Seminar
Presented by Denise Ippolito/A Creative Adventure and Arthur Morris/BIRDS AS ART
Hilton Garden Inn, Staten Island, New York. December 8-9, 2012 from 9am-4:30pm.
Weekend: $169. SAT or SUN: $99. Lodging available for out of town guests.
Saturday: Image Capture Sunday: Image Evaluation and Processing
Click here for complete details including the Saturday and Sunday schedules, club and group discount info, and registration incentives and for more info on the In-the-Field Seminar Follow-up Workshop.
Artie, the grizzled veteran, is widely noted as one of the premier bird photographers, tour leaders, and educators on the planet. Denise, who specializes in flowers, is the mega-creative up-and-comer, a popular lecturer, a skilled field instructor, and an amazing Photoshop wizard who will share her tips and tricks with you. Both artie and denise are full time professional nature photographers.
BIRDS AS ART Instructional Photo-Tours
Click here for complete IPT information including the current schedule and links to general IPT info, deposit and cancellation policies. and the required registration and release forms.
Shop B&H
Shop B&H. Support the BAA Blog. Support the BAA Bulletins. Show your appreciation by making your purchases immediately after clicking on any of the links above or below. We want and need to keep providing you with the latest free information, photography and Photoshop lessons, and all manner of related information. Remember, B&H ain't just photography!