Proper Hand Holding Technique
Above is a BreezeBrowser Main View screen capture. The illuminated red square on the bird's neck indicates that AF was active at the moment of exposure. Make sure to check Show Focus Points under View to activate this feature. To see the focus points in DPP check AF Point under View or hit Alt L.
Regular readers know that I use and depend on BreezeBrowser every day of the year. It allows me to sort my keepers and deletes the rejects faster than any other browsing program. We use it on the main computer in the home office to catalog our images file-drawer style. And the companion program, Downloader Pro allows me to download my images quickly and conveniently. It automatically adds my IPTC data and the shooting location. I have it set up to create a folder named by the Month/date/year. The Breezebrowser/Downloader Pro combo saves me many hours each week. To learn earn more or to purchase this great PC only program, click here.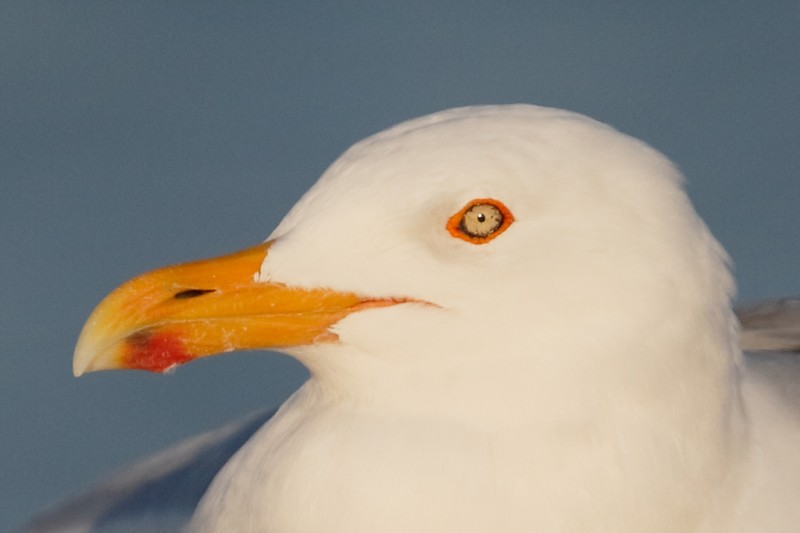 This is a roughly 100% unsharpened tight crop of the head of the bird in the screen capture above. The sharpness is satisfactory.
Doing Things Right
When you do things correctly the resulting image is sharp. With AF active at the moment of exposure while working in AI Servo as I always do with rear focus, the system maintains accurate focus even if the bird moves its head or, even if the photographer, that would be me, shifts position even slightly.
Behavior Note
If a bird that you are photographing stretches its far wing it is pretty much a given that it will stretch its near wing within the next few minutes. Knowing that I was excited….
Doing Things Wrong
Note in the Breezebrowser screen capture above that no focus points were active at the moment of exposure. Had one or more been active, it/they would have been illuminated in red.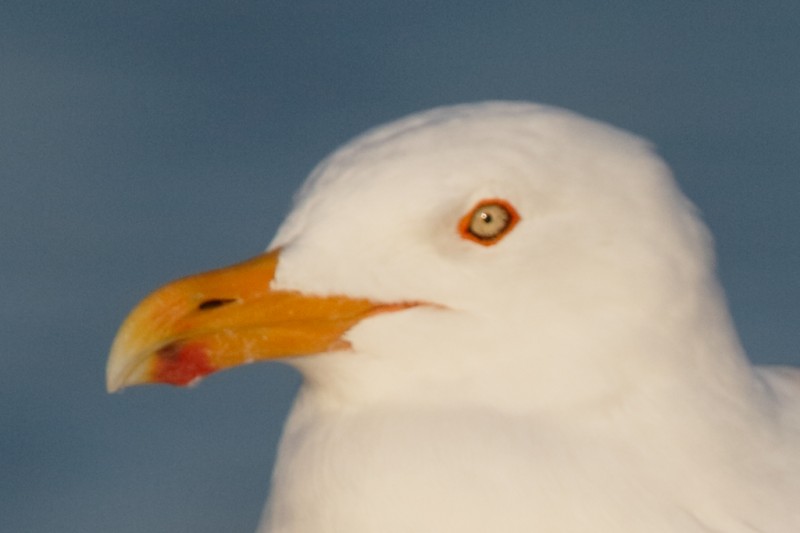 This is a roughly 100% unsharpened tight crop of the head of the bird in the screen capture above. The sharpness is quite unsatisfactory.
What Happened?
What happened was that in my excitement, while recomposing, I shifted position enough to throw off accurate focus. Remember, for the second image AF was not active at the moment of exposure.
The Lesson
When hand holding, it is best to have AI Servo AF active at the moment of exposure with the active sensor on the bird's eye, face, or neck. Doing so will ensure the creation of a sharp image. If that is not possible it is imperative that neither you nor the subject move after focusing. All of the above is true whether you are using Rear Focus or using the shutter button for AF.
The 2nd New Concept IPT: the Fort Desoto/Hooptie Deux–Roseate Spoonbill Short Notice IPT/April 3-7, 2013/5 DAYS: $2399. Strict limit: six photographers/ openings 5.
Early April can be superb at Alafia Banks. Early April is almost always superb at Fort DeSoto. Click here for complete details.
EOS-5D Mark III User's Guide
In the EOS-5D Mark III User's Guide You can learn everything that I know about the following important topics: 5D III exposure fine points, handling the WHITEs, the top LCD and all camera control buttons, 5D Mark III drive modes, how to manually select an AF sensor, choosing an AF Area Selection Mode, and Menu Item access. Coverage of almost all Menu Items and Custom Functions including: Image Quality, Auto Lighting Optimizer, Highlight Tone Priority, AF Configuration Tool (includes details on the custom Case setting that I use), Acceleration/deceleration tracking, Tracking sensitivity, Lens drive when AF impossible, Orientation linked AF point (I love this feature on the 5D III!), Highlight alert, Histogram display, Auto rotate, Custom Shooting Mode set-up, Safety shift, using the Q button, and setting up rear focus.Plus detailed instructions on how to set up for both in-camera HDR and in-camera multiple exposures.
The guide is–of course–written in my informal, easy-to-follow style. Learn more or purchase here.
Typos
On all blog posts, feel free to e-mail or leave a comment regarding any typos, wrong words, misspellings, omissions, or grammatical errors. Just be right.

Support the BAA Blog. Support the BAA Bulletins: Shop B&H here!
We want and need to keep providing you with the latest free information, photography and Photoshop lessons, and all manner of related information. Show your appreciation by making your purchases immediately after clicking on any of our B&H or Amazon Affiliate links in this blog post. Remember, B&H ain't just photography!
If you are considering an item for purchase or comparison shopping be sure to place an item in your cart to see the too-low-to show the actual price. In many cases the prices are so low that B&H is forbidden from publicizing them!