What's Up?
We are up early again headed for Sebastian Inlet. The state park is roughly 1 1/2 hours from my home at ILE. There was lots of action with diving Brown Pelicans along with a very few fly-over Ospreys when we visited on Tuesday 6 OCT. Two days later, diving activity at the inlet was zero. Facing a totally abysmal morning photo session, we ventured south to look for some Wood Storks. We ended up having a fine morning. Today's blog is the result. Read on to learn how I have integrated Topaz DeNoise AI and Topaz Sharpen AI into my regular workflow.
We have made the long trip to Sebastian four times and have only rarely seen any Ospreys diving for fish. To learn what keeps us heading back to the inlet, see the images in the Stunned Again. The Osprey Flying Circus. Give Me Ten Good Minutes! And My SONY Gear Takes a Saltwater Bath … blog post here. Wish us luck 🙂
I was glad to learn that the sale of Karen McCormick's Nikon 24-120 became pending the first day it was listed.
This blog post took about five hours to assemble. The best way to thank me is by using my B&H affiliate links or using Bedfords and enjoying a 4% discount on your new photo gear.
If you have a moment, please leave a comment and let us know which of today's four featured images you like best along with your reasons. Thanks!
The BAA Used Gear Page
The Used Gear page continues to be red hot! It is BAA Used Gear Page is the place to sell your used photographic equipment. We will help you to get your gear sold quickly for 20 to 60% or more than what the big guys are offering … Doubt me? Check out the Recent Sales list for the past year at the bottom of the page.
New Listings
FlexShooter Pro
Multiple IPT veteran and BAA good friend William Schneider is offering a barely used FlexShooter Pro for a very low $549.00. The sale includes insured ground shipping via major courier to lower-48 US addresses only. Your item will not ship until your check clears unless other arrangements are made. Payment by Zelle is now available or PayPal +4%.
Please contact me via e-mail.
I fell in love with the FlexShooter Pro moments after I first mounted it on my Induro tripod. It is a ballhead that acts like a gimbal. Not convinced? See the video here.
Sony FE 12-24mm f/4 G Lens & Filter Holder Kit with Landscape Circular Polarizer
Mansoor Assadi is offering a Sony FE 12-24mm f/4 G lens in near-mint condition and the NiSi S5 150mm Filter Holder Kit with Landscape Circular Polarizer for Sony 12-24mm lens in new condition for the very low price of $1,163.15.The sale includes the original box, the rear lens cap, the front lens cap, the lens hood, and insured ground shipping via major courier to lower-48 US addresses only. Your item will not ship until your check clears unless other arrangements are made.
Please contact Mansoor via e-mail.
Ultra-wide and versatile, the FE 12-24mm f/4 G Lens from Sony is a flexible zoom lens for full-frame Sony E-mount mirrorless cameras, characterized by its constant f/4 maximum aperture. Benefitting the wide field of view is a sophisticated optical design that incorporates aspherical and low dispersion glass elements to control both spherical and chromatic aberrations for improved sharpness and clarity. A Nano AR Coating has also been applied to individual elements to reduce surface reflections, flare, and ghosting for greater contrast and color fidelity when working in bright, backlit situations.
In addition to the optical attributes, this lens is also distinguished by a Direct Drive SSM autofocus system, which benefits both stills and video application with its quick, quiet, and precise performance. The lens also sports a dust- and moisture-sealed design to support shooting in inclement conditions and a dedicated focus hold button and AF/MF switch. B&H
I loved my Canon ultra-wide-angle 11-24mm lens especially for big skies. This combo sells new at B&H for $2,163.15. Save a very handsome $1,000.00 on the pair. artie
Please Remember
If you enjoy and learn from the blog, please remember to use one of my two affiliate programs when purchasing new gear. Doing so will not cost you a single penny and if you use Bedfords and remember to enter the BIRDSASART code at checkout, you will save at least $50.00 on all orders greater than $1000.00. In these crazy times — I am out at least forty to sixty thousand dollars so far due to COVID 19 (with lots more to come) — remembering to use my B&H link or to shop at Bedfords will help me out a ton and will be greatly appreciated. Overseas folks who cannot order from the US because of import fees, duties, and taxes can always help out by clicking here if they see fit.
BIRDS AS ART is registered in the U.S. Patent and Trademark Office
Great Topaz News!
Folks who use the BAA Topaz link to purchase Sharpen AI, DeNoise AI, or the Utility Bundle (or any other Topaz plugins) will receive a 15% discount by entering the ARTHUR15 code at checkout. To get the discount you must use my link and you must enter the discount code. Be sure to start with this link.
Topaz Stuff
As I said on Sunday and have said often many times before, I should have listened sooner. If you, like me, are new to the Topaz party, please use this link to purchase. Right now I can wholeheartedly recommend both Topaz Sharpen AI and Topaz DeNoise AI. Though I have not yet worked with JPEGtoRAW AI or Gigapixel AI, I have installed both of these plug-ins and look forward to trying them on some I-Phone 11 images fairly soon. If you are thinking like me, consider the Utility Bundle that includes all four plug-ins mentioned above at a money-saving price.
Again, those who purchase Sharpen AI or DeNoise AI using my link, can e-mail to request a short Getting Started with Topaz e-Guide. I had a bit of trouble getting the two plug-ins installed and having them appear in the Photoshop Filter Menu. In addition, I will explain how to best learn about the two plug-ins by applying them on a Layer (in Photoshop). I amazed myself yesterday by completing this guide in the car on the way to and from Sebastian. Huge thanks to Anita for doing the driving. Please include a copy of your Topaz order when requesting the guide.
RawDigger e-Guide and Video Advance Copy Available
Save $10 Now
The RawDigger e-Guide and Video is almost finished. It will sell for $51.00. If you are anxious to get started with RawDigger, learn to mega-Expose to the Right, and wind up with the highest quality image files, you can save $10.00 and have a chance to review a pre-publication copy of the guide by sending a PayPal for $41.00 to birdsasart@verizon.net with the words RawDigger e-Guide and Video Pre-publication Copy cut and pasted into the Subject line.
You will of course receive a link for the completed PDF when the guide is finished.
New and Better Bedfords Discount Policy!
You can now save 3% on all of your Bedfords photo gear purchases by entering the BIRDSASART coupon code at checkout. Your discount will be applied to your pre-tax total. In addition, by using the code you will get 2nd day air shipping via Fed Ex.
Grab a Nikon AF-S Teleconverter TC-14E III and save $14.99. Purchase a Canon EOS R5 and your discount will be $116.97. Purchase a Sony FE 600mm f/4 GM OSS lens and save a remarkable $389.94! Your Bedford's purchase no longer needs to be greater than $1,000.00 for you to receive a discount. The more you spend, the more you save.

Money Saving Reminder
Many have learned that if you need a hot photo item that is out of stock at B&H and would enjoy free overnight shipping, your best bet is to click here, place an order with Bedfords, and enter the coupon code BIRDSASART at checkout. If an item is out of stock, contact Steve Elkins via e-mail or on his cell phone at (479) 381-2592 (Eastern time). Be sure to mention the BIRDSASART coupon code and use it for your online order. Steve has been great at getting folks the hot items that are out of stock at B&H and everywhere else. The wait lists at the big stores can be a year or longer for the hard to get items. Steve will surely get you your gear long before that. For the past year, he has been helping BAA Blog folks get their hands on items like the SONY a9 ii, the SONY 200-600 G OSS lens, the Canon EOS R5, the Canon RF 100-500mm lens, and the Nikon 500mm PF. Steve is personable, helpful, and eager to please.
Gear Questions and Advice
Too many folks attending BAA IPTs and dozens of photographers whom I see in the field and on BPN, are–out of ignorance–using the wrong gear especially when it comes to tripods and more especially, tripod heads… Please know that I am always glad to answer your gear questions via e-mail. Those questions might deal with systems, camera bodies, accessories, and/or lens choices and decisions.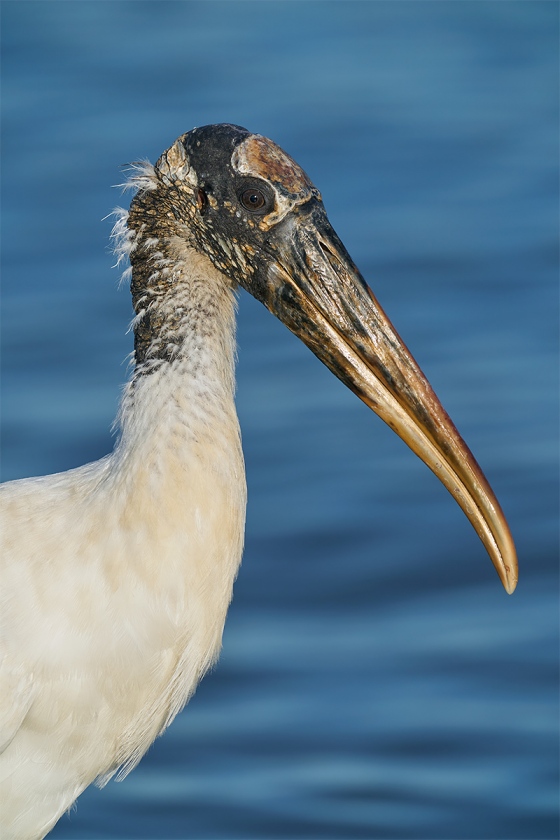 This image was created on 8 OCT 2020 at Sebastian Inlet, FL. I used the Induro GIT 404L/Levered Clamp FlexShooter Pro-mounted Sony FE 600mm f/4 GM OSS lens, the Sony FE 2.0x Teleconverter, and the blazingly fast Sony Alpha a9 II Mirrorless Digital camera body) that features incredibly accurate AF. ISO: 500. Exposure determined by Zebras with exposure compensation on the rear wheel: 1/800 sec. at f/9 in Manual mode. AWB at 8:36am on a clear sunny morning.
Upper Center Zone Continuous AF was active at the moment of exposure and nailed focus on the eye.
Image #1: Wood Stork head and neck portrait

Click on the image to see a larger, sharper version.

Your browser does not support iFrame.
The Situation
The Wood Storks at Sebastian Inlet State Park will walk right to fisherman throwing cast nets. But if you approach them with a long lens in your hand, or even worse with a tripod on your shoulder, the will usually next stage left. Or right. So when we spotted several iron heads feeding in a large rain pool we went to the 600s with a 1.4X TC and approached slowly and carefully. We did OK. After a while, the birds sensed our presence and headed toward the shore. Again we approached slowly. I was hoping for some head portraits, so I headed back to the car and switched out the 1.4X TC for the 2X TC. Anita stayed at 840mm. We tried several ways of herding the birds and those techniques paid off nicely. I wound up with 34 decent keepers. Three more of those are below.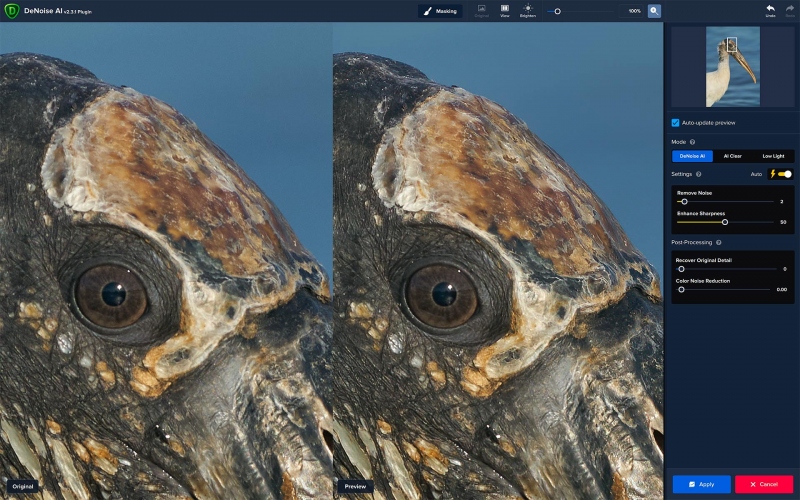 Image #1A: Topaz DeNoise AI screen capture

Click on the screen capture to see a larger version.
DeNoise with Perfect Images
DeNoise does remarkable things to images that appear on the surface to be perfect. I run DeNoise on Auto to every image no matter how perfect the exposure and regardless of the ISO. Note above that Auto set the Reduce Noise slider to 2 out of 100 indicating that this image showed virtually no noise even with the extensive BLACKs and other dark tones. Since using RawDigger I have learn to mega-expose to the right to decrease noise in the shadows and dark tones and to use the entire dynamic range of my SONY sensors.
Two weeks ago I thought that I was thisclose to having the SONY e-Guide finished. I received an e-mail from IPT veteran Bart Deamer who asked some very good questions. Not knowing the answers, I have been e-mailing back and forth with Iliah Borg. I believe that Iliah is the brains behind RawDigger and FastRaw Viewer, and the man in charge of LibRaw, LLC. He has been exceedingly generous with his time and knowledge. A lot of what he has said has shaken my (admittedly limited) photographic knowledge to the core. Sometime last night, my brain came up with a way of incorporating what I have learned into the guide. I hope to be working on that this week.
So the bottom line is that DeNoise will make your very best images even better with reduced noise, an amazing crispness, and increased fine detail. Click here to order any Topaz plug-in and remember to use the ARTHUR15 code at checkout to save 15%. Then e-mail me your receipt to request a copy of the short but very helpful Getting Started with Topaz e-Guide.
The Baby Lobster
Though this bird took more than five minutes to swallow its prey, the bird simply would not turn its head toward us. Anita was to my left and a bit off sun angle but with the bird keeping its head turned away from us she was in a better position than I was. In addition, she was much wider at 840mm than I was at 1200mm. I took lots of images and deleted all but the one above either because of head angle or because I clipped the creature's antennae. The head angle in the image above is barely acceptable to me …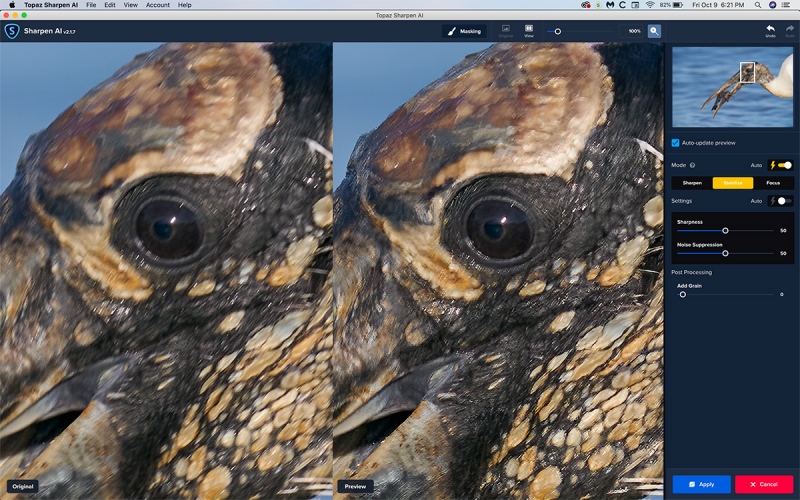 Image #2A: Topaz Sharpen AI screen capture

Click on the screen capture to see a larger version.
Sharpen AI Stabilize to the Rescue for Motion Blur
When I examined this image at 200%, it was quite obvious that it suffered from motion blur because I struggled with the framing. In the Before image in the screen capture above, note that some of the specular highlights on the eyeskin show as small streaks, especially the one at one o'clock. Even the highlight in the eye shows as somewhat oblong, angling from our upper right to our lower left. All of these are clear indications that I was panning the lens down and left at the moment of exposure and that the relatively fast shutter speed of 1/1000 second was not fast enough to freeze that movement.
Sharpen AI on Auto did a great job of salvaging this image. Note that Auto chose Stabilize for the repairs. In addition to the improved sharpness of the eye, note the incredible improvement in the detail on the top of the stork's head. Since motion blur is a common problem with action shots of birds, Sharpen AI — in many cases — will greatly improve your images.
Do note that neither Sharpen nor Stabilize will repair completely out-of-focus or totally motion-blurred images. The plug-in can, however, perform miracles on images that show as slightly soft when viewed at high magnifications. Sharpen AI completely replaces the use of the Contrast Mask, and unless you over-ride the Auto slider settings, never produces any crunchiness.
Unexpected Flight
When two fishermen walked right up to our birds, all three of the storks took flight. One circled left and headed right toward sun angle. Though I knew I was only at 1/800 second, too slow for flight photography according to most, I followed my own advice and fired off four flight shots at 1200mm — when unexpected action occurs, press the shutter button. If you try to change your settings you will miss the action. Once again, I jerked the lens a bit in an effort to get the bird in the center of the frame; as expected, there was a bit of motion blur as you can see in the Before portion of the screen capture below.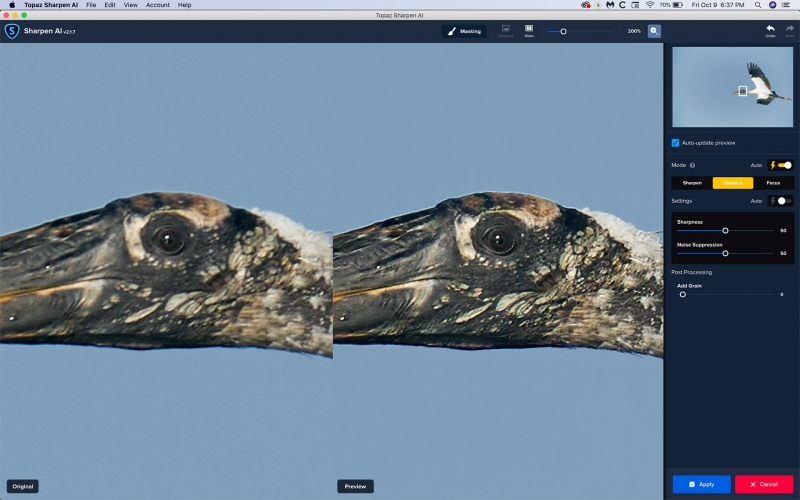 Image #3A: Topaz Sharpen AI screen capture

Click on the screen capture to see a larger version.
Sharpen AI Stabilize to the Rescue Again for Motion Blur
Enlarge the image to compare the Before and Preview images at 200% to note the incredible improvement in sharpness. I experimented with Sharpen and Focus but Stabilize as suggested by Auto did miraculously better. This image went from a delete to a keeper in .001 seconds. Note again that the it takes a minute or two to render the image once you hit Apply. Both Topaz plug-ins discussed today have opened a whole new world of sharper images for me.
Smoother Panning!
For this one, the fourth frame in the sequence, I must have smoothed out my panning; the face and eye were much sharper than in Image #3.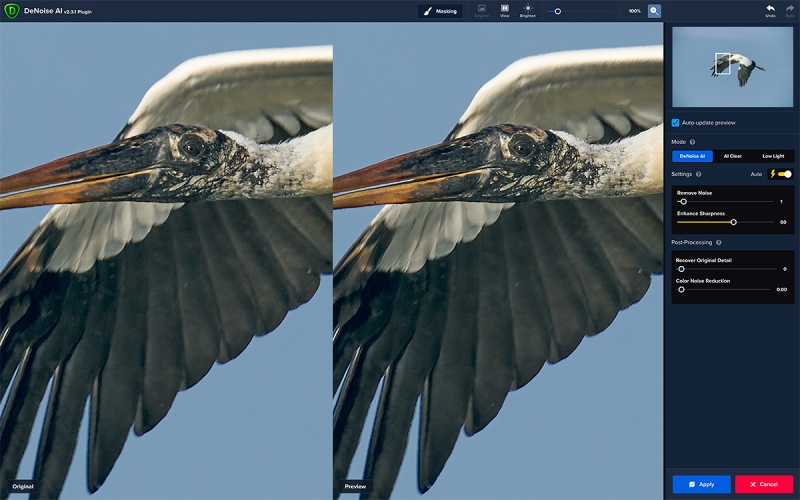 Image #4A: Topaz DeNoise AI screen capture

Click on the screen capture to see a larger version.
DeNoise with all Images
Here we have another pretty darned good image that was improved a bit by DeNoise on Auto with the Reduce Noise Slider set to 1 via Auto, we see another perfect Exposure thanks to what I have learned in RawDigger. After clicking on the image to enlarge it, note the crispness of the bird's face and eye in the Preview version on our right. When I clicked the eyeball for the DeNoise layer on and off in Photoshop at 400%, the reduced noise in the background became quite apparent.
As far as Topaz is concerned, I have said it here often before and I will probably say again, "Better late than never."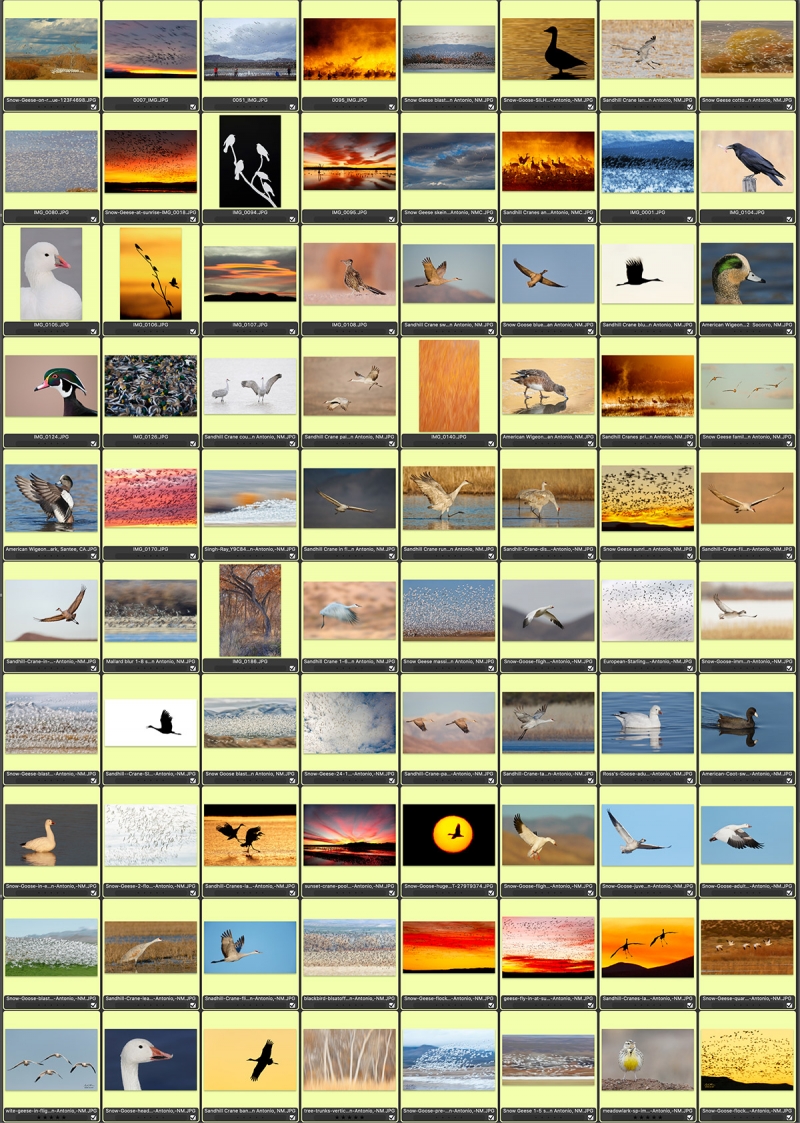 Bosque del Apache 2019 IPT
Notice the incredible variety of images that you can learn to make by developing your skills and your creative vision on a BAA IPT.
Bosque del Apache NWR 2020 IPT
NOV 18 (afternoon session) thru the morning session on November 23, 2020. 5 DAYS. Four full and two half days. $1999.00. Deposit: $500.00. Limit: 8 photographers/Openings: 6.
Extra Day Options: Please e-mail to learn about the before or after In-the-Field Day options.
The very best news is that the 2020 Festival of the Cranes has been canceled so we will be able to visit on what are usually the perfect dates!
I quit going to Bosque several years ago as conditions had worsened each year for several seasons running. In 2018, things had improved dramatically and in 2019 the photography was great. Simply put, I know Bosque better than anyone. Join me to learn how wind and sky conditions influence bird photography, how to create dramatic sunrise and sunset silhouettes, how to be in the right place at the right time, and how to create contest-winning blurs. As usual, you will learn to get the right exposure every time, to use your camera's AF system to create pleasing, balanced image designs, and to improve your flight photography skills.
We should get to photograph many thousands of Snow Geese, more than a few blast-offs, some Ross's Geese, and lots of Sandhill Cranes in the water, taking flight and flying. Depending on local conditions we may get to shoot some ducks: point-blank American Wigeon and Wood Duck. With any luck, we might enjoy sunrises and sunsets that leave you in tears. Live, eat, and breathe photography with one of (if not the) world's premier photographic educators at one of his very favorite locations on the planet. Top-notch Photoshop instruction. Join me to learn to think like a pro and to recognize situations and to anticipate them based on the weather. Every time we make a move, I will let you know why. When you get home, applying what you learned will prove to be invaluable.
Lunch is included.
To Register
To register, send your fully-refundable $500 deposit — check made out to BIRDS AS ART — via US Mail to PO Box 7245, Indian Lake Estates, FL 33855. Or call Jim weekdays at 863-692-0906 to put your fully-refundable deposit on a credit card. Balances must be paid in full by check no later than two months before the IPT. If you cancel due to COVID 19 concerns, all of your payments will be refunded.
Typos
In all blog posts and Bulletins, feel free to e-mail or to leave a comment regarding any typos or errors. Just be right :).