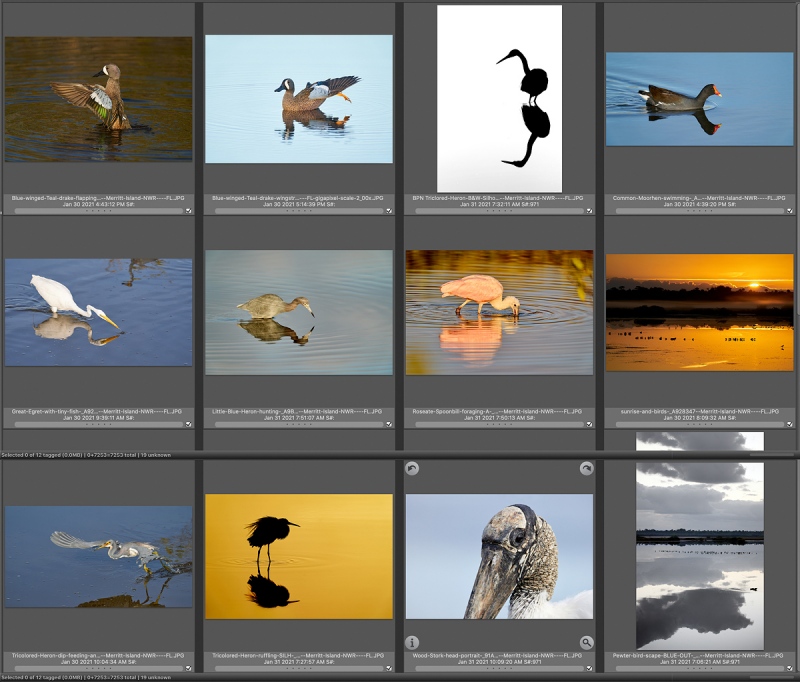 All of the images (plus lots more) were created on a very short visit at the end of January. Click on the card to enjoy a larger version.
Merritt Island NWR IPT card
Merritt Island NWR IPT
Merritt Island NWR IPT. 3 1/2 DAYS. MON 15 MAR thru the morning session on THURS 18 MAR 2021. $1499 includes three lunches. Limit: 6. Openings: 5.
When I visited — and later lived — in Deltona, FL, I made many trips to Black Point Wildlife Drive and environs. On a recent visit, I did quite well. The birds were much tamer than I remembered. I know the place well. Early spring was always best. There are tons of ducks, and wading birds including and especially both ibises. It can be great at sunrise with large flocks of shorebirds, waterfowl, ibises, and American White Pelicans filling the skies. We should get to do lots of flight photography on the causeway. At least a few good chances with Roseate Spoonbill are possible.
A $499 deposit is required to hold your spot for this IPT. You can send a check (made out to "BIRDS AS ART) to us here: BIRDS AS ART, PO Box 7245, Indian Lake Estates, FL, 3385, or call Jim or Jennifer at the office with a credit card at 863-692-0906. Your balance, payable only by check, is due immediately after you sign up. If you have any questions, please feel free to contact me via e-mail. If you cancel due to COVID 19 concerns, all of your payments will be refunded.
More R5/R6 AF e-Guide Kudos/Via e-mail from Tim Heenan of Australia
artie, Many thanks for the update- your AF guide has proven a godsend in simplifying what is a fairly complicated set of procedures. I hope Canon takes note. I am very much looking forward to the impending EOS R5 Camera User's e-Guide.
Wanted to Buy
If you have a Canon EF 24-70 version II lens taking up room on a shelf that you would like to get rid of, please contact me via e-mail.
What's Up?
My medical procedure on Thursday morning went smoothly. As expected, it revealed reflux. I am awaiting the results of the H. Pylori snip test. I did not make a single image yesterday. I did do my bursts and a enjoyed a nice 60 lengths swim in a warm pool. And I did go down to the lake right before sunset to check on the two new crane families. So far, so good. I did not do a minutes work on the Canon EOS R5 Camera User's e-Guide but am planning on hitting it hard today, Friday 19 February 2021.
The forecast for this morning is for mostly cloudy skies with winds from the southwest; NTG for bird photography but I will head down to the lake at 8:45am.
This post took well more than two hours to prepare and makes sixty-one days in a row with a new one. Please remember …
Please Remember
With income from IPTs now at zero, please, if you enjoy and learn from the blog, remember to use one of my two affiliate programs when purchasing new gear. Doing so just might make it possible for me to avoid having to try to get a job as a Walmart greeter and will not cost you a single penny more. And if you use Bedfords and remember to enter the BIRDSASART code at checkout, you will save 3% on every order and enjoy free second-day air shipping. In these crazy times — I am out at least forty to sixty thousand dollars so far due to COVID 19 (with lots more to come) — remembering to use my B&H link or to shop at Bedfords will help me out a ton and be greatly appreciated. Overseas folks who cannot order from the US because of import fees, duties, and taxes, are invited to help out by clicking here to leave a blog thank you gift if they see fit.
Canon R5/R6 AF e-Guide Info
So far, more than 122 folks have sent PayPals for their copy of the Canon R5/R6 AF e-Guide. And 41 who used my affiliate links to purchase their Canon mirrorless gear have e-mailed for and received their free copy of the guide. If you e-mailed your Bedford receipt or sent a PayPal and did not receive your guide, please LMK immediately via e-mail.
Feedback on the guide continues to be overwhelmingly positive. Please scroll down to read about the BAA Canon EOS R5/R6 User's e-Guide. Note that the info in the BAA Canon R5/R6 Autofocus e-Guide is so important that I opted to publish the AF guide immediately as the R5/R6 User's Guide will still take about another week or two to complete.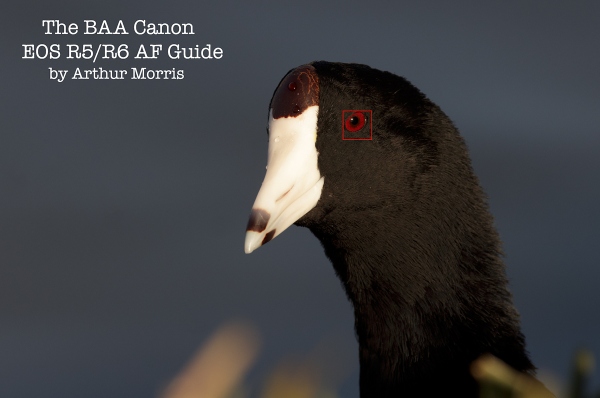 BAA Canon R5/R6 Autofocus e-Guide
BAA Canon R5/R6 Autofocus e-Guide is Now Complete!
Forty-one pages. 6250 words. 50-DPP4 screen captures showing the R5's vaunted AF system in action. Note: the AF system of the R5 is identical to the AF system of the R6.
You will learn:
1- The two most useful AF Methods for general bird photography and for birds in flight and the AF method that works best for me for birds in flight.
2- How to set up your R5/R6 AF Menus.
3- What boxes to check (and un-check) under Limit AF Methods.
4- How to change the AF Method quickly, easily, and efficiently. Note: the default way of doing this is clunky, cumbersome, and inefficient at best. One person replied that this tip alone was worth the price of admission.
5- The only setting that should be used for Initial Servo AF pt for Face Detection + Tracking.
I you are currently using multiple back buttons either for general bird photography or for birds in flight, what you learn in this guide will change your life. For the better.
Here are the first three paragraphs of this e-Guide:
From the moment I learned about the new Canon mirrorless bodies, I read about using two or three back-buttons to focus using different AF methods. The word on the street said that the way to go for birds in flight was to use one button to acquire focus with Zone AF or with Large Zone: Horizontal AF and then switch to another button to activate Face Detection + Tracking AF and then use the shutter button to make an image. My immediate thought was, "This is insanity! There has got to be a better way." In short, there is a far superior way to set up AF on your R5 or R6.
Remember that I got away from any form of back-button or rear focusing many years ago after finally realizing that it is always easier to do one thing (press the shutter button), than it is to do two things (press a back button and then press the shutter button).
The default method of switching AF Methods with the R5/R6 bodies is cumbersome at best. It involves first pressing the grid button (my name) on the upper right back of the camera and then pressing the hard-to-access M-Fn button to toggle through the AF Methods. This method is so bad that it will not be mentioned again in this guide.
The guide is free to all who have ordered an R5 or an R6 using my B&H affiliate link or from Steve Elkins/Bedfords using the BIRDSASART coupon code at checkout. Please send your receipt to me via e-mail. It will take me a few days to a week to verify the B&H purchases. Bedfords folks should expect their free e-Guides fairly quickly.
To purchase your copy of the e-Guide, please click here or send a PayPal for $25.00 to birdsasart@verizon.net and be sure to include the words R5/R6 AF Guide in your PayPal e-mail.
Everyone who purchased the AF guide will receive their free update some time today.
Canon EOS R5 Camera User's e-Guide
As most of you know, I have been working on a complete BAA Canon EOS R5 Camera User's e-Guide. Because the camera and the Menus are so complex, this has required a lot of research, a lot of time, and a lot of effort (and will continue to do so until it is complete. It should be finished by late February. As always, folks who use the BAA affiliate links to purchase their Canon gear will receive a substantial discount. The final update of the R5/R6 AF e-guide will become part of the complete Camera User's e-Guide but will be improved as and if warranted.
Great Topaz News!
Folks who use the BAA Topaz link to purchase Sharpen AI, DeNoise AI, or the Utility Bundle (or any other Topaz plug-ins) will receive a 15% discount by entering the ARTHUR15 code at checkout. If the stuff is on sale (as it usually is), you save 15% off of the sale price! To get the discount you must use my link and you must enter the discount code. Be sure to start with this link.
Those who purchase Sharpen AI, DeNoise AI, or any other Topaz plug-ins using my link and then entering the ARTHUR15 code at checkout can e-mail to request a short Getting Started with Topaz e-Guide. Please include a copy of your Topaz receipt that shows the discount. Aside from the basics, the guide explains how to install the plug-ins so that they appear in the Photoshop Filter Menu.
New and Better Bedfords Discount Policy!
You can now save 3% on all of your Bedfords photo gear purchases by entering the BIRDSASART coupon code at checkout. Your discount will be applied to your pre-tax total. In addition, by using the code you will get 2nd day air shipping via Fed Ex.
Grab a Nikon AF-S Teleconverter TC-14E III and save $14.99. Purchase a Canon EOS R5 and your discount will be $116.97. Purchase a Sony FE 600mm f/4 GM OSS lens and save a remarkable $389.94! Your Bedford's purchase no longer needs to be greater than $1,000.00 for you to receive a discount. The more you spend, the more you save.

Money Saving Reminder
Many have learned that if you need a hot photo item that is out of stock at B&H and would enjoy free second-day air shipping, your best bet is to click here, place an order with Bedfords, and enter the coupon code BIRDSASART at checkout. If an item is out of stock, contact Steve Elkins via e-mail or on his cell phone at (479) 381-2592 (Central time). Be sure to mention the BIRDSASART coupon code and use it for your online order to save 3% and enjoy free 2nd-day air shipping. Steve has been great at getting folks the hot items that are out of stock at B&H and everywhere else. The wait lists at the big stores can be a year or longer for the hard to get items. Steve will surely get you your gear long before that. For the past year, he has been helping BAA Blog folks get their hands on items like the SONY a9 ii, the SONY 200-600 G OSS lens, the Canon EOS R5, the Canon RF 100-500mm lens, and the Nikon 500mm PF. Steve is personable, helpful, and eager to please.
Gear Questions and Advice
Too many folks attending BAA IPTs (remember those?) and dozens of photographers whom I see in the field and on BPN, are–out of ignorance–using the wrong gear especially when it comes to tripods and more especially, tripod heads… Please know that I am always glad to answer your gear questions via e-mail. Those questions might deal with systems, camera bodies, accessories, and/or lens choices and decisions.
Flagship Price Drop
Canon EOS-1DX Mark III professional digital camera body
Price Reduced $200 on 4 FEB 2021
Price Reduced $300 on 18 FEB 2021
Used Gear Page regular Don Busby is offering a Canon EOS-1DX Mark III dSLR in like-new condition with less than 10,000 shutter actuations for a very low $4999.00 (was $5499.00). The sale includes the original box and everything that came in it including the 64gb CF Express Card, the CFexpress reader, and an extra battery. Also included is insured ground shipping via major courier to lower-48 US addresses only. Your item will not ship until your check clears unless other arrangements are made.
Please contact Don via e-mail
The Canon 1Dx bodies have been solid performers under challenging conditions for many years. The autofocus performance of the 1Dx and 1Dx MkII had been lacking as compared to Nikon or lately Sony (A9) especially when it comes down to dynamic focusing using the whole sensor array or specific zones. on the 1DX Mark II, the Automatic AF area selection never did a great job of acquiring and tracking the subject; thus, that mode was pretty much useless for photographing birds in flight. Single-point AF or AF Expand (4 or 9 points) with the tracking sensitivity set at -2 often produced good results for me with flying birds, but the fact that you were limited as far as image design always bothered me. Nikon's dynamic focusing and Sony's tracking capabilities provided extra compositional flexibility. As a result, many bird photographers decided to leave Canon and switch to Nikon or a Sony a9 series body. I decided to stay the course with Canon for two reasons: my collection of great Canon lenses, and the fact that the development of sensor and AF technology is like an arms race: one day Nikon is ahead, the next day Canon is ahead. I was lucky enough to get the new Canon 1Dx MkIII camera body from Steve Elkins just in time for my trip to Alaska to photograph the bald eagles. It was the perfect place to test the improved AF capabilities of the new Canon flagship body, the EOS-1D X Mark III DSLR with CFexpress Card and Reader.
The 1Dx MkIII is a hybrid camera with an Optical Viewfinder (OVF) and Live-View shooting making it a mirrorless camera at the same time that it is a rugged dSLR. There are a ton of other great new features, but I focused primarily on testing the new enhanced AF system. I was especially interested to see if the new dynamic 191-point Automatic AF selection and the AF zones would perform better than the previous versions of the 1Dx. The conclusion is that even under difficult circumstances — the first two days with heavy winds and heavy snow) — the camera had no issue focusing on the subject and keep tracking it with the Automatic AF selection mode. I used the center point to acquire focus and as soon as it locked the focus on the bird, it did a great job keeping multiple AF points on the subject and tracking it through the frame and through the snowflakes. The same applied for the Zones — smaller AF areas with multiple AF points active. Even with busy backgrounds, the AF stayed locked on the subject. The AF modes have been reduced to 4 compared to 5 in the previous 1Dx models. I primarily used Mode 2 (Continue to Track Subjects, Ignoring Possible Obstacles) and Mode 4 (For Subjects That Accelerate or Decelerate Quickly) but was not able to see a significant difference between the modes. Even with trying the "Deep Learning" Automatic setting (Tracking Automatically Adapts to Subject Movement) I did not notice a significant difference. They all performed really well. The conclusion is that Canon has produced a camera that is now on-par or even better than its competitors with respect to AF performance. Although I did not test the mirrorless capabilities yet, other tests show that this function is also equal to or better than the Sony A9 performance, the only difference is that you can not use the OVF in mirrorless-mode with the 1DX III and have to use the display on the back of the camera (the rear monitor) instead. Due to the fact you have to keep the camera away from your eye, this is somewhat awkward for photographing birds in flight. I am very happy with the AF performance as compared to the previous Canon models and am looking forward to testing it further on Florida birds this coming spring. Clemens van der Werf
The 1DX III sells new right now for $6,499.00. Grab Don's almost new body, save a $1000.00, and get an extra battery to boot! I remember how thrilled Clemens was with his then brand-new 1DX III in Homer. You can see some of his eagle images made with the 1DX iii in the Field-testing the New Canon EOS-1DX Mark III at Homer: World-Class Nature Photographer Clemens Van der Werf Shares the Skinny on Canon's New Flagship Camera Body post here. artie
New Listings/Amazing Canon Gear Bargains
Canon EOS 7D Mark II with Extras
Ted Keltz is offering a Canon EOS 7D Mark II in excellent condition for a BAA record-low $546.00. The sale includes a Delkin Devices 32 GB UDMA 6 memory card, a Canon WiFi adapter W-E1 (installed), the front cap, the the strap, the original battery, the battery charger, the original product box and manuals, all the original software on CDs, and insured ground shipping via UPS to lower-48 US addresses only.
Please contact Ted via e-mail.
Both Patrick Sparkman and I used and loved the 7D Mark II until about four years ago when we both committed to using full-frame Canon bodies. We both made some truly great images with it. Two of my three 2016 Nature's Best honored entries were created with the 7D II, one still, and one video. One thing is for sure: the 7D Mark II is the greatest value ever in a digital camera body. artie
Tamron SP 150-600 F/5-6.3 Di VC USD for Canon EF
Ted Keltz is offering a Tamron SP 150-600 F/5-6.3 Di VC USD for Canon EF in like-new condition for the bargain price of $399.00. The sale includes a LensCoat, a 95mm B+W 010 UV-Haze filter, the rear lens cap, the front lens cap, the lens hood, the original product box, and insured ground shipping via UPS to lower 48 addresses only. Your item will not ship until your check clears unless other arrangements are made.
Please contact Ted via e-mail.
I have seen lots of great images made with this exact lens both on IPTs and on BPN. This is the original version of the more current Tamron SP 150-600mm f/5-6.3 Di VC USD G2 for Canon EF, and thus is priced ridiculously low. It would make a great starter lens for any beginning bird photographer. artie
Canon EF 24-105 f/4L IS Lens
Ted Keltz is offering a Canon EF 24-105 f/4L IS lens in excellent condition for $249.00. The sale includes the front and rear lens caps, the original lens hood, and the lens pouch, and insured ground shipping via UPS to lower-48 US addresses only. Your item will not ship until your check clears unless other arrangements are made.
Please contact Ted via e-mail.
The 24-105 zoom lens was my go-to, all purpose, do-everything lens. Whenever I opted to leave it in my vehicle, I would come to regret my decision within the first hundred yards … I always took it with me when there were clouds around as it is a great lens for creating bird-scapes. And zoomed to the long end you can use it for quasi-macro and tightly detailed images. I used it often down on my belly to photograph dead birds. Don't laugh. I once sold an image of a recently-deceased Blue-winged Teal made with a focal length of 50mm for $20,000. Honest. artie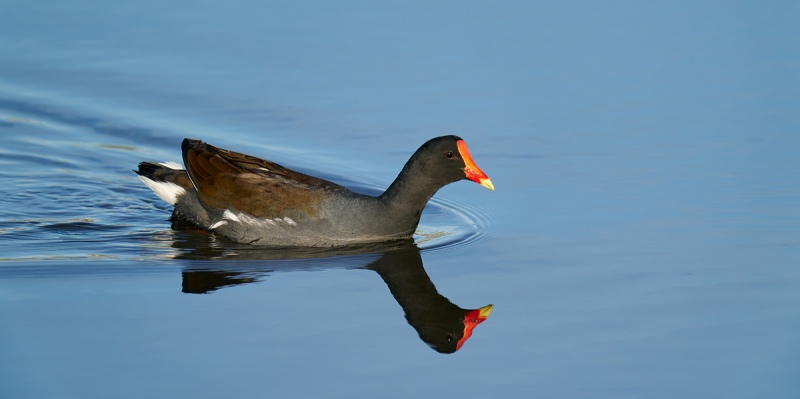 This image was created on the afternoon of Saturday 30 January 2021 at Black Point Wildlife Drive at Merritt Island NWR. Working away from my SUV, I used the Induro GIT 404L/Levered-clamp FlexShooter Pro-mounted Sony FE 600mm f/4 GM OSS lens, Sony FE 1.4x teleconverter, and the blazingly fast AF King, the Sony Alpha a9 II Mirrorless Digital Camera Body. ISO 640. The exposure was determined by Zebras with ISO on the rear wheel: 1/1000 sec. at f/5.6 (wide open) in Manual mode. RawDigger showed the exposure here to be perfect. (See the screen capture below). AWB at 4:39pm on a sunny afternoon.
Tracking Expand Flexible Spot AF-C was active at the moment of exposure and performed better than the operator; see the screen capture below. Click the image to see a larger version.
Image #1: Common Moorhen swimming fast

Your browser does not support iFrame.
Common Gallinule
Common Gallinule (Gallinula galeata), is a handsome, medium-sized rail that is found in aquatic environments. There are more than a few pairs down by the lake near my home. But they are very difficult to photograph. Back in the days of film, I knew a spot at Loxahatchee NWR where they could be photographed swimming in still blue water on a fairly consistent basis. At times they have been known as Common Moorhen, at other times as Common Gallinule — the scientists change both their minds and the name of the bird every decade or so). In any case, I was glad have several good chances on this species each afternoon on my recent visit to Black Point Wildlife Refuge. And yes, they were swimming in still blue water.
You can see some more images from that afternoon in the Blue-winged Teal Three Ways blog post here.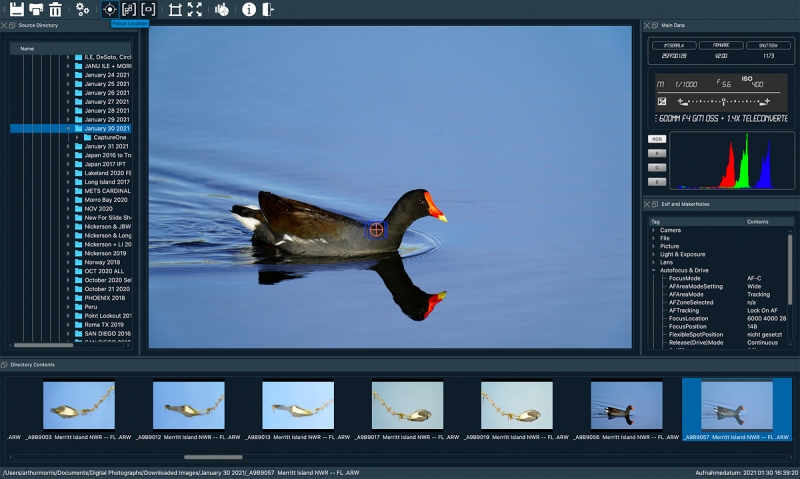 Image #1A: SONY AF points on the Common Moorhen swimming fast image

Your browser does not support iFrame.
AF Strategy for Head Bobbing Birds
With birds that bob their heads while swimming or walking, it is often better to place the AF point on the upper breast or the back of the neck as either will be on the same plane as the bird's face. This technique worked to perfection with today's featured image.
I will be sharing info on the program that I use to determine the SONY AF points after the fact as soon as I finish the Canon EOS R5 Camera User's e-Guide.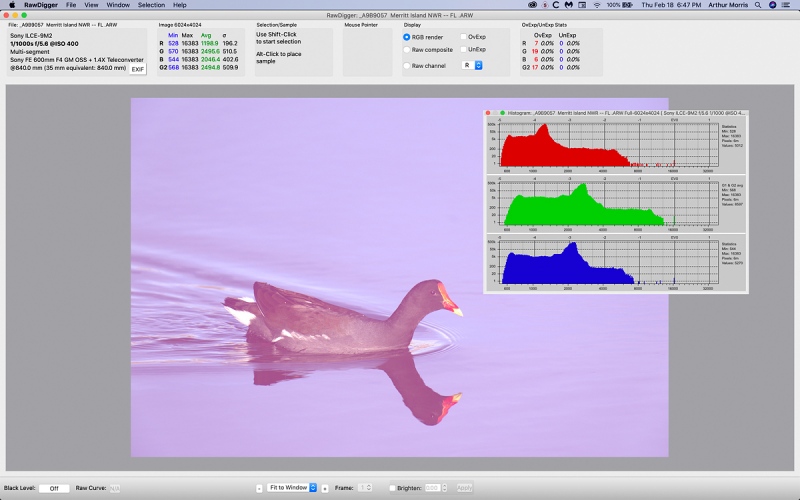 Click the image to see a larger version.
Image #2A: RawDigger Adapted (pink) histogram for the Common Moorhen swimming fast image
Correlating Zebras to RawDigger
While I am learning to create consistently excellent exposures with my Canon R5/RF 100-500 rig, that requires making a test image in each new situation. With my SONY gear, I know exactly how many Zebras I need to see in various lighting conditions (before I push the shutter button) to create a perfect exposure. With today's featured image, with the sun out on a clear late afternoon, I knew that having a few Zebras on the white feathers near the tail and the yellow bill tip would result in a perfectly exposures raw file. And that is just what the RawDigger Adapted (pink) histogram above shows. The more you expose to the right, the less noise in the dark tones, the better the image quality, and the smoother the color transitions.
In the RawDigger e-Guide you will learn to set up the Adapted "pink" RawDigger Histogram and use it to quickly and easily evaluate the exposure or raw file brightness of images from all digital cameras currently in use. Tip: for a perfect exposure, you want the GREEN histogram to get 2/3rds of the way from the 8000 line to the 16000 line (just as you see in the screen capture above).
Note: you can learn exactly how Patrick Sparkman and I set up Zebras with our SONY gear (and tons and tons more) in the The Sony Camera User's e-Guide and One Camera Set-up Video. A Two Camera Set-up Video is available here.
Typos
In all blog posts and Bulletins, feel free to e-mail or to leave a comment regarding any typos or errors.