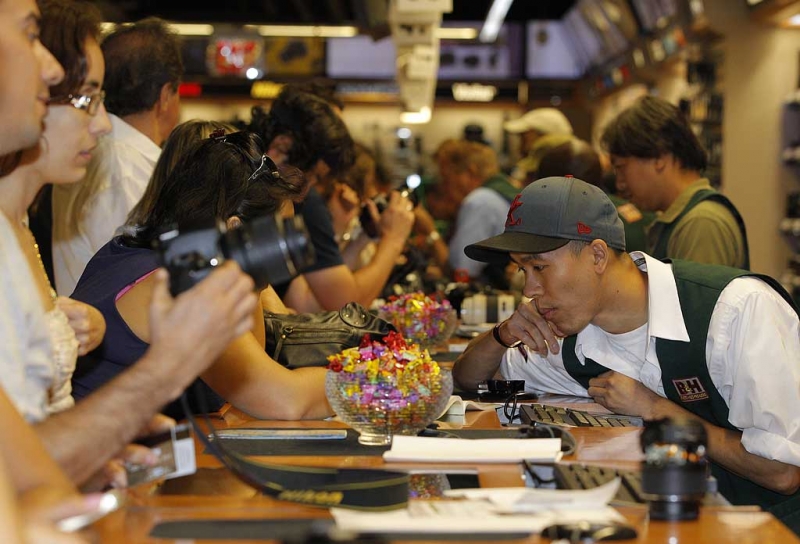 Visit the B&H super store and you get to try before you buy. Be sure to have fun when you visit but remember to use the BAA B&H link as a way of thanking us for all of the free educational info that we provide in the blog and in the Bulletins and to earn free BIRDS AS ART International Bird Photography Competition entries.
The Super Super Store
I'm not sure exactly when, but I did visit the old B&H store. Late 1970s? Early 1980s? I am just not sure. What an experience. A single long counter, many, many dozens (or maybe well more than 100) customers stuffed into a small store on a hot August afternoon each vying for the attention of one of the only ten or so busy salesmen….. I am not sure what I bought but I do remember the thrill of getting waited on.
Before we get on to the visit lets take a peek at the history of B&H. It opened in 1973 as a storefront film shop on Manhattan's Lower East Side. The shop was run by Herman Schreiber and his wife, Blimie; the name B&H was derived from their initials. They quickly outgrew their humble beginnings and moved to a large loft on West 17th St. in the Photo District (the site of my first visit). The super store was born in 1997 and in 2007 a second sales floor was opened above the first: at 70,000+ square feet and with more than 1,500 employees B&H today is more of an attraction than anything else. On an average day more than 2,000 folks are served with many thousands more making purchases on line every day.
At first all of the store's employees were observant Satmar Hasidic Jews. (The store is closed on Saturdays and Jewish holidays and web site orders are not processed on the Sabbath–Shabbat–or the holidays). Only NYC's Diamond District employs more Orthodox Jews. As the years rolled B&H hiring practices become all encompassing and today a melting pot of a sales staff is there to help. The change was not entirely voluntary as there were several lawsuits along the way. If you visit tomorrow you will surely encounter some of the staff dressed in their black coats or vests with a yarmulke (skull cap) perched on their heads and their beards and peyot (sidecurls) quite evident. The great majority of the employees that I encountered were happy to have their picture taken by this bird photographer.
On August 26th, 2011 Denise Ippolito and I were invited to the B&H super store at 420 Ninth Avenue, NY, NY (that's Manhattan for you non-natives) for a behind the scenes executive tour. We met my affiliate Adviser Yechiel Orgel and he introduced us to our tour guide, Isaac Buchinger. Isaac was low key funny and quite knowledgeable. Our aamzing tour lasted more than two hours. When we were done, I realized that to call the recently expanded B&H a super store super was still a bit of an understatement; the store is pretty much a Disneyland of camera gear, professional lighting equipment, binoculars and scopes for the birders, computers, all types of electronics, portable and home entertainment products, and all types of video and audio gear from basic consumer stuff to the absolute top of the line equipment used by CNN, National Geographic, and by Hollywood film crews. You will be amazed not only by the range of products in each class, but by the complete line of accessories and by the knowledgeable salesmen who not only know how everything works and fits together but how to use it. Many of the salesmen are experts in a given field and there presence is augmented by manufacturer's reps (including those from just about every major camera corporation).
As we made out way through the various departments on the first floor and then up to the photography section on the second floor we each found the range of products to be staggering. Simply put, B&H carries everything. Business was surprisingly brisk at the film counter! The frustration that you feel when you need help in a WalMarts is non-existent as there were several salespersons eager to help in most every department. The only exception was in the camera and lens department where customers queued up to await service from one of the dozens of sales folks behind the long counter. Whatever your wants or needs, chances are that you will be able to try before you buy, to handle the cameras, change lenses, and even create a few images.
Yikes, I almost forgot to mention the famed conveyor belt delivery system. The item that you wish to order is delivered in a green plastic box that rides on a moving belt. After you place your order it travels in the same manner to the checkout counter waiting for you to arrive with your order sheet. Once you pay it makes one last journey to the pick-up counter where it is yours for the ride home. Techies interested in learning about the system will surely enjoy visiting http://www.hoftronics.com/.

A sampling of the smiling faces awaiting you at B&H.
Here is an telling excerpt from a blog post written by Joel Spolsky. You can read the whole article here. Joel Spolsky is the co-founder and CEO of Fog Creek Software and the host of the popular blog Joel on Software.
B&H opened in 1973, and it's an amazing place. If you are in Manhattan, you should visit the store, on Ninth Avenue at 34th Street. The first thing you will notice? The place is humming. Originally a camera store, B&H has grown to carry more than 250,000 items, including all kinds of pro audio, pro video, and computer gear. The company is closely held and somewhat press shy, so it's hard to know how successful it is. "Our business remains strong, particularly considering the overall economic climate," a spokesperson says. I suspect that's an understatement. The store is always packed with customers, browsing through hundreds of varieties of camera bags with every possible combination of lens compartments; the room full of telescopes; and, of course, enough lenses to burn all the ants in the Sahara to a crisp. The electronic superstores in Tokyo's Akihabara district are the only other places where I have seen so much gear under one roof.
And what a roof it is: The whole operation is a crazy Willy Wonka factory. If you want to check out a product that's not on display, a salesperson orders it by computer terminal from a vast stockroom in the basement. Moments later, as if by magic, the product arrives at the retail counter, via an elaborate system of conveyor belts and dumbwaiters. You can try out the gear, see if you like it, and, if you do, the salesperson puts it in a green plastic box and places it on another conveyor belt, which runs, above your head, to the pickup counter. There, an employee bags your purchase. Meanwhile, your salesperson gives you a ticket, which you take to a payment counter. After you have paid, you get a different ticket that you take to the pickup counter to get your merchandise.
At first, this all seemed like incredible overkill to me. But then, as I thought about it more, I developed a theory as to why B&H operates this way. With all the expensive electronics and cameras and lenses and laptops floating around the store, the system creates a series of checks and balances — typically, five employees are involved in every purchase — in order to reduce shoplifting and employee theft. That it works at all is not the most amazing thing about B&H, however. The most amazing thing is that the prices are so low that I don't even bother to comparison-shop anymore.
No, wait: The most amazing thing is that the salespeople at B&H really know their stuff. When I recently bought a portable digital recorder, the salesperson knew that some gear was not compatible with flash memory cards larger than 2GB and spent a few minutes surfing the Web to make sure that the 8GB card I wanted would work with it.
No, wait: The most amazing thing is that I have often gone into B&H to purchase a specific product, only to be talked into something cheaper. For example, once I went in to buy a field video monitor to use for some interviews I was conducting. I expected to pay $600 until the salesperson said, "Why don't you just get one of these cheap consumer portable DVD players? They have video inputs, they work just as well, and they're under $100." This was no accident. "The entire premise of our store is based upon your ability to come in, touch, feel, experiment, ask, and discuss your needs without sales pressure," B&H's website says.
But wait: The conveyer belts, the prices, the smart salespeople, the fact that they recommend cheaper products almost as a rule — none of these is actually the most amazing thing about B&H. Really, the most amazing thing is that because the owners of B&H are Orthodox Jews — Hasidim, in fact — the store closes every Friday afternoon for the Jewish Sabbath, and on Jewish holidays. Moreover, B&H's website, which reportedly accounts for 70 percent of sales, shuts down, too. Bhphotovideo.com is, to my knowledge, the only major online retailer that closes for 25 hours every weekend.
B&His frequented by large numbers of professional and amateur photographers and videographers, by large numbers of everyday consumers looking for the best prices,and by large numbers of tourists visiting this great New York institution. While we do hope that you get a chance to visit as I did, we hope that you do it just for fun and make your major purchases using our B&H link as a way of thanking us for all of the free educational info that we provide in the blog and in the Bulletins and to earn free BIRDS AS ART International Bird Photography Competition entries.
Don't Screw Up 🙂
Recently, we have had more than a few folks making major purchases from B&H e-mailing for their free contest entries only to be denied because they either failed to use the preceding link or because they used the link to search and then ordered by phone…. Please avoid disappointment by using the BAA B&H link to start your online searches, by clicking on one of the many B&H logo-links on the blog or the web site, or by clicking on one of the many product-specific links that appear in both the Bulletins and the blog to purchase.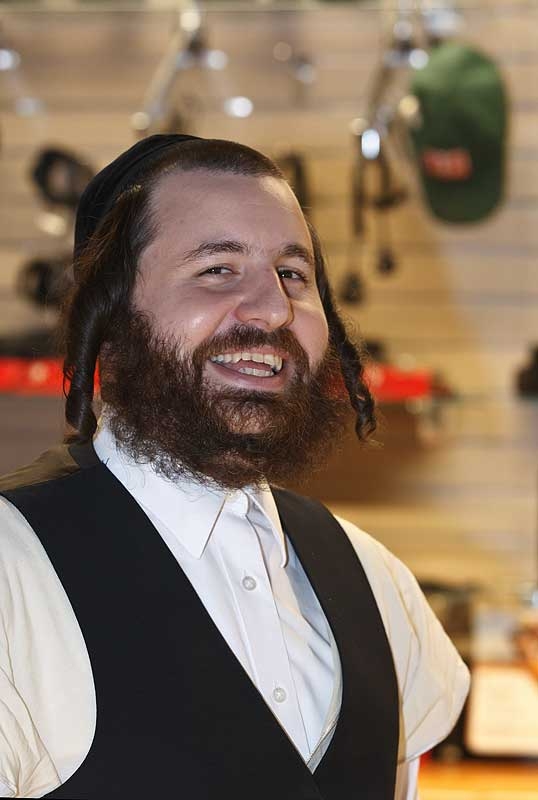 The always smiling Yechiel Orgel is the BAA B&H affiliate adviser and hosted our visit to the super store.