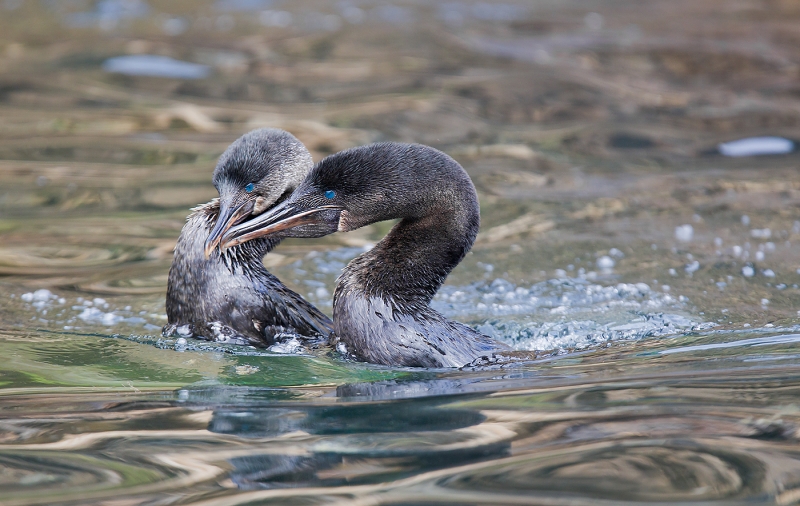 This image was created with the hand held Canon 400mm f/4 IS DO lens and the EOS-1D Mark IV. ISO 800. Evaluative metering +1/3 stop: 1/800 sec. at f/5 in tv mode. When working on a boat or in other situations that require a minimum shutter speed I will often choose to work in Tv Mode and dial in the required exposure compensation.
For a greater appreciation of the image, click on the photo. Then click on the enlarged version to close it.
For Your Critique: Image #17
The image above of Flightless Cormorants performing their aquatic courtship/mating dance was photographed from a panga (Zodiac) on the 2010 Galapagos Photo-Cruise of a Lifetime. It is presented here for your critique; feel free to praise it or rip it to shreds. Would you keep it or delete it? Let us know why either way, what you like or what you hate. What would you have done differently?
Over the course of the next two weeks I will present three additional images in this series for a total of twenty in all. The last will be followed by several revelations including two major ones.
One of the very best ways to grow as a photographer is to look at as many good images as possible. I do that often in books, by checking out contest result web sites, by critiquing images on Bird Photographers.Net (BPN), by visiting the web sites of the world's best photographers, and during image critiques and by encouraging image sharing on our BAA Instructional Photo-Tours (IPTs).
The GALAPAGOS Photo Cruise of a Lifetime IPT
Do consider joining us in July 2013 in the Galapagos; it may very well be my last trip down there….
The GALAPAGOS Photo Cruise of a Lifetime IPT/The Complete Galapagos Photographic Experience: 13 FULL and two 1/2 days of photography: $12,749. Limit 13/Openings: 5.
July 2-16, 2013 on the boat. Fly to Quito on June 30. Travel insurance day: July 1. Fly to the archipelago on July 2. Get off the boat on July 16. Spend that afternoon and evening in Puerto Ayora (lunch & dinner on your own). Fly to Quito on July 17. Fly home on the early morning of July 18. Non-refundable deposit: $5,000.
Briefly, my two-week trips are without equal. The world's best guide, a killer itinerary, a great boat (the Samba), and the best leader with seven Galapagos cruises under his belt. The great spots include Tower Island (including Prince Phillips Steps and Darwin Bay), Hood Island (including Punta Suarez, the world's only nesting site of Waved Albatross, and Gardner Bay)—each of the preceding are world class wildlife photography designations that rank right up there with Antarctica, Africa, and Midway), Fernandina, Peurto Ayora for the tortoises, Puerto Egas—James Bay, North Seymour, South Plaza, Black Turtle Cove, Floreana, Urbina Bay, and China Hat. Plus tons more. And lots of snorkeling for those who wish to partake. All park fees, meals except as noted above, guide fees, ground transportation, and the flights to and from the Galapagos are included.
Click here for information on all BAA IPTs.
BIRDS AS ART BULLETIN #388
BIRDS AS ART Bulletin #388 is on line and can be accessed here in spectacular white on black type. Here are the features:
THE HOMER BALD EAGLE IPT REPORT
HOMER e-MAIL KUDOS
IMAGE OPTIMIZATION MAGIC PART III
BOSQUE THANKSGIVING BUFFET INVITE
THE BLOG IS THE BOMB!
The 2012 Southwest Florida Instructional Photo-Tour (IPT)
IPT UDPATES
Earn Free Contest Entries and Support both the Bulletins and the Blog by making all your B & H purchases here.
More and more folks are earning multiple contest entries with their B & H purchases. See here for details on that. Eleven great categories, 34 winning and honored images, and prize pools valued in excess of $20,000. Click here to visit the competition home page.
Shopper's Guide
Below is a list of the gear used to create the images in today's blog post. Thanks a stack to all who have used the Shopper's Guide links to purchase their gear as a thank you for all the free information that we bring you on the Blog and in the Bulletins. Before you purchase anything be sure to check out the advice in our Shopper's Guide.
Canon 400mm f/4 IS DO lens. I missed this versatile lens so much on last year's trip that I will surely borrow one for my 2013 trip; it is unsurpassed for panga (Zodiac) photography.
Canon EOS-1D Mark IV professional digital camera body. My two Mark IVs are my workhorse digital camera bodies.
And from the BAA On-line Store:
LensCoats. I have a LensCoat on each of my big lenses to protect them from nicks and thus increase their re-sales value. All my big lens LensCoat stuff is in Hardwood Snow pattern.
The Lens Align Mark II. I use the Lens Align Mark II pretty much religiously to micro-adjust all of my gear an average of once a month and always before a major trip. Enjoy our free comprehensive tutorial here.
Canon EOS-1D Mark IV User's Guide. Learn to use your Mark IV the way that I use mine. Also available for the 7D and the Mark III here.