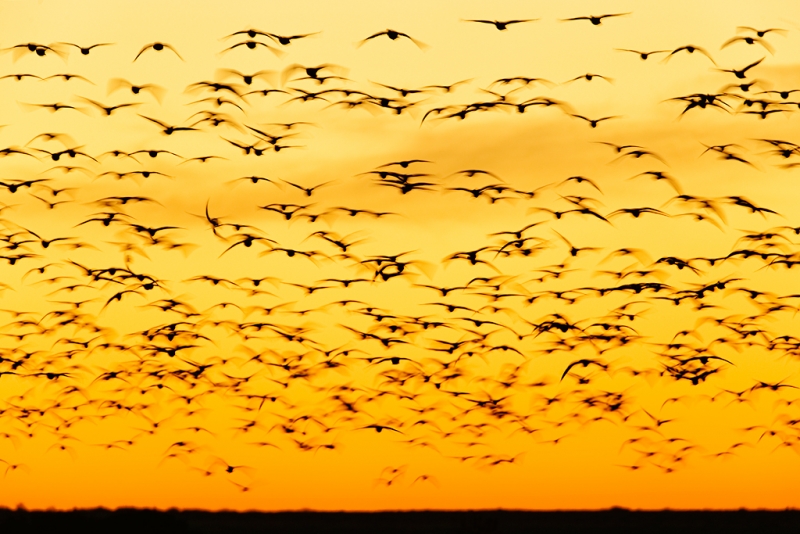 This image was created this morning with the tripod-mounted Canon EF 800mm f/5.6L IS USM Autofocus lens and the Canon EOS-1D X digital SLR . ISO 320 (via ISO safety shift). Evaluative metering +1 stop: 1/25 sec. at f/5.6 in Tv mode. Central sensor/AI Servo Surround/Rear Focus AF active at the moment of exposure. Click here if you missed the Rear Focus Tutorial. Click on the image to see a larger version.
It was great to have the IPT group in the right place at the right time and then have the birds do exactly what they were supposed to do exactly when they were supposed to do it. I had just finished saying, "We need a huge fly-in right over the ridge now" when we heard the roar of the distant flock…. I used the techniques for pre-dawn shooting that are described in detail in the hugely popular eBook, "A Guide to Pleasing Blurs" by Denise Ippolito and yours truly. I love the nearly upside down goose right by the rule of thirds position in the upper left portion of the frame.
Your browser does not support iFrame.
Happy Bird Day
Denise Ippolito and I and Jen and Jim would like to wish everyone a wonderful Thanksgiving 2012. My position is that if you are breathing and you own some nice camera gear that you have lots to be thankful for every day. Best advice: breath deeply and enjoy every moment.
Great year or poor year, the priceless information in the Bosque Site Guide will help you learn to be in the right spot at the right time. I followed my own advice to a tee yesterday morning and had a small group of friends and early-arriving IPT folks in the right locations all morning. Why waste time driving around trying to figure out where to be on this wind or in these lighting conditions? As I have written before, heading to Bosque without the Bosque Site Guide on your laptop is downright foolish. Why? You simply do not know as much about Bosque as I do. 🙂
Learn about all of our Site and Set-up eGuides here.
The Bosque Site Guide Current Conditions Update
If you are at Bosque right now or are heading to the refuge in the next week or two and you own a copy of the Bosque Site Guide, you are invited to e-mail and request a copy of the Bosque Site Guide Current Conditions Update. You will receive a short e-mail describing other current strategies and letting you know exactly where to be in the pre-dawn. Please be sure to read the Important Notes below. 🙂
Important Notes
As I only have three short sessions under my belt this year so far, the Current Updates e-mail will not be sent until midday on Saturday November 24, 2012. This will give me time to figure out what is going on after 8am and in the afternoons. If you would like to receive this update, please cut and paste the words "Bosque Site Guide Current Conditions Update" into the subject line and be sure to include proof of purchase. The simplest thing to do is to include a screen capture of the first page of the guide. No updates will be sent unless you include some sort of proof of purchase. Please do not call or e-mail Jim as he knows nothing about this :).
Bosque on Facebook
Visit Bosque on Facebook here and bookmark the page. It's a great way to keep up on current events and refuge conditions.
Click Heres
Click here for NYC Seminar information.
Click here if you missed the caption contest.
Click here to see BAA Bulletin #423. It includes info on the first MP4 Photoshop Tutorial Video and NYC Seminar info.
If you missed the South Georgia/Falkland Islands Southern Oceans Trip Report, see BAA Bulletin #422.
Shopper's Guide
Thanks a stack to all who have used our B&H affiliate links to purchase their gear as a thank you for all the free information that we bring you on the Blog and in the Bulletins. Before you purchase anything be sure to check out the advice in our Shopper's Guide.
Shop B&H
Support the BAA Blog. Support the BAA Bulletins. We want and need to keep providing you with the latest free information, photography and Photoshop lessons, and all manner of related information. Show your appreciation by making your purchases immediately after clicking on any of the links above. Remember, B&H ain't just photography!
And from the BAA On-line Store:
LensCoats. I have a LensCoat on each of my big lenses to protect them from nicks and thus increase their re-sales value. All my big lens LensCoat stuff is in Hardwood Snow pattern.
LegCoat Tripod Leg Covers. I have four tripods active and each has a Hardwood Snow LegCoat on it to help prevent further damage to my tender shoulders 🙂 And you will love them in mega-cold weather….
Gizo GT3532 LS CF Tripod. This one replaces the GT3530LS Tripod and will last you a lifetime. Learn more about this great tripod here.
Mongoose M3.6 Tripod Head. Right now this is the best tripod head around for use with lenses that weigh less than 9 pounds. For heavier lenses, check out the Wimberley V2 head.
Double Bubble Level. You will find one in my camera's hot shoe whenever I am not using flash.
The Lens Align Mark II. I use the Lens Align Mark II pretty much religiously to micro-adjust all of my gear an average of once a month and always before a major trip. Enjoy our free comprehensive tutorial here.
BreezeBrowser. I do not see how any digital photographer can exist without this program.
Delkin Flash Cards. I use and depend on Delkin compact Flash Cards and card readers most every day. Learn more about their great 700X and 1000X cards here or about my favorite Delkin card here.