Barnegat Miracle…
Despite high winds on Friday and Saturday, gusts of more than 50mph, water washing over the jetty, and waves of 40 feet in the inlet, a great time was had by all on the Barnegat Jetty IPT. All four of us: Denise and I and Bill Wingfield from South Carolina and David Policansky from the Washington, D.C. area. As David had left after lunch the leaders had the participant out-numbered two to one that afternoon. We said goodbye to Bill at about 4:30pm on Saturday.
As is my custom I removed my Delkin 700X 64gb PRO CF card from my 1D X and placed it in my left hand front pocket with the key card to the motel room. When Denise and I got back to the hotel in Weehawkin I stuck my hand into the same left hand front pocket and came up empty. I searched the room. I went down to the car and searched around and behind it. It was cold and still very windy. I searched in the parking lot and the motel lobby. And in the hallway leading to the room. All without success. As we had had a rather productive afternoon despite the fierce winds I was having some problem loving what is. But then I realized that there are a lot worse things that could happen than losing a compact flash card.
I decided to head back to the state park and look for the card on the ground. Denise volunteered to make the ride with me. Twenty-five minutes later I made a u-turn at the end of the road buoyed by the fact that two street lights illuminated the parking area outside the gates. (Note: never park in the lot in the afternoon as they lock folks in promptly at 4pm.)
I swung the Sequoia around and pointed my headlights in the vicinity of what I thought was my parking spot. As I stopped the car I spotted something on the ground. "That could be it." I exited quickly, bent down, picked up my precious flash card, held it over my head and let out a whoop of joy as I leaped about as high into the air as I have in recent decades. It was then that I realized that the card had been soaked in salt spray by the vicious west wind.
But back in the room the card downloaded perfectly. Sometimes you just gotta love being lucky.
ps: I did the exact same thing at Bosque last year. With help from Jim Heupel I found the then missing card in the pitch dark at 5:15am in the parking lot at Harry's Crane Pool.
Moral: it is a lot harder to lose a card that has been safely placed in a Delkin CF Memory Card Tote. Only $9.99 here.
Four Reasons to be Happy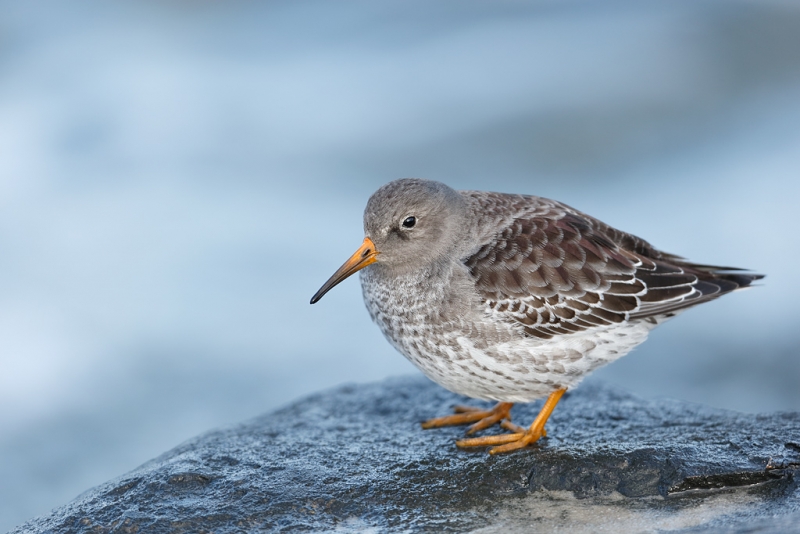 This first-winter Purple Sandpiper was photographed on the just-concluded Barnegat Jetty IPT with the tripod-mounted Canon EF 800mm f/5.6L IS USM Autofocus lens and the Canon EOS-1D X digital SLR . ISO 400. Evaluative metering +1 stop: 1/400 sec. at f/5.6 in Manual mode. Central sensor/AI Servo Surround/Rear Focus AF and re-compose. Click here if you missed the Rear Focus Tutorial. Click on the image to see a larger version.
Your browser does not support iFrame.
For unknown reasons, the young bird above perched atop the rock and posed for more than two minutes despite the high wind. When the sun came out I went to a darker exposure but failed to check the histogram. The result? About 20 toasted frames of this lovely shorebird.
Those of you who are mystified by the term "first winter plumage" should get themselves a copy of my "Shorebirds: Beautiful Beachcombers." You will learn that ageing shorebirds is often easier than identifying them as to species.
How's that for sweet light and a killer background. Lesson for beginners: the farther the background from the subject the softer it will appear. Here the inlet lit be gorgeous late afternoon light was at least 100 yards past the shorebird.
Image optimization tip: with the light so warm I went to Hue/Saturation and decreased the saturation of the REDs and the YELLOWs about 20 points.
Easy Quiz Question
Why were all the birds facing to the left?
Which is Your Favorite, and Why?
Take a moment to let us know which of the above images is your favorite. And be sure to let us know why.
Shop Amazon
Consider doing all of your Amazon.com shopping using the search link below. You'll be getting the same low prices and great service that you are accustomed to and at the same time, supporting my efforts in the Bulletins and on the Blog to bring you great images, timely product news and info, and tons of free educational articles on an almost daily (and sometimes almost back-breaking) basis 🙂 Just type your search in the little white box and hit Go.

Weekend Creative Nature Photography Seminar, Tampa, FL: February 23 & 24, 2013: $149 Limit: 50/Openings: 45
Join Denise Ippolito and me on the weekend of February 23-24 on the outskirts of Tampa, FL for a great weekend of fun and learning. Learn to improve your photography skills, your skill at designing images in the field, your creative vision, and your image optimization skills. Sunday critiquing session. Click here for additional details and the complete schedule.
Shopper's Guide
Thanks a stack to all who have used our B&H affiliate links to purchase their gear as a thank you for all the free information that we bring you on the Blog and in the Bulletins. Before you purchase anything be sure to check out the advice in our Shopper's Guide.
Shop B&H
Support the BAA Blog. Support the BAA Bulletins. We want and need to keep providing you with the latest free information, photography and Photoshop lessons, and all manner of related information. Show your appreciation by making your purchases immediately after clicking on any of the links above. Remember, B&H ain't just photography!
And from the BAA On-line Store:
LensCoats. I have a LensCoat on each of my big lenses to protect them from nicks and thus increase their re-sales value. All my big lens LensCoat stuff is in Hardwood Snow pattern.
LegCoat Tripod Leg Covers. I have four tripods active and each has a Hardwood Snow LegCoat on it to help prevent further damage to my tender shoulders 🙂 And you will love them in mega-cold weather….
Gizo GT3532 LS CF Tripod. This one replaces the GT3530LS Tripod and will last you a lifetime. Learn more about this great tripod here.
Mongoose M3.6 Tripod Head. Right now this is the best tripod head around for use with lenses that weigh less than 9 pounds. For heavier lenses, check out the Wimberley V2 head.
Double Bubble Level. You will find one in my camera's hot shoe whenever I am not using flash.
The Lens Align Mark II. I use the Lens Align Mark II pretty much religiously to micro-adjust all of my gear an average of once a month and always before a major trip. Enjoy our free comprehensive tutorial here.
BreezeBrowser. I do not see how any digital photographer can exist without this program.
Delkin Flash Cards. I use and depend on Delkin compact Flash Cards and card readers most every day. Learn more about their great 700X and 1000X cards here or about my favorite Delkin card here.