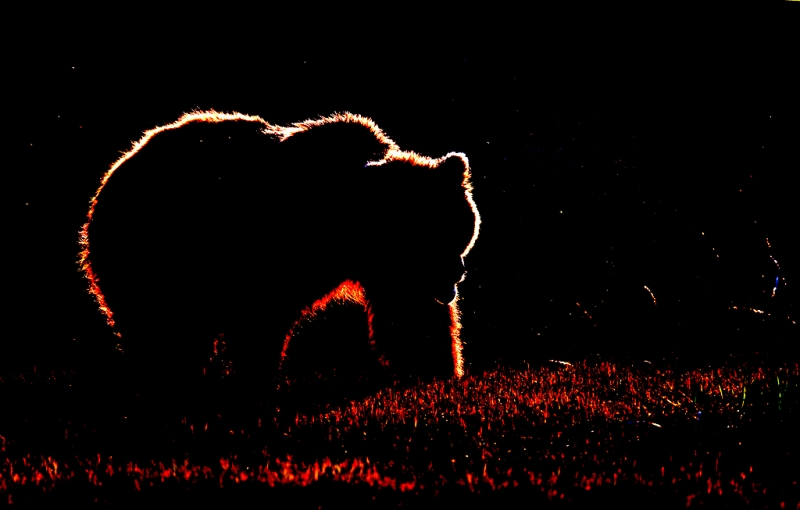 This Coastal Brown Bear image was created in Katmai National Park on a 2009 Bear Boat IPT with the tripod-mounted Canon EF 800mm f/5.6L IS USM Autofocus lens, the Canon 1.4x EF Extender III (teleconverter), and the discontinued EOS-1D Mark IV that has been replaced by the Canon EOS-1D X digital SLR . ISO 640. Evaluative metering -1/3 stop: 1/200 sec. at f/9.
Central sensor (by necessity)/AI Servo/Rear Focus AF on the rim light and re-compose. Click here if you missed the Rear Focus Tutorial. Click on the image to see a larger version.
Let's call this one "The Original."
Your browser does not support iFrame.
Can You Bear It?
I posted the image above (along with a black and white version) to the blog on December 31, 2012 in "Blacklight & Creativity." About half the folks who commented liked the color version and about half liked the black and white version. Denise Ippolito commented, "I do think that the B&W one could be as dynamic if you added a little more light to the grasses at the bottom." So I did.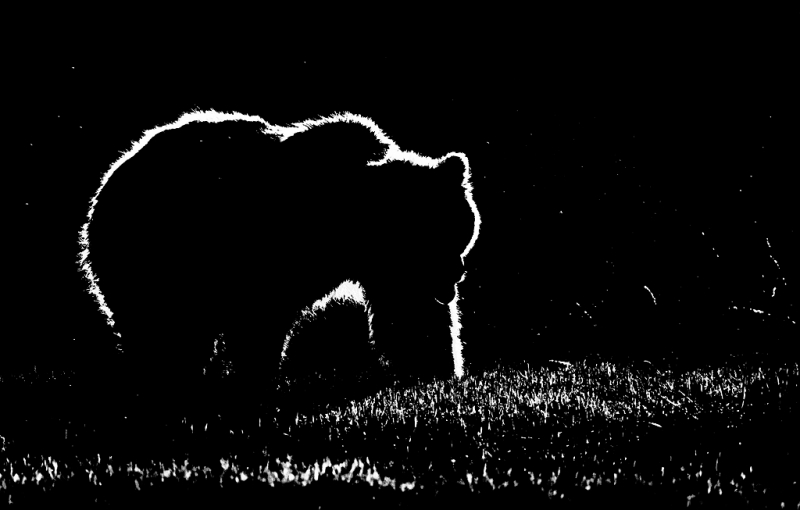 This is the version suggested by Denise Ippolito. Let's call this one Black & White II.
To create the version above I started with the original and applied the High Contrast Orange filter in NIK Silver Efex Pro.
NIK 15% Discount
As regular readers know, Color Efex Pro has drastically changed my digital workflow and little by little I have begun using Viveza to solve sticky image optimization problems and Silver Efex Pro fo fast, dramatic B&W conversions. You can save 15% on all NIK products (including Color Efex Pro, Silver Efex Pro, and Viveza) by clicking here and entering BAA in the Promo Code box at check-out. Then hit Apply to see your savings. You can download a trial copy that will work for 15 days and allow you to create full sized images.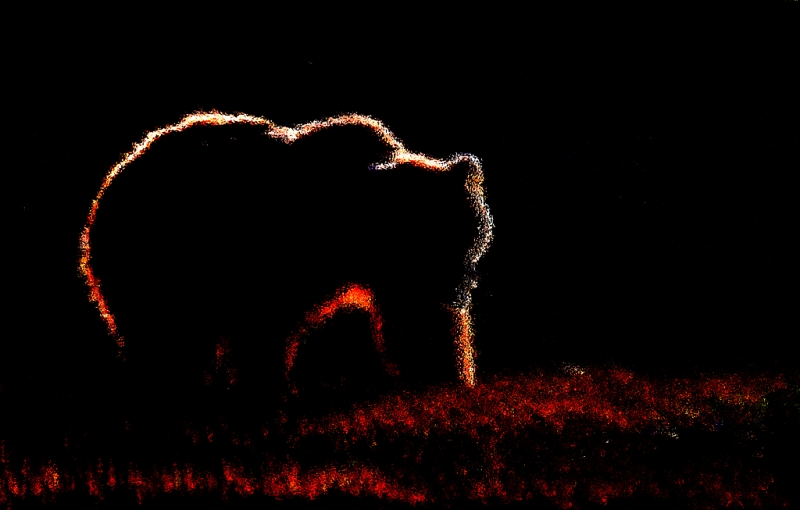 Let's call this version Ocean Ripple.
I started to mess around and began with Filter/Distort/Ocean Ripple (in Photoshop). I love what the filter did to the lower front half of the animal including and especially the fur around the head and the front legs.
John Van de Graaff
Multiple Galapagos Photo-Cruise veteran John Van de Graaff (who will be joining us again on the rapidly filling Nickerson Beach Baby Birds IPT next July) raised some interesting points with his comment:
In today's blog, blacklight is clearly used as a variant of backlit. When I tried my hand as a art dealer (disastrously) for a few years in the early 1980s I learned about ultraviolet light, aka blacklight, which was used to expose recent restorations on old paintings. So for me the term blacklight as Artie and presumably others use it, is confusing. You all have adopted it, which is fine. But I'd be curious to hear if anyone else has raised the subject.
Here is my response: Hey John, It's great to see you here. Actually I used Blacklight in the title of the blog post and used "blackit" as a variant of backlit in the text when I wrote, The first time I saw the words blacklight and blacklit they were used in Andy Rouse's fine book, "Concepts in Nature". When I grabbed a copy of Andy's book off my huge photography bookcase I learned that my mind had been playing tricks on me. One pages 98-101 Andy used the "Black light" to refer to black(but not necessarily backlit) backgrounds; two of the three images that he uses to illustrate the concept are frontlit. I thought that elsewhere in the book he had coined the word "blacklit." But it turns out that I was wrong and will gladly take credit for coining the term. What I am calling "blacklit" as in the original image here, Andy calls "The atmospheric 'ring of fire.' The images that he uses to illustrate the concept are on pages 88 & 89. One is a bear, the other a Langur Monkey. He speaks of a similar style on pages 56-57: The Red5 ring of fire.
Funny how the human brain works….
Since you mentioned it, the term black light to many (including me now that I thought about it) refers to the use of long-wave UltraViolet (UV) light to identify and illuminate a variety of fluorescent minerals. Surely the blacklight that you mentioned is closely linked to the term black light. As far as anyone else being confused by my turning a new phrase, the answer would be "Not really." Joel Eade did write "….shouldn't it be backlight instead of blacklight? He was not confused, he just did not catch my clever intent :).
At one time we carried Concepts in Nature in the BAA On-line store but if you would like to get inspired you will need to get your copy by clicking on the link below.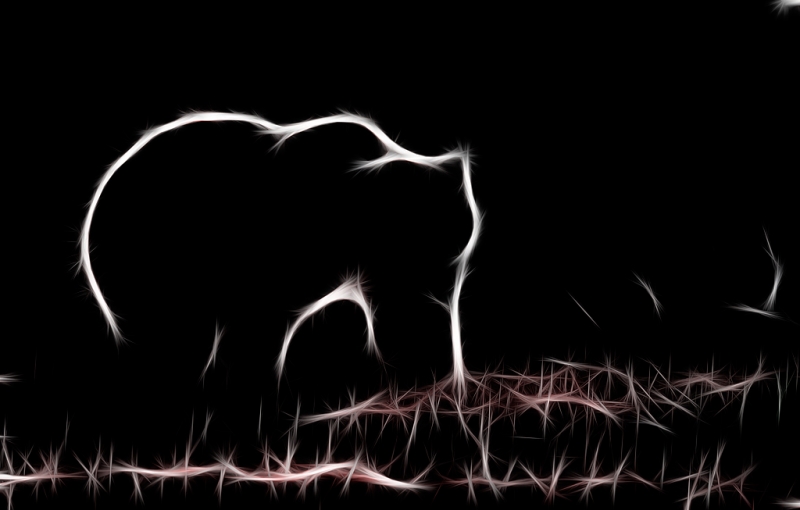 Let's call this version Fractalius Glow 100.
I created the version above by bringing a layer into Fractalius, starting with the Glow 100 pre-set (my favorite), and doing some major tweaking of the sliders. Then I saved my tweaks as "Brown Bear Glow 100 tweaked."
To purchase this fabulous and fun program and help to support two starving artists, please click on the link above. Sorry–Windows only. Denise Ippolito, Andrew McLachlan, and I are just starting work on a Fractalius eGuide. Stay tuned.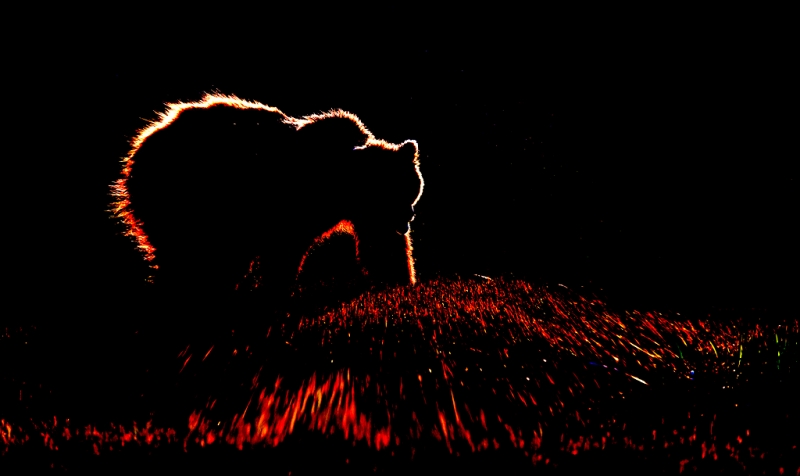 Let's call this version Pinch.
To create the version above I used Filter/Distort/Pinch in Photoshop.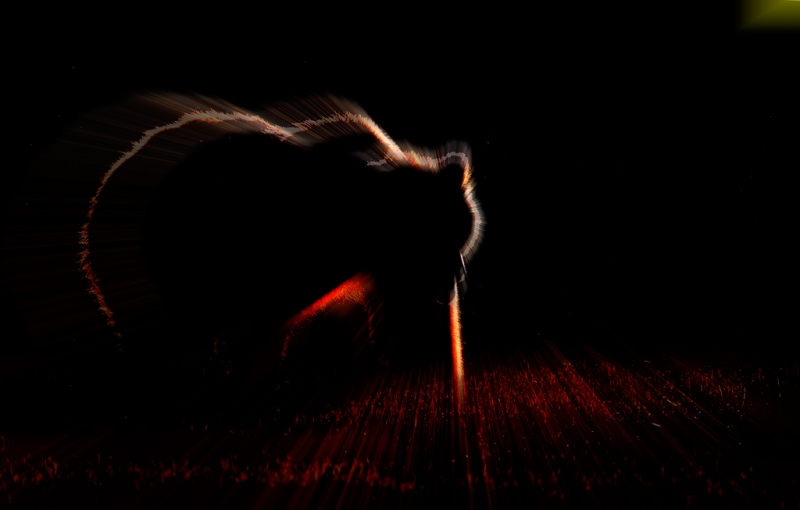 Let's call this version Radial Blur.
Soon I was really rolling. This one was created with Filter/Blur/Radial Blur in Photoshop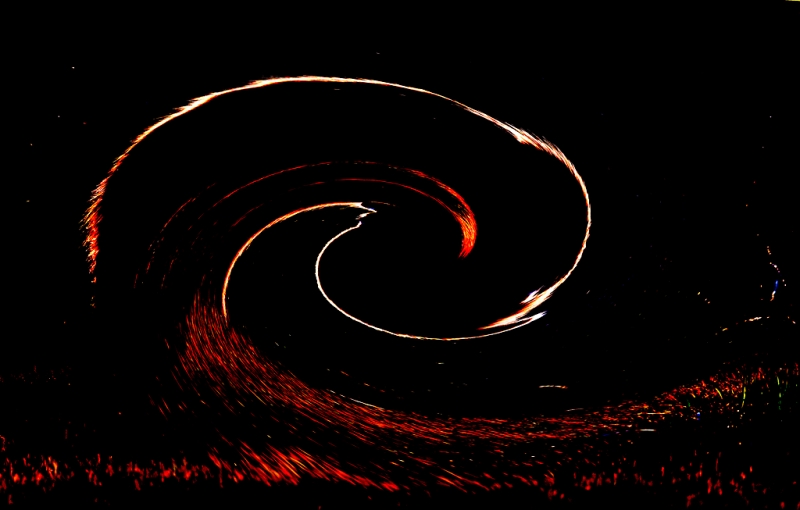 Let's call this version The Wave.
Finally, I went nuts; this image above was created with Filter/Distort/Twirl in Photoshop.
Everything that I needed to know about creating the images above is detailed in A Guide to Creative Filters and Effects by Denise Ippolito.
You Guessed It
Take a moment to leave a comment and let us know which one is your fave, which ones you hate, and what you might have done differently.
Weekend Creative Nature Photography Seminar, Tampa, FL: February 23 & 24, 2013: $149 Limit: 50/Openings: 16
Join Denise Ippolito and me on the weekend of February 23-24 on the outskirts of Tampa, FL for a great weekend of fun and learning. Learn to improve your photography skills, your skill at designing images in the field, your creative vision, and your image optimization skills. Sunday critiquing session. Click here for additional details and the complete schedule.
Best to register soon as the seminar is filling up nicely.
Support the BAA Blog. Support the BAA Bulletins
We want and need to keep providing you with the latest free information, photography and Photoshop lessons, and all manner of related information. Show your appreciation by making your purchases immediately after clicking on any of our B&H (or Amazon.com) Affiliate links in this blog post. Remember, B&H ain't just photography!
Shop Amazon
Consider doing all of your Amazon.com shopping using the search link below. You'll be getting the same low prices and great service that you are accustomed to and at the same time, supporting my efforts in the Bulletins and on the Blog to bring you great images, timely product news and info, and tons of free educational articles on an almost daily (and sometimes almost back-breaking) basis 🙂 Just type your search in the little white box and hit Go.

And from the BAA On-line Store:
LensCoats. I have a LensCoat on each of my big lenses to protect them from nicks and thus increase their re-sales value. All my big lens LensCoat stuff is in Hardwood Snow pattern.
LegCoat Tripod Leg Covers. I have four tripods active and each has a Hardwood Snow LegCoat on it to help prevent further damage to my tender shoulders 🙂 And you will love them in mega-cold weather….
Gizo GT3532 LS CF Tripod. This one replaces the GT3530LS Tripod and will last you a lifetime. Learn more about this great tripod here.
Mongoose M3.6 Tripod Head. Right now this is the best tripod head around for use with lenses that weigh less than 9 pounds. For heavier lenses, check out the Wimberley V2 head.
Double Bubble Level. You will find one in my camera's hot shoe whenever I am not using flash.
The Lens Align Mark II. I use the Lens Align Mark II pretty much religiously to micro-adjust all of my gear an average of once a month and always before a major trip. Enjoy our free comprehensive tutorial here.
BreezeBrowser. I do not see how any digital photographer can exist without this program.
Delkin Flash Cards. I use and depend on Delkin compact Flash Cards and card readers most every day. Learn more about their great 700X and 1000X cards here or about my favorite Delkin card here.