It Ain't Just Birds: Why I Love My Canon EOS-5D Mark III
Light Weight & Large, High Quality Image Files
Whether or not birds are the main subjects, I love the 5D Mark III for its light weight and its incredible, high quality image files. For the sunflower image above I ran NIK Color Efex Pro Tonal Contrast on the whole image at about 80% followed by Detail Extractor at 80% on the flower and the bud only. I painted away the Detail Extractor on the background using a Hide-All Mask. I did lots of work on the YELLOWs with both Selective Color and Hue-Saturation. All as described in detail in Digital Basics. Digital Basics, a PDF sent via e-mail, includes my complete digital workflow, dozens of great Photoshop tips, histogram and exposure how-to info, and all of my keyboard shortcuts (including the customized shortcuts that I have created).
The two primary factors that influenced the success of the image are my careful choice of perspective, one that resulted in the bud being pleasingly juxtaposed with the bloom, and the choice of a small aperture so that the depth of field brought up the degree of background detail that I wanted.
NIK 15% Discount
As regular readers know, Color Efex Pro has drastically changed my digital workflow and little by little I have begun using Viveza to solve sticky image optimization problems and Silver Efex Pro fo fast, dramatic B&W conversions. You can save 15% on all NIK products (including Color Efex Pro, Silver Efex Pro, and Viveza) by clicking here and entering BAA in the Promo Code box at check-out. Then hit Apply to see your savings. You can download a trial copy that will work for 15 days and allow you to create full sized images.
Full Frame Dream Body with Incredibly Detailed Files for Landscape Photographers
Landscape photographers have always embraced full frame digital camera bodies so that they can get the most out of their wide angle lenses. As I am more of a telephoto guy I made nearly all of my White Sands images with the 70-200 while Denise Ippolito relied mainly on her Canon 24-105mm f/4L IS EF USM AF zoom lens. She too loves her 5D Mark III.
As for incredible detail, click on the dune pattern image and check out the sparrow footprints in the foreground.
Shoulder Saver Camera Body
The 5D III (at 30.34 ounces) weighs 1 1/2 pounds less than the Canon EOS-1D X digital camera body w/FREE Bonus Item – $449.45 Value! [expires soon]! (3.4 pounds). When you are carrying an intermediate telephoto zoom lens on your shoulder for a whole day 1 1/2 pounds makes a huge difference.
The image above was created at 6:09am, nearly an hour before sunrise. As it states in the Bosque Site Guide, the richest pre-dawn colors often occur 45 or more minutes before sunrise. Here, the exposure data, 1/2 sec at f/4 at ISO 1000 indicates that we were photographing in near darkness. Had the birds flown, it would have been impossible to render them recognizably in an image. Denise Ippolito inspired the group and me to begin creating 1/2 second pan blurs that featured only swatches of lovely colors.
My Black Rapid RS-7 Strap makes carrying an intermediate telephoto lens rig on my shoulder easy and allows me to be ready to photograph in an instant. Be sure to get in the habit of re-tightening the fastener each time that you handle the lens.
Amazing AF System
The 5D Mark III's AF 61-point High Density array covers a wider area within the viewfinder than ever before. There are 41 cross-type AF points. The AF Configuration Tool allows users to easily tailor AI Servo AF for either continuous, steady movement, or for unpredictable, erratic movement. At the party, I used 61-point almost exclusively and pretty much every image was razor sharp on the subject's eye despite the low light conditions in the restaurant.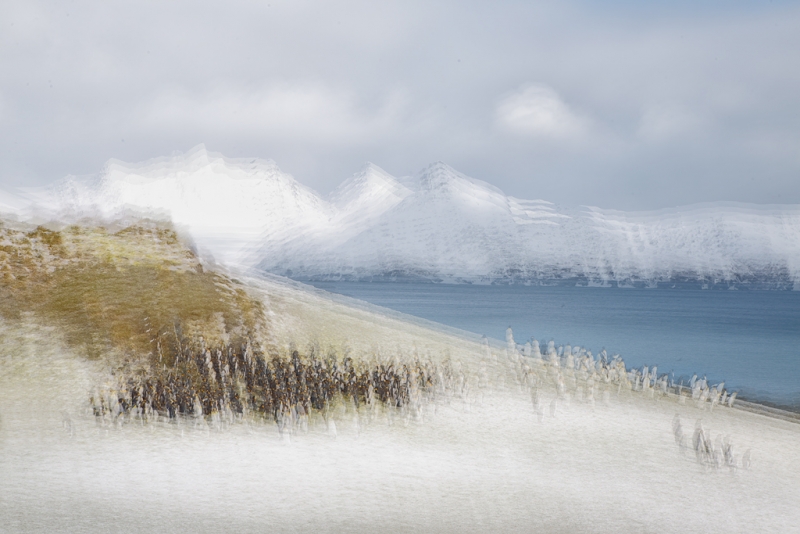 This five-frame in-camera King Penguin flock multiple exposure was created at the Ample Bay Colony, Salisbury Plain, South Georgia with the tripod-mounted Canon 24-105mm f/4L IS EF USM AF Lens and the Canon EOS 5D Mark III Digital camera body w/FREE Bonus Item – $91.90 Value! [expires soon]! ISO 100. Evaluative metering +1 1/3 stops: 1/50 sec. at f/16 in Av mode.
Central sensor/AI Servo Rear Focus AF and recompose. Click here if you missed the Rear Focus Tutorial. Be sure to click on the image to enjoy a larger version.
When even the remotest possibility of doing some serious land-scape or bird-scape work with a short lens exists, I make sure to have a Wimberley P-5 plate and my Giottos MH 1302-655 Ballhead in my vest. It takes less than two minutes to mount the plate on the camera body, spin off the Mongoose M3.6, and replace it with the tiny ballhead.
Your browser does not support iFrame.
In-Camera Multiple Exposures
The 5D III has an in-camera Multiple Exposure feature that offers many great options and is fun to use. I think multiple exposures whenever I encounter scenes with lot of birds or lots of flowers. You can learn exactly how I use the ME feature in the EOS-5D Mark III User's Guide.
To learn to create a variety of in-camera multiple exposures, get yourself a copy of Denise Ippolito's Creative Multiple Exposures MP4 Video. Only $4.00!
In-camera HDR Feature
I would keep my 5D Mark III for this feature alone as the EOS-1D X does not have it. It is way too much fun and offers lots of options. Of the 5 HDR styles, my favorite is Art Vivid. In the EOS-5D Mark III User's Guide I share with you my preferred settings along with several ways to access this great feature. Not to mention everything that I know about the great AF system including my customized AF Case for birds in flight.
Summing Up
While the EOS-5D Mark III is a great camera for birds and wildlife photography, it shines as a general photography body. Why? Light weight, large (22mp), gorgeous image files, great high ISO performance, in-camera multiple exposures, in-camera HDRs, and a killer AF system that is nearly identical to the AF system in the vaunted EOS-1D X. One thing is for sure, I love my 5D III.
Which is Your Favorite Image
Take a moment to leave a comment and let us know which of the images above is your favorite. And do let us know why you like it.
Purchase a 5D Mark III Now!
If reading and studying this blog post has inspired you to purchase an EOS-5D Mark III, we sure would appreciate your using one of our B&H affiliate links to make your purchase. It's a great way to thank us for the information provided on the blog and in the Bulletins. And best of all, it will not cost you a cent.
Right now there is a killer deal (link below) on the 5D Mark III/24-105 combo but here's the rub: you need to add the combo to your shopping cart to see the huge ($800!) savings.
BIRDS AS ART/A Creative Adventure Barnegat Jetty II IPT
We had so much fun at the jetty in the wild weather in December–see the following blog posts here, here, here, and here, that I am flying back to New Jersey for more. Since there were lots of Harlequins, Long-tailed Ducks, and Purple Sandpipers we decided to put together another small group. Do consider joining us. As for me, I can't wait to get back.
BIRDS AS ART/Barnegat Jetty IPT II, Barnegat Light, NJ: 2 1/2 DAYS. JAN 18 (1:30pm), 19, and 20, 2012: $999. Limit 8/Openings: 4. Includes 5 photo-sessions, both lunches, introductory slide program, image review, sharing, editing, and Photoshop.
Note: On cloudy days we grab a quick lunch and spend most of the day photographing. 🙂
Join Denise Ippolito and Arthur Morris for a 2 1/2 Day Instructional Photo-Tour at the infamous Barnegat Jetty in Barnegat Light, New Jersey. You will learn how to get close to the ducks and shorebirds that frequent this famed winter birding and photography hotspot, how to get the right exposure every time, and how to see, understand, and tackle a variety of photographic situations. We should have some excellent chances with Harlequin Duck and Purple Sandpiper, the two headliner species. With any luck we should get to photograph most of these species: Long-tailed Duck (formerly Oldsquaw), Common Loon, Red-throated Loon, Red-breasted Merganser, Surf Scoter, Black Scoter, Common Eider, Brant, Dunlin, Ruddy Turnstone, Black-bellied Plover, and Sanderling. Great Black-backed, Herring, and Ring-billed Gulls are also likely. Sunning Harbor Seals are possible. With the right winds we may have some good flight photography with the sea ducks.
Having at least a 500mm f/4 lens with a 1.4X teleconverter is recommended. Participants should be in good physical condition with a good sense of balance. $500 non-refundable credit card deposit by phone: 1-863-692-0906. Weekends OK.
Can't Make the Whole Thing?
If you can't make the whole thing, you can join what will likely be a small group as follows: Full Day with lunch: $400. Afternoon (1:30-dusk): $250. Call to arrange: 1-863-692-0906. Weekends OK.
Weekend Creative Nature Photography Seminar, Tampa, FL: February 23 & 24, 2013: $149 Limit: 50/Openings: 12
Join Denise Ippolito and me on the weekend of February 23-24 on the outskirts of Tampa, FL for a great weekend of fun and learning. Learn to improve your photography skills, your skill at designing images in the field, your creative vision, and your image optimization skills. Sunday critiquing session. Click here for additional details and the complete schedule.
Best to register soon as the seminar is filling up nicely.
Typos
On all blog posts, feel free to e-mail or leave a comment regarding any typos, wrong words, misspellings, or grammatical errors. Just be right. 🙂
Support the BAA Blog. Support the BAA Bulletins
We want and need to keep providing you with the latest free information, photography and Photoshop lessons, and all manner of related information. Show your appreciation by making your purchases immediately after clicking on any of our B&H (or Amazon.com) Affiliate links in this blog post. Remember, B&H ain't just photography!
Shop Amazon
Consider doing all of your Amazon.com shopping using the search link below. You'll be getting the same low prices and great service that you are accustomed to and at the same time, supporting my efforts in the Bulletins and on the Blog to bring you great images, timely product news and info, and tons of free educational articles on an almost daily (and sometimes almost back-breaking) basis 🙂 Just type your search in the little white box and hit Go.

And from the BAA On-line Store:
LensCoats. I have a LensCoat on each of my big lenses to protect them from nicks and thus increase their re-sales value. All my big lens LensCoat stuff is in Hardwood Snow pattern.
LegCoat Tripod Leg Covers. I have four tripods active and each has a Hardwood Snow LegCoat on it to help prevent further damage to my tender shoulders 🙂 And you will love them in mega-cold weather….
Gizo GT3532 LS CF Tripod. This one replaces the GT3530LS Tripod and will last you a lifetime. Learn more about this great tripod here.
Mongoose M3.6 Tripod Head. Right now this is the best tripod head around for use with lenses that weigh less than 9 pounds. For heavier lenses, check out the Wimberley V2 head.
Double Bubble Level. You will find one in my camera's hot shoe whenever I am not using flash.
The Lens Align Mark II. I use the Lens Align Mark II pretty much religiously to micro-adjust all of my gear an average of once a month and always before a major trip. Enjoy our free comprehensive tutorial here.
BreezeBrowser. I do not see how any digital photographer can exist without this program.
Delkin Flash Cards. I use and depend on Delkin compact Flash Cards and card readers most every day. Learn more about their great 700X and 1000X cards here or about my favorite Delkin card here.