Depth-of-Field Lesson
First off, I love using long glass with teleconverters for large flowers. Why? They offer very narrow angles of view inherently reducing background clutter and they make it easy to isolate single flowers.
The image above was created at f/6.3. Note that f/5.6 would have been wide open. The image below was created at f/32. The first image features a patented BAA background: a swath of nearly pure out-of-focus color. My two favorites for bird photography are still blue water and distant green vegetation, each lit by early morning light on a clear day. There is only a hint of the yellow from the background blossoms.
In the image below the flowers in the background are an integral part of the image, letting the viewer know that the single blossom was not the only sunflower in the field. When framing images like this and working at small apertures it is important to use your camera's depth-of-field preview to make sure that you have not brought up any unpleasant background detail and that the overall image design is pleasant. Note that since I chose a tall flower as the subject that the blooms in the background are rendered in relatively soft focus even though I was working at f/32.
Just for the record books: the image above had 3 dust bunnies. The image below had about 90 dust spots. At tiny apertures even microscopic dust spots will show up. A bunch of them near the bottom frame-edge might have been tiny flying bugs….
Which Do You Like Best
Take a moment and let us know which of the images above you like best. And why? Which best fits your personal vision and style?
Catching Up
Can You Bear It?
In the "Can You Bear It" post, my two favorites were Fractalius Glow 100 and The Wave, the former for its elegance, the latter for the neat shape.
A New Perspective
In the "A New Perspective" post, I liked the optimized image best as did pretty much everyone who comments. NIK Color Efex Pro really rocked on that image.
It Ain't Just Birds: Why I Love My Canon EOS-5D Mark III
In the "It Ain't Just Birds: Why I Love My Canon EOS-5D Mark III" post, I loved all of the images. Aside from smiling Maya, I guess that my very favorite was the HDR Vivid of the pipes and bricks that was created at the old whaling station on Grytviken, South Georgia. I love the colors and the patterns.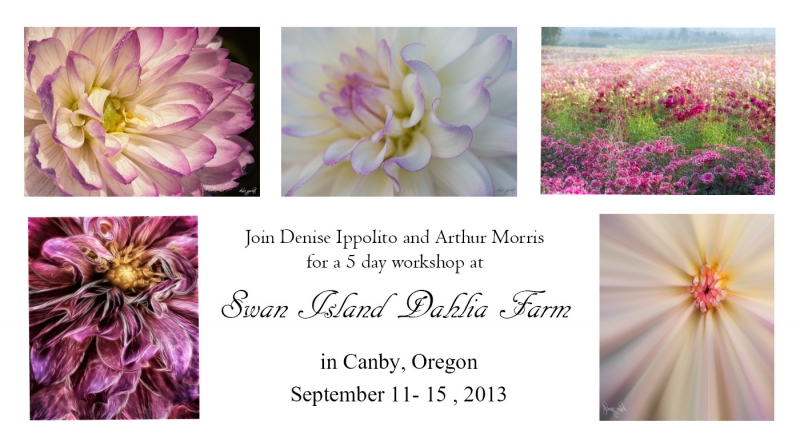 All images courtesy of and copyright 2012: Denise Ippolito. Click for a larger version.
A Creative Adventure/BIRDS AS ART Swan Island Dahlia Farm Instructional Photo-Tour, September 11-15, 2013: 5 FULL DAYS: $1649
Join Denise Ippolito and Arthur Morris at the Swan Island Dahlia Farm in Canby Oregon (just south of Portland) for a great learning and photography experience. Swan Island features more than 40 acres with over 350 varieties of dahlias in a plethora of colors, shapes and sizes, making it one of the largest growers in the United States.
For complete details and schedule, click here and see item 1.
BIRDS AS ART/Barnegat Jetty IPT II
BIRDS AS ART/Barnegat Jetty IPT II, Barnegat Light, NJ: 2 1/2 DAYS. JAN 18 (1:30pm), 19, and 20, 2012: $999. Limit 8/Openings: 3. Includes 5 photo-sessions, both lunches, image review, sharing, and editing (JAN 19) & Photoshop session (JAN 20).
Join Denise Ippolito and Arthur Morris for a 2 1/2 Day Instructional Photo-Tour at the infamous Barnegat Jetty in Barnegat Light, New Jersey. You will learn how to get close to the ducks and shorebirds that frequent this famed winter birding and photography hotspot, how to get the right exposure every time, and how to see, understand, and tackle a variety of photographic situations. We should have some excellent chances with Harlequin Duck and Purple Sandpiper, the two headliner species. With any luck we should get to photograph most of these species: Long-tailed Duck (formerly Oldsquaw), Common Loon, Red-throated Loon, Red-breasted Merganser, Surf Scoter, Black Scoter, Common Eider, Brant, Dunlin, Ruddy Turnstone, Black-bellied Plover, and Sanderling. Great Black-backed, Herring, and Ring-billed Gulls are also likely. Sunning Harbor Seals are possible. With the right winds we may have some good flight photography with the sea ducks.
Having at least a 500mm f/4 lens with a 1.4X teleconverter is recommended. Participants should be in good physical condition with a good sense of balance. $500 non-refundable credit card deposit by phone: 1-863-692-0906. Weekends OK. Note: On cloudy days we grab a quick lunch and spend most of the day photographing. 🙂
Weekend Creative Nature Photography Seminar, Tampa, FL: February 23 & 24, 2013: $149 Limit: 50/Openings: 8
Only 8 seats left! Click here for complete details and schedules. Monday In-the-Field Fort DeSoto Workshop and Door Prize info to be announced soon.
Join Denise Ippolito and me on the weekend of February 23-24 on the outskirts of Tampa, FL for a great weekend of fun and learning. Learn to improve your photography skills, your skill at designing images in the field, your creative vision, and your image optimization skills. Sunday critiquing session. Click here for additional details and the complete schedule.
Support the BAA Blog. Support the BAA Bulletins
We want and need to keep providing you with the latest free information, photography and Photoshop lessons, and all manner of related information. Show your appreciation by making your purchases immediately after clicking on any of our B&H (or Amazon.com) Affiliate links in this blog post. Remember, B&H ain't just photography!
Shop Amazon
Consider doing all of your Amazon.com shopping using the search link below. You'll be getting the same low prices and great service that you are accustomed to and at the same time, supporting my efforts in the Bulletins and on the Blog to bring you great images, timely product news and info, and tons of free educational articles on an almost daily (and sometimes almost back-breaking) basis 🙂 Just type your search in the little white box and hit Go.

And from the BAA On-line Store:
LensCoats. I have a LensCoat on each of my big lenses to protect them from nicks and thus increase their re-sales value. All my big lens LensCoat stuff is in Hardwood Snow pattern.
LegCoat Tripod Leg Covers. I have four tripods active and each has a Hardwood Snow LegCoat on it to help prevent further damage to my tender shoulders 🙂 And you will love them in mega-cold weather….
Gizo GT3532 LS CF Tripod. This one replaces the GT3530LS Tripod and will last you a lifetime. Learn more about this great tripod here.
Mongoose M3.6 Tripod Head. Right now this is the best tripod head around for use with lenses that weigh less than 9 pounds. For heavier lenses, check out the Wimberley V2 head.
Double Bubble Level. You will find one in my camera's hot shoe whenever I am not using flash.
The Lens Align Mark II. I use the Lens Align Mark II pretty much religiously to micro-adjust all of my gear an average of once a month and always before a major trip. Enjoy our free comprehensive tutorial here.
BreezeBrowser. I do not see how any digital photographer can exist without this program.
Delkin Flash Cards. I use and depend on Delkin compact Flash Cards and card readers most every day. Learn more about their great 700X and 1000X cards here or about my favorite Delkin card here.