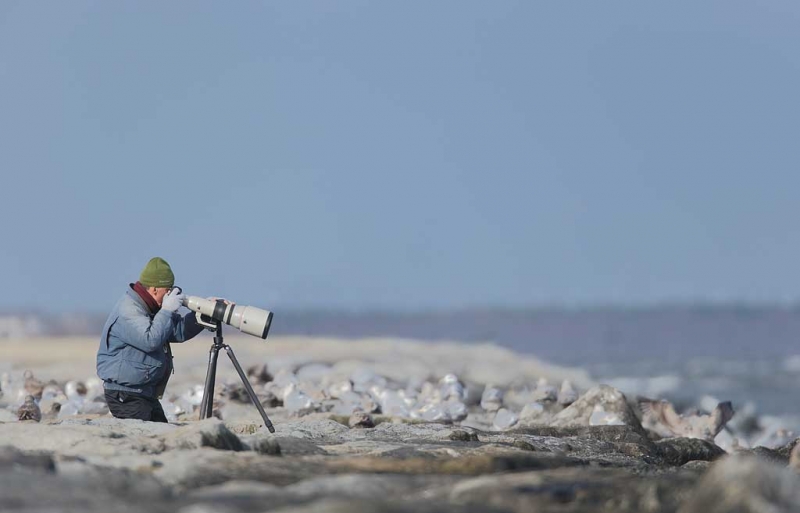 Rookie bird photographer Bill Wingfield at work on the Barnegat Jetty. Image created on the December Barnegat Jetty IPT with the tripod-mounted Canon EF 800mm f/5.6L IS USM Autofocus lens, the Canon 1.4x EF Extender III (teleconverter), and the Canon EOS-1D X digital SLR . ISO 400. Evaluative metering +1/3 stop: 1/500 sec. at f/9 in Manual mode.
Notice that Bill has gotten nice and low in the rocks to reduce the angle of declination to the subject. Stabilizing the lens with his left hand from above is fine (though I prefer to do the same with my hand below the lens). The light is behind him and his shadow was pointed at the subject. Assuming that he was going to be there for a while I would make one suggestion for improvement. Anyone know what Bill was doing wrong?
Central sensor (by necessity)/AI Servo Expand/Rear Focus AF and recompose. Click here if you missed the Rear Focus Tutorial. Click on the image to see a larger version.
Your browser does not support iFrame.
The Rookie
For the longest time, Dr. Bill Wingfield of Charleston, SC was the lone registrant on the December Barnegat Jetty IPT. It has forever been my policy to run a trip with only one (unless we specify a minimum for an international trip in advance). David Policansky of Washington DC joined us at the last moment.
Bill Wingfield is the happiest of happy campers. He was thrilled with the IPT, thrilled with the birds and the jetty, and thrilled with the personalized help that he received from Denise and me. He rented an 800mm f/5.6L IS lens for the trip and used it exclusively with the full frame EOS-5D Mark III. In April, after the promised firmware is released, this combo will focus with the 1.4X teleconverter at f/8. He was so thrilled with the 800 that he decided on the spot to purchase the 600 f/4L IS III (see here for why) that he asked his daughter if he could sell one of his grandchildren. When she said, No," he went ahead and ordered the lens anyway using the BAA B&H affiliate link. Thanks Bill!
Razorbill
Bill really killed me on this one. He was seated just to my right and I did not see the two Razorbills that swam left to right right in front of him. By the time they got to me, they dove. I started to get up to follow them when this bird swam right by us. I got zip and my rookie student got the shot! I was quite proud of him and he nailed both the focus and the exposure.
Northern Gannet with menhaden (mossbunker)
Here, Bill should have been using a faster shutter speed here as some of the images in the series were soft due to motion blur. And he could have used a third or two of a stop less light. But we were able to save the WHITEs with the very sharp capture. As Bill is very serious about improving his skills, I am positive that in a short time he will be nailing the exposures every time.
Purple Sandpiper, on bed of mussels (pun intended)
Here Bill created and designed a beautiful image with the shorebird nestled down comfortably on a bed of mussels. I am sure that this is a healthy crop but with the 5D Mark III's superb 22 million pixels a sharp capture can hold up to a considerable crop.
Mr. Famous Bird Photographer emerging from surf during sand storm
This was the first image that Bill sent me after then IPT and I loved it from the get-go as it really captured the harsh conditions that we faced for two days. I was actually out in the surf a bit too far as I got smacked waist-high by a few waves in an effort to get close to some Long-tailed Ducks that were swimming very close to shore.
BIRDS AS ART/A Creative Adventure Barnegat Jetty II IPT/Very Late Registration Discount Offer
BIRDS AS ART/Barnegat Jetty IPT II, Barnegat Light, NJ: 2 1/2 DAYS. JAN 18 (1:30pm), 19, and 20, 2012: $999. Limit 8/Openings: 3. Includes 5 photo-sessions, both lunches, introductory slide program, image review, sharing, editing, and Photoshop.
If you would like to join us tomorrow for this IPT or explore the possibility of joining the group for Saturday and/or Sunday, please try me on me cell at 1-863-221-2372 on Friday morning between 7am and 1pm. I will be glad to provide discount info.
Note: On cloudy days we grab a quick lunch and spend most of the day photographing. If you can't make the whole thing, you can join what will likely be a small group as follows: Full Day with lunch: $400. Afternoon (1:30-dusk): $250. Call to arrange: 1-863-692-0906. Weekends OK. For more info, click here and scroll down.
Weekend Creative Nature Photography Seminar, Tampa, FL: February 23 & 24, 2013: $149 Limit: 50/Openings: 7
Join Denise Ippolito and me on the weekend of February 23-24 on the outskirts of Tampa, FL for a great weekend of fun and learning. Learn to improve your photography skills, your skill at designing images in the field, your creative vision, and your image optimization skills. Sunday critiquing session. Click here for additional details and the complete schedule.
Best to register soon as the seminar is filling up nicely.
Typos
On all blog posts, feel free to e-mail or leave a comment regarding any typos, wrong words, misspellings, omissions, or grammatical errors. Just be right. 🙂
Support the BAA Blog. Support the BAA Bulletins
We want and need to keep providing you with the latest free information, photography and Photoshop lessons, and all manner of related information. Show your appreciation by making your purchases immediately after clicking on any of our B&H or Amazon Affiliate links in this blog post. Remember, B&H ain't just photography!
Shop Amazon
Consider doing all of your Amazon.com shopping using the search link below. You'll be getting the same low prices and great service that you are accustomed to and at the same time, supporting my efforts in the Bulletins and on the Blog to bring you great images, timely product news and info, and tons of free educational articles on an almost daily (and sometimes almost back-breaking) basis 🙂 Just type your search in the little white box and hit Go.

And from the BAA On-line Store:
LensCoats. I have a LensCoat on each of my big lenses to protect them from nicks and thus increase their re-sales value. All my big lens LensCoat stuff is in Hardwood Snow pattern.
LegCoat Tripod Leg Covers. I have four tripods active and each has a Hardwood Snow LegCoat on it to help prevent further damage to my tender shoulders 🙂 And you will love them in mega-cold weather….
Gizo GT3532 LS CF Tripod. This one replaces the GT3530LS Tripod and will last you a lifetime. Learn more about this great tripod here.
Mongoose M3.6 Tripod Head. Right now this is the best tripod head around for use with lenses that weigh less than 9 pounds. For heavier lenses, check out the Wimberley V2 head.
Double Bubble Level. You will find one in my camera's hot shoe whenever I am not using flash.
The Lens Align Mark II. I use the Lens Align Mark II pretty much religiously to micro-adjust all of my gear an average of once a month and always before a major trip. Enjoy our free comprehensive tutorial here.
BreezeBrowser. I do not see how any digital photographer can exist without this program.
Delkin Flash Cards. I use and depend on Delkin compact Flash Cards and card readers most every day. Learn more about their great 700X and 1000X cards here or about my favorite Delkin card here.