Fort DeSoto Morning In-the-Field Workshop
Fort DeSoto In-the-field Workshop: FEB 25. Pre-dawn -10:30am. Limit 16/openings: 10. Includes a great working lunch: $275.
On Monday morning, February 25, Denise Ippolito and I will be co-leading a morning In-the-field Workshop at Fort DeSoto, south of St. Petersburg, FL. We should get to photograph a variety of very tame herons, egrets, gulls, terns, and shorebirds. Spoonbills possible. There will be lots of individual and small group instruction. We will cover exposure and histograms, seeing the situation, creating sharp images, and lots more. Each registrant will have a personalized gear and set-up check. The more questions you ask, the more you will learn.
A great working lunch at the Sea Porch Café on St. Petersburg Beach is included. All are invited to bring a laptop along for image sharing at lunch. After the workshop, all are invited to send us three 1024 wide or 800 tall JPEGs for critiquing. Call 1-863-692-0906 to register or send us a Paypal. Either way, be sure to note that the payment is for the Fort DeSoto In-the-Field Workshop.
Weekend Creative Nature Photography Seminar, Tampa, FL: February 23 & 24, 2013: $149 Limit: 50/Openings: 4
Best to register soon as there are just 4 seats left. The In-the-field Workshop above follows the Weekend Creative Nature Photography Seminar. You are invited to join Denise Ippolito and me on the weekend of February 23-24 on the outskirts of Tampa, FL for a great weekend of fun and learning. Learn to improve your photography skills, your skill at designing images in the field, your creative vision, and your image optimization skills. Sunday critiquing session. Click here for additional details and the complete schedule.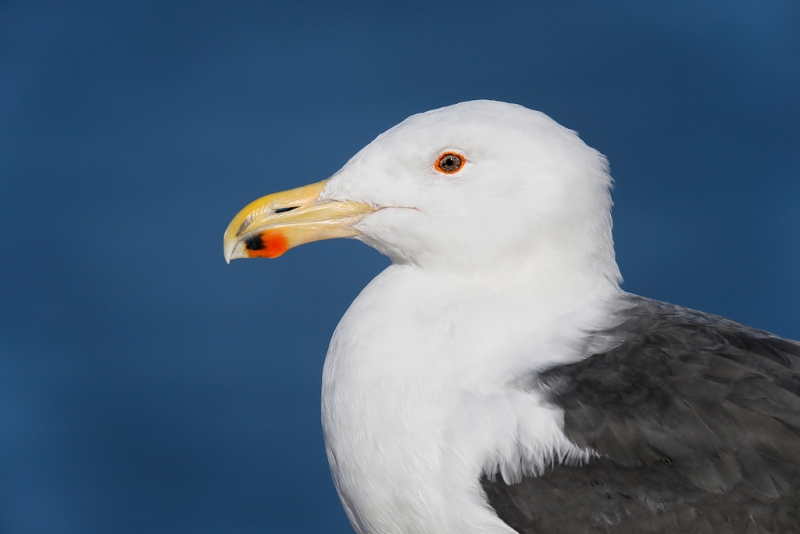 Great Black-backed Gull head and shoulders portrait, from the January Barnegat Jetty IPT with the tripod-mounted Canon EF 800mm f/5.6L IS USM Autofocus lens, the Canon 1.4x EF Extender III (teleconverter), and the Canon EOS-1D X digital SLR . ISO 400. Evaluative metering -2/3 stop: 1/2000 sec. at f/8 in Manual mode.
This is the first bird that we encountered on the first afternoon of the IPT so we stopped to go over some exposure basics. As the light was so bright I was sort of surprised that I wound up with a rather nice image. Reminder: in bright sun, it is more important than ever to point your shadow at the subject.
Your browser does not support iFrame.
EOS-1D X News: It Was All My Fault
Well, Almost All My Fault…
In the "Shooting Blanks: Do As I Say, Not As I Do" blog post here, I wrote, I am still not sure how that happened, but, it happened." The next day I received an e-mail from Doug Howell suggesting that I might have inadvertently pressed the Card/Image size selection button on the left rear of the back of the camera and then rotated the thumb wheel. I asked that Doug post his e-mail as a comment on the blog but he misunderstood and posted it on BPN in the gear forum. Shortly thereafter I received several e-mails, the first from Jeff Rugg, advising that I check out the January 22, 2013 Canon Rumors post here.

This is the symbol for the Card/Image size selection button. It is located on the left rear of the back of the camera next to the small, lower LCD screen.
An Error in My Thinking…
When I first began working on this blog post I remembered attempting to change the color temperature when we were photographing the sunrise on the morning of Saturday, February 19 and thought that that might have been when my problems started as on the 1D Mark IV you can change the color temperature via a button below the smaller of the two LCDs.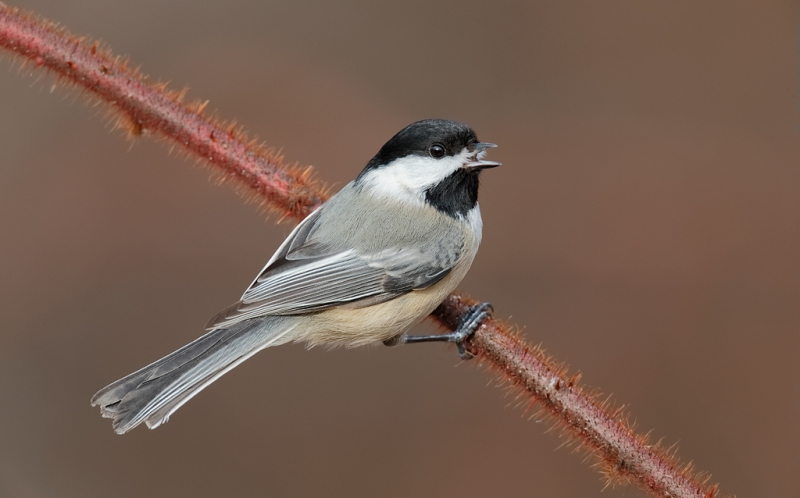 This Black-capped Chickadee image was created with the tripod-mounted Canon EF 800mm f/5.6L IS USM Autofocus lens, the Canon 1.4x EF Extender III (teleconverter), and the Canon EOS-1D X digital SLR . ISO 800. Evaluative metering -1 stop: 1/200 sec. at f/10 in Av mode.
Why Av mode here? The light was changing constantly from bright sunny to cloudy and I found it easier to go from -1 stop when it was cloudy to -1 1/3 stops when the sun came out rather than having to make major changes to both aperture and shutter speed whenever the lighting conditions changed….
Your browser does not support iFrame.
The Last RAW File
But when I went into my image folder for Thursday January 17, the day that Denise and I went to Elizabeth A. Morton NWR in Noyac, NY, I discovered exactly when the M2 JPEG problem began. The image above is from a RAW file that I created at 10:15:55 am.
The First M2 JPEG
This is the very first M2 JPEG that I created. The image was made at 10:18:37, exactly 2 minutes and 42 seconds after I created the chickadee image. It was then crystal clear that I had correctly re-loaded the correct 1D X camera settings to the body that had been repaired and that I had indeed inadvertently changed the image size myself. Try as I might, I do not remember trying to change the color temperature or doing anything else that might have caused the problem. As I said, "inadvertently…."
The Good News
It looks as if a new firmware for the Canon EOS-1D X, Firmware 1.2.1, will be released to the public online on the evening of the January 29, 2013. All will be able to access it here by clicking on the Drivers and Software tab and following the directions. The new firmware will allow users to disable the Image size selection button.
Typos
On all blog posts, feel free to e-mail or leave a comment regarding any typos, wrong words, misspellings, omissions, or grammatical errors. Just be right. 🙂
Support the BAA Blog. Support the BAA Bulletins
We want and need to keep providing you with the latest free information, photography and Photoshop lessons, and all manner of related information. Show your appreciation by making your purchases immediately after clicking on any of our B&H or Amazon Affiliate links in this blog post. Remember, B&H ain't just photography!
Shop Amazon
Consider doing all of your Amazon.com shopping using the search link below. You'll be getting the same low prices and great service that you are accustomed to and at the same time, supporting my efforts in the Bulletins and on the Blog to bring you great images, timely product news and info, and tons of free educational articles on an almost daily (and sometimes almost back-breaking) basis 🙂 Just type your search in the little white box and hit Go.

And from the BAA On-line Store:
LensCoats. I have a LensCoat on each of my big lenses to protect them from nicks and thus increase their re-sales value. All my big lens LensCoat stuff is in Hardwood Snow pattern.
LegCoat Tripod Leg Covers. I have four tripods active and each has a Hardwood Snow LegCoat on it to help prevent further damage to my tender shoulders 🙂 And you will love them in mega-cold weather….
Gizo GT3532 LS CF Tripod. This one replaces the GT3530LS Tripod and will last you a lifetime. Learn more about this great tripod here.
Mongoose M3.6 Tripod Head. Right now this is the best tripod head around for use with lenses that weigh less than 9 pounds. For heavier lenses, check out the Wimberley V2 head.
Double Bubble Level. You will find one in my camera's hot shoe whenever I am not using flash.
The Lens Align Mark II. I use the Lens Align Mark II pretty much religiously to micro-adjust all of my gear an average of once a month and always before a major trip. Enjoy our free comprehensive tutorial here.
BreezeBrowser. I do not see how any digital photographer can exist without this program.
Delkin Flash Cards. I use and depend on Delkin compact Flash Cards and card readers most every day. Learn more about their great 700X and 1000X cards here or about my favorite Delkin card here.