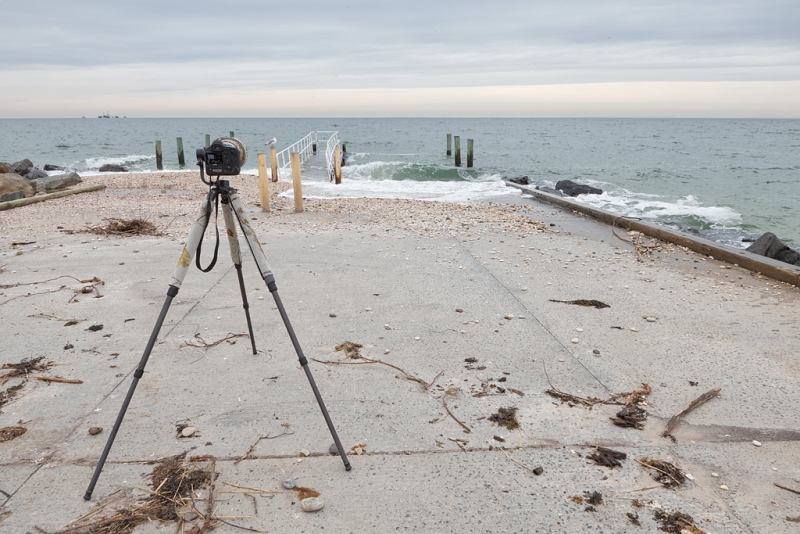 The situation: Ring-billed Gull on piling near pier, Jamesport, NY. Created with the Canon 24-105mm f/4L IS EF USM AF lens (hand held at 24mm) with the Canon EOS-1D X digital SLR . ISO 400. Evaluative metering +1 2/3 stops: 1/60 sec. at f/16 in Manual mode.
Central sensor/AI Servo Rear Focus AF and recompose. Click here if you missed the Rear Focus Tutorial. Be sure to click on the image to enjoy a larger version.
Your browser does not support iFrame.
Learning to Think Like a Pro In The Field
While visiting my Mom on Long Island in January, I learned from friend Mike Lotito that the gorgeous adult Iceland Gull had returned to his winter haunts of the past few years at the end of Pier Avenue in Jamesport, NY. I had missed the bird in previous years and was buoyed by the fact that Mike told me that it had been present at high tide the last few days.
Alas, the bird was not there when I arrived never showed up on January 15, 2013.
As there were lots of Ring-billed and a few Herring Gulls around I decided to try and make soup from a stone. I had a loaf of bread with me and created some nice flight images of the ring-bills with the hand held 300 f/2.8L IS II lens and the 1D X. I will share a few of those with you here soon. I would not even consider photographing the gulls that landed on the green pilings as they all had saw-off tops. But when the winter plumage bird in the image below landed on one of the yellow posts I decided to get to work as these poles had rounded sort of concrete tops that might almost be a rock. In any case they were much less obtrusive than the tops of the green pilings.
As always, there is a ton to learn by studying the image above. First note that I set up to the right of the post that the bird was on so that I would not have the white railing in the background and even though doing so resulted in the bird's body being angled slightly towards me. Slightly towards is generally preferable to slightly away. Next, notice that I pulled out the leg tabs and spread the tripod legs a bit effectively lowering the lens. That was done to effectively move the background farther away from the bird so that the rough water would provide the softest possible background. Note that I did not get so low as to include either the horizon or the sky in the background.
While converting the RAW file for the image above in DPP clicking on the Distortion box under Lens tab/Len Aberration Correction/Tune to instantly correct the curved horizon (due to barrel distortion at the wide angle setting). That is just one of the many advantages of converting your Canon RAW files in DPP (Digital Photo Professional). Learn about our DPP Raw Conversion Guide here.
Go For the Gulls
"Go For the Gulls" was the title of an article that I wrote for the now-defunct Birder's World magazine. The thrust of the article was that gulls make great practice subjects for nature photographers (including top professionals :)). I have said and written often, "If you point your lens at a gull chances are that within a few minutes they will do something neat." The Ring-billed Gull above did exactly that with a protracted yawn. I created about 15 images in just a few seconds. There were many excellent images in the series other than the one that I chose to share with you here.
To determine the correct exposure I began by reading 2 1/3 stops off the light grey sky, photographing the gull, and checking the histogram. See more on that below. Note that 2 1/3 stops off the light grey sky worked out to 1 2/3 stops as framed? If you understand why, please share with us by leaving a comment.
NIK 15% Discount
A 30% layer of Detail Extractor and Tonal Contrast fine-tuned via a Regular Layer Mask really brought this image to life. As regular readers know, Color Efex Pro has drastically changed my digital workflow and little by little I have begun using Viveza to solve sticky image optimization problems and Silver Efex Pro fo fast, dramatic B&W conversions. You can save 15% on all NIK products (including Color Efex Pro, Silver Efex Pro, and Viveza) by clicking here and entering BAA in the Promo Code box at check-out. Then hit Apply to see your savings. You can download a trial copy that will work for 15 days and allow you to create full sized images.
Digital Basics
If you'd like your images to look as good as mine, you can learn my complete digital workflow in our Digital Basics File that also includes dozens of great Photoshop tips, Layer Masking for Dummies, all of my Keyboard Shortcuts, and tons more. Digital Basics, a PDF that is sent via e-mail, will be the best $25 you ever spent on your photography. Your purchase includes free updates.
MP4 Photoshop Video Tutorials
Many of the techniques used to optimize the image above, most notably, some Digital Eye Doctor stuff, are detailed in our MP4 Photoshop Video Tutorials, especially in the King Penguin Image Clean-up Video. Click here for more info or here to see the entire series. In each of the videos you will see me working in Photoshop while you hear my voice guiding you along the way step by step.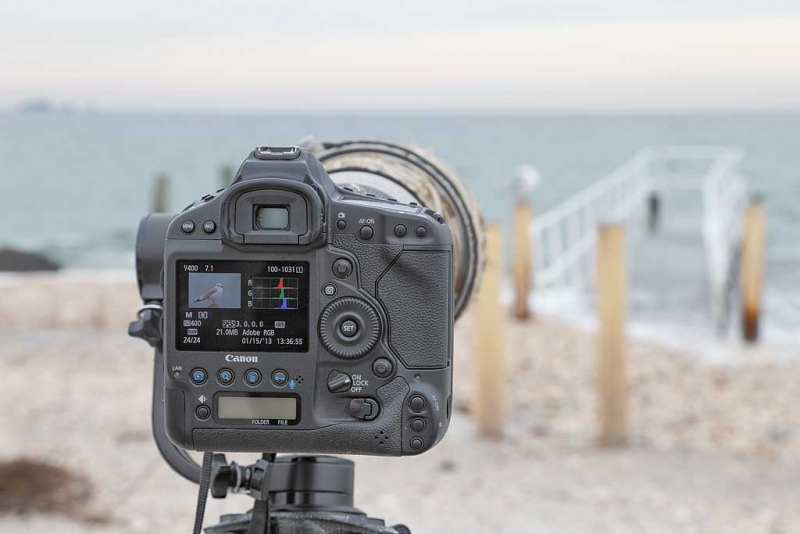 The rear of my 1DX with the out-of-focus gull and pier in the background. Created with the Canon 24-105mm f/4L IS EF USM AF lens (hand held at 90mm) with the Canon EOS-1D X digital SLR . ISO 400. Evaluative metering +1/3 stop as framed: 1/60 sec. at f/10 in Manual mode.
Central sensor/AI Servo Rear Focus AF and recompose. Click here if you missed the Rear Focus Tutorial. Be sure to click on the image to enjoy a larger version.
Your browser does not support iFrame.
The Back of the Camera
Even when you click on the image above to see the larger version, there does not seem to be any data in the fifth box of the histogram…. See below for the actual story.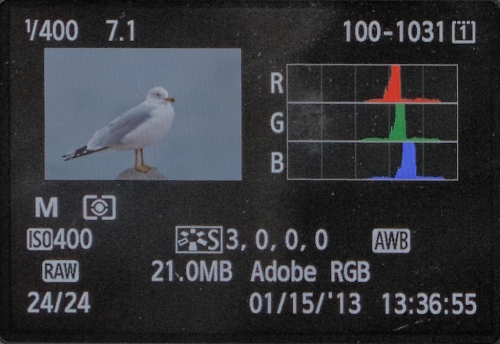 This is a tight crop of the rear LCD. Yeah, I know, I need to clean the LCD screen every now and then.
The Histogram
A closer look at the histogram reveals data well into the fifth box in all three channels. This is exactly what you want your histogram to look like so that the WHITEs will open with the RGB #s between 230 and 235 as I recommend. Though WHITEs as high as 254, 254, 254 are not technically over-exposed they may appear detail-less even after the application of a Linear Burn and Detail Extractor from NIK Color Efex Pro 4. My practical approach is a far better one than the theoretically correct approach.
Alas…
The Iceland Gull never showed up.
Fort DeSoto Morning In-the-Field Workshop
Fort DeSoto In-the-field Workshop: FEB 25. Pre-dawn -10:30am. Limit 16/openings: 5. Includes a great working lunch: $275.
On Monday morning, February 25, Denise Ippolito and I will be co-leading a morning In-the-field Workshop at Fort DeSoto, south of St. Petersburg, FL. We should get to photograph a variety of very tame herons, egrets, gulls, terns, and shorebirds. Spoonbills possible. There will be lots of individual and small group instruction. We will cover exposure and histograms, seeing the situation, creating sharp images, and lots more. Each registrant will have a personalized gear and set-up check. The more questions you ask, the more you will learn.
A great working lunch at the Sea Porch Café on St. Petersburg Beach is included. All are invited to bring a laptop along for image sharing at lunch. After the workshop, all are invited to send us three 1024 wide or 800 tall JPEGs for critiquing. Call 1-863-692-0906 to register or send us a Paypal. Either way, be sure to note that the payment is for the Fort DeSoto In-the-Field Workshop.
Weekend Creative Nature Photography Seminar, Tampa, FL: February 23 & 24, 2013: $149 Limit: 50/Openings: 2
Best to register soon as there are just 4 seats left. The In-the-field Workshop above follows the Weekend Creative Nature Photography Seminar. You are invited to join Denise Ippolito and me on the weekend of February 23-24 on the outskirts of Tampa, FL for a great weekend of fun and learning. Learn to improve your photography skills, your skill at designing images in the field, your creative vision, and your image optimization skills. Sunday critiquing session. Click here for additional details and the complete schedule.
Typos
On all blog posts, feel free to e-mail or leave a comment regarding any typos, wrong words, misspellings, omissions, or grammatical errors. Just be right. 🙂
Support the BAA Blog. Support the BAA Bulletins Shop B&H
We want and need to keep providing you with the latest free information, photography and Photoshop lessons, and all manner of related information. Show your appreciation by making your purchases immediately after clicking on any of our B&H or Amazon Affiliate links in this blog post. Remember, B&H ain't just photography!
If you are considering an item for purchase or comparison shopping be sure to place an item in your cart to see the too-low-to show the actual price. In many cases the prices are so low that B&H is forbidden from publicizing them!
Shop Amazon
Consider doing all of your Amazon.com shopping using the search link below. You'll be getting the same low prices and great service that you are accustomed to and at the same time, supporting my efforts in the Bulletins and on the Blog to bring you great images, timely product news and info, and tons of free educational articles on an almost daily (and sometimes almost back-breaking) basis 🙂 Just type your search in the little white box and hit Go.

And from the BAA On-line Store:
LensCoats. I have a LensCoat on each of my big lenses to protect them from nicks and thus increase their re-sales value. All my big lens LensCoat stuff is in Hardwood Snow pattern.
LegCoat Tripod Leg Covers. I have four tripods active and each has a Hardwood Snow LegCoat on it to help prevent further damage to my tender shoulders 🙂 And you will love them in mega-cold weather….
Gizo GT3532 LS CF Tripod. This one replaces the GT3530LS Tripod and will last you a lifetime. Learn more about this great tripod here.
Mongoose M3.6 Tripod Head. Right now this is the best tripod head around for use with lenses that weigh less than 9 pounds. For heavier lenses, check out the Wimberley V2 head.
Double Bubble Level. You will find one in my camera's hot shoe whenever I am not using flash.
The Lens Align Mark II. I use the Lens Align Mark II pretty much religiously to micro-adjust all of my gear an average of once a month and always before a major trip. Enjoy our free comprehensive tutorial here.
BreezeBrowser. I do not see how any digital photographer can exist without this program.
Delkin Flash Cards. I use and depend on Delkin compact Flash Cards and card readers most every day. Learn more about their great 700X and 1000X cards here or about my favorite Delkin card here.