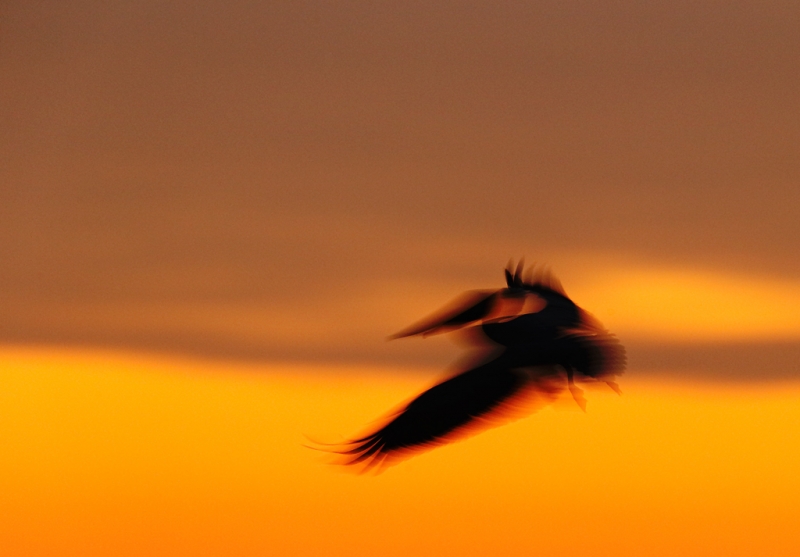 This Brown Pelican was photographed this morning from the deck of the Hooptie Deux at Alafia Banks with the tripod-mounted Canon EF 600mm f/4L IS II USM lens, the Canon 1.4x EF Extender III (Teleconverter), and the Canon EOS-1D X Digital SLR camera. ISO Safety Shift is the equivalent of Auto ISO: ISO 2000. Evaluative metering +1 stop as framed: 1/30 sec. at f/6.3 in Tv mode.
61-Point/AI Servo/Rear Focus AF active at the moment of exposure. Click here if you missed the Rear Focus Tutorial. Click on the image to see a larger version.
Your browser does not support iFrame.
K-7500 & Pre-dawn AF Tips
Before the somewhat bland sunrise turned glorious the colors were rather muted. I switched the color temperature on my 1D X from my usual AWB (Auto White Balance) setting to K (Kelvin) and spun the index finger dial until it read 7500 knowing that this would accentuate the colors. With a small boost in Saturation after the RAW conversion in DPP that trick worked quite well. As my aim was to create a pleasing blur I was working in Tv mode at 1/30 sec. I set the exposure compensation to only +1 to avoid burning the red channel. That worked quite well too.
When attempting to photograph single birds in the pre-dawn light I will usually work in 61-Point AF. This worked especially well this morning as there were some birds flying left to right and others flying right to left. Being in 61-Point allows me to at least attempt to get the bird out of the center of the frame.
A Guide to Pleasing Blurs
As some folks believe, pleasing blurs are not out of focus mistakes. If you would like to learn how to create these increasingly popular images, get yourself a copy of "A Guide to Pleasing Blurs" by Denise Ippolito and yours truly.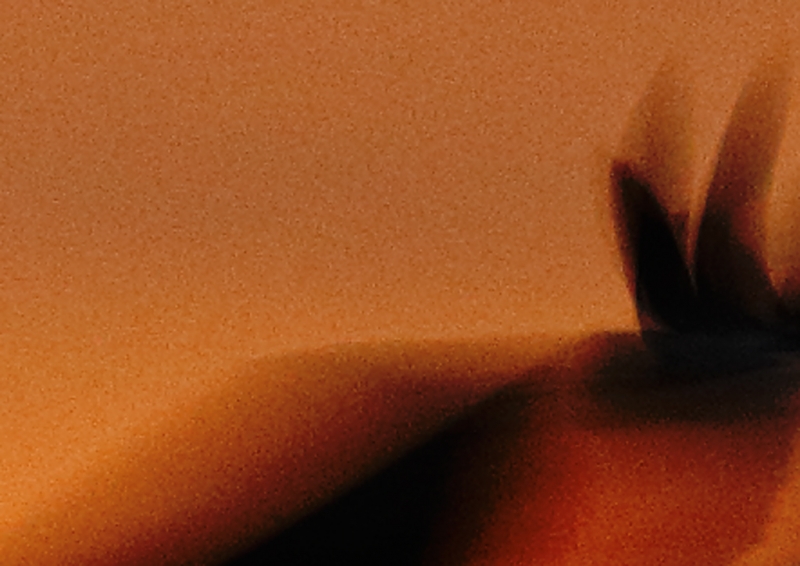 This is about a 200% crop of the image after conversion.
Noisy
With the ISO set automatically to 2000 and with the image somewhat underexposed to avoid burning the red channel there was, as you can see above, lots of noise present in the converted image. The noise we are seeing here is luminance noise. Chrominance noise would be seen as splotches of green and purple in the blacks. Note: I originally wrote that we were seeing chrominance noise; as that was a brain typo I chose to correct it here.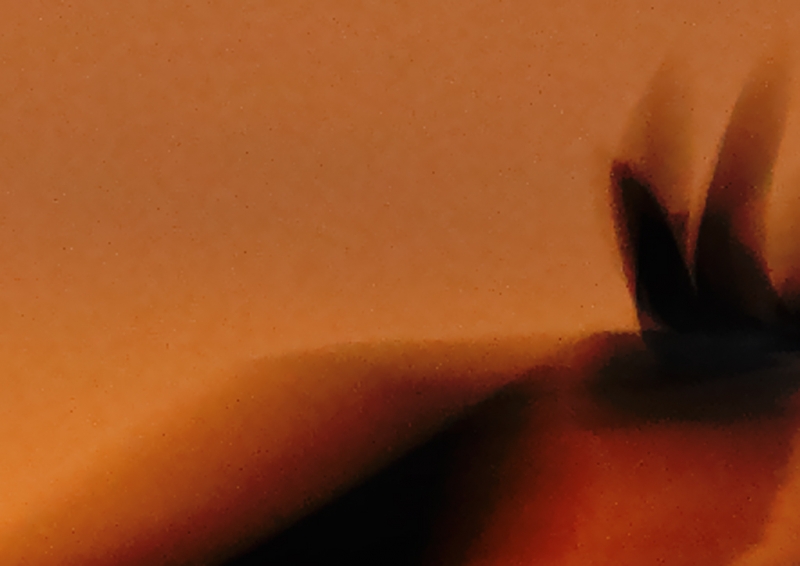 This is about a 200% crop of the image after running a Surface Blur adjustment.
Surface Blur
The amazingly creative Denise Ippolito, who is also something of a Photoshop whiz, taught me the Surface Blur trick about a year ago. Here, it shines. I put the image on its own layer and hit Filter/Blur/Surface Blur. After experimenting a bit I wound up going with the Radius at 3 pixels and Threshold at 6. I usually start at 2/3 and increase the numbers until the background is baby-tush smooth. You can click Preview on and off to check your results.
Once I hit OK I enlarged the image to about 200% and clicked the layer eyeball on and off to see if the Surface Blur settings were affecting the sharpness of the subject. As they were not there was no need to fine-tune with a Layer Mask. Thanks Lady D.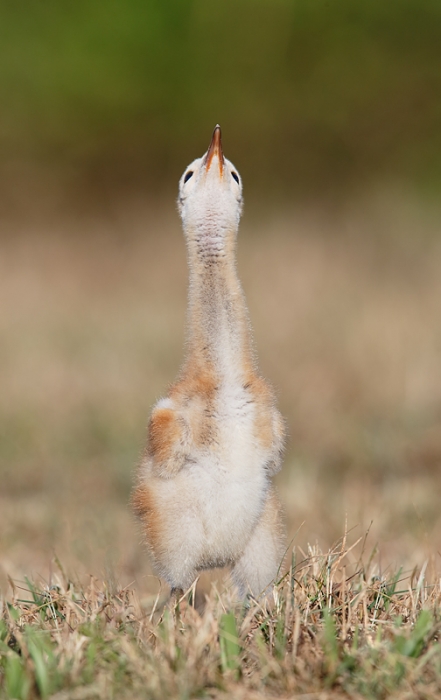 This image of a week-old Sandhill Crane chick was also created with the hand held Canon EF 600mm f/4L IS II USM lens and the Canon EOS-1D X Digital SLR camera. ISO 400. Evaluative metering +1/3 stop as framed: 1/1250 sec. at f/7.1 in Manual mode previously confirmed via histogram check.
Two sensors up and one to the left of the central sensor/AI Servo Surround/Rear Focus AF active at the moment of exposure. Click here if you missed the Rear Focus Tutorial. Click on the image to see a larger version.
When hand holding either the 500II or the 600II I like to sit and rest my left elbow on my bent left knee. This reduces fatigue and the quick build up of lactic acid in the muscles and allows for much sharper images. That is exactly what I did here.
Your browser does not support iFrame.
Crane Chick Behavior Answer; Bird Watching
In the blog post of March 8, 2013 I posted the image above and asked "What was the baby crane doing?" And I mentioned that there had been a clue in a recent blog post. The clue was in the March 4, 2013 post, When Sharp Does Not Cut It.
In the image above the crane chick was looking up at swirling Tree Swallows. Amazingly, both parents were both somewhat alarmed by the swallows. Kudos to Doug West for getting the behavior right.
IPT Opportunities
Click here to see the current schedule and IPT openings.
Highlights include a single opening on the next Bear Boat IPT, two slots left on this summer's killer Galapagos trip, and lots of room on the Tanzania Photo-Safari.
Bear Boat/Bears Catching Salmon IPT: September 2-9, 2013 from Kodiak, AK: $6699.
Happy campers only! Maximum 6 + two leaders: Arthur Morris and Denise Ippolito. Openings: 1.
GALAPAGOS Photo Cruise of a Lifetime IPT/The Complete Galapagos Photographic Experience. July 2-16, 2013 on the boat.
13 FULL and two 1/2 days of photography: $12,749. Co-leader: Denise Ippolito. Limit 14 including the leaders/Openings: 2.
Africa/Tanzania/Serengeti Summer Migration Safari: 12 full and two half-days of photography: $12,999/person double occupancy. Limit: 12/Openings: 7.
Leaders: Todd Gustafson and Arthur Morris. Leave the US AUG 3, 2013. Fly home from Arusha, Tanzania on the evening of August 18. Day 1 of the safari is August 5. Our last morning of photography is August 18. We will be visiting Tarangire National Park, Seronera Lodge–aka Leopard City!–twice, an exclusive mobile tented camp in the Serengeti, and at the end, the spectacular wildlife spectacle that is Ngorongoro Crater. Please e-mail for itinerary.
Again, please click here for additional info and additional IPTs.
Seriously Huge B&H Savings on Nikon and Canon Gear
Nikon
For the first time in many years NIKON is going to be deeply discounting many legacy pro lenses individually for the next 2 weeks only with discounts up to $350. There are also many amazing deals on NIKON Buy together and Save packages as well. Click here to save.
Nikon DSLRS Bundles with Lenses & Flash: Save up to $750. Click here to save. Make sure to add each item to your shopping cart to see the absolute lowest price.
Canon Lenses & Speedlites: Save Up to $300
Click here to save. Make sure to add each item to your shopping cart to see the absolute lowest price.
Canon Buy Together & Save: Save Up to $400
Click here to save.
EOS-1D X AF Guide
You can learn exactly how I set up and use this camera's great new AF system in our EOS-1D X AF Guide. And you can learn about our other camera User's Guides here.
Typos
On all blog posts, feel free to e-mail or leave a comment regarding any typos, wrong words, misspellings, omissions, or grammatical errors. Just be right. 🙂
Support the BAA Blog. Support the BAA Bulletins: Shop B&H here!
We want and need to keep providing you with the latest free information, photography and Photoshop lessons, and all manner of related information. Show your appreciation by making your purchases immediately after clicking on any of our B&H or Amazon Affiliate links in this blog post. Remember, B&H ain't just photography!
If you are considering an item for purchase or comparison shopping be sure to place an item in your cart to see the too-low-to show the actual price. In many cases the prices are so low that B&H is forbidden from publicizing them!
Support the BAA Blog. Support the BAA Bulletins: Shop Amazon here!
Consider doing all of your Amazon.com shopping using the search link below. You'll be getting the same low prices and great service that you are accustomed to and at the same time, supporting my efforts in the Bulletins and on the Blog to bring you great images, timely product news and info, and tons of free educational articles on an almost daily (and sometimes almost back-breaking) basis 🙂 Just type your search in the little white box and hit Go.

And from the BAA On-line Store:
LensCoats. I have a LensCoat on each of my big lenses to protect them from nicks and thus increase their re-sales value. All my big lens LensCoat stuff is in Hardwood Snow pattern.
LegCoat Tripod Leg Covers. I have four tripods active and each has a Hardwood Snow LegCoat on it to help prevent further damage to my tender shoulders 🙂 And you will love them in mega-cold weather....
Gitzo GT3532 LS CF Tripod. This one replaces the GT3530LS Tripod and will last you a lifetime. Learn more about this great tripod here.
Mongoose M3.6 Tripod Head. Right now this is the best tripod head around for use with lenses that weigh less than 9 pounds. For heavier lenses, check out the Wimberley V2 head.
Double Bubble Level. You will find one in my camera's hot shoe whenever I am not using flash.
The Lens Align Mark II. I use the Lens Align Mark II pretty much religiously to micro-adjust all of my gear an average of once a month and always before a major trip. Enjoy our free comprehensive tutorial here.
BreezeBrowser. I do not see how any digital photographer can exist without this program.
Delkin Flash Cards. I use and depend on Delkin compact Flash Cards and card readers most every day. Learn more about their great 700X and 1000X cards here or about my favorite Delkin card here.