NSTA Brandwein Lecture
The NSTA Brandwein lecture went very well. About 200 were in attendance. The talk was followed by lots of warm applause and more than a few hugs. And best of all, the Brandwein board members and fellows were thrilled. The lecture was professionally videoed: I will provide a link to A Lifetime of Nature and Photographic Education/Teaching Children About Birds when the video is posted online. Huge thanks again to old friend Jack Padalino for the invite. San Antonio is a wonderful city abn dinner at Bliss was beyond superb.
Locked & Loaded and Pushing the Limits
Holland Birds and Tulips was planned after I accepted the NSTA invitation so it was necessary to fly to Texas with everything that I will e bringing to Amsterdam; I take a red eye tonight from Newark, NJ. I over-nighted at the very fine Airport Marriott.
I am bringing a record amount of foot-gear including lightweight waders and surf booties, my hiking boots, a pair of sneakers, a pair of Ugs for walking around the city and Keukenhof Gardens, and an XXXL pair of NEOS–be sure to go two sizes larger than your shoe size so that they fit easily over your hiking boots. Learn about both types of NEOS here. I am taking the Adventurer Overshoes.
With a brand new Gitzo 3532 LS tripod taken from stock, my Mongoose M3.6, the Giottos MH 1302-655 "tiny" ballhead, three lens hoods, rain gear, coats, sweatshirts, clothing, diabetic supplies, two bottles of reduced sugar ketchup, and lot more who-knows-what?, I have two 50.0 pound checked bags. My laptop bag weighs about 25 pounds. My Xtrahand vest has only three items: a plastic bag with frozen gel icepaks and insulin, my supps for the long travel night, and my very well padded Canon EF 300mm f/2.8L IS II lens in the rear pouch. Total weight of the vest and items is about 15 pounds. See here and here for BAA info on this great vest or here to get to the Vested Interest web site. I recently heard it through the grapevine that this great product may or may not be available for much longer….
Now on to the rolling bag. Without the great Think Tank Airport Security™ V 2.0 Rolling Camera Bag it would simply not be possible for me to bring all the lenses, cameras, and accessories that I want and need for this trip. Here is what is in my Airport Security bag as I type: 2 Canon EOS-1D X camera boides, 1 Canon EOS 5D Mark III, the Canon EF 600mm f/4L IS II, the Canon EF 70-200mm f/2.8L IS II zoom lens, the Canon 24-105mm f/4L IS zoom lens, the Canon EF 180mm f/3.5L macro lens, the Canon TS-E 90mm f/2.8 Tilt Shift lens
,
2 Canon 1.4x teleconverters, 2 Canon 2x teleconverters, and 1 Canon Extension Tube EF 12 II, 1 Canon Extension Tube EF 25 II. I think that that is it but I am not opening the bag to check!
Be sure to click here to purchase a Think Tank Rolling Bag or backpack and receive a free small accessories bag.
I have not been hassled so far and do not expect to be hassled getting out of Newark. Flying from Amsterdam might be a problem as you are much more likely to get busted for over-weight carry-ons when flying home from overseas. You can learn how I pack my rolling bag here.
Though I am in pretty good shape hauling all that stuff to and from San Antonio has made me feel well older than my 66 years.
[Not a valid template]
This is an image of my Think Tank Bag packed to the gills for a previous trip. Click here to learn about the process. Notice that the first thing that I do is to remove all the dividers.
By Popular Demand
I added the image above as folks were curious to see what the packed bag looks like. Click here to see the step by step packing details for that trip.
Jam Session I: Photoshop Video Tutorial: $9
On the first Fort Desoto/Hooptie Deux Short Notice IPT we drove from St. Pete to my home in Indian Lake Estates for a chance to photograph Sandhill Crane chicks of various sizes. We succeeded admirably. See "What No Itinerary" here for the whole story.
After our morning photo session the group gathered in my office for a Photoshop session. I worked on one image from the previous morning and on one from that morning, the latter the image above. The session was recorded with Camtasia. We are offering you a chance to join the group and look right over my shoulder as I processed the images above and below. Techniques covered include the following: the RAW conversions in DPP, using Detail Extractor from NIK's Color Efex Pro to bring up the detail in the ibis's white feathers, creating and using Layer masks, and using the Quick Selection Tool, the Spot Healing Brush, the Patch Tool, and Content Aware Fill for image clean-up. Selective sharpening with a Contrast Mask, Background clean-up with a soft Clone Stamp Tool, cloning on a Layer, using Quick Masks, using Select/Color Range to make selections (including the little used Range slider), and lots more.
To order yours through the BAA store, click here. Or call Jim or Jen weekdays between 9am and 5pm (3pm on Fridays) at 863-692-0906 with your credit card in hand. Please leave a message in the rare event that we miss your call and we will get back to you. Easiest is to send us a Paypal for $9.00 to birdsasart@verizon.net with the words "Jam Session I" cut and pasted into the subject line. Sorry, no checks are accepted for the MP4 videos.
Learn more about our MP4 Photoshop Tutorial Videos here. See the whole collection here.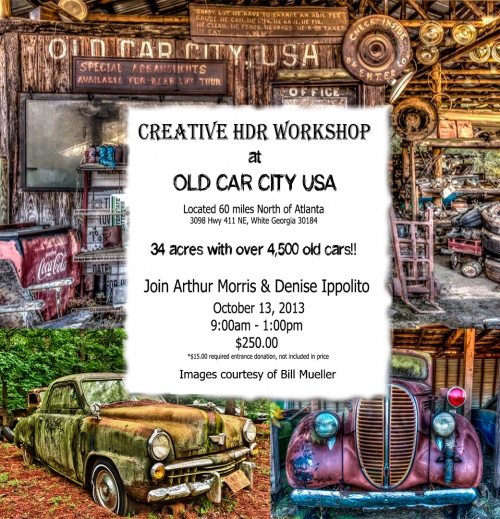 Images courtesy of and copyright 2012: Bill Mueller. Card design by Denise Ippolito.
Old Car City Creative Photography In-the-Field HDR Workshop: Sunday, October 13, 2013/ 9am till 1pm.
White, Georgia: $250 plus a $15 entrance fee donation (cash only on the day of the event) that will go to charity. Limit: 16 photographers.
On October 13, 2013, Arthur Morris/BIRDS AS ART and Denise Ippolito/A Creative Adventure will be conducting an In-the-Field HDR Workshop at Old Car City in White, Georgia. Old Car City is about an hour north of Atlanta, GA and an hour south of Chattanooga, TN where they will, as noted above, be doing a full day seminar for the Photographic Society of Chattanooga on Saturday, October 12th. Click here for complete details.
Tigers
Good luck to Todd Gustafson who is leading a tiger photo trek in India right now. And good luck to Tiger Woods in the Masters.
Typos
On all blog posts, feel free to e-mail or leave a comment regarding any typos, wrong words, misspellings, omissions, or grammatical errors. Just be right. 🙂
Support the BAA Blog. Support the BAA Bulletins: Shop B&H here!
We want and need to keep providing you with the latest free information, photography and Photoshop lessons, and all manner of related information. Show your appreciation by making your purchases immediately after clicking on any of our B&H or Amazon Affiliate links in this blog post. Remember, B&H ain't just photography!
If you are considering an item for purchase or comparison shopping be sure to place an item in your cart to see the too-low-to show the actual price. In many cases the prices are so low that B&H is forbidden from publicizing them!
If you are considering an item for purchase or comparison shopping be sure to place an item in your cart to see the too-low-to show the actual price. In many cases the prices are so low that B&H is forbidden from publicizing them!
And from the BAA On-line Store:
LensCoats. I have a LensCoat on each of my big lenses to protect them from nicks and thus increase their re-sales value. All my big lens LensCoat stuff is in Hardwood Snow pattern.
LegCoat Tripod Leg Covers. I have four tripods active and each has a Hardwood Snow LegCoat on it to help prevent further damage to my tender shoulders 🙂 And you will love them in mega-cold weather....
Gitzo GT3532 LS CF Tripod. This one replaces the GT3530LS Tripod and will last you a lifetime. Learn more about this great tripod here.
Mongoose M3.6 Tripod Head. Right now this is the best tripod head around for use with lenses that weigh less than 9 pounds. For heavier lenses, check out the Wimberley V2 head.
Double Bubble Level. You will find one in my camera's hot shoe whenever I am not using flash.
The Lens Align Mark II. I use the Lens Align Mark II pretty much religiously to micro-adjust all of my gear an average of once a month and always before a major trip. Enjoy our free comprehensive tutorial here.
BreezeBrowser. I do not see how any digital photographer can exist without this program.
Delkin Flash Cards. I use and depend on Delkin compact Flash Cards and card readers most every day. Learn more about their great 700X and 1000X cards here or about my favorite Delkin card here.