Sex Offender?
A 54 year old impregnating a 12 year old would ordinarily by grounds for a long prison term. But that is not always the case. Click here and scroll down to "Successful Old Bird" for the rather amazing details. Thanks to Ted Cheeseman of Cheesemans' Ecology Safaris for forwarding the link.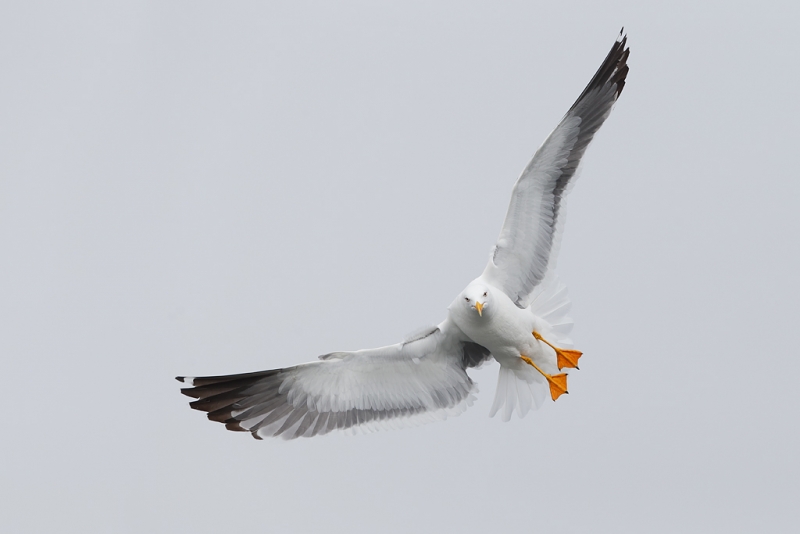 This adult Lesser Black-backed Gull flight image was created on the way to Texel, Holland with the hand held Canon EF 300mm f/2.8L IS II lens and the Canon EOS-1D X Digital SLR camera. ISO 400. Evaluative metering +1 2/3 stops as framed: 1/3200 sec. at f/4 in Manual Mode.
Central sensor Surround/AI Servo/Rear Focus AF active at the moment of exposure. Click here if you missed the Rear Focus Tutorial. Click on the image to see a larger version.
Your browser does not support iFrame.
Texel
Things here at Texel, Holland, have been tough at best on the bird photography. Cold northwest winds and a month-late breeding season have left the group shivering with lots of space on their flash cards…. Pre-arranged visits to can't miss/guaranteed rookeries and breeding colonies have had to be cancelled due to lack of birds.
The image above was created on the Den Helder/Texel Ferry. Most of us will be taking a few ferry rides back and forth this afternoon….
At the risk of sounding too, too negative, we have had some very good chances and if we ever get a still, clear morning with a breeze with an easterly component things will get spectacularly good very quickly.
BreezeBrowser Screen Capture
Above is the BreezeBrowser Main View screen capture for the Lesser Black-backed Gull flight image. The illuminated red square on the shows the selected AF sensor. As I was in Surround one or two of the AF points to the left and/or below the central sensor was surely active. In BreezeBrowser make sure to check Show Focus Points under View to activate this feature. To see the focus points in DPP check AF Point under View or hit Alt L.
Regular readers know that I use and depend on BreezeBrowser every day of the year. It allows me to sort my keepers and deletes the rejects faster than any other browsing program. We use it on the main computer in the home office to catalog our images file-drawer style. And the companion program, Downloader Pro allows me to download my images quickly and conveniently. It automatically adds my IPTC data and the shooting location. I have it set up to create a folder named by the Month/date/year. The Breezebrowser/Downloader Pro combo saves me many hours each week. To learn earn more or to purchase this great PC only program, click here.
Image Optimization
Image optimization began by moving the bird back in the frame using techniques from APTATS II and Digital Basics and ended with some NIK Color Efex Pro work on the bird alone. Digital Basics is a PDF that is sent via e-mail. It includes my complete digital workflow, dozens of great Photoshop tips, all of my time-saving Keyboard Shortcuts, and Quick Masking and Layer Masking basics.
Like Flower Photography?
If you like photographing flowers, be sure to see the "Creative Flower Photography: blog post here.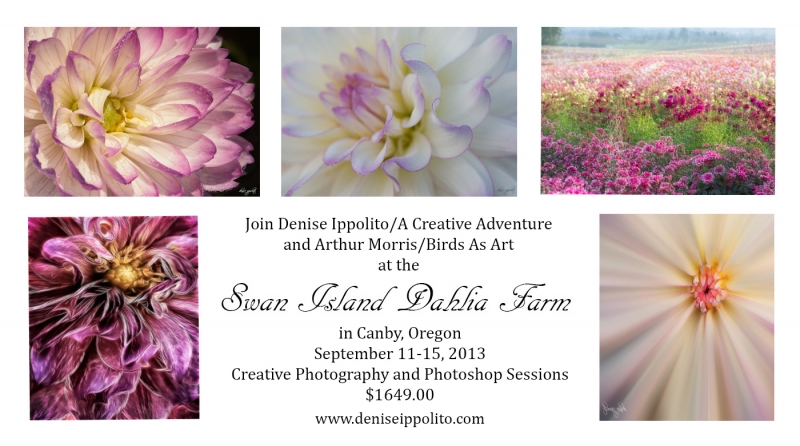 All images courtesy of and copyright 2012: Denise Ippolito. Click for a larger version.
A Creative Adventure/BIRDS AS ART Swan Island Dahlia Farm Instructional Photo-Tour, September 11-15, 2013: 5 FULL DAYS: $1649
Join Denise Ippolito and Arthur Morris at the Swan Island Dahlia Farm in Canby, Oregon (just south of Portland) for a great learning and photography experience. Swan Island features more than 40 acres with over 350 varieties of dahlias in a plethora of colors, shapes and sizes, making it one of the largest growers in the United States.
Daily Photo Schedule
We will enjoy four morning (7:00am till 10:30am) and five afternoon (3:30pm till 6pm) photography sessions. While we will do most of our photography at the Swan Island Dahlia Farm, we will also visit the Portland Rose Garden and/or the Portland Japanese Garden on this IPT. The in-the-field instruction will include seeing the situation, the use of selective focus, creative use of depth of field, histogram and exposure guidance, designing creative images, choosing your background, isolating your subject, lens options, and the use of reflectors and diffusers. Our field sessions will include challenging photography assignments geared to make you think creatively. Both personalized and small group instruction will be provided. All times are tentative and subject to change based on the weather and on local conditions.
Seminar Morning: Friday, September 13: 8:30am till 12:30pm
Denise will begin by presenting her "Bloomin' Ideas" program, an overview of the in-the-field and post-processing techniques that she has used and developed over the past few years to create her signature look. Artie will follow with a Photoshop session that will be geared towards all levels. He'll be sharing some of his favorite techniques and tips while working on images from the first two days of the IPT. Denise will conclude the seminar portion of the IPT with a Photoshop demo; she will share her creative workflow using a variety of Photoshop filters and effects. The entire morning is designed to give you a peek into the minds of two very skilled and creative folks.
The group will have lunch together daily. All are invited to bring their laptops for image sharing. We hope that you can join us for an intense five days of learning and some of the best flower photography to be had in North America.
Deposit Info and Cancellation Policies:
A $449 non-refundable deposit is required to hold your slot for this IPT. Your balance is due 4 months before the date of the IPT and is also non-refundable. If the trip fills, we will be glad to apply a credit applicable to a future IPT for the full amount less a $100 processing fee. If we do not receive your check for the balance on or before the due date we will try to fill your spot from the waiting list. If your spot is filled, you will lose your deposit. If not, you can secure your spot by paying your balance.
Please print, complete, and sign the form that is linked to here and shoot it to us along with your deposit check (made out to "Arthur Morris.") You can also leave your deposit with a credit card by calling the office at 863-692-0906. We will be short-handed in the office until January 21 so please leave a message and we will call you back. If you register by phone, please print, complete and sign the form as noted above and either mail it to us or e-mail the scan.
If you have any questions, please feel free to contact me via e-mail
Typos
On all blog posts, feel free to e-mail or leave a comment regarding any typos, wrong words, misspellings, omissions, or grammatical errors. Just be right. 🙂
Support the BAA Blog. Support the BAA Bulletins: Shop B&H here!
We want and need to keep providing you with the latest free information, photography and Photoshop lessons, and all manner of related information. Show your appreciation by making your purchases immediately after clicking on any of our B&H or Amazon Affiliate links in this blog post. Remember, B&H ain't just photography!
If you are considering an item for purchase or comparison shopping be sure to place an item in your cart to see the too-low-to show the actual price. In many cases the prices are so low that B&H is forbidden from publicizing them!
If you are considering an item for purchase or comparison shopping be sure to place an item in your cart to see the too-low-to show the actual price. In many cases the prices are so low that B&H is forbidden from publicizing them!
And from the BAA On-line Store:
LensCoats. I have a LensCoat on each of my big lenses to protect them from nicks and thus increase their re-sales value. All my big lens LensCoat stuff is in Hardwood Snow pattern.
LegCoat Tripod Leg Covers. I have four tripods active and each has a Hardwood Snow LegCoat on it to help prevent further damage to my tender shoulders 🙂 And you will love them in mega-cold weather....
Gitzo GT3532 LS CF Tripod. This one replaces the GT3530LS Tripod and will last you a lifetime. Learn more about this great tripod here.
Mongoose M3.6 Tripod Head. Right now this is the best tripod head around for use with lenses that weigh less than 9 pounds. For heavier lenses, check out the Wimberley V2 head.
Double Bubble Level. You will find one in my camera's hot shoe whenever I am not using flash.
The Lens Align Mark II. I use the Lens Align Mark II pretty much religiously to micro-adjust all of my gear an average of once a month and always before a major trip. Enjoy our free comprehensive tutorial here.
BreezeBrowser. I do not see how any digital photographer can exist without this program.
Delkin Flash Cards. I use and depend on Delkin compact Flash Cards and card readers most every day. Learn more about their great 700X and 1000X cards here or about my favorite Delkin card here.