Iris Garden Workshop This Week!
I will be joining Denise Ippolito as a previously unannounced co-leader on her Iris Garden Flower Photography Workshop this coming Thursday, May 16, at the spectacular Presby Memorial Iris Gardens in Upper Montclair, NJ. I will be bringing my 600 II along so if you'd like to learn long lens flower photography techniques this one is perfect for you. I will also have my 180mm macro along. Rain date: May 17. Learn more and register here.
The MiniMag
Denise Ippolito and her skilled team of contributors put in an inordinate amount of work each month to bring you the MiniMag. This month's edition is online and can be accessed here. Do not click on the preceding link unless you have at least an hour to be enthralled. This month's articles include "Dramatic Flower Photos With Focus Stacking" by Steve Ellis, "Where the Buffalo Roam" by Nancy Bell, "Texas Hill Country" by Paul Lagasi, "Dare to Do Something Different" by Cheryl Slechta, "Shoot with a Purpose and Tell a Story" by Gaurav Mital, "When Mother Nature Goes OOTB" by Andrew McLachlan, "The Sponge Tool" by Anita Bower, "A Peek at Amsterdam" by Denise Ippolito, "Long Lens Flower Photography" by yours truly, "Creating Bubbles in Your Images" by David Woeller, "Recorded Bird Calls" by BPN Avian Moderator Daniel Cadieux, "Gear Up for Wildflowers" by Steve Adkins,"Start with the Light" by Mary Stamper, and "People Can Make a Difference" by Dennis Bishop. Best news? It's free.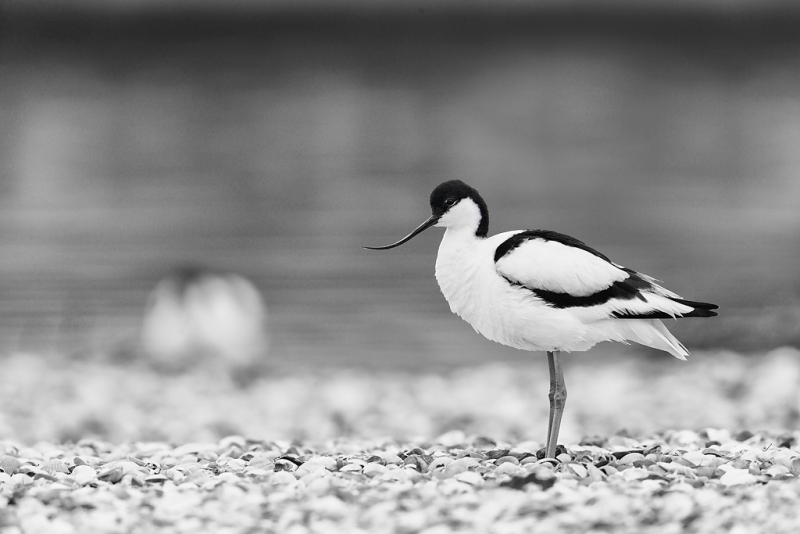 This Pied Avocet image was created at Texel, Holland with the tripod-mounted Canon EF 600mm f/4L IS II USM lens, the Canon 1.4x EF Extender III (Teleconverter), and the Canon EOS-1D X Digital SLR camera. ISO 1600. Evaluative metering +1 1/3 stops as framed: 1/200 sec. at f/6.3 in Manual Mode.
Central sensor Surround AI Servo/Rear Focus on the bird's eye and recompose. Click here if you missed the Rear Focus Tutorial. Click on the image to see a larger version.
Here, I converted the image to Black and White using NiK SIlver Efex Pro's High Structure pre-set. In addition, I eliminated some nasty dust spots that I missed the first time around and ran a heavy layer (6/10) of Filter/Blur/Surface Blur and erased the effect on the bird using a Regular Layer Mask.
Your browser does not support iFrame.
Catching Up
In the "Not Just for Potato Chips" blog post here, most folks liked the second image a bit better than the first. I like them both but prefer the first image (above, in Black and White as suggested by Bill Griswold). The right hand bird is pretty much on the lower right rule of thirds point and the left hand bird is nicely placed on the lower left rule of thirds point. I remember moving to my left to open up space between the two birds and create what to my mind is a pleasing juxtaposition.
In his comment on the 2nd image David Pugsley wished for a bit more space between the foreground bird's left leg and the nesting bird's head. I would not disagree. I responded to each comment that was left.
Variety…
In the "Variety… blog post here, I must confess that when I posted the three images I thought that the last one was by far the strongest. But after reading all the comments and reconsidering the 3 images–make sure that you look at the large versions–I like all three almost equally well with just a small edge to the last one.
My Thoughts on the Creative Cloud
Wow, the "Photoshop Creative Cloud…. Confusion for Sure. But is it a Ripoff or a Boon?" here garnered lots of comments and even got a few folks pissed off. Interested folks might wish to see more on the topic here.
Here is my take on the whole thing:
1-As much as I have read on the subject, I am still quite confused.
2-I have long loved CS-5.
3-I have a copy of CS-6 installed on my main machine. I rarely use it. Why? Every time that I open it and start working I am beset by one glitch or another. Nothing major, just things that have been changed from CS-5. And these changes wreck my workflow and slow me down to a crawl at best. But that only happens 100% of the time…. Lots of folks on BPN have been helping me but the moment that I get over one hurdle another pops right up and grabs me by the neck….
4-For now I will continue using CS-5 but will make more of an effort to learn to co-exist peacefully with CS-6.
5-What no cloud? As for now, I have no interest in giving Adobe $20 a month for life for who-knows-what? after having paid several thousand dollars for various versions of Photoshop. Might I change my mind in the future? Of course.
6-As for Lightroom, my position remains the same: I have no clue as to why so many folks own and use Lightroom. Yes, it offers great cataloging and key-wording features but in today's world where selling even a single image is cause for a bit party who needs a great catalog? The simple file drawer system that we have set up in BreezeBrowser has served us well for more than a decade. Not to mention the constant complaints that I hear: "I lost my library." "I cannot find my images." And the like. It is possible that my comments are in part made in ignorance as I have never used LR….
Short-Notice Dirt Cheap Nickerson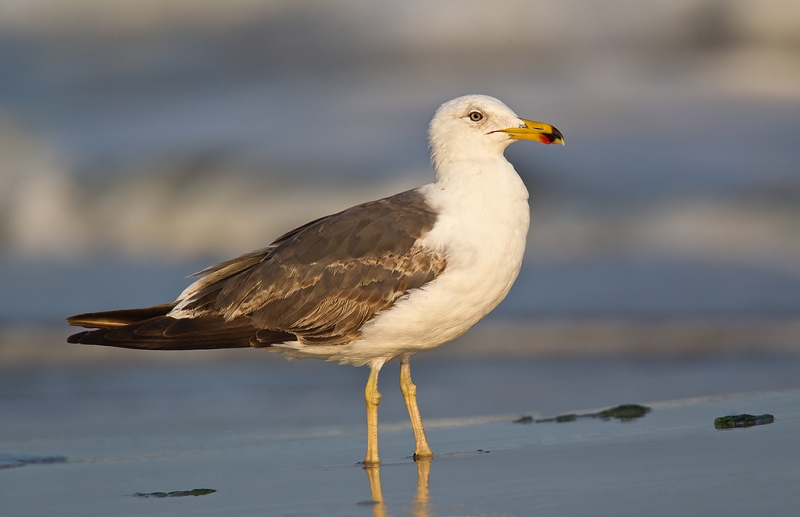 This sub-adult Lesser Black-back Gull was photographed at Nickerson Beach in June, 1012 with the tripod-mounted Canon EF 800mm f/5.6L IS USM Autofocus Lens, the Canon 1.4x EF Extender III (Teleconverter), and the Canon EOS-1D Mark IV (now replaced by the Canon EOS-1D X). ISO 400. Evaluative metering -1/3 stop: 1/500 sec. at f/9 in Manual Mode. Central sensor (by neccesity)/AI Servo/Rear Focus on the bird's eye and re-compose. Click here if you missed the Rear Focus Tutorial. Click on the image to see a larger version.
When I first began birding nearly 40 years ago this species was a mega-rarity. Today they are not at all uncommon all along the east coast of North America and even on the west coast of Florida.
Your browser does not support iFrame.
Short Notice, Dirt Cheap, In-the-Field Nickerson Beach Photographic Instruction with Arthur Morris. May 14 (am/pm) & 15 (am), 2013. (Yes, that is soon.) 6-9:30 am/4-7:30pm. This one is priced so low that you need to e-mail for the rates. Limit 4/session. Only a few openings left.
Payment in full due immediately. If you would like to join me please get in touch via e-mail. Breeding American Oystercatcher and Piping Plover (small chicks possible). Herring and Great Black-backed Gulls, Sanderling, and other shorebird species. Early-arriving Least and Common Terns, and breeding plumage Lesser Black-backed Gull likely. Courtship and mating behaviors; flight. Learn digital exposure and creative image design.
Amazingly, five folks have signed up for various sessions or combinations of sessions. But this still gives you a chance to take advantage of some practically private instruction with me at give-away prices.
Next Year In Holland
Despite a 100-year record cold spring with very few tulip fields in bloom this trip has been a spectacular success. The colors and variety of tulips at Keukenhof simply stun the mind and the senses. Denise and I are planning our Holland trip for next year: the Keukenhof Creative Tulip Photography IPT with a Touch of Holland. If you are a Happy Camper who is interested in joining Denise and me next spring, please shoot me an e-mail. Details will be announced soon.
We are currently fleshing out the details. The dates will be about the same, in mid April. In addition to the Keukenhof and the flower fields we will do an afternoon of windmills at Kinderdijk, a day in Amsterdam including a morning at the Rijks Museum and an afternoon visit to the Ann Frank House plus some street photography. We will do some street photography and fine dining in the little town of Edam. There will be about 7-9 days of photography in all. Those will include an afternoon option for a day or two of Purple Herons for those with long lenses.
Note: not surprisingly, early interest has been huge with several folks who want to sign up right now.
New York City–On Location with Denise Ippolito & Arthur Morris May 25 – 26, 2013, 2-day Workshop-$495
Join Denise Ippolito and Arthur Morris for a two-day creative workshop in the Big Apple. This exciting adventure through the streets of NYC will begin with an informal get-together at our hotel on the evening of May 24th. This will give us all a chance to get to know each other before we hit the streets in the morning for our first exciting photo shoot. We will explore China Town, Little Italy, Times Square, Rockefeller Center, Grand Central Station (tripod permit included) and much more during our two days together. The emphasis will be on street photography, seeing and capturing dynamic images, and expanding your creativity using a variety of in-camera techniques including HDR and Multiple Exposure.
Please contact me via e-mail for complete details and the itinerary.
Typos
On all blog posts, feel free to e-mail or leave a comment regarding any typos, wrong words, misspellings, omissions, or grammatical errors. Just be right. 🙂
Support the BAA Blog. Support the BAA Bulletins: Shop B&H here!
We want and need to keep providing you with the latest free information, photography and Photoshop lessons, and all manner of related information. Show your appreciation by making your purchases immediately after clicking on any of our B&H or Amazon Affiliate links in this blog post. Remember, B&H ain't just photography!
If you are considering an item for purchase or comparison shopping be sure to place an item in your cart to see the too-low-to show the actual price. In many cases the prices are so low that B&H is forbidden from publicizing them!
If you are considering an item for purchase or comparison shopping be sure to place an item in your cart to see the too-low-to show the actual price. In many cases the prices are so low that B&H is forbidden from publicizing them!
And from the BAA On-line Store:
LensCoats. I have a LensCoat on each of my big lenses to protect them from nicks and thus increase their re-sales value. All my big lens LensCoat stuff is in Hardwood Snow pattern.
LegCoat Tripod Leg Covers. I have four tripods active and each has a Hardwood Snow LegCoat on it to help prevent further damage to my tender shoulders 🙂 And you will love them in mega-cold weather….
Gitzo GT3532 LS CF Tripod. This one replaces the GT3530LS Tripod and will last you a lifetime. Learn more about this great tripod here.
Mongoose M3.6 Tripod Head. Right now this is the best tripod head around for use with lenses that weigh less than 9 pounds. For heavier lenses, check out the Wimberley V2 head.
Double Bubble Level. You will find one in my camera's hot shoe whenever I am not using flash.
The Lens Align Mark II. I use the Lens Align Mark II pretty much religiously to micro-adjust all of my gear an average of once a month and always before a major trip. Enjoy our free comprehensive tutorial here.
BreezeBrowser. I do not see how any digital photographer can exist without this program.
Delkin Flash Cards. I use and depend on Delkin compact Flash Cards and card readers most every day. Learn more about their great 700X and 1000X cards here or about my favorite Delkin card here.