Eggs-ZACT-ly!
Had a great client named George Brunt from somewhere in southwestern Canada. When I'd say pretty much anything, he'd say, "Eggs-ZACT-ly!" He always put a big smile on my face. but I have not seen him in years.
The clutch of eggs above was the cleanest, nicest I have ever come across. Note how shallow the depth-of-field is at f/16 when you are close to minimum focusing distance. See the original below.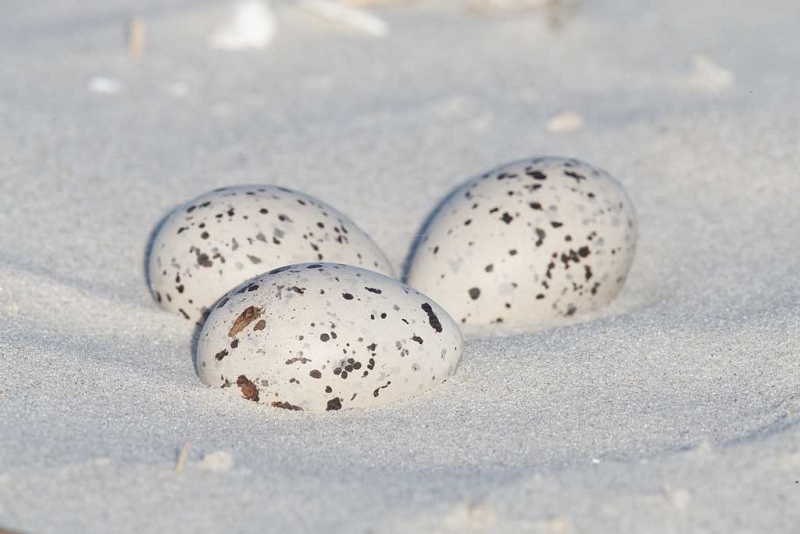 This is the original for the image that opens today's blog post.
The Image Optimization
I optimized this one for the small Nickerson Beach Dirt Cheap group this morning at Bagel Plaza in Merrick. Yummy. Converted in DPP, processed in CS-5 as usual. Clean-up was with the Patch Tool, the Spot Healing Brush, and the Clone Stamp Tool. When the clean-up was completed I ran a 60 pixel layer of Gaussian Blur and painted in the upper background after applying a Hide-All Mask. Then I selected the eggs only with the Quick Selection Tool and applied a 20% layer of 50/50 NIK Color Efex Pro Tonal Contrast/Detail Extractor. Then a layer of Linear Contrast with my f/4 action.
All of the steps in the image optimization process mentioned above (and tons more) are described in detail in our in Digital Basics File, an instructional PDF that is sent via e-mail. It includes my complete digital workflow, dozens of great Photoshop tips, several different ways to expand canvas, all of my time-saving Keyboard Shortcuts, and Quick Masking, Layer Masking, and NIK Color Efex Pro basics.
Iris Garden Workshop Tomorrow: Upper Montclair, NJ
I will be joining Denise Ippolito as a previously unannounced co-leader on her Iris Garden Flower Photography Workshop this coming Thursday, May 16, at the spectacular Presby Memorial Iris Gardens in Upper Montclair, NJ. I will be bringing my 600 II along so if you'd like to learn long lens flower photography techniques this one is perfect for you. I will also have my 180mm macro along. Rain date: May 17. Learn more and register here.
Next Year In Holland
Despite a 100-year record cold spring with very few tulip fields in bloom this trip has been a spectacular success. The colors and variety of tulips at Keukenhof simply stun the mind and the senses. Denise and I are planning our Holland trip for next year: the Keukenhof Creative Tulip Photography IPT with a Touch of Holland. If you are a Happy Camper who is interested in joining Denise and me next spring, please shoot me an e-mail. Details will be announced soon.
We are currently fleshing out the details. The dates will be about the same, in mid April. In addition to the Keukenhof and the flower fields we will do an afternoon of windmills at Kinderdijk, a day in Amsterdam including a morning at the Rijks Museum and an afternoon visit to the Ann Frank House plus some street photography. We will do some street photography and fine dining in the little town of Edam. There will be about 7-9 days of photography in all. Those will include an afternoon option for a day or two of Purple Herons for those with long lenses.
Note: not surprisingly, early interest has been huge with several folks who want to sign up right now.
New York City–On Location with Denise Ippolito & Arthur Morris May 25 – 26, 2013, 2-day Workshop-$495
Join Denise Ippolito and Arthur Morris for a two-day creative workshop in the Big Apple. This exciting adventure through the streets of NYC will begin with an informal get-together at our hotel on the evening of May 24th. This will give us all a chance to get to know each other before we hit the streets in the morning for our first exciting photo shoot. We will explore China Town, Little Italy, Times Square, Rockefeller Center, Grand Central Station (tripod permit included) and much more during our two days together. The emphasis will be on street photography, seeing and capturing dynamic images, and expanding your creativity using a variety of in-camera techniques including HDR and Multiple Exposure.
Please contact me via e-mail for complete details and the itinerary.
Typos
On all blog posts, feel free to e-mail or leave a comment regarding any typos, wrong words, misspellings, omissions, or grammatical errors. Just be right. 🙂
Support the BAA Blog. Support the BAA Bulletins: Shop B&H here!
We want and need to keep providing you with the latest free information, photography and Photoshop lessons, and all manner of related information. Show your appreciation by making your purchases immediately after clicking on any of our B&H or Amazon Affiliate links in this blog post. Remember, B&H ain't just photography!
If you are considering an item for purchase or comparison shopping be sure to place an item in your cart to see the too-low-to show the actual price. In many cases the prices are so low that B&H is forbidden from publicizing them!
If you are considering an item for purchase or comparison shopping be sure to place an item in your cart to see the too-low-to show the actual price. In many cases the prices are so low that B&H is forbidden from publicizing them!
Support the Blog
Amazon
Everyone buys something from Amazon, be it a big lens or deodorant. Support the blog by starting your search by typing in the little white box below. No purchase is too small to be appreciated; they all add up. Why make it a habit? Because I make it a habit of bringing you new images and information on an almost daily basis.
And from the BAA On-line Store:
LensCoats. I have a LensCoat on each of my big lenses to protect them from nicks and thus increase their re-sales value. All my big lens LensCoat stuff is in Hardwood Snow pattern.
LegCoat Tripod Leg Covers. I have four tripods active and each has a Hardwood Snow LegCoat on it to help prevent further damage to my tender shoulders 🙂 And you will love them in mega-cold weather….
Gitzo GT3532 LS CF Tripod. This one replaces the GT3530LS Tripod and will last you a lifetime. Learn more about this great tripod here.
Mongoose M3.6 Tripod Head. Right now this is the best tripod head around for use with lenses that weigh less than 9 pounds. For heavier lenses, check out the Wimberley V2 head.
Double Bubble Level. You will find one in my camera's hot shoe whenever I am not using flash.
The Lens Align Mark II. I use the Lens Align Mark II pretty much religiously to micro-adjust all of my gear an average of once a month and always before a major trip. Enjoy our free comprehensive tutorial here.
BreezeBrowser. I do not see how any digital photographer can exist without this program.
Delkin Flash Cards. I use and depend on Delkin compact Flash Cards and card readers most every day. Learn more about their great 700X and 1000X cards here or about my favorite Delkin card here.