Big Lens News I
I bit the bullet and purchased a Canon EF 200-400mm f/4L IS USM Lens with Internal 1.4x Extender through the Explorers of Light program. I was blessed to have been selected as one of the original Canon Explorers of Light about 18 years ago and continue in that role today. I will be bringing the lens on my Galapagos trip in early July, my Africa trip in early August, and, as my big lens, on my bear boat trip in early September. The lens will be here on Thursday afternoon. I hope to get out with it this weekend and to be sharing some images with you here. The best news is that I will be doing a Focus On feature on the 200-400 for the Canon Digital Learning Center.
Big Lens News II: Canon 500mm f/4L IS II Lens for Sale
Sold
Save $2,000. I am offering my Canon 500mm f/4L EF IS II lens for sale for for $8,399.00 (buyer pays insured shipping). The lens is in like-new condition with one tiny nick on the tripod collar. Glass perfect. Having fallen in love with the 600II I used the 500 II less than a dozen times. I was protected from the get-go by a LensCoat. I am including the LensCoat less the rear section and the tripod collar section. This is the lens that was dropped in South Georgia; note: it was the camera that took the fall. The lens elements were intact; only the lens mount was replaced. Priced only $3K more than some well-used 500mm f/4L IS lenses (the old version), this item is priced to ship tomorrow so do not tarry if you are seriously interested. If you are dissatisfied you may return the lens within two weeks for a full refund–you pay only the insured return shipping. Please call me at 863-692-0906 (7am till 10pm) if you would like to purchase this beauty. Leave a message if no answer. As my word is my bond I do not send pictures.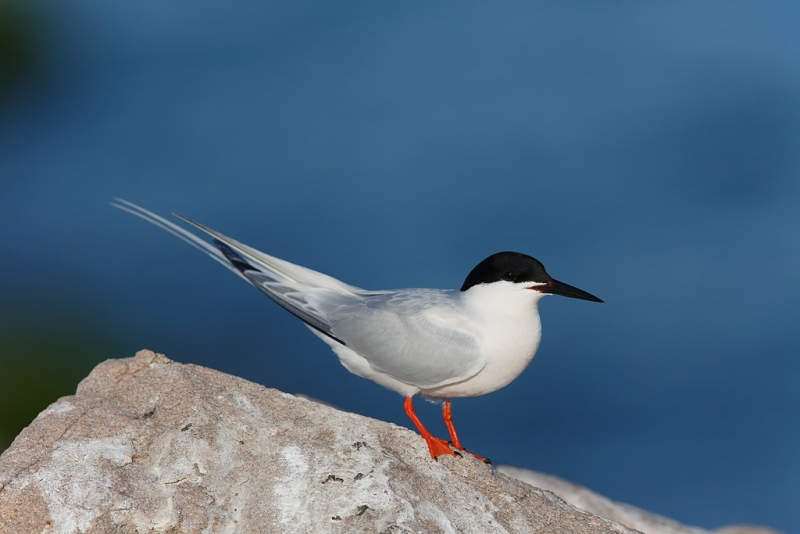 This image was created at 6:44 am on the early morning of June 5, 2013 on Great Gull Island with the tripod-mounted Canon EF 600mm f/4L IS II USM lens and the Canon EOS 5D Mark III. ISO 400. Evaluative metering -2/3 stop: 1/2500 sec. at f/7.1 in Manual Mode.
One sensor below and two to the right of the central sensor/AI Servo Surround/Rear just below and behind the tern's eye active at the moment of exposure. Click here if you missed the Rear Focus Tutorial. Click on the image to see a larger version.
Your browser does not support iFrame.
Photoshop Hanky Panky?
The image presented in the Photoshop Hany Panky? post here and above was right out of the camera. I converted the image in DPP, selected the BKGR, added Refine Edge, and executed Filter/Blur/Surface Blur at 4/2 to smooth the dark blue background.
Try This One
The optimized image present in the Try This One blog post is a completely different story. As you can see by taking a look at the original image below, the second bird was removed. I used the Protective Cloning on Layer technique taught to me by Denise Ippolito. Removing the out-of-focus rock was actually much more difficult than removing the bird as getting the edge of the rock to look natural was a challenge that required some extra care. I did some background smoothing as well with a 60% opacity Clone Stamp Tool. All of course as described in detail in Digital Basics File, an instructional PDF that is sent via e-mail. It includes my complete digital workflow, dozens of great Photoshop tips including Digital Eye Doctor techniques, several different ways of expanding canvas, all of my time-saving Keyboard Shortcuts, and Layer Masking and NIK Color Efex Pro basics.
5D Mark III, 1D X AF, & DPP e-Guides
To learn everything that I know about the the great EOS-5D Mark III, check out our 5D MIII User's Guide. To learn everything that I know about the great 1D X AF system check out our 1D X AF Guide here. To learn how I convert all of my images in DPP check out the DPP Raw Conversion Guide here.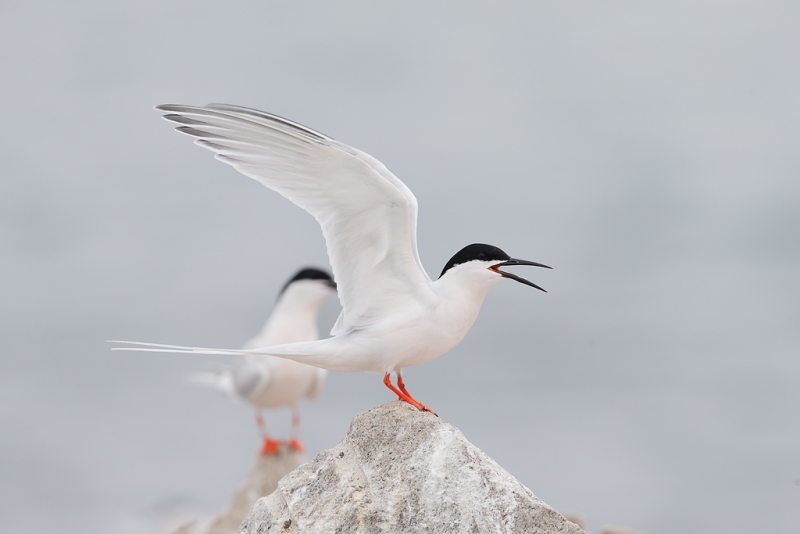 This is the original image from which the optimized image was created in Photoshop.
Why?
I had two reasons for presenting these two images on consecutive days. First and foremost is to show that it is easy to find flaws with optimized images after you see the original, but much more difficult in cases where you only see the final image and when the Photoshop work was well done. I am glad that not too many folks invented stuff on the "Hanky Panky" image and that nobody even hinted that a bird and a rock had been removed from the "Try This One" image. Second was to show that if you know what you are doing in Photoshop and work carefully that even when you make extensive changes to an image they can be undetectable to most folks. Or to all folks. 🙂
Help Keep Great Gull Island Open For Terns!
This spring crews are continuing to fight vegetation and to rebuild most of the blinds to be ready for the terns when they arrive. 31 of 34 blinds, many already in dire need of repair, were finished off by Hurricane Sandy. Crews are ready to help with both of these projects, but the GGI Project needs funds to purchase lumber and equipment. Contributions of all sizes are both welcome and appreciated AND are tax deductible! Please make checks payable to: AMNH, and send them to:
Great Gull Island Project/AMNH, Department of Ornithology, American Museum of Natural History, Central Park West and 79th Street, New York, NY 10024
GGI's best-ever dock, completed in 2010, was totaled by Sandy. The project is looking to FEMA for help but as above, any and all donations would be greatly appreciated. You can learn more about Great Gull Island here and visit the GGI Blog here.
Typos
On all blog posts, feel free to e-mail or leave a comment regarding any typos, wrong words, misspellings, omissions, or grammatical errors. Just be right. 🙂
Support the BAA Blog. Support the BAA Bulletins: Shop B&H here!
We want and need to keep providing you with the latest free information, photography and Photoshop lessons, and all manner of related information. Show your appreciation by making your purchases immediately after clicking on any of our B&H or Amazon Affiliate links in this blog post. Remember, B&H ain't just photography!
If you are considering an item for purchase or comparison shopping be sure to place an item in your cart to see the too-low-to show the actual price. In many cases the prices are so low that B&H is forbidden from publicizing them!
If you are considering an item for purchase or comparison shopping be sure to place an item in your cart to see the too-low-to show the actual price. In many cases the prices are so low that B&H is forbidden from publicizing them!
Support the Blog
Amazon
Everyone buys something from Amazon, be it a big lens or deodorant. Support the blog by starting your search by typing in the little white box below. No purchase is too small to be appreciated; they all add up. Why make it a habit? Because I make it a habit of bringing you new images and information on an almost daily basis.
And from the BAA On-line Store:
LensCoats. I have a LensCoat on each of my big lenses to protect them from nicks and thus increase their re-sales value. All my big lens LensCoat stuff is in Hardwood Snow pattern.
LegCoat Tripod Leg Covers. I have four tripods active and each has a Hardwood Snow LegCoat on it to help prevent further damage to my tender shoulders 🙂 And you will love them in mega-cold weather….
Gitzo GT3532 LS CF Tripod. This one replaces the GT3530LS Tripod and will last you a lifetime. Learn more about this great tripod here.
Mongoose M3.6 Tripod Head. Right now this is the best tripod head around for use with lenses that weigh less than 9 pounds. For heavier lenses, check out the Wimberley V2 head.
Double Bubble Level. You will find one in my camera's hot shoe whenever I am not using flash.
The Lens Align Mark II. I use the Lens Align Mark II pretty much religiously to micro-adjust all of my gear an average of once a month and always before a major trip. Enjoy our free comprehensive tutorial here.
BreezeBrowser. I do not see how any digital photographer can exist without this program.
Delkin Flash Cards. I use and depend on Delkin compact Flash Cards and card readers most every day. Learn more about their great 700X and 1000X cards here or about my favorite Delkin card here.