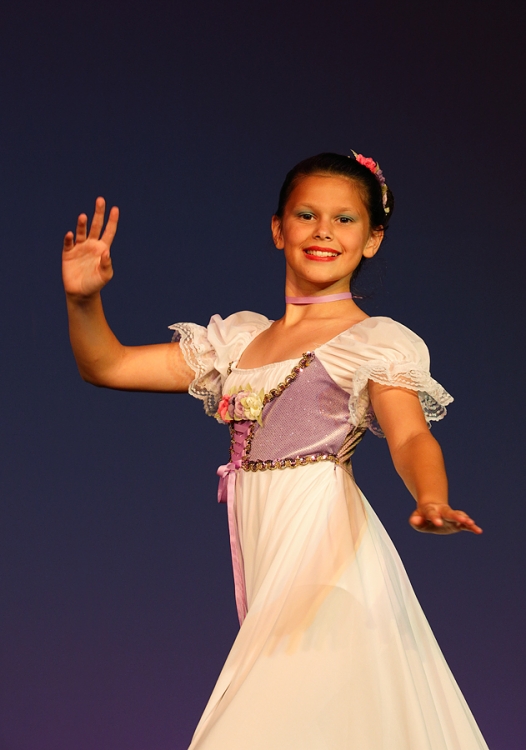 This image of my granddaughter Maya dancing to Edelweiss (a show tune from the 1959 Rodgers and Hammerstein musical The Sound of Music) was created with the hand held Canon EF 200-400mm f/4L IS USM Lens with Internal 1.4x Extender (at 232mm) and the Canon EOS 5D Mark III Digital Camera (Body Only). ISO 1600. Evaluative metering +2/3 stop: 1/320 sec. at f/5.6.
Two sensors above the central sensor/AI Servo-Surround/Rear Focus right between Maya's eyes active at the moment of exposure. Click here if you missed the Rear Focus Tutorial. Click on the image to see a larger version.
Your browser does not support iFrame.
Everything is Beautiful at the Ballet/A Chorus Line
I've been a Chorus Line nut for decades. I saw it three times on Broadway when I lived in New York, wore out several tapes and CD of the music, and most recently saw it in Fort Lauderdale with Denise Ippolito. From Wikipedia here: A Chorus Line is a musical with music by Marvin Hamlisch, lyrics by Edward Kleban and a book by James Kirkwood, Jr. and Nicholas Dante. Centred on seventeen Broadway dancers auditioning for spots on a chorus line, the musical is set on the bare stage of a Broadway theatre during an audition for a musical. A Chorus Line provides a glimpse into the personalities of the performers and the choreographer as they describe the events that have shaped their lives and their decisions to become dancers.
Every year when I attend my granddaughter Maya's dance recital in June, she dances a ballet. And every time that she does, the strains of "At the Ballet" play in my head. There are so many great songs from the show but "At the Ballet" always gets to me. I looked for a You Tube video of one of the Broadway casts doing the song but came up empty. I did find something very interesting here and not being familiar with the word deconstruct I did some research. The word deconstruct carries strongly negative connotations.
But the link above to Seth Rudetsky performing Deconstructs of "At The Ballet" from A Chorus Line–(C) 2011 Sony Music Entertainment–is anything but negative. It gives an insightful, affectionate and, above all, hysterical take on one of my favorite musical theater moments. And the music is from the original cast recording. If you love A Chorus Line you will surely love his deconstruct.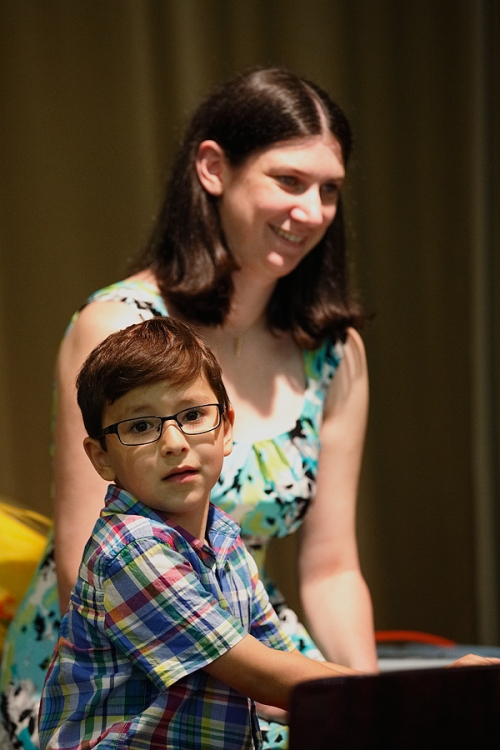 Grandson Idris with his piano teacher at his piano recital on June 9, 2013. This image was created with the 70-200mm f/2.8L IS II (hand held at 145mm) and the Canon EOS 5D Mark III Digital Camera (Body Only). ISO 3200. Evaluative metering -1/3 stop: 1/250 sec. at f/3.5 in Av mode.
Two sensors down and one row to the left of the central sensor/AI Servo-Surround/Rear Focus right between Maya's eyes active at the moment of exposure. Click here if you missed the Rear Focus Tutorial. Click on the image to see a larger version.
Your browser does not support iFrame.
Maya, Jennifer, Alissa, Ilyas, and Idris
Maya, seen in the two of the three photographs here, is my daughter Jennifer's youngest, my only granddaughter of the four grandchildren. Maya, now 11 and quite the young lady, is staying with my younger daughter Alissa as an au pair for a month this summer. Alissa and husband Azik, a Karakalpak Uzbek–it's a long story, they met when Lissy was a Peace Corps volunteer–are the parents of two autistic boys. No sympathy please; autistic siblings are not at all uncommon. As a lover of what is, (see The Work of Byron Katie please: Who would you be without your story?), I see only the pluses of the two boys and marvel at the way Alissa has risen to meet the challenge. At the least she should be awarded a Nobel Prize for motherhood.
Ilyas the older is on the low functioning end of the scale. He just loves when Grandpa wrestles with him. Oh my, he is strong and fast and loves to play rough. Idris the younger is well on the high functioning end of the scale and is somewhat of a child prodigy. He began reading at age 3 1/2 and playing piano at age 4. He is a geography savant. He can give you accurate directions to anywhere he has been. I recently asked him how his family was going to get to my home in Florida this coming August. He got the car onto I-95 south to I-4 west. "Then get off at 27 and go south to State Road 60." I chimed in, "27 is also a state road Idris." No grandpa he said in his mousy little voice, "27 is a federal road." And he is amazingly good at math as well. He loves reading books on various human body systems. Two months ago big brother Ilyas had a very sick stomach and was vomiting repeatedly. Having just read a book on the digestive system, Idris, again in his mousy little voice, asked his mom, "Does Ilyas have reverse peristalsis?"
I recently attended Idris's piano recital; you can see a short video here. Alissa wrote, "He could not stop looking at the audience. It's hilarious! He has played these songs perfectly for a month but he was just so thrown off by the audience. He's so adorable. So proud of my little guy! Best news: Maya and Idris instantly became fast friends. Lissy has already told Jen that she will not be returning Maya!
Everything is Beautiful at the Ballet: Especially With the Canon 200-400mm f/4L IS/Internal 1.4 Extender
I have always photographed Maya's recitals with the 70-200mm f/2.8L IS II and the Canon 1.4x EF Extender III (Teleconverter). But with the new 200-400 having just arrived I decided to shoot the recital exclusively with it as getting in tight on Maya was somewhat of problem with the 70-200. The lens performed admirably. The zoom allowed me to adjust my framing easily and on the fly. AF was fast and responsive even in the low light/low contrast conditions. And the sharpness of the images in trying conditions is amazing. I had no idea as to what white balance to use so I went with auto. The colors from the lighting were horrific. I will share the techniques that I used to produce the accurate and beautiful colors that you see here in an upcoming blog post.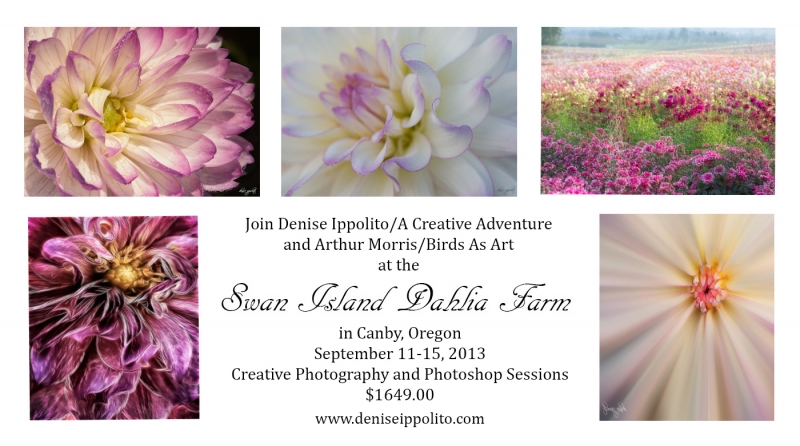 All images courtesy of and copyright 2012: Denise Ippolito. Click for a larger version.
A Creative Adventure/BIRDS AS ART Swan Island Dahlia Farm Instructional Photo-Tour, September 11-15, 2013: 5 FULL DAYS: $1649
Limit 16/Openings: 2
Join Denise Ippolito and Arthur Morris at the Swan Island Dahlia Farm in Canby, Oregon (just south of Portland) for a great learning and photography experience. Swan Island features more than 40 acres with over 350 varieties of dahlias in a plethora of colors, shapes and sizes, making it one of the largest growers in the United States.
For the schedule and complete details click here and scroll down.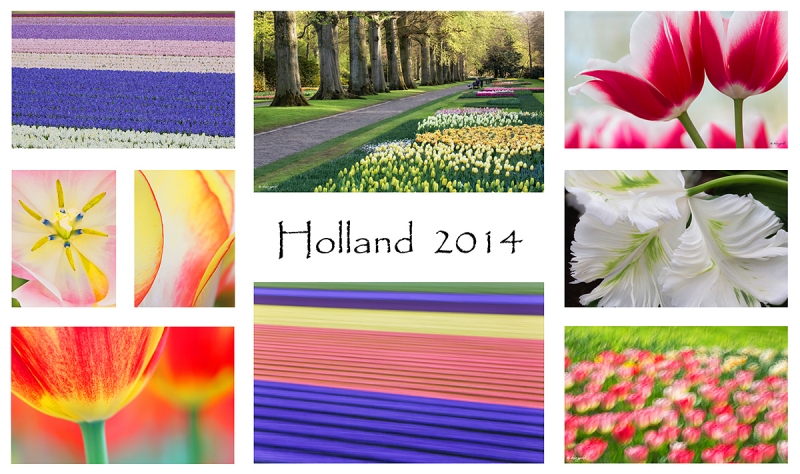 Images copyright 2012: Denise Ippoltio & Arthur Morris. Card design by Denise Ippolito. Click on the image to enjoy a spectacular larger version.
Holland 2014 7 1/2-Day/8-Night: A Creative Adventure/BIRDS AS ART/Tulips & A Touch of Holland IPT. April 17-April 24, 2014 :$4995 Limit: 12 photographers/Openings 9
This trip needs 8 registrants to run so please do not purchase your plane tickets until you hear from us; right now we need 5 more folks.
Join Denise Ippolito, Flower Queen and the author of "Bloomin' Ideas," BPN Photo Gear Moderator, former Nikon shooter, and technical expert Peter Kes, and Arthur Morris, Canon Explorer of Light and one of the planet's premier photographic educators for a great trip to Holland in mid-April 2014. Day 1 of the IPT will be April 17, 2014. We will have a short afternoon get-together and then our first photographic session at the justly-famed Keukenhof. Peter who is originally from Holland, will be our local guide/interpreter/driver. Most days we will return to the hotel for lunch, image sharing and a break. On Day 8, April 24, we will enjoy both morning and afternoon photography sessions.
The primary subjects will be tulips and orchids at Keukenhof and the spectacularly amazing tulip, hyacinth, and daffodil bulb fields around Lisse. In addition we will spend one full day in Amsterdam. There will be optional visits the Van Gogh Museum in the morning and the Anne Frank House in the afternoon; there will be plenty of time for street photography as well. And some great food. On another day we will have a wonderful early dinner at Kinderdijk and then head out with our gear to photograph the windmills and possibly some birds for those who bring their longs lenses. We will spend an afternoon in the lovely Dutch town of Edam where we will do some street photography and enjoy a superb dinner. All lodging, ground transportation, entry fees, and meals (from dinner on Day 1 through dinner on Day 8) are included.
For those who will be bringing a big lens we will likely have an optional bird photography afternoon or two or possibly three. The big attraction should be gorgeous Purple Herons in flight at a breeding marsh. We would be photographing them from the roadside. And we might be able to find a few Great-crested Grebes at a location near Keukenhof.
Click here for complete details and some previously unpublished tulip images. Click here and see item one for lots more tulip photos.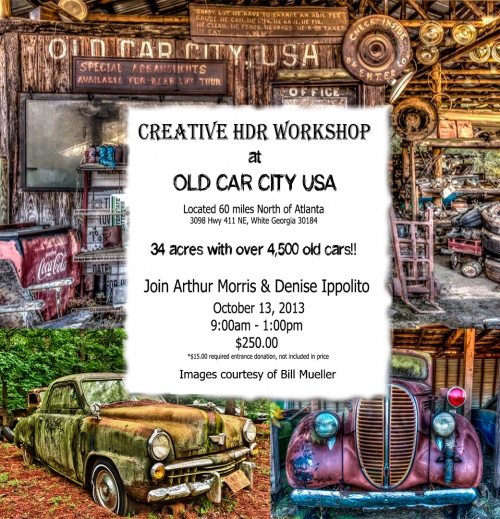 Images courtesy of and copyright 2012: Bill Mueller. Card design by Denise Ippolito.
Old Car City Creative Photography In-the-Field HDR Workshop: Sunday, October 13, 2013/ 9am till 1pm.
White, Georgia: $250 plus a $15 entrance fee donation (cash only on the day of the event) that will go to charity. Limit: 16 photographers.
On October 13, 2013, Arthur Morris/BIRDS AS ART and Denise Ippolito/A Creative Adventure will be conducting an In-the-Field HDR Workshop at Old Car City in White, Georgia. Old Car City is about an hour north of Atlanta, GA and an hour south of Chattanooga, TN where they will, as noted above, be doing a full day seminar for the Photographic Society of Chattanooga on Saturday, October 12th. Click here for complete details.
Typos
On all blog posts, feel free to e-mail or leave a comment regarding any typos, wrong words, misspellings, omissions, or grammatical errors. Just be right. 🙂
Support the BAA Blog. Support the BAA Bulletins: Shop B&H here!
We want and need to keep providing you with the latest free information, photography and Photoshop lessons, and all manner of related information. Show your appreciation by making your purchases immediately after clicking on any of our B&H or Amazon Affiliate links in this blog post. Remember, B&H ain't just photography!
If you are considering an item for purchase or comparison shopping be sure to place an item in your cart to see the too-low-to show the actual price. In many cases the prices are so low that B&H is forbidden from publicizing them!
If you are considering an item for purchase or comparison shopping be sure to place an item in your cart to see the too-low-to show the actual price. In many cases the prices are so low that B&H is forbidden from publicizing them!
Support the Blog
Amazon
Everyone buys something from Amazon, be it a big lens or deodorant. Support the blog by starting your search by typing in the little white box below. No purchase is too small to be appreciated; they all add up. Why make it a habit? Because I make it a habit of bringing you new images and information on an almost daily basis.
And from the BAA On-line Store:
LensCoats. I have a LensCoat on each of my big lenses to protect them from nicks and thus increase their re-sales value. All my big lens LensCoat stuff is in Hardwood Snow pattern.
LegCoat Tripod Leg Covers. I have four tripods active and each has a Hardwood Snow LegCoat on it to help prevent further damage to my tender shoulders 🙂 And you will love them in mega-cold weather….
Gitzo GT3532 LS CF Tripod. This one replaces the GT3530LS Tripod and will last you a lifetime. Learn more about this great tripod here.
Mongoose M3.6 Tripod Head. Right now this is the best tripod head around for use with lenses that weigh less than 9 pounds. For heavier lenses, check out the Wimberley V2 head.
Double Bubble Level. You will find one in my camera's hot shoe whenever I am not using flash.
The Lens Align Mark II. I use the Lens Align Mark II pretty much religiously to micro-adjust all of my gear an average of once a month and always before a major trip. Enjoy our free comprehensive tutorial here.
BreezeBrowser. I do not see how any digital photographer can exist without this program.
Delkin Flash Cards. I use and depend on Delkin compact Flash Cards and card readers most every day. Learn more about their great 700X and 1000X cards here or about my favorite Delkin card here.