BAA Bulletin #446
BAA Bulletin #446 is on-line and may be accessed here.
The biggest news is the announcement of the South Florida Composite IPT–join us for some or all!
There are of course lots of great images each with our legendary educational captions. Here is a list of the features.
Nickerson Baby Beach Nesting Birds IPT Report
2-Day Creative Adventure Nickerson Beach Workshop with Denise Ippolito
Announcing the 2014 South Florida Composite IPT
On The Road Again
Bucket List: the July 2015 Galapagos Photo-Cruise
The BIRDS AS ART 2nd International Bird Photography Contest
Expanding Your Creative Vision Nature Photography Seminar
Shooters Gallery Photography Group, Salem, CT Event
Photographic Society of Chattanooga Seminar
Affiliate Links
IPT Info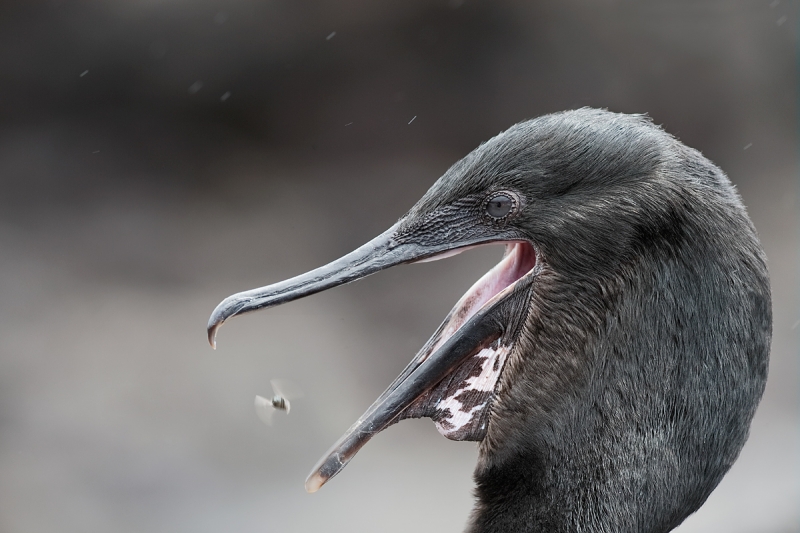 The original Flightless Cormorant image was created with the hand held Canon EF 200-400mm f/4L IS USM lens with Internal 1.4x Extender (with the internal TC in place at 519mm) and the Canon EOS-1D X. ISO 800. Evaluative metering +1/3 stop: 1/500 sec. at f/7.1.
Two sensors to the right of the central sensor/AI Servo-Surround/Rear Focus AF on the bird's face active at the moment of exposure. Click here if you missed the Rear Focus Tutorial. Click on the image to see a larger version.
With tight head portraits it is imperative to be perfectly square to the subject to avoid depth-of-field problems where the face is sharp and the bill towards the tip not.
Your browser does not support iFrame.
A Fly Oh My!
I opened the "Hand Held Photography with the Canon EF 200-400mm f/4L IS USM lens with Internal 1.4x Extender" blog post the other day, with a very nice head portrait of a yawning Flightless Cormorant. While reviewing my images from that day, I came across the image below. In a playful mood, I placed the fly from the image below on its own layer via a Quick Mask and placed it on its own layer. Then I used the Move Tool (V) to bring the fly into the image above. The tonalities of the background did not quite match so I hit Control M (Curves on a Layer) and used the up and down arrow keys to match the tonality along the border of the layer as closely as possible. Then I added a Regular Layer Mask, hit B, D, X, and refined the mask.
All of the above as detailed in Digital Basics. Digital Basics is an instructional PDF that is sent via e-mail. It includes my complete digital workflow, dozens of great Photoshop tips including Digital Eye Doctor techniques, several different ways of expanding canvas, all of my time-saving Keyboard Shortcuts, Quick Masking, Layer Masking and NIK Color Efex Pro basics, creating and using time-saving Actions, and tons more.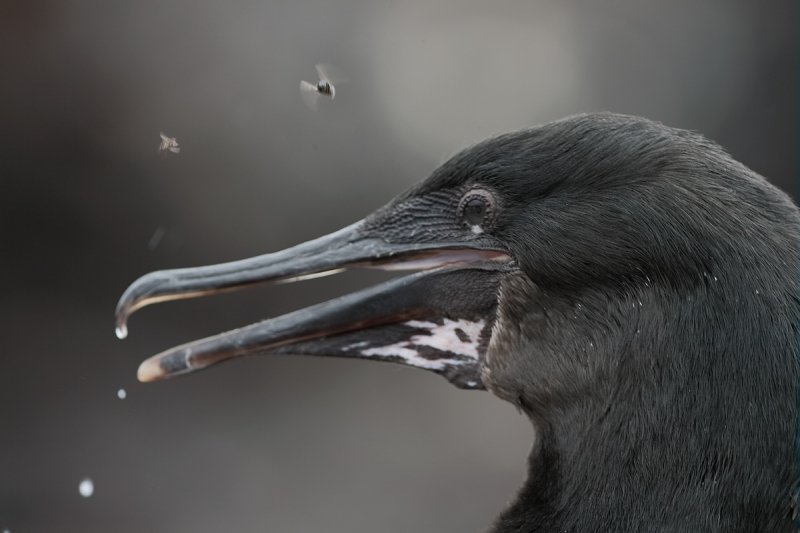 This Flightless Cormorant image was created with the same gear used to create the opening image above. As the bird jerked its head trying to catch the fly during the exposure, the image is unacceptably soft. The somewhat blurred fly at the top center of the frame caught my eye.
Whaddya Think?
Take a moment to leave a comment and let me know what you think of my creation? And of my Photoshop work. Is it wrong to do stuff like this in Photoshop? Be sure to let us know why either way.
IPT Info
There is lots of room on the Bosque IPT and on the Holland tulip trip. Complete details on the late January/early February 2013 Florida Composite IPT will be announced in the next BAA Bulletin. It will give a select few folks the opportunity to spend 10 days with Denise Ippolito and me and will give lots of others a chance to get a taste of a shorter IPT with two great leaders at an attractive price. Info For complete IPT info, please click here.
Bucket List?
If visiting the Galapagos is on your bucket list and you are a happy camper who is serious about joining us on our July 2015 trip, please shoot me an e-mail and ask to be placed on the interested list. There simply is no better Galapagos Photo Tour.
On The Road Again
Please know that I will be traveling to and from the Africa for the Tanzania Photo Safari with Todd Gustafson leaving today, August 1 and back in the office on August 21. I will have extremely limited and very slow at best internet access so please do not e-mail me until I get back. Jim will be in the office every weekday to help you with your mail order purchases and Jen will be here handling IPT registrations. The blog will continue to be active as I have prepared a dozen interesting, brand new educational posts for you in advance for you to enjoy during my absence.
Please consider using our B&H, Amazon, and Borrow Lenses affiliate links for all of your major and minor purchases both photographic and household. If we carry something in the BAA Store that you need our very great preference would be that you purchase those items from us :).
If you have a gear, image processing, or other question please e-mail me after July 19th. You can reach Jim here via e-mail. You can reach Jennifer here via e-mail. Please type "JIM" or "JEN" respectively at the front of the Subject Line.
Typos
On all blog posts, feel free to e-mail or leave a comment regarding any typos, wrong words, misspellings, omissions, or grammatical errors. Just be right. 🙂
Support the BAA Blog. Support the BAA Bulletins: Shop B&H here!
We want and need to keep providing you with the latest free information, photography and Photoshop lessons, and all manner of related information. Show your appreciation by making your purchases immediately after clicking on any of our B&H or Amazon Affiliate links in this blog post. Remember, B&H ain't just photography!
If you are considering an item for purchase or comparison shopping be sure to place an item in your cart to see the too-low-to show the actual price. In many cases the prices are so low that B&H is forbidden from publicizing them!
If you are considering an item for purchase or comparison shopping be sure to place an item in your cart to see the too-low-to show the actual price. In many cases the prices are so low that B&H is forbidden from publicizing them!
Support the Blog
Amazon
Everyone buys something from Amazon, be it a big lens or deodorant. Support the blog by starting your search by typing in the little white box below. No purchase is too small to be appreciated; they all add up. Why make it a habit? Because I make it a habit of bringing you new images and information on an almost daily basis.
And from the BAA On-line Store:
LensCoats. I have a LensCoat on each of my big lenses to protect them from nicks and thus increase their re-sales value. All my big lens LensCoat stuff is in Hardwood Snow pattern.
LegCoat Tripod Leg Covers. I have four tripods active and each has a Hardwood Snow LegCoat on it to help prevent further damage to my tender shoulders 🙂 And you will love them in mega-cold weather….
Gitzo GT3532 LS CF Tripod. This one replaces the GT3530LS Tripod and will last you a lifetime. Learn more about this great tripod here.
Mongoose M3.6 Tripod Head. Right now this is the best tripod head around for use with lenses that weigh less than 9 pounds. For heavier lenses, check out the Wimberley V2 head.
Double Bubble Level. You will find one in my camera's hot shoe whenever I am not using flash.
The Lens Align Mark II. I use the Lens Align Mark II pretty much religiously to micro-adjust all of my gear an average of once a month and always before a major trip. Enjoy our free comprehensive tutorial here.
BreezeBrowser. I do not see how any digital photographer can exist without this program.
Delkin Flash Cards. I use and depend on Delkin compact Flash Cards and card readers most every day. Learn more about their great 700X and 1000X cards here or about my favorite Delkin card here.