Day 7 Morning Dry Landing at Peurto Velasco Ebarra, Floreana: Part I
The Tortoises
All of the images in this blog post were made with the amazingly versatile Canon EF 200-400mm f/4L IS USM lens with Internal 1.4x Extender with and without the TC in place. The Tortoise Center at Puerto Velasco Ebarra, Floreana is a virtual outdoor zoo where a variety of rescued Galapagos Tortoises are kept for educational purposes in a large, natural enclosure. All of the tortoise images here are of the same captive animal and all were made while I was standing or sitting within the confines of a 6 foot diameter circle. To create the wide image above I zoomed out to 200mm and had my back against a large feed container. The distance to the subject was 5.3 meters.
Turning the Zoom Ring
Without moving my tripod—I was still exactly 5.13 meters from the tortoise–I simply turned the zoom ring counter-clockwise with my left hand to the 300mm mark. I did not of course need to look at the zoom setting; I simply turned the ring to achieve the desired framing. Throughout the trip I was continually amazed at how having the ability to zoom in or out made photography so much easier than when working with a fixed focal length lens. You will on occasion still clip a wingtip or cut off the end of a tail when you try to get a bit greedy, but the number of such occurrences will be greatly reduced. One thing is for sure: you will quickly learn to have your left hand on the zoom ring at all times.
Human Zoomin'
Human zooming, moving towards or away from the subject still works well even with an incredibly versatile zoom lens like the Canon 200-400. For the image above I took two steps towards the subject pulled out the front leg of my Gitzo 3532LS carbon fiber tripod for a lower angle of declination to the subject, turned the rig in the tripod collar to vertical, and racked the lens back out to 200mm.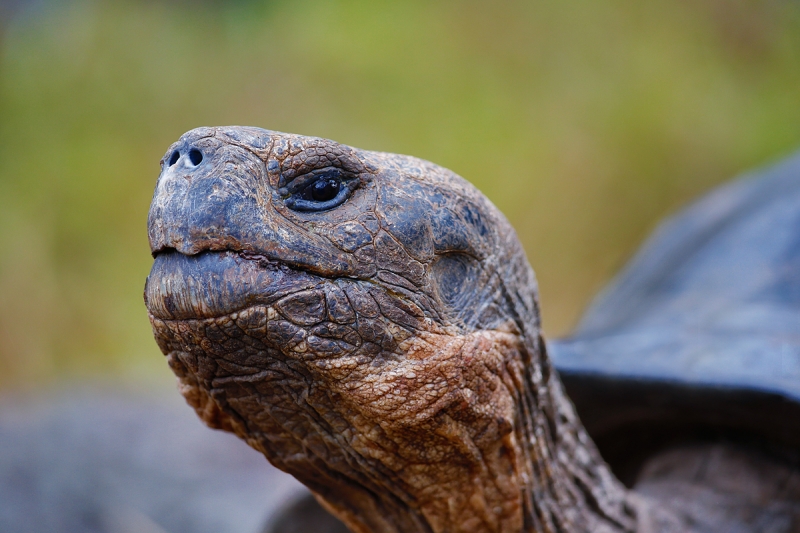 This 3-frame in-camera +/- 2 stop Art Vivid HDR image was also created with the tripod-mounted Canon EF 200-400mm f/4L IS USM Lens with Internal 1.4x Extender (this time with the internal TC in place at at 560mm) and the Canon EOS 5D Mark III. ISO 800. Evaluative metering +2/3 stop yielded a base exposure of 1/100 sec. at f/5.6.
Central sensor/AI Servo-Surround/Rear Focus on the tortoise's left eye and re-compose. Click here if you missed the Rear Focus Tutorial. Click on the image to see a larger version.
Your browser does not support iFrame.
The Amazing Versatility of the Canon EF 200-400mm f/4L IS USM lens with Internal 1.4x Extender
Once the tortoise raised its head I knew that I wanted to try for some tight head portraits so I took the time to lower my tripod and sit behind it. I pushed down the lever to engage the internal 1.4X TC, zoomed to the 400mm mark, and went to work. Take a moment to look at and consider the amazingly versatile framing options available with the new 200-400 with the built in TC.
In the next blog post I will share some images of other subjects made on our morning landing at Puerto Velasco Ebarra on Floreana Island.
Welcome to Borrow Lenses.com/The Newest BIRDS AS ART Affiliate Sponsor
Renting a lens for a big trip or to learn if the lens if right for you has always been a great plan. On IPTs we have been renting big lenses for probably two decades. But our choices have been and are extremely limited and we never have any Nikon lenses to rent. Borrow Lenses, US-based in San Carlos, CA, is a first class outfit that carries a huge selection of the latest greatest camera, video, audio, lighting, computer, and photography gear. All can be rented for a reasonable fee and delivered to your location with or without insurance.
Please consider supporting our efforts here and with our free BAA Bulletins by renting from Borrow Lenses when the need arises. Click on the banner below to open a whole new world.
On The Road Again
Please know that I will be traveling to and from the Africa for the Tanzania Photo Safari with Todd Gustafson leaving today, August 1 and back in the office on August 21. I will have extremely limited and very slow at best internet access so please do not e-mail me until I get back. Jim will be in the office every weekday to help you with your mail order purchases and Jen will be here handling IPT registrations. The blog will continue to be active as I have prepared a dozen interesting, brand new educational posts for you in advance for you to enjoy during my absence.
Please consider using our B&H, Amazon, and Borrow Lenses affiliate links for all of your major and minor purchases both photographic and household. If we carry something in the BAA Store that you need our very great preference would be that you purchase those items from us :).
If you have a gear, image processing, or other question please e-mail me after July 19th. You can reach Jim here via e-mail. You can reach Jennifer here via e-mail. Please type "JIM" or "JEN" respectively at the front of the Subject Line.
Bucket List?
If visiting the Galapagos is on your bucket list and you are a happy camper who is serious about joining us on our July 2015 trip, please shoot me an e-mail and ask to be placed on the interested list. There simply is no better Galapagos Photo Tour.
Typos
On all blog posts, feel free to e-mail or leave a comment regarding any typos, wrong words, misspellings, omissions, or grammatical errors. Just be right. 🙂
Support the BAA Blog. Support the BAA Bulletins: Shop B&H here!
We want and need to keep providing you with the latest free information, photography and Photoshop lessons, and all manner of related information. Show your appreciation by making your purchases immediately after clicking on any of our B&H or Amazon Affiliate links in this blog post. Remember, B&H ain't just photography!
If you are considering an item for purchase or comparison shopping be sure to place an item in your cart to see the too-low-to show the actual price. In many cases the prices are so low that B&H is forbidden from publicizing them!
If you are considering an item for purchase or comparison shopping be sure to place an item in your cart to see the too-low-to show the actual price. In many cases the prices are so low that B&H is forbidden from publicizing them!
Support the Blog
Amazon
Everyone buys something from Amazon, be it a big lens or deodorant. Support the blog by starting your search by starting your search by clicking on the logo-link below. No purchase is too small to be appreciated; they all add up. Why make it a habit? Because I make it a habit of bringing you new images and information on an almost daily basis.
And from the BAA On-line Store:
LensCoats. I have a LensCoat on each of my big lenses to protect them from nicks and thus increase their re-sales value. All my big lens LensCoat stuff is in Hardwood Snow pattern.
LegCoat Tripod Leg Covers. I have four tripods active and each has a Hardwood Snow LegCoat on it to help prevent further damage to my tender shoulders 🙂 And you will love them in mega-cold weather….
Gitzo GT3532 LS CF Tripod. This one replaces the GT3530LS Tripod and will last you a lifetime. Learn more about this great tripod here.
Mongoose M3.6 Tripod Head. Right now this is the best tripod head around for use with lenses that weigh less than 9 pounds. For heavier lenses, check out the Wimberley V2 head.
Double Bubble Level. You will find one in my camera's hot shoe whenever I am not using flash.
The Lens Align Mark II. I use the Lens Align Mark II pretty much religiously to micro-adjust all of my gear an average of once a month and always before a major trip. Enjoy our free comprehensive tutorial here.
BreezeBrowser. I do not see how any digital photographer can exist without this program.
Delkin Flash Cards. I use and depend on Delkin compact Flash Cards and card readers most every day. Learn more about their great 700X and 1000X cards here or about my favorite Delkin card here.