The Great African Bedspread Mystery
It was our next to last day at the wonderful Seronera Serengeti Lodge where we had been consistently killing the Leopards (at least in a figurative photographic sense). I walked into my room, put some of my gear down here and there, and was puzzled when I noted that the bedspread on my bed was missing…. And then I noticed some black marks on the exposed top sheet. We had driven through some burned areas but I had no idea how any of the ash had gotten on my gear, nor did I remember putting anything down on the end of the bed. So I became even more puzzled.
Next I went to the open suitcase on the other bed to grab a handful of cashews from my stash. One intact bag remained but the open bag of nuts that had been in the plastic supermarket bag was gone. Then I looked down and saw that the opened, yellow, 500 gram bag that the cashew nuts had come in was on the floor. Torn and empty. With a few cashew crumbs scattered about. "Man, I thought, that is not like the wonderful room attendants at any of the places we have visited. Who would think that one of them would stoop to stealing a guest's cashew nuts?"
I walked back to my bed and took a closer look at the black discolorations on the sheet. Could they be small footprints? Just then a breeze ruffled the curtains. I glanced to my left and remembered that I had hung some laundry on the balcony railing but had forgotten to close and lock the door. Mystery solved. The Olive Baboons had raided my room. (It is doubtful that the much smaller Vervet Monkeys could have carried off the bedspread.)
When we check out the next day, I confessed to the desk clerk. Her smile indicated that I was not the first to be victimized. When we returned to Seronera a week later for a single night on our way to Ngorongoro Crater I was delighted to learn that a search of the area behind my room had turned up the missing bedspread none-the-worse-for-wear.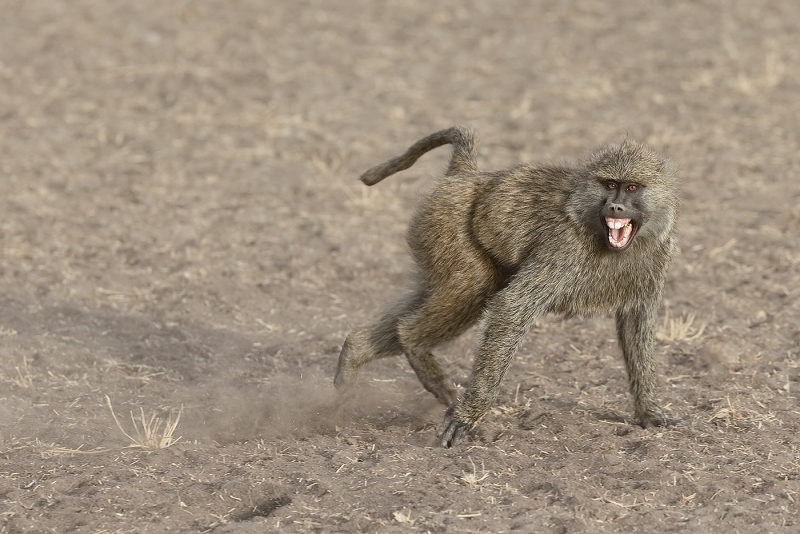 This screaming Olive Baboon image was created with the hand held Canon EF 200-400mm f/4L IS USM lens with Internal 1.4x Extender (at 311mm) and the and the Canon EOS-1D X. ISO 800. Evaluative metering +1/3 stop: 1/640 sec. at f/5.6.
One sensor to the right of the central sensor/AI Servo-Surround/Rear Focus AF on the near haunches of the baboon active at the moment of exposure. Click here if you missed the Rear Focus Tutorial. Click on the image to see a larger version.
As you might imagine I was glad that I was not in the room when the baboons visited.
Your browser does not support iFrame.
Image and 200-400 Comments
This guy was flying as he was involved in a running battle with another baboon. Working low from the open window in my row on the right side of the safari van I struggled to keep the AF sensor on the subject. I was lucky that the near haunches were on the same plane as the baboons eyes. I should have changed the aperture to f/4. Why? How do you think that I wound up at f/5.6 (instead of at f/4)?
As regular readers know the 200-400 is an amazingly versatile lens that is ideal for photographing wildlife in action. I will be working on a Focus On Feature for the Canon Digital Learning Center this weekend. I will of course provide a link here once this illustrated piece is published.
The Canon Digital Learning Center (CDLC) and the CDLC Blog
Like the BAA Blog, both the Canon Digital Learning Center website and the CDLC blog provide a wealth of free information for serious photographers looking to improve their skills and their understanding of their gear. The latter of course can only lead to better images. You can access the Canon Digital Learning Center website here. There are always lots of links to great features on the home page. At present these include Technical Advisor Rudy Winston's "Quick Tips: Photographing Fireworks," "The Basics of Time Lapse Photography" a Vincent Laforet video, "Rhythm of Life" with the Cinema EOS C500 and Cinema Lenses, a video feature with cinematographer Steven Poster, links to various Live Learning events, and lots more.
You can access the CDLC Blog here. Current features include Rudy Winston's "Which lens do I need? Calculating lens and image sizes: Parts I & II", his "A trip down memory lane with the EOS 7D and EOS 70D" that features some of his excellent photography, and "Adding a Magnification Button location on the EOS-1D C and 5D Mark III with Custom Controls" by Brent Ramsey. By following one of the links in Rudy's 7D retrospective I found a great piece: "Behind the scenes of "Handmade" with the EOS 70D in which cinematographer Nobuyuki Yanagibashi talks about how he utilized the EOS 70D's autofocus features to create his film Handmade."
The best news of all: I will be doing a guest blog post soon. The topic? What lenses to I bring on big international nature and wildlife trips? I will of course provide the link here when this illustrated article is published.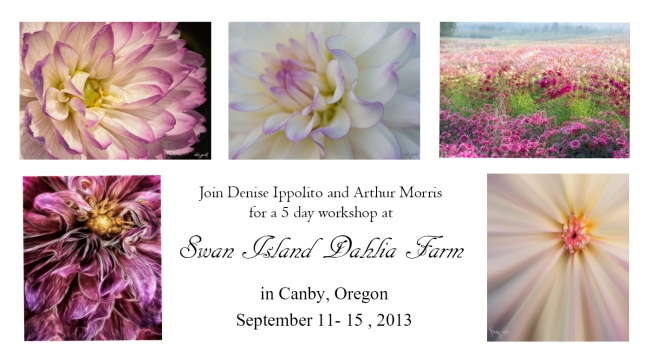 All images courtesy of and copyright 2012: Denise Ippolito. Click for a larger version.
Just one slot left!
A Creative Adventure/BIRDS AS ART Swan Island Dahlia Farm Instructional Photo-Tour, September 11-15, 2013: 5 FULL DAYS: $1649. Limit 16, Openings: 1.
Join Denise Ippolito and Arthur Morris at the Swan Island Dahlia Farm in Canby Oregon (just south of Portland) for a great learning and photography experience. Swan Island features more than 40 acres with over 350 varieties of dahlias in a plethora of colors, shapes and sizes, making it one of the largest growers in the United States.
Daily Photo Schedule
We will enjoy four morning (7:00am till 10:30am) and five afternoon (3:30pm till 6pm) photography sessions. While we will do most of our photography at the Swan Island Dahlia Farm, we will also visit the Portland Rose Garden and/or the Portland Japanese Garden on this IPT. The in-the-field instruction will include seeing the situation, the use of selective focus, creative use of depth of field, histogram and exposure guidance, designing creative images, choosing your background, isolating your subject, lens options, and the use of reflectors and diffusers. Our field sessions will include challenging photography assignments geared to make you think creatively. Both personalized and small group instruction will be provided. All times are tentative and subject to change based on the weather and on local conditions.
Seminar Morning: Friday, September 13: 8:30am till 12:30pm
Denise will begin by presenting her "Bloomin' Ideas" program, an overview of the in-the-field and post-processing techniques that she has used and developed over the past few years to create her signature look. Artie will follow with a Photoshop session that will be geared towards all levels. He'll be sharing some of his favorite techniques and tips while working on images from the first two days of the IPT. Denise will conclude the seminar portion of the IPT with a Photoshop demo; she will share her creative workflow using a variety of Photoshop filters and effects. The entire morning is designed to give you a peek into the minds of two very skilled and creative folks.
The group will have lunch together daily. All are invited to bring their laptops for image sharing. We hope that you can join us for an intense five days of learning and some of the best flower photography to be had in North America.
Deposit Info and Cancellation Policies:
A $449 non-refundable deposit is required to hold your slot for this IPT. Your balance is due 4 months before the date of the IPT and is also non-refundable. If the trip fills, we will be glad to apply a credit applicable to a future IPT for the full amount less a $100 processing fee. If we do not receive your check for the balance on or before the due date we will try to fill your spot from the waiting list. If your spot is filled, you will lose your deposit. If not, you can secure your spot by paying your balance.
Please print, complete, and sign the form that is linked to here and shoot it to us along with your deposit check (made out to "Arthur Morris.") You can also leave your deposit with a credit card by calling the office at 863-692-0906. We will be short-handed in the office until January 21 so please leave a message and we will call you back. If you register by phone, please print, complete and sign the form as noted above and either mail it to us or e-mail the scan.
If you have any questions, please feel free to contact me via e-mail
Typos
On all blog posts, feel free to e-mail or leave a comment regarding any typos, wrong words, misspellings, omissions, or grammatical errors. Just be right. 🙂
Support the BAA Blog. Support the BAA Bulletins: Shop B&H here!
We want and need to keep providing you with the latest free information, photography and Photoshop lessons, and all manner of related information. Show your appreciation by making your purchases immediately after clicking on any of our B&H or Amazon Affiliate links in this blog post. Remember, B&H ain't just photography!
If you are considering an item for purchase or comparison shopping be sure to place an item in your cart to see the too-low-to show the actual price. In many cases the prices are so low that B&H is forbidden from publicizing them!
If you are considering an item for purchase or comparison shopping be sure to place an item in your cart to see the too-low-to show the actual price. In many cases the prices are so low that B&H is forbidden from publicizing them!
Support the Blog
Amazon
Everyone buys something from Amazon, be it a big lens or deodorant. Support the blog by starting your search by starting your search by clicking on the logo-link below. No purchase is too small to be appreciated; they all add up. Why make it a habit? Because I make it a habit of bringing you new images and information on an almost daily basis.
And from the BAA On-line Store:
LensCoats. I have a LensCoat on each of my big lenses to protect them from nicks and thus increase their re-sales value. All my big lens LensCoat stuff is in Hardwood Snow pattern.
LegCoat Tripod Leg Covers. I have four tripods active and each has a Hardwood Snow LegCoat on it to help prevent further damage to my tender shoulders 🙂 And you will love them in mega-cold weather….
Gitzo GT3532 LS CF Tripod. This one replaces the GT3530LS Tripod and will last you a lifetime. Learn more about this great tripod here.
Mongoose M3.6 Tripod Head. Right now this is the best tripod head around for use with lenses that weigh less than 9 pounds. For heavier lenses, check out the Wimberley V2 head.
Double Bubble Level. You will find one in my camera's hot shoe whenever I am not using flash.
The Lens Align Mark II. I use the Lens Align Mark II pretty much religiously to micro-adjust all of my gear an average of once a month and always before a major trip. Enjoy our free comprehensive tutorial here.
BreezeBrowser. I do not see how any digital photographer can exist without this program.
Delkin Flash Cards. I use and depend on Delkin compact Flash Cards and card readers most every day. Learn more about their great 700X and 1000X cards here or about my favorite Delkin card here.