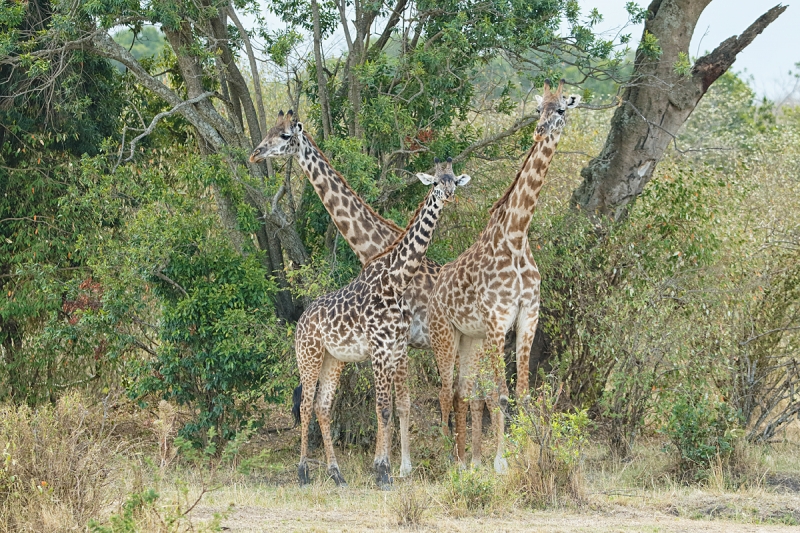 This image of a three Maasai Giraffes was created with BLUBB-supported Canon EOS-1D X and the Canon EF 200-400mm f/4L IS USM lens with Internal 1.4x Extender (with the internal extender in place at 307mm). ISO 400. Evaluative metering +1/3 stop: 1/80 sec. at f/7.1.
Central sensor/AI Servo-Surround/Rear Focus AF on the face of the center giraffe and re-compose. Click here if you missed the Rear Focus Tutorial. Click on the image to see a larger version.
Your browser does not support iFrame.
2-4 Giraffes
The Maasai Giraffes were one of my very favorite summer safari subjects. They are tall, elegant, and beautiful. With everyone hot for the big cats they are often overlooked. With their large size the 200-400 with or without the TC in place was my most-used lens. We found this group, actually there were five in all, just two minutes after leaving our mobile tented camp near the Mara River in the Serengeti.
If you look carefully at the shooting data, you might ask, as folks often do, "Why did you have the TC in place if you were working at only 307mm, well within the range of the 200-400 alone?" The answer in most cases is that I want to be able to zoom in instantly should the need arise. Here, that was really not a factor but with such a beautiful arrangement of animals I did not want to miss my chance. The truth is that I probably did not realize that I was working so wide :). In any case, the optics of the new internal TC are so, so good that the sharpness of the resulting images is never an issue.
Anyway, 3 giraffes is between 2 and 4 giraffes….
Tanzania Summer Safari 2014
Having been to Africa 7 times in all I must say that the recently concluded summer safari was my favorite ever. As you will see in the coming blog posts and Bulletins the entire two weeks consisted of one miracle after another. If you are seriously interested in joining us, do shoot me an e-mail. Todd, Denise Ippolito, and I will be co-leading. It will run in roughly the same time frame, beginning in early August and ending in mid-August. Dates TBA.
Announcing the Mini-Flower Photography Seminar, Friday, September 13: 8:30am till 12:30pm, Canby Oregon
As part of the Swan Island Dahlia Farm Instructional Photo-Tour, September 11-15, 2013 (1 slot left; see here for details), denise and I will be presenting a 1/2-Day Mini-Flower Photography Seminar. Folks wishing to register for the mini seminar only may do so for only $49.
Denise will begin by presenting her "Bloomin' Ideas" program, an overview of the in-the-field and post-processing techniques that she has used and developed over the past few years to create her signature look. Artie will follow with a Photoshop session that will be geared towards all levels. He'll be sharing some of his favorite techniques and tips while working on images from the first two days of the IPT. Denise will conclude the morning seminar with a Photoshop demo; she will share her creative workflow using a variety of Photoshop filters and effects. The entire morning is designed to give you a peek into the minds of two very skilled and creative folks.
To register for the Mini-Flower Photography Seminar call Jim between Monday and Thursday or on Friday morning at 863-692-0906 with your credit card in hand.
Full Day Creative Nature Photography Seminar, Chattanooga, TN, October 12, 2013
Join Denise Ippolito and me on Saturday, October 12, 2013 in Chattanooga, TN for a great day of fun and learning. Learn to improve your photography skills, your skill at designing images in the field, and your creative vision. Click here and scroll down to register and here to learn more about the presenters.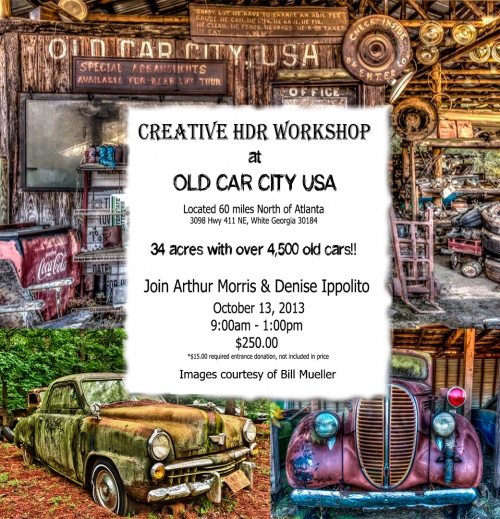 Images courtesy of and copyright 2012: Bill Mueller. Card design by Denise Ippolito.
Old Car City Creative Photography In-the-Field HDR Workshop: Sunday, October 13, 2013/ 9am till 1pm. White, Georgia: $250 plus a $15 entrance fee donation (cash only on the day of the event) that will go to charity. Limit: 16/Opening 8.
On October 13, 2013, Arthur Morris/BIRDS AS ART and Denise Ippolito/A Creative Adventure will be conducting an In-the-Field HDR Workshop at Old Car City in White, Georgia. Old Car City is about an hour north of Atlanta, GA and an hour south of Chattanooga, TN where they will, as noted above, be doing a full day seminar for the Photographic Society of Chattanooga on Saturday, October 12th.
They are both very excited about photographing at this new location which boasts 4,500 old cars on 34 acres mostly along wooded trails. The property is usually closed on Sundays but the owner is graciously allowing two small groups private access that day; we are thrilled to be one of them!
Bring your tripod and a variety of lenses from fish eye through 70-200mm at least. Folks who assemble their HDR images on their computers will learn the steps needed to create the very best originals. Folks using Canon or Nikon cameras that create in-camera HDRs will receive guidance as to exactly how best to do that. Folks with the Canon 5D Mark III will learn our favorite in-camera HDR settings. All will receive in-the-field guidance on seeing the situation, choosing the best perspective, image design and composition, setting up their gear, and getting the right exposure. Bring your old jeans and dirty sneakers and prepare to roll up your sleeves!
To register, call BIRDS AS ART at 863-692-0906, or, send a personal check for $250 made out to "Arthur Morris" to Arthur Morris/BIRDS AS ART, PO Box 7245, Indian Lake Estates, FL, or, send a Paypal to us at birdsasart@att.net. In the latter two cases be sure to note that your payment is for the Old Car City In-the-Field Workshop and be sure to include your name, e-mail address, and phone number. We hope that you can join us.
Pullman Yards
Folks who sign up for the Chattanooga seminar and the Old Car City workshop will be invited to join us for a free session at a semi-secret location in Atlanta, Georgia for a morning of UrbEx photography.
Click here to learn more about UrbEx photography.
Typos
On all blog posts, feel free to e-mail or leave a comment regarding any typos, wrong words, misspellings, omissions, or grammatical errors. Just be right. 🙂
Support the BAA Blog. Support the BAA Bulletins: Shop B&H here!
We want and need to keep providing you with the latest free information, photography and Photoshop lessons, and all manner of related information. Show your appreciation by making your purchases immediately after clicking on any of our B&H or Amazon Affiliate links in this blog post. Remember, B&H ain't just photography!
If you are considering an item for purchase or comparison shopping be sure to place an item in your cart to see the too-low-to show the actual price. In many cases the prices are so low that B&H is forbidden from publicizing them!
If you are considering an item for purchase or comparison shopping be sure to place an item in your cart to see the too-low-to show the actual price. In many cases the prices are so low that B&H is forbidden from publicizing them!
Support the Blog
Amazon
Everyone buys something from Amazon, be it a big lens or deodorant. Support the blog by starting your search by starting your search by clicking on the logo-link below. No purchase is too small to be appreciated; they all add up. Why make it a habit? Because I make it a habit of bringing you new images and information on an almost daily basis.
And from the BAA On-line Store:
LensCoats. I have a LensCoat on each of my big lenses to protect them from nicks and thus increase their re-sales value. All my big lens LensCoat stuff is in Hardwood Snow pattern.
LegCoat Tripod Leg Covers. I have four tripods active and each has a Hardwood Snow LegCoat on it to help prevent further damage to my tender shoulders 🙂 And you will love them in mega-cold weather….
Gitzo GT3532 LS CF Tripod. This one replaces the GT3530LS Tripod and will last you a lifetime. Learn more about this great tripod here.
Mongoose M3.6 Tripod Head. Right now this is the best tripod head around for use with lenses that weigh less than 9 pounds. For heavier lenses, check out the Wimberley V2 head.
Double Bubble Level. You will find one in my camera's hot shoe whenever I am not using flash.
The Lens Align Mark II. I use the Lens Align Mark II pretty much religiously to micro-adjust all of my gear an average of once a month and always before a major trip. Enjoy our free comprehensive tutorial here.
BreezeBrowser. I do not see how any digital photographer can exist without this program.
Delkin Flash Cards. I use and depend on Delkin compact Flash Cards and card readers most every day. Learn more about their great 700X and 1000X cards here or about my favorite Delkin card here.