The Shorter of It
The plains of the Serengeti that surrounded our mobile tented camp near the Mara River in Tanzania were beautiful. I used the 200-400 often to create subject-small-in-the-frame environmental images that featured lots of habitat.
After seeing that I had two TCs in place but was working only at 448mm many would ask, "Why the two TCs? You should have removed one for a slightly sharped image." Though they have a point with their question, the answer should be obvious: I might have needed the additional reach. Had I taken the time to remove the external TC, I might have missed the image had the large antelope decided to leave the scene. A better option would have been to have simply moved the lever to dis-engage the internal TC but in the heat of the moment I did not consider that. The 2-4 even with two TCs is incredibly sharp.
See the image optimization by giving the animated GIF below a few seconds to play.
The Long of It
As long as I am physically able, I will travel with the 600 II whenever I need it. On the Tanzania Summer Safari, I needed it often. Though many would be fine making such a trip with the 200-400, the maximum reach of that lens with an external TC added is only 784mm. The 600 and the 2X gives you 1200mm and with the size of the subject in the frame a function of the square of the focal length. For me, it is hard to imagine being without the great reach of the 600II/2X III TC combo. That said, there are lots of folks who either cannot make sharp images with an f/4 super-telephoto lens or believe that doing so is not possible. I am not in either group :).
Your Fave?
Take a moment to leave a comment and let us know which of the two images you like best. And be sure to let us know why. We are aware that a very few folks are having trouble posting comments; we are working on a solution. Thanks for your patience.
The Image Optimization
After converting each of the images in today's post in DPP (see the DPP RAW Conversion Guide here) the color work proved challenging. I used a number of selectively applied Hue/Saturation and Selective Color adjustments. I may have overdone the red tones just a bit. For the wide image clean-up was with the Patch Tool and the Spot Healing Brush. The image rotation, cropping, NIK, and color work were all performed as detailed in our Digital Basics File.
Digital Basics is an instructional PDF that is sent via e-mail. It includes my complete digital workflow, dozens of great Photoshop tips including Digital Eye Doctor techniques, several different ways of expanding canvas, all of my time-saving Keyboard Shortcuts, Quick Masking, Layer Masking and NIK Color Efex Pro basics, creating and using time-saving Actions, and tons more.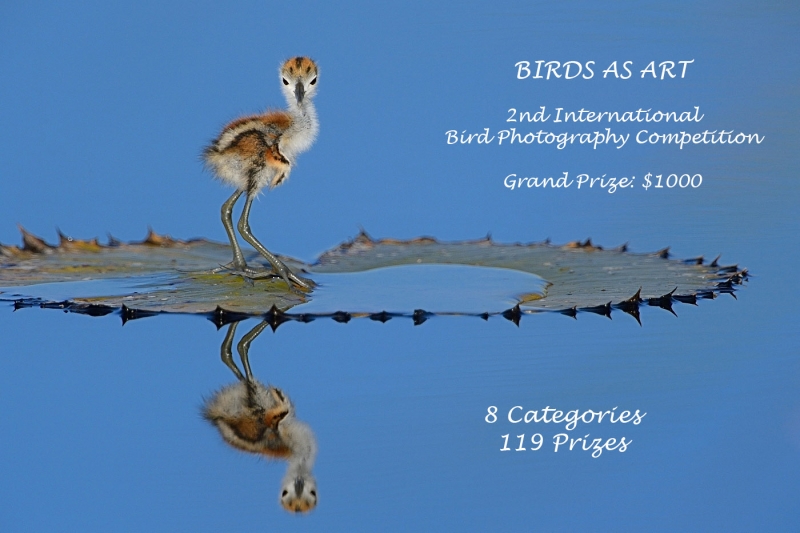 This is Lou Coetzer's winning image from the 1st competition.
BIRDS AS ART 2nd International Bird Photography Competition
Thanks to yeoman work by the BAA competition team, Peter Kes, Denise Ippolito, and yours truly, the BIRDS AS ART 2nd International Bird Photography Competition is now open. We are ready to see your best images. And we are truly excited. This year's streamlined contest has 8 categories and offers 119 prizes including the $1,000 first prize: a check for $500 from BIRDS AS ART and a $500 gift certificate from major contest sponsor B&H. The 25 winning and honored images will share the 119 item prize pool.
Click here to visit the competition page.
Click here to see all the winning images from last year's competition.
Select an item from the 1st-IBPC (International Bird Photography Competition) drop-down menu on the yellow bar on the top of each blog page to view the images in the various categories from last year's competition that were sent to the judges. "1st-IBPC" is item two on the yellow bar shown above. Note that you can access all contest categories from the drop-down menu for the 3rd item, "2nd Competition."
Click here to read the rules that include the most liberal digital guidelines of any major contest.
Click here for payment options.
Click here to learn about our panel of prestitgious judges.
Click here to check out the prize pool.
Click here and scroll down to read the Organizer's Message.
Good luck!
Categories
1-Bird Portraits (whole bird or tight including body parts)
2-Flight
3-Small in the frame/Environmental
4-Pleasing Blurs
5-Action & Behavior
6-Hand of Man (the composition may include man-made elements) & Captive (including zoos and rehab birds)
7-Digital Creations (anything goes including the use of filters and effects)
8-Youth (high School or younger)
Typos
On all blog posts, feel free to e-mail or leave a comment regarding any typos, wrong words, misspellings, omissions, or grammatical errors. Just be right. 🙂
Support the BAA Blog. Support the BAA Bulletins: Shop B&H here!
We want and need to keep providing you with the latest free information, photography and Photoshop lessons, and all manner of related information. Show your appreciation by making your purchases immediately after clicking on any of our B&H or Amazon Affiliate links in this blog post. Remember, B&H ain't just photography!
If you are considering an item for purchase or comparison shopping be sure to place an item in your cart to see the too-low-to show the actual price. In many cases the prices are so low that B&H is forbidden from publicizing them!
If you are considering an item for purchase or comparison shopping be sure to place an item in your cart to see the too-low-to show the actual price. In many cases the prices are so low that B&H is forbidden from publicizing them!
Support the Blog
Amazon
Everyone buys something from Amazon, be it a big lens or deodorant. Support the blog by starting your search by starting your search by clicking on the logo-link below. No purchase is too small to be appreciated; they all add up. Why make it a habit? Because I make it a habit of bringing you new images and information on an almost daily basis.
And from the BAA On-line Store:
LensCoats. I have a LensCoat on each of my big lenses to protect them from nicks and thus increase their re-sales value. All my big lens LensCoat stuff is in Hardwood Snow pattern.
LegCoat Tripod Leg Covers. I have four tripods active and each has a Hardwood Snow LegCoat on it to help prevent further damage to my tender shoulders 🙂 And you will love them in mega-cold weather….
Gitzo GT3532 LS CF Tripod. This one replaces the GT3530LS Tripod and will last you a lifetime. Learn more about this great tripod here.
Mongoose M3.6 Tripod Head. Right now this is the best tripod head around for use with lenses that weigh less than 9 pounds. For heavier lenses, check out the Wimberley V2 head.
Double Bubble Level. You will find one in my camera's hot shoe whenever I am not using flash.
The Lens Align Mark II. I use the Lens Align Mark II pretty much religiously to micro-adjust all of my gear an average of once a month and always before a major trip. Enjoy our free comprehensive tutorial here.
BreezeBrowser. I do not see how any digital photographer can exist without this program.
Delkin Flash Cards. I use and depend on Delkin compact Flash Cards and card readers most every day. Learn more about their great 700X and 1000X cards here or about my favorite Delkin card here.