What's Up?
We spent so much time repairing the ruts in the South Field that I only took nine images on Wednesday morning. Three of them were keepers.
We drove over to Gulfport on Wednesday afternoon — 20 September 2020. We will be photographing at Fort DeSoto for the next four days. Though we will miss the cranes and the vultures, it will be great to see the different birds at the beach.
Please Remember
If you enjoy and learn from the blog, please remember to use one of my two affiliate programs when purchasing new gear. Doing so will not cost you a single penny and if you use Bedfords and remember to enter the BIRDSASART code at checkout, you will save at least $50.00 on all orders greater than $1000.00. In these crazy times — I am out at least forty to sixty thousand dollars so far due to COVID 19 (with lots more to come) — remembering to use my B&H link or to shop at Bedfords will help me out a ton and will be greatly appreciated. Overseas folks who cannot order from the US because of import fees, duties, and taxes can always help out by clicking here if they see fit.
BIRDS AS ART
BIRDS AS ART is registered in the U.S. Patent and Trademark Office.
The BAA Used Gear Page
Right now, the Used Gear page is red hot! It is BAA Used Gear Page is the place to sell your used photographic equipment. We will help you to get your gear sold quickly for 20 to 60% or more than what the big guys are offering … Doubt me? Check out the Past Sales list at the bottom of the page.
SONY e-Guide Discount Program
Purchase a (new) qualifying SONY camera body (a7r iii, a7r iv, a9, a9 ii) from Bedfords or using a BIRDS AS ART B&H affiliate link, and you will receive a $40 discount on the SONY e-guide. Purchase a (new) SONY 200-600mm G lens from Bedfords or using a BIRDS AS ART B&H affiliate link, and you will receive a $25 discount on the SONY e-guide. Purchase a (new) SONY 600mm f/4 GM lens from Bedfords or using a BIRDS AS ART B&H affiliate link, and you will receive a free SONY e-guide with one or two videos.
Please send your Bedford's or B&H receipts to me via e-mail to receive your discount and your ordering instructions. Folks purchasing from Bedfords and using the BIRDSASART code will save $50. Folks sending their B&H receipts may need to wait a few days to have their purchases confirmed. Folks using Bedfords will have their purchases confirmed immediately.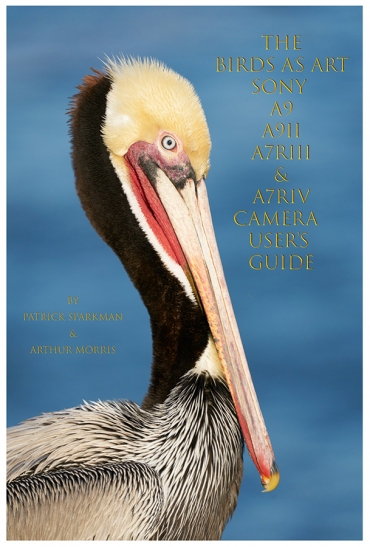 114 sold to rave reviews.
The SONY e-Guide by Patrick Sparkman and Arthur Morris
The Sony Camera User's e-Guide (and Videos)
Click here to purchase the guide with one Camera Set-up Video. Be sure to e-mail us by clicking here to specify your camera body so that we can send you a link for the correct video.
Click here to purchase the guide with two Camera Set-up Videos. Be sure to e-mail us by clicking here to specify your two camera bodies so that we can send you links for the correct videos.
Click here to learn more about the SONY e-Guide.

Money Saving Reminder
If you need a hot photo item that is out of stock at B&H, would enjoy free overnight shipping, and would like a $50 discount on your first purchase of more than $1000.00, click here to order and enter the coupon code BIRDSASART at checkout. If you are looking to strike a deal on Canon or Nikon gear (including the big telephotos) or on a multiple item order, contact Steve Elkins via e-mail or on his cell at (479) 381-2592 (Eastern time) and be sure to mention your BIRDSASART coupon code and use it for your online order. Steve has been great at getting folks the hot items that are out of stock at B&H. Those include the SONY a7r IV, the SONY 200-600, the SONY 600mm f/4 GM, and the Nikon 500mm PF. Steve is eager to please.
Gear Questions and Advice
Too many folks attending BAA IPTs and dozens of photographers whom I see in the field and on BPN, are–out of ignorance–using the wrong gear especially when it comes to tripods and more especially, tripod heads… Please know that I am always glad to answer your gear questions via e-mail. Those questions might deal with systems, camera bodies, accessories, and/or lens choices and decisions.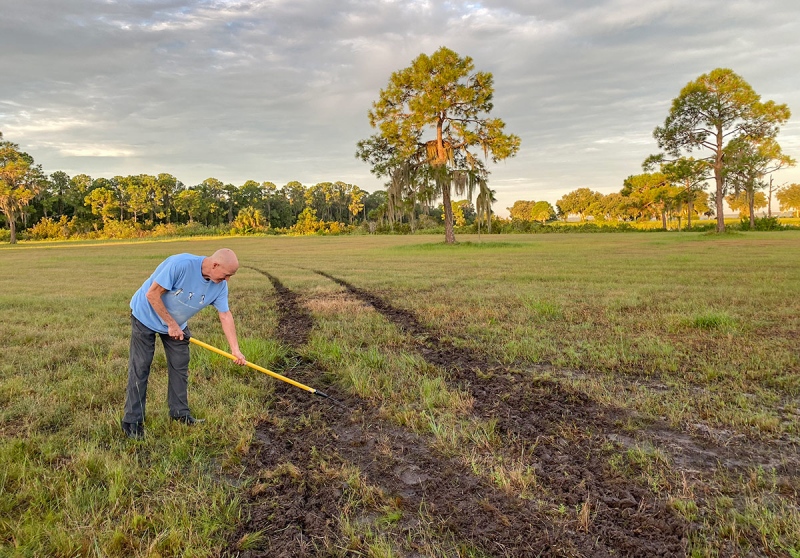 I-Phone 11 photo by Anita North
Note the big Osprey nest in the pine tree. Click on the image to see a larger version.
Farmer Morris at work
Repairing the Ruts
A Conversation from the Comments Section on Tuesday's Blog Post
Bob. September 16, 2020 at 10:04 am
Dear Artie,
We have all been in a spot like that and can only laugh at it once we look back. My question for you is, "are you responsible to fix the rut damage you left in the mud? I cannot wait to see your blog on the best photograph ever! I would guess 45 pounds on the tarpon.
With love from Wisconsin, Bob
Arthur Morris/BIRDS AS ART. September 16, 2020 at 10:15 am
Hi Bob,
That is a fair question. Anita and I spent an hour on Wednesday morning repairing the ruts by flattening the sides with a rake and then smoothing things out. I was very happy with what we did, but she is a perfectionist so went back down for two additional hours after dropping me off at home to pack for DeSoto. In a few weeks, nobody will be aware of the ruts.
That said, the big mowing machines often do far more damage than I did (both, of course, unfortunate). And the same is true of other private vehicles. We are the first to repair the results of poor thinking.
with love, a
ps: so there is no real responsibility involved other than to our own morals.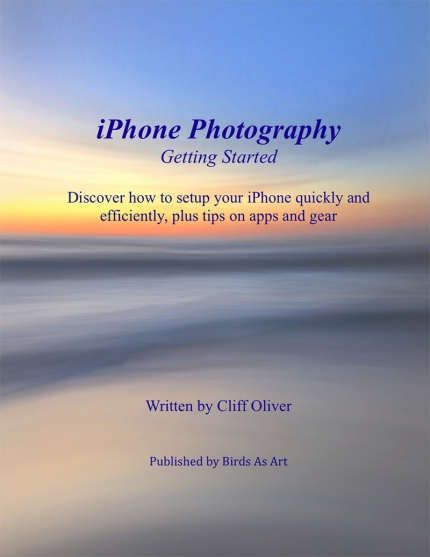 The iPhone Photography e-Guide

To order your copy of the iPhone Photography e-Guide, please click here.
The PDF is sent link by e-mail for downloading: the file is relatively huge at 216 MB.
Hard to Believe
Yes, Cliff has a great eye and wonderfully creative vision. Yet it is still hard for me to believe that he can make so many great images with "just" an i-phone. Almost more amazingly Cliff captures with his iPhone and does all of his post-processing on the phone! In this great new e-Guide written for BIRDS AS ART you will learn to use set up you iPhone quickly and efficiently and how to use it. In addition, there are dozens and dozens of tips on Cliff's favorite apps and his favorite gear. Scroll down to the bottom to see the Table of Contents.
The iPhone Photography e-Guide: $20.00.
To order your copy of the iPhone Photography e-Guide please click here.
Dr. Cliff Oliver
Dr. Cliff Oliver is an award-winning photographer, former photography instructor for the San Diego Natural History Museum, cutting-edge integrative health care professional, and international workshop leader. He created and taught the first 5-day immersion iPhone photography workshop at Hollyhock, Canada's premier Leadership Learning Center. He teaches quarterly iPhone photography classes at the Athenaeum Music & Arts Library School of the Arts (these include Art on the iPhone, iPhoneography, Portraits and Selfies, and Practicing in the Field). His images have been on the cover of WildBird magazine, on display at Scripps Oceanography Institute, and been honored with multiple first-place finishes in the International Exhibition of Photography Del Mar. The San Diego Natural History Museum's, "Birds of the World" centennial exhibit featured several of his images. One of his iPhone images received an honorable mention in the Athenaeum 23rd annual juried exhibition. He has displayed images at Art Speaks: Expressions of Hope and Healing and has produced a series of books, called Zen I, II, III, IV, V, VI and VII that feature original images that promote inner peace. The last 4 books feature only images taken on the iPhone. He teaches individuals and groups the skills of capturing iPhone/mobile photographs and then how to create personalized works of art.
To see some of Cliff's iPhone images, click here. Learn more about Cliff and what he does on his Center for Balance website here. And don't forget, if I had never met Cliff I would be pushing up daisies somewhere. To request my Health Basics File that contains the whole story, please shoot me an e-mail by clicking here..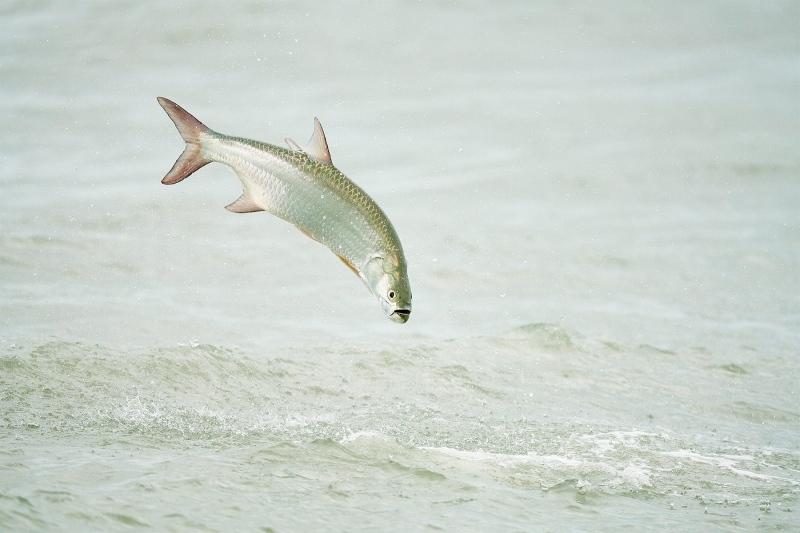 This image was created on September 13, 2020 at Sebastian Inlet, FL. I used the Induro GIT 404L/Levered-Clamp FlexShooter Pro-mounted Sony FE 600mm f/4 GM OSS lens and the 61-MP Sony Alpha a7R IV Mirrorless Digital Camera Body. ISO 4000. Exposure determined by Zebras with ISO on the rear dial: 1/2000 sec. at f/4 in Manual mode perfect was about +1 1/3 stops on the analog scale. AWB at 8:09am on dark cloudy morning.
Center Zone Continuous/tracking AF was active at the moment of exposure and performed to perfection.
Image #2: Tarpon Jumping!

Your browser does not support iFrame.
My Most Amazing Image Ever?
So we're on the jetty trying for Ospreys and Royal and Sandwich Terns flying and diving. It had just finished pouring. There were Tarpon jumping clear out of the water up and down the inlet. I pointed the lens randomly at the water to pre-focus at about 100 feet when a Tarpon jumped out of the water right into my viewfinder. I fired off three frames. I just clipped the tail on the first two, but number three was both perfectly framed and perfectly sharp. Talk about amazing blind luck! My reflexes are light-years short of being able to react to a jumping fish. I had the exposure set for the terns and — as confirmed by RawDigger — it turned out to be perfect for the big sliver fish.
I'd guess that the fish in the photo weighs between thirty and forty pounds.
From where I sit, it is by far the single most amazing image I have ever created. And certainly my luckiest capture ever!
WDYT?
Any Photoshop Hanky-Panky?
If you see any evidence of Photoshop hanky-panky, please leave a comment and let us know what you think is phony. Or, is Image #2 a perfect representation of the RAW file as it came out of the camera. As always, your thoughts would be appreciated.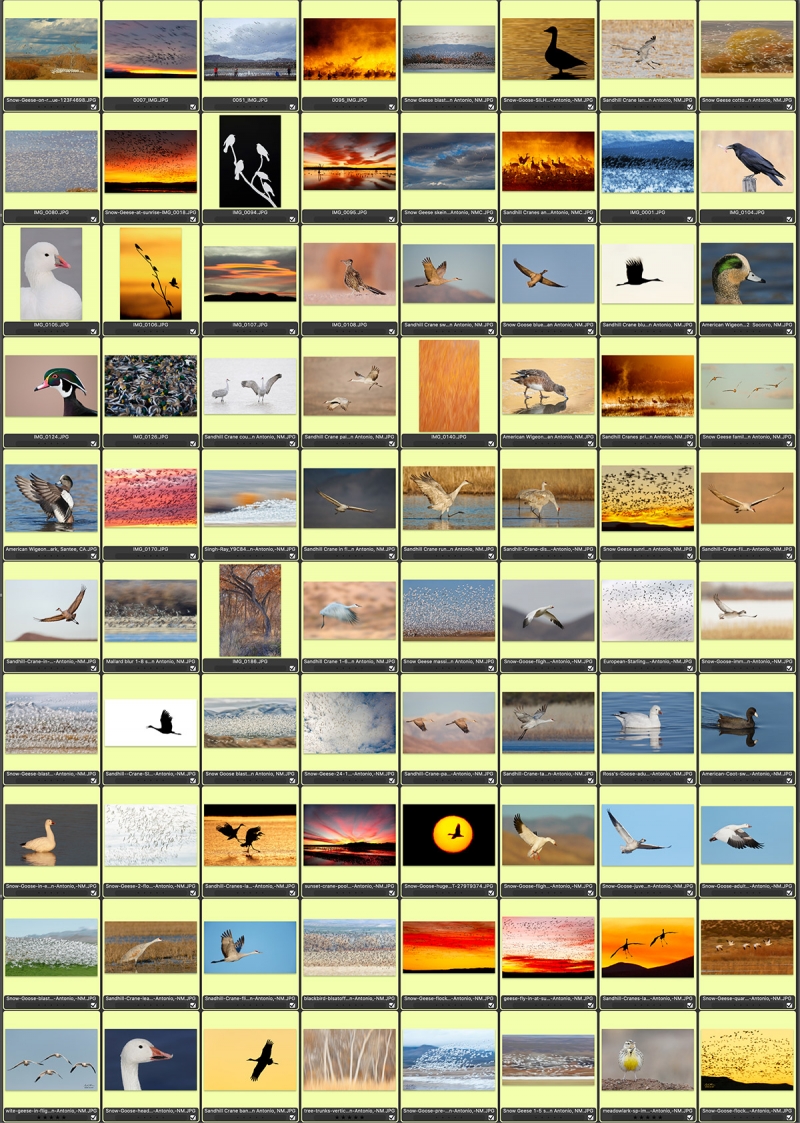 Bosque del Apache 2019 IPT
Notice the incredible variety of images that you can learn to make by developing your skills and your creative vision on a BAA IPT.
Bosque del Apache NWR 2020 IPT
NOV 18 (afternoon session) thru the morning session on November 23, 2020. 5 DAYS. Four full and two half days. $1999.00. Deposit: $500.00. Limit: 8 photographers/Openings: 6.
Extra Day Options: Please e-mail to learn about the before or after In-the-Field Day options.
The very best news is that the 2020 Festival of the Cranes has been canceled so we will be able to visit on what are usually the perfect dates!
I quit going to Bosque several years ago as conditions had worsened each year for several seasons running. In 2018, things had improved dramatically and in 2019 the photography was great. Simply put, I know Bosque better than anyone. Join me to learn how wind and sky conditions influence bird photography, how to create dramatic sunrise and sunset silhouettes, how to be in the right place at the right time, and how to create contest-winning blurs. As usual, you will learn to get the right exposure every time, to use your camera's AF system to create pleasing, balanced image designs, and to improve your flight photography skills.
We should get to photograph many thousands of Snow Geese, more than a few blastoffs, some Ross's Geese, and lots of Sandhill Cranes in the water, taking flight and flying. Depending on local conditions we may get to shoot some ducks: point-blank American Wigeon and Wood Duck. With any luck, we might enjoy sunrises and sunsets that leave you in tears. Live, eat, and breathe photography with one of (if not the) world's premier photographic educators at one of his very favorite locations on the planet. Top-notch Photoshop instruction. Join me to learn to think like a pro and to recognize situations and to anticipate them based on the weather. Every time we make a move, I will let you know why. When you get home, applying what you learned will prove to be invaluable.
Lunch is included.
To Register
To register, send your $500 deposit — check made out to BIRDS AS ART — via US Mail to PO Box 7245, Indian Lake Estates, FL 33855. Or call Jim weekdays at 863-692-0906 to put your non-refundable deposit on a credit card. Balances must be paid in full by check no later than two months before the IPT. If you cancel, all but your deposit will be refunded only if the IPT sells out.
Travel Insurance
Travel insurance for both big international trips and US-based IPTs is highly recommended as we never know what life has in store for us. I strongly recommend that you purchase quality travel insurance. Travel Insurance Services offers a variety of plans and options. Included with the Elite Option or available as an upgrade to the Basic & Plus Options you can also purchase Cancel for Any Reason Coverage that expands the list of reasons for your canceling to include things such as sudden work or family obligation and even a simple change of mind. My family and I use and depend on the great policies offered by TIS whenever we travel. You can learn more here: Travel Insurance Services. Do note that many plans require that you purchase your travel insurance within 14 days of our cashing your deposit check or running your credit card. Whenever purchasing travel insurance, be sure to read the fine print carefully even when dealing with reputable firms like TSI.
Typos
In all blog posts and Bulletins, feel free to e-mail or to leave a comment regarding any typos or errors. Just be right :).