What's Up?
Today is Tuesday 8 December 2020. It dawned clear and chilly with a NW wind, so I opted to stay in and create a short v-Log video for y'all instead of heading down to the lake with wind against sun conditions.
I had a ton of fun with my loaner Canon gear yesterday. Inn dreary conditions, I put the lens on a tripod for the first time to create some in-camera Art Vivid HDRs and some in-camera Multiple Exposures. Neither of those is available with SONY. I will be sharing my favorite image HDR Art Vivid image with you here soon.
It looks as if I will be headed over to Fort DeSoto to photograph early on Friday and Saturday mornings. If you would like to join me for one or two morning sessions (and possibly an afternoon session as well), please contact me via e-mail to learn the low rates.
Steve Elkins at Bedfords came through with R5 bodies and RF 100-500 lenses for quite a few folks yesterday. Those included many blog folks like old friend Steve Freno (and his beloved adopted daughters) and blog-regular Roger Dietrich. Both ordered additional lenses and accessories as well. All that while folks are languishing on long waiting lists with the big camera dealers … Save your e-mail receipts to earn a discount on the BAA R5 Camera User's Guide …
Most Importantly
As always, if what you read or learn here inspires or convinces you to purchase an R5 or 6, and/or the RF 100-500 lens, and/or the RF Extender 1.4X, please use my B&H affiliate links or get in touch with Steve Elkins at Bedford to save 3% on your new gear and get it a lot quicker …
Great R5/RF 100-500 News from Bedfords
I spoke to Steve Elkins at Bedford Camera on Thursday and was excited to learn that he will be getting his biggest-yet shipment of Canon R5 bodies and RF 100-500 lenses early next week. You can save 3% on your order by entering the BIRDSASART coupon code at checkout. Your discount will be applied to your pre-tax (if any is due) total. In addition, by using the code you will get free 2nd day air shipping via Fed Ex.
If you buy the Canon rig that I am testing you will save a very handsome $212.91. Using any of my affiliate links is the best way to thank me for the work that I do here on the blog.
Back in Stock
We now have eighteen of the hugely popular Levered-Clamp FlexShooter Pro tripod heads in stock. Click on the preceding link to learn more about this amazing head, the ballhead that thinks it's a gimbal head and — thanks to the amazing counter-balanced spring mechanism — works great with any rig from the longest, heaviest super-telephoto lens to a camera-body-mounted wide angle. The latter is possible because of the bi-directional clamp; it is no longer necessary to travel with a gimbal head for long lens photography and a ballhead for scenic photography. And after just a moment's adjustment, the double ball enables you to ensure that every image you take is on the level.
Please Remember
With income from IPTs approaching zero, please, if you enjoy and learn from the blog, remember to use one of my two affiliate programs when purchasing new gear. Doing so just might make it possible for me to avoid having to try to get a job as a Walmart greeter and will not cost you a single penny more. And if you use Bedfords and remember to enter the BIRDSASART code at checkout, you will save 3% on every order and enjoy free second-day air shipping. In these crazy times — I am out at least forty to sixty thousand dollars so far due to COVID 19 (with lots more to come) — remembering to use my B&H link or to shop at Bedfords will help me out a ton and be greatly appreciated. Overseas folks who cannot order from the US because of import fees, duties, and taxes can always help out by clicking here if they see fit.
Topaz Still on Sale!
Right now Topaz is offering price reductions on the Utility Bundle and the Creator Bundle. The former normally sells for $359.96. It is on sale now for $249.95. Click here, scroll all the way down to the sale, and enter the ARTHUR15 code at checkout to save an additional 15%! The Creator Bundle usually sells for #279.97 and is now on sale for $149.99. Using the ARTHUR15 code at checkout brings the price down to $127.49!
The BAA Used Gear Page
The Used Gear page continues to be red hot! It is BAA Used Gear Page is the place to sell your used photographic equipment. We will help you to get your gear sold quickly for 20 to 60% or more than what the big guys are offering … Doubt me? Check out the Recent Sales list for the past ten months at the bottom of the page.
BIRDS AS ART is registered in the U.S. Patent and Trademark Office
Great Topaz News!
Folks who use the BAA Topaz link to purchase Sharpen AI, DeNoise AI, or the Utility Bundle (or any other Topaz plugins) will receive a 15% discount by entering the ARTHUR15 code at checkout. To get the discount you must use my link and you must enter the discount code. Be sure to start with this link.
Topaz Stuff
As I said just a while back and have said often many times before, I should have listened sooner. If you, like me, are new to the Topaz party, please use this link to purchase. Right now I can wholeheartedly recommend both Topaz Sharpen AI and Topaz DeNoise AI. Though I have not yet worked with JPEGtoRAW AI or Gigapixel AI, I have installed both of these plug-ins and look forward to trying them on some I-Phone 11 images fairly soon. If you are thinking like me, consider the Utility Bundle that includes all four plug-ins mentioned above at a money-saving price.
Again, those who purchase Sharpen AI or DeNoise AI using my link, can e-mail to request a short Getting Started with Topaz e-Guide. I had a bit of trouble getting the two plug-ins installed and having them appear in the Photoshop Filter Menu. In addition, I will explain how to best learn about the two plug-ins by applying them on a Layer (in Photoshop). I amazed myself yesterday by completing this guide in the car on the way to and from Sebastian. Huge thanks to Anita for doing the driving. Please include a copy of your Topaz order when requesting the guide.
New and Better Bedfords Discount Policy!
You can now save 3% on all of your Bedfords photo gear purchases by entering the BIRDSASART coupon code at checkout. Your discount will be applied to your pre-tax total. In addition, by using the code you will get 2nd day air shipping via Fed Ex.
Grab a Nikon AF-S Teleconverter TC-14E III and save $14.99. Purchase a Canon EOS R5 and your discount will be $116.97. Purchase a Sony FE 600mm f/4 GM OSS lens and save a remarkable $389.94! Your Bedford's purchase no longer needs to be greater than $1,000.00 for you to receive a discount. The more you spend, the more you save.

Money Saving Reminder
Many have learned that if you need a hot photo item that is out of stock at B&H and would enjoy free overnight shipping, your best bet is to click here, place an order with Bedfords, and enter the coupon code BIRDSASART at checkout. If an item is out of stock, contact Steve Elkins via e-mail or on his cell phone at (479) 381-2592 (Eastern time). Be sure to mention the BIRDSASART coupon code and use it for your online order. Steve has been great at getting folks the hot items that are out of stock at B&H and everywhere else. The wait lists at the big stores can be a year or longer for the hard to get items. Steve will surely get you your gear long before that. For the past year, he has been helping BAA Blog folks get their hands on items like the SONY a9 ii, the SONY 200-600 G OSS lens, the Canon EOS R5, the Canon RF 100-500mm lens, and the Nikon 500mm PF. Steve is personable, helpful, and eager to please.
Gear Questions and Advice
Too many folks attending BAA IPTs and dozens of photographers whom I see in the field and on BPN, are–out of ignorance–using the wrong gear especially when it comes to tripods and more especially, tripod heads… Please know that I am always glad to answer your gear questions via e-mail. Those questions might deal with systems, camera bodies, accessories, and/or lens choices and decisions.
An Exercise in Thinking Part I
In the blog post here, I posted:
Please feel free to share your thoughts on this image. Can you guess the ISO? What direction was the slight breeze from? Do you see anything funky in the processing? Any and all comments are welcome.
There were lots of excellent and incisive comments. The ISO for this one was 800. I was set up for flight so ISO 400 on this clear morning would not have yielded enough shutter speed. The sun was in the east southeast and right behind me pointed at the pelican. The bird, facing into the breeze, was angled somewhat toward me. The wind, therefore, was from the south or southeast. Note that had there been any western component to the wind, the bird would have been angled away from me. With a northwest wind, the bird would have been turned 180 degrees, facing and flapping into the wind (as they always do).
As for the processing — most thought that the image was straight out of camera; watch the short video and then keep reading.
American White Pelican flapping v-Log Video
I worked hard to isolate this single American White Pelican at South Padre Island, TX. Once I did, the bird rewarded me by flapping in place. Join me on my MacBook Pro as I discuss the pluses and minuses of each of the keepers in the series. In addition, we take a look at the Advanced Color Wheel in Capture One.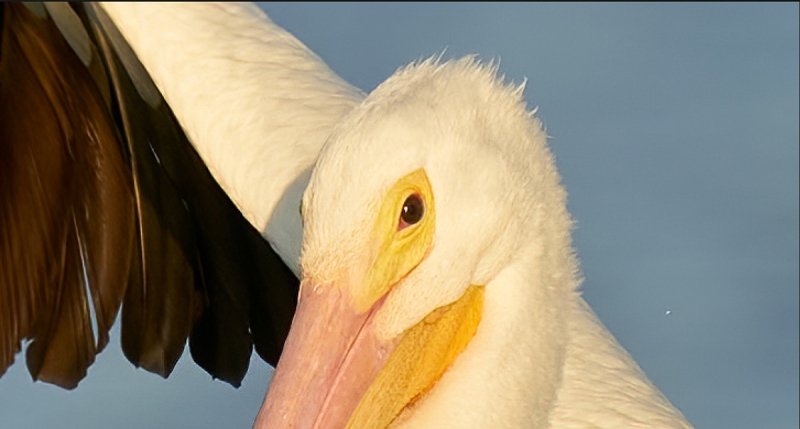 Image #1B: an unsharpened large crop of the face of American White Pelican flapping in place

Your browser does not support iFrame.
Where Was the AF Point?
In the Two Part Exercise in Thinking blog post here, IPT veteran Joel Eade left this comment (in part):
#1- I would say the wind is from the south or southwest and ISO no more than 800. I see no photoshop tricks, but you are a master at that game. I do think the AF grabbed the near wing rather than the head/eye.
Joel nailed the ISO and was close on the wind direction. But as noted above, if there had been any west in the wind, the bird would have been angled away from me. Based on his comment, though, I decided to check on the AF point and the sharpness of the bird's eye in the posted image (Image #1 above).
I remember that when in the field, I was sure that SONY nailed the focus. So, I brought the image into RawDigger and learned — using a somewhat convoluted method — that the active AF was on the top of the base of the bill about one-fourth of the way down — at a point right near the frame edge in Image #1B. As I was quite far from this large bird, the depth-of-field was more than enough to cover the bird's eye. I concluded that the eye was not razor sharp because of motion blur. I selected the face and eye using a Quick Mask, put the selection on its own layer, and brought the layer in Topaz Sharpen AI.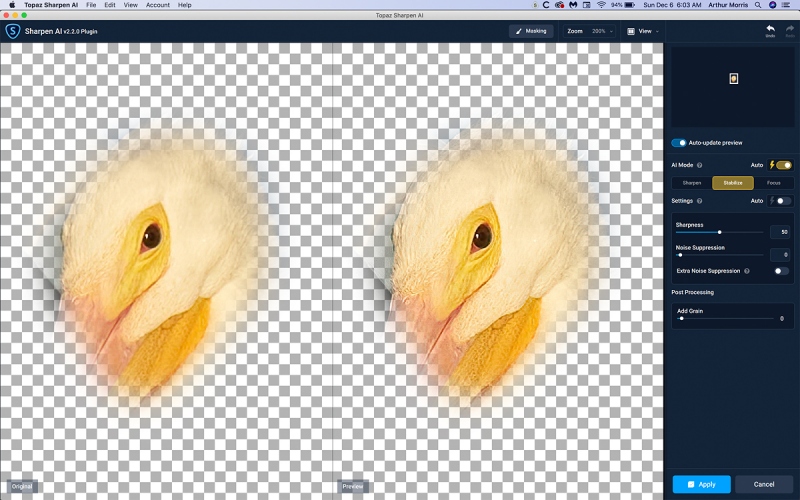 Image #1C: the face and eye layer in Topaz Sharpen AI at 100%

Your browser does not support iFrame.
Topaz Sharpen AI on the Face and Eye Layer
First note that Topaz Sharpen AI on Auto went with Stabilize indicating that motion blur was the problem rather than accurate focus. Click on the screen capture to see the increased sharpness in the after image on our right. Note also the super-soft edges that come with using Quick Masks.
Learn everything that there is to know about creating, refining, and transforming Quick Masks in APTATS I & II. You can save $15 by purchasing the pair.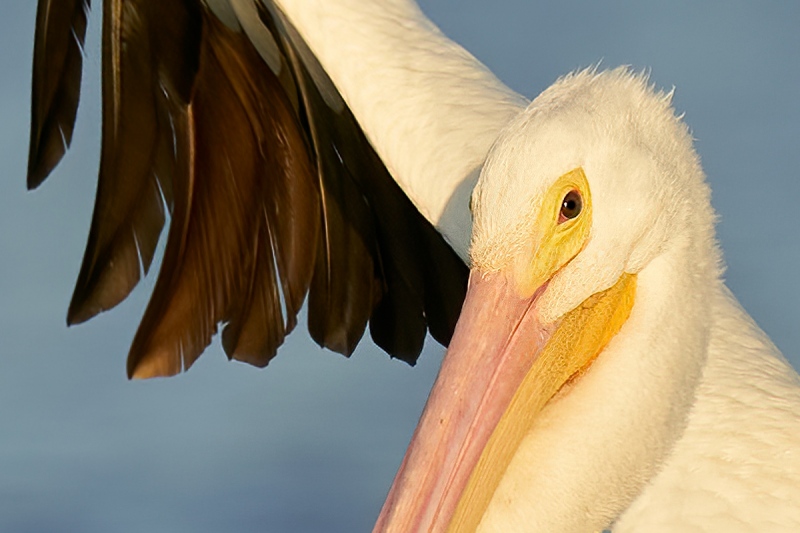 Image #1D: another tight crop of the face and eye showing the benefits of some Eye Doctor Work

Your browser does not support iFrame.
Eye Doctor Work
The last piece to the apparent sharpness puzzle was to darken the pupil and lighten the iris just a bit. Compare the eye in Image #1D with the eye in Images 1B and 1C. You can learn Digital Eye Doctor techniques and tons more great Photoshop tips along with all of my personalized Keyboard Shortcuts in the BIRDS AS ART Current Workflow e-Guide (Digital Basics II), an instructional PDF that is sent via e-mail.
And Finally!
As I mentioned in the video, though this was the best frame in the sequence, I wished that the near-wing had been fully up. I immediately thought of a trick that I had seen for the first time in Alan Murphy's PhotoShop Trickery for Bird Photographers video. This video is full of neat Photoshop techniques. Amazing, most of them were brand new to me the first time that I watched it. To learn Alan's technique for helping a bird to spread it wings more fully, purchase the video below using the link provided.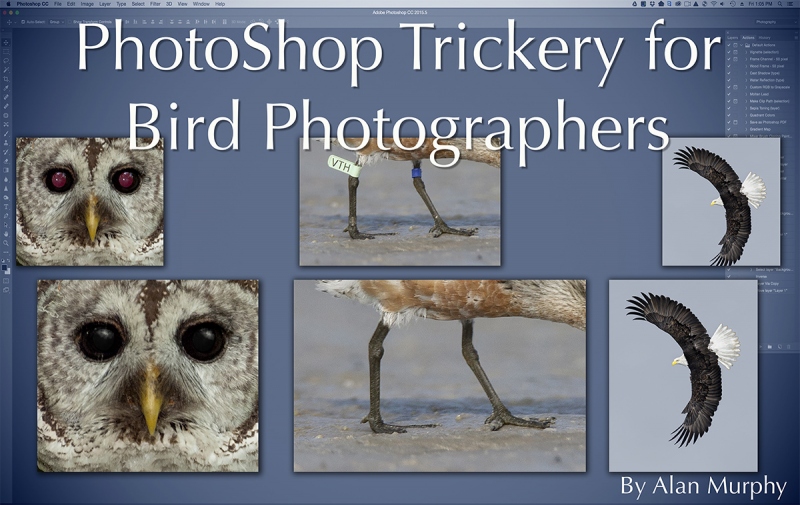 PhotoShop Trickery for Bird Photographers
PhotoShop Trickery for Bird Photographers
Click here to purchase.
A STEP BY STEP VIDEO ON PHOTOSHOP TRICKERY
Removing background noise and distractions
How to do a graduated background blur
Creative ways to use the liquify tool
How to create eye contact on an image
How to create a natural catchlight
How to remove red eye
How to fix a bad eye
How to repair clipped wings
Fixing messed up feathers
How to deal with high contrast
How to remove leg bands
How to stitch heads
How to balance warm ambient light with cool light from flash
How to change high-key backgrounds
This Hi Definition MP4 video can be either downloaded to your dropbox, computer, tablet, mobile device, or be streamed.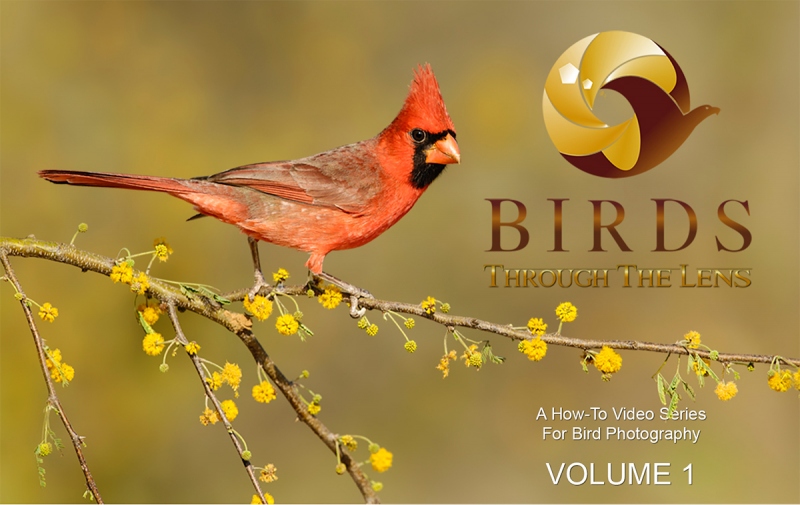 Birds Through the Lens Volume 1
Birds Through the Lens Volume 1
Click here to purchase.
The topics include:
How to look for, find and choose the right perch.
What perches do not work and why.
How to match the perch for a particular species.
How to present a perch to the scene
How to trim a perch to look fantastic
How to support the perch
How many perches do you set up
Working with mounds, stumps and elevated perches
How to choose a good background
How to deal with background challenges
How to break up a flat background so it's mottled
How to find and use gradient backgrounds
How far should the background be from the perch
Should you wear camo
Working from a blind
How to set up your lens and tripod for blind work
The correct tightness of your lens support
Is concealment important
Plus, many tips for being a better bird photographer
This Hi Definition MP4 video can be either downloaded to your dropbox, computer, tablet, mobile device, or can be streamed.
Total run time: 1 hour.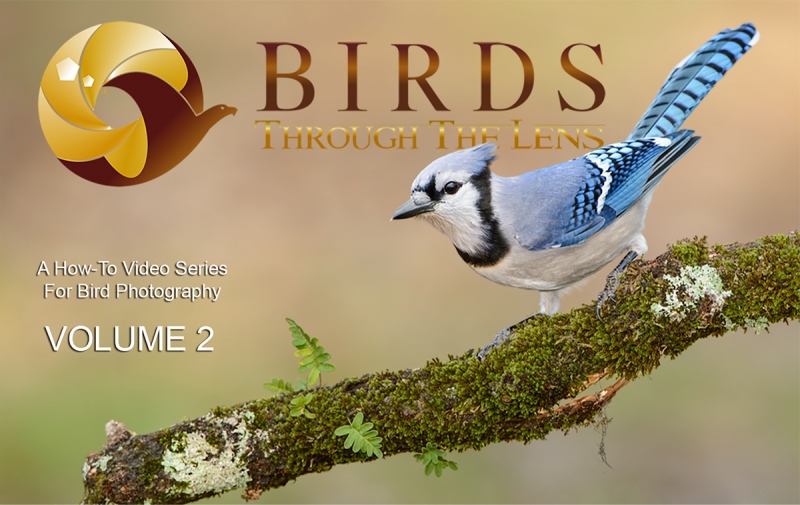 Birds Through the Lens Volume 2
Birds Through the Lens Volume 2
Click here to purchase.
The topics include::
How to prepare your backyard for photography
How to work with backyard feeders
What feeders work best for bird photography
How to get birds from your feeders onto perches
How to set up a water drip
How to work with berry perches
How to make and use home made suet
How to bring in woodpeckers
What food works best for what species
How to set up perches around feeders
Photo blinds for the backyard
The video can be downloaded to your Mac or PC, streamed to your favorite device, or saved to your Dropbox Account.
Total run time: 1 hour: More than 1 hour.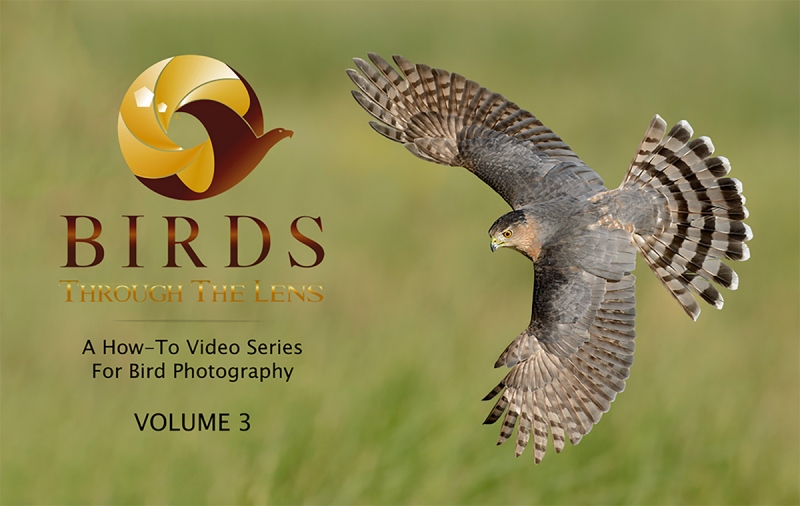 Birds Through the Lens Volume 3
Birds Through the Lens Volume 3
Click here to purchase.
The topics include:
How to do ambient light Hummingbird photography
How to setup for multi-flash Hummingbird photography
How to photograph songbirds in flight using a tiny feeder
How to setup and use a PhotoTrap trigger system
How to make and use a decoy owl for photographing Raptors in flight
What gear and settings work best
Blind construction and camo for flight photography
Flight photography techniques that will help you succeed
The video can be downloaded to your Mac or PC, streamed to your favorite device, or saved to your Dropbox Account.
Total run time: 1 hour: More than 1.5 hours.
Typos
Feel free to e-mail or to leave a comment regarding any typos or errors. Just be right :). with love, artie