What's Up?
Thursday morning was same old same old. A few crane images and a few vulture images. I gotta get out of this place 🙂 Last night I went down to the lake to try for some more wading bird landing/reed images. There was some color but not much wind so I did not do too well. But I am learning more about where I need to be so I am sure that I will get a few more winners.
Today is Friday 15 JAN 2021. I peeked out the back door at 7:15am — it was very foggy. By 7:30, the sky in the east was mostly clear. I will be heading down soon.
I was glad to learn this morning of the sale of Mansoor Assadi's SONY a9. If anyone is interested in purchasing a used SONY a7r iv, please get in touch via e-mail.
This blog past makes twenty-six days in a row with a new blog post. This one took about 2 hours to prepare. Please remember …
Please Remember
With income from IPTs approaching zero, please, if you enjoy and learn from the blog, remember to use one of my two affiliate programs when purchasing new gear. Doing so just might make it possible for me to avoid having to try to get a job as a Walmart greeter and will not cost you a single penny more. And if you use Bedfords and remember to enter the BIRDSASART code at checkout, you will save 3% on every order and enjoy free second-day air shipping. In these crazy times — I am out at least forty to sixty thousand dollars so far due to COVID 19 (with lots more to come) — remembering to use my B&H link or to shop at Bedfords will help me out a ton and be greatly appreciated. Overseas folks who cannot order from the US because of import fees, duties, and taxes can always help out by clicking here if they see fit.
RawDigger e-Guide and Video Advance Copy Available
Save $10 Now
The RawDigger e-Guide and Video is almost finished. It will sell for $51.00. If you are anxious to get started with RawDigger, learn to mega-Expose to the Right, and wind up with the highest quality image files, you can save $10.00 and have a chance to review a pre-publication copy of the guide by sending a PayPal for $41.00 to birdsasart@verizon.net with the words RawDigger e-Guide and Video Pre-publication Copy cut and pasted into the Subject line. The recent delay is the result of my recent conversations with Iliah Borg, the brains behind RawDigger. It is very likely that the Shock-your-World section will shock you.
In the new guide, we teach you why the GREEN channel is almost always the first to over-expose. We teach you how to interpret the Max G values. And most recently, we teach you a simple way to evaluate your exposures using an adapted RawDigger histogram. And tons more, of course. I am planning on having the RawDigger guide ready for sale by next Monday. Folks who saved $10.00 by pre-ordering will of course receive a link to the final PDF.
Canon R5/R6 AF e-Guide Info
So far, 70 folks have sent PayPals for their copy of the Canon R5/R6 AF e-Guide. And 28 who used my affiliate links to purchase their R5 have e-mailed for and received their free copy of the guide. If you e-mailed or sent a PayPal and did not receive your guide, please LMK immediately via e-mail.
Feedback has been overwhelmingly positive so far. Three folks wrote stating that they had a better way of setting up AF on their R5s. When I wrote back explaining why they were in error, two of them back-tracked. One stubborn guy is still doing it his way — less efficiently. Be sure to scroll down to read about my plans for a Canon R5/R6 User's e-Guide. Understand that the info in the BAA Canon R5/R6 Autofocus e-Guide is so important that I opted to publish the AF guide immediately as the R5/R6 User's Guide will take at least a month to finish.
BAA Canon R5/R6 Autofocus e-Guide
Twenty-one pages. 3,452 words. 28-DPP4 screen captures showing the R5's vaunted AF system in action. Note: the AF system of the R5 is identical to the AF system of the R6.
You will learn:
1- The two most useful AF Methods for general bird photography and for birds in flight.
2- How to set up your R5/R6 AF Menus.
3- What boxes to check (and un-check) under Limit AF Methods.
4- How to change the AF Method quickly, easily, and efficiently. Note: the default way of doing this is clunky, cumbersome, and inefficient at best. One person replied that this tip alone was worth the price of admission.
5- The only setting that should be used for Initial Servo AF pt for Face Detection + Tracking.
I you are currently using multiple back buttons either for general bird photography or for birds in flight, what you learn in this guide will change your life. For the better.
Here are the first three paragraphs of this e-Guide:
From the moment I learned about the new Canon mirrorless bodies, I read about using two or three back-buttons to focus using different AF methods. The word on the street said that the way to go for birds in flight was to use one button to acquire focus with Zone AF or with Large Zone: Horizontal AF and then switch to another button to activate Face Detection + Tracking AF and then use the shutter button to make an image. My immediate thought was, "This is insanity! There has got to be a better way." In short, there is a far superior way to set up AF on your R5 or R6.
Remember that I got away from any form of back-button or rear focusing many years ago after finally realizing that it is always easier to do one thing (press the shutter button), than it is to do two things (press a back button and then press the shutter button).
The default method of switching AF Methods with the R5/R6 bodies is cumbersome at best. It involves first pressing the grid button (my name) on the upper right back of the camera and then pressing the hard-to-access M-Fn button to toggle through the AF Methods. This method is so bad that it will not be mentioned again in this guide.
The guide is free to all who have ordered an R5 or an R6 using my B&H affiliate link or from Steve Elkins/Bedfords using the BIRDSASART coupon code at checkout. Please send your receipt to me via e-mail. It will take me a few days to a week to verify the B&H purchases. Bedfords folks should expect their free e-Guides fairly quickly.
To purchase your copy of the e-Guide, please send a PayPal for $25.00 to birdsasart@verizon.net and be sure to include the words R5/R6 AF Guide in your PayPal e-mail.
Everyone who gets the guide will receive a free update no later than the first week in January.
Canon R5/R6 User's e-Guide
I am working on a complete Canon R5/R6 User's e-Guide. This will require a lot of research, a lot of time, and a lot of effort. I am hoping to have it complete by mid- to late January. As always, folks who use the BAA affiliate links to purchase their Canon gear will receive a substantial discount.
Understand that the info in the BAA Canon R5/R6 Autofocus e-Guide is so important that I opted to publish the AF guide right off the bat to help folks get started with their new camera bodies.
Great Topaz News!
Folks who use the BAA Topaz link to purchase Sharpen AI, DeNoise AI, or the Utility Bundle (or any other Topaz plugins) will receive a 15% discount by entering the ARTHUR15 code at checkout. To get the discount you must use my link and you must enter the discount code. Be sure to start with this link.
Topaz Stuff
As I said just a while back and have said often many times before, I should have listened sooner. If you, like me, are new to the Topaz party, please use this link to purchase. Right now I can wholeheartedly recommend both Topaz Sharpen AI and Topaz DeNoise AI. Though I have not yet worked with JPEGtoRAW AI or Gigapixel AI, I have installed both of these plug-ins and look forward to trying them on some I-Phone 11 images fairly soon. If you are thinking like me, consider the Utility Bundle that includes all four plug-ins mentioned above at a money-saving price.
Again, those who purchase Sharpen AI or DeNoise AI using my link, can e-mail to request a short Getting Started with Topaz e-Guide. I had a bit of trouble getting the two plug-ins installed and having them appear in the Photoshop Filter Menu. In addition, I will explain how to best learn about the two plug-ins by applying them on a Layer (in Photoshop).
New and Better Bedfords Discount Policy!
You can now save 3% on all of your Bedfords photo gear purchases by entering the BIRDSASART coupon code at checkout. Your discount will be applied to your pre-tax total. In addition, by using the code you will get 2nd day air shipping via Fed Ex.
Grab a Nikon AF-S Teleconverter TC-14E III and save $14.99. Purchase a Canon EOS R5 and your discount will be $116.97. Purchase a Sony FE 600mm f/4 GM OSS lens and save a remarkable $389.94! Your Bedford's purchase no longer needs to be greater than $1,000.00 for you to receive a discount. The more you spend, the more you save.

Money Saving Reminder
Many have learned that if you need a hot photo item that is out of stock at B&H and would enjoy free overnight shipping, your best bet is to click here, place an order with Bedfords, and enter the coupon code BIRDSASART at checkout. If an item is out of stock, contact Steve Elkins via e-mail or on his cell phone at (479) 381-2592 (Central time). Be sure to mention the BIRDSASART coupon code and use it for your online order to save 3% and enjoy free 2nd-day air shipping. Steve has been great at getting folks the hot items that are out of stock at B&H and everywhere else. The wait lists at the big stores can be a year or longer for the hard to get items. Steve will surely get you your gear long before that. For the past year, he has been helping BAA Blog folks get their hands on items like the SONY a9 ii, the SONY 200-600 G OSS lens, the Canon EOS R5, the Canon RF 100-500mm lens, and the Nikon 500mm PF. Steve is personable, helpful, and eager to please.
Gear Questions and Advice
Too many folks attending BAA IPTs and dozens of photographers whom I see in the field and on BPN, are–out of ignorance–using the wrong gear especially when it comes to tripods and more especially, tripod heads… Please know that I am always glad to answer your gear questions via e-mail. Those questions might deal with systems, camera bodies, accessories, and/or lens choices and decisions.
In-camera Multiple Exposures
When I switched from Canon to Nikon four years ago and then from Nikon to Sony two years ago, the two things that I missed most were being able to create in-camera Multiple Exposure (MS) images and in-camera HDR (High Dynamic Range) images. Yes, you can create ME and HDR images after the fact with any camera, but doing so in post-processing requires a ton of work and often separate programs or Photoshop plug-ins. For lazy folks like me these two in-camera features are easy to use and a ton of fun.
Here I created a single raw file that was merged by the camera from six separate raw images. No fuss. No muss. No bother. No Layer Masks. Press the button six times and the camera does the rest. As the original had six stems, I opted to eliminate five of them by working large with a soft Clone Stamp Tool brush. After that, I ran a 65-pixel Gaussian Blur on a separate layer, added an Inverse (Black) Layer Mask and painted in the effect on both sides of the remaining stem to eliminate all traces of any tell-tale clone-stamp marks.
The techniques used to create a variety of Multiple Exposure images (both in-camera and after-the-fact) are covered in detail in The Art of Flower Photography by Denise Ippolito and yours truly. While skimming through the PDF to check on a few things for this blog post, I was stunned by the number and variety of outstanding, creative, artistic images (most but not all of those by Denise). If you are at all into photographing flowers, this e-Book is one to treasure and study.
BAA EOS R5 Camera User's Guide (in progress)
Setting up an R5 for Multiple Exposure and HDR capture is tricky. The are multiple options for each. To succeed, you need to understand these options and know exactly how to set each sub-menu item so that you can achieve the results that you desire. In the upcoming BAA EOS R5 Camera User's Guide, you will learn to do just that. Now that I am getting my very own Canon rig, I will be able to get back to work on the guide as soon as I complete the RawDigger e-Guide. At some point, I may offer a pre-publication version at a discount.
Soft/Sharp Blurs
Here I created a single raw file that was merged from two separate images by the camera. Again, no muss, no fuss, no bother. After converting the ME raw file, I converted the sharp raw file from the sequence. On the image, I painted a Quick Mask so that I could grab the sharp flower center and position it perfectly on the Soft/Sharp ME. Again, this technique is detailed in The Art of Flower Photography by Denise Ippolito and yours truly. You can even learn to create a soft/sharp blur from a single sharp image!
Focus Peaking with the R5
Focus Peaking with the EOS R5 is totally different from Focus Peaking with SONY mirrorless bodies. In the BAA EOS R5 Camera User's Guide (in progress) you will learn how to set up Focus Peaking and how to use it.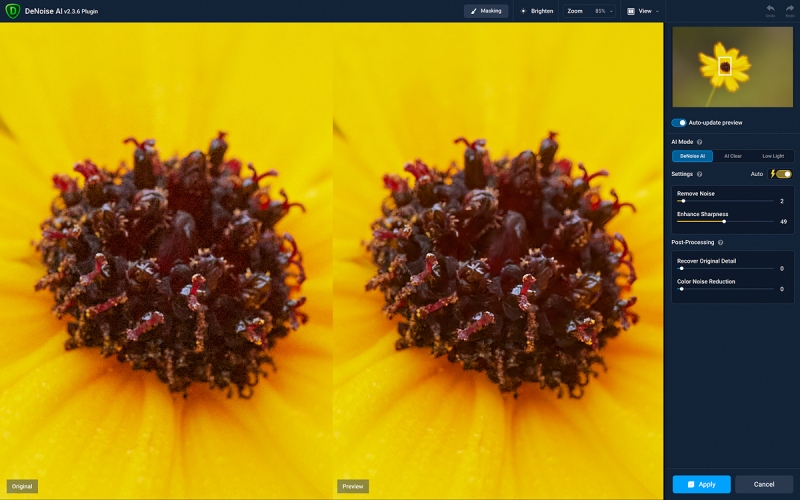 Image #2A: Topaz DeNoise AI screen capture

Your browser does not support iFrame.
Topaz DeNoise AI on the Florida Tickseed two-frame Multiple Exposure sharp/soft blur image
After converting both raw files in Capture One, I grabbed the sharp flower center and moved it onto the ME soft/sharp blur. Once that was done, I flattened the image, created a new layer, and brought that into DeNoise AI. The Comparison View showed that for this image DeNoise AI was best by far. Be sure to click on the screen capture to see the complete elimination of noise in the flower center.
The Art of Flower Photography
In 2014, I wrote: Denise Ippolito and Arthur Morris are proud to announce the publication of The Art of Flower Photography, a 203 page eBook with more than 140 images: $29.00. A link to the PDF will be sent via e-mail. Get yourself a copy today so that you can learn and be inspired by the tour de force of flower photography how-to books. Purchase by clicking here, by calling BIRDS AS ART at 863-692-0906, or by sending a Paypal to us via e-mail.
Notice for i-Pad Users
It is easy to save and access any and all PDF files including The Art of Flower Photography and The Art of Bird Photography II on an i-Pad. Here is a link to a short easily-followed how-to tutorial: i-Pad PDF Tutorial.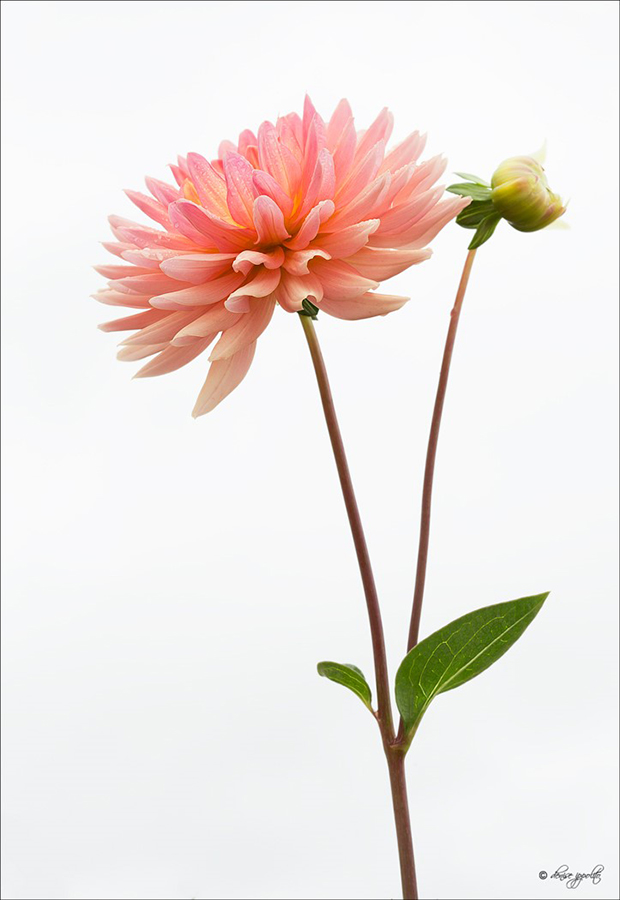 Dahlia, botanical print. Image copyright 2014: Denise Ippolito/A Creative Adventure.
Simply put, Denise Ippolito is a talented artist.
A Tour de Force
tour de force (ˈto͝or də ˈfôrs/) noun: an impressive performance or achievement that has been accomplished or managed with great skill. "The Art of Flower Photography is a tour de force."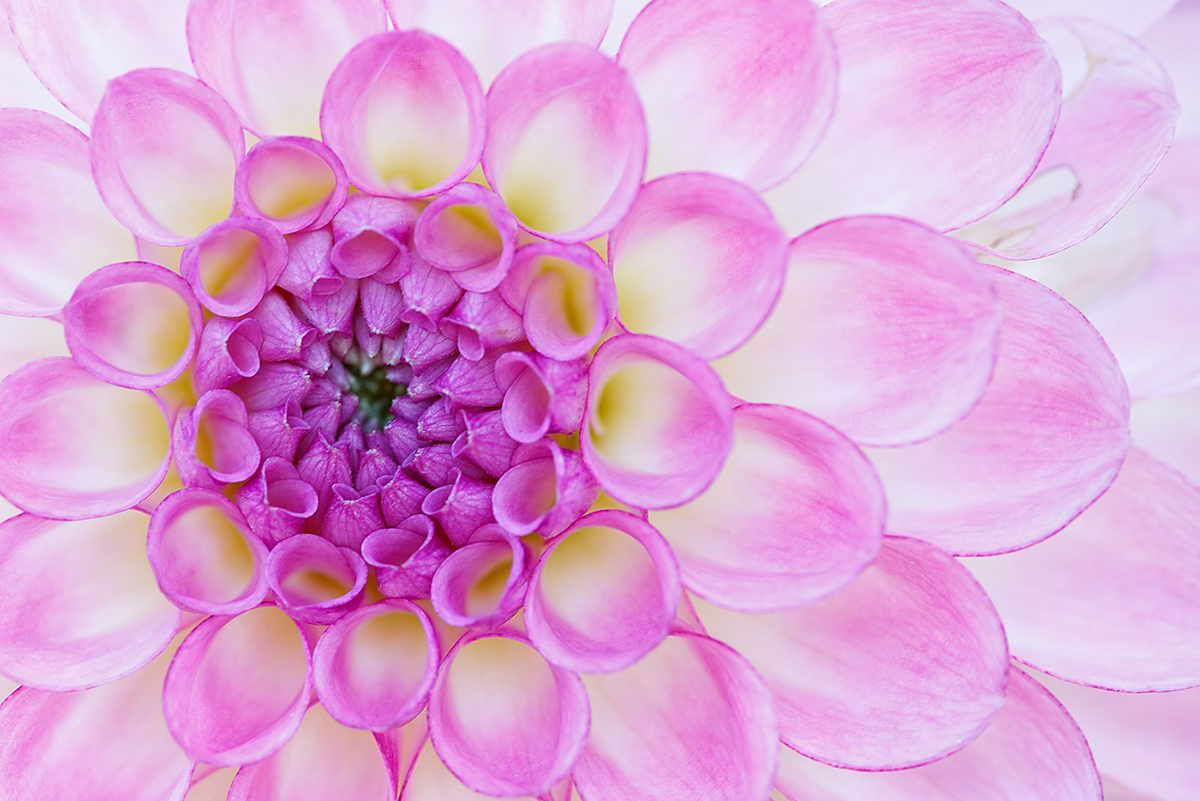 Dahlia, tight portrait. Image copyright 2014: Arthur Morris/BIRDS AS ART.
Like his bird photographs, artie's flowers images tend to be clean, tight, and graphic.
The Project
Conceived by Denise Ippolito, six months in the making, The Art of Flower Photography is a summital achievement, the results of many hundreds of hours of effort. Thanks to Carol Carson for her careful review of the manuscript.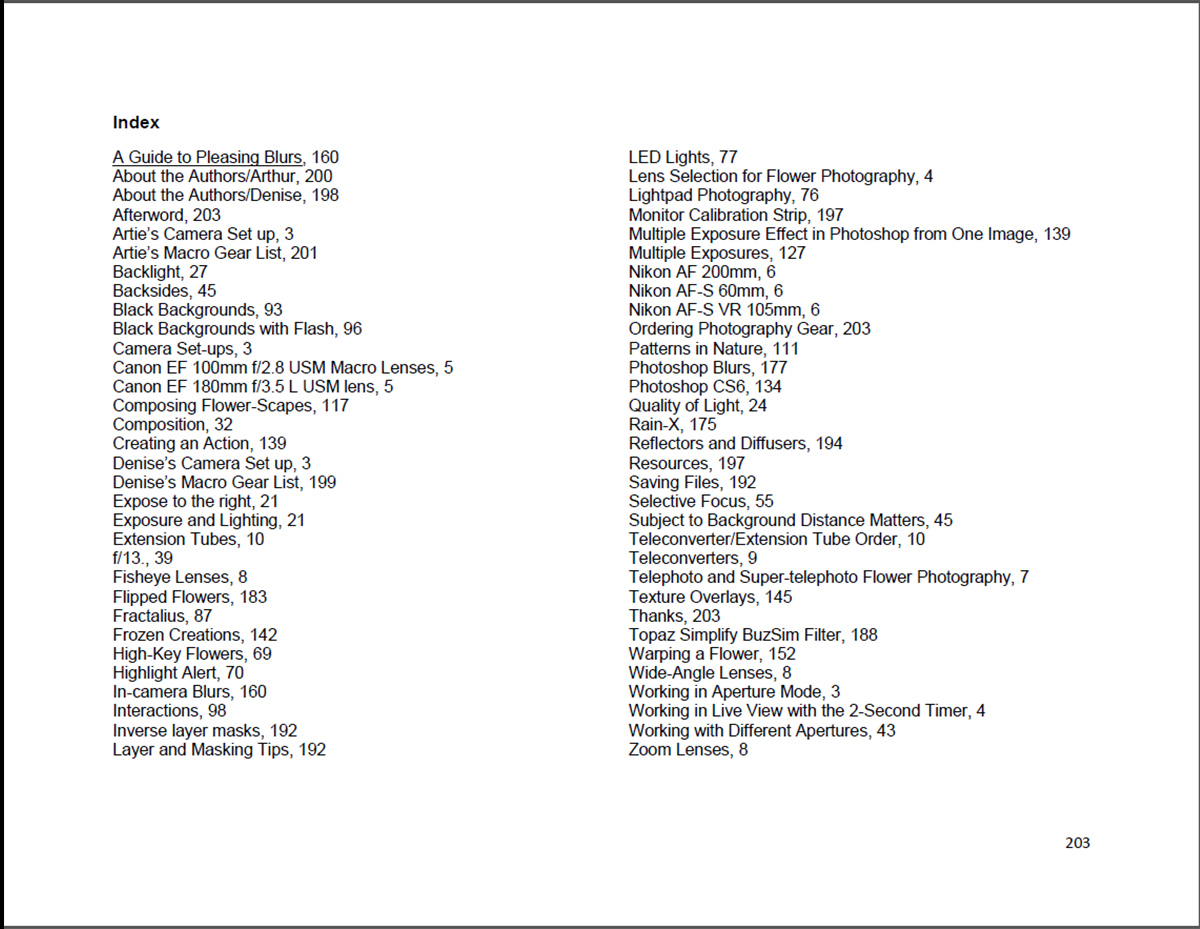 The Index of The Art of Flower Photography.
What You Will Learn?
In short, you will–as a glance at the eBook's index above shows, learn everything about flower photography that you wanted to know but were afraid to ask.
We cover lens, gear, and accessory selection, in-the-field techniques, image design and composition, understanding and using the light, getting the right exposure, aperture choice and depth-of-field, focusing techniques, and a variety of post processing and Photoshop techniques. Among others.
Part of the strength of this eBook is that though both denise and artie produce beautiful and inspiring images on a consistent basis, they often use different lenses and different techniques to achieve their visions. In The Art of Flower Photography you get to pick the brains of two very fine photographers.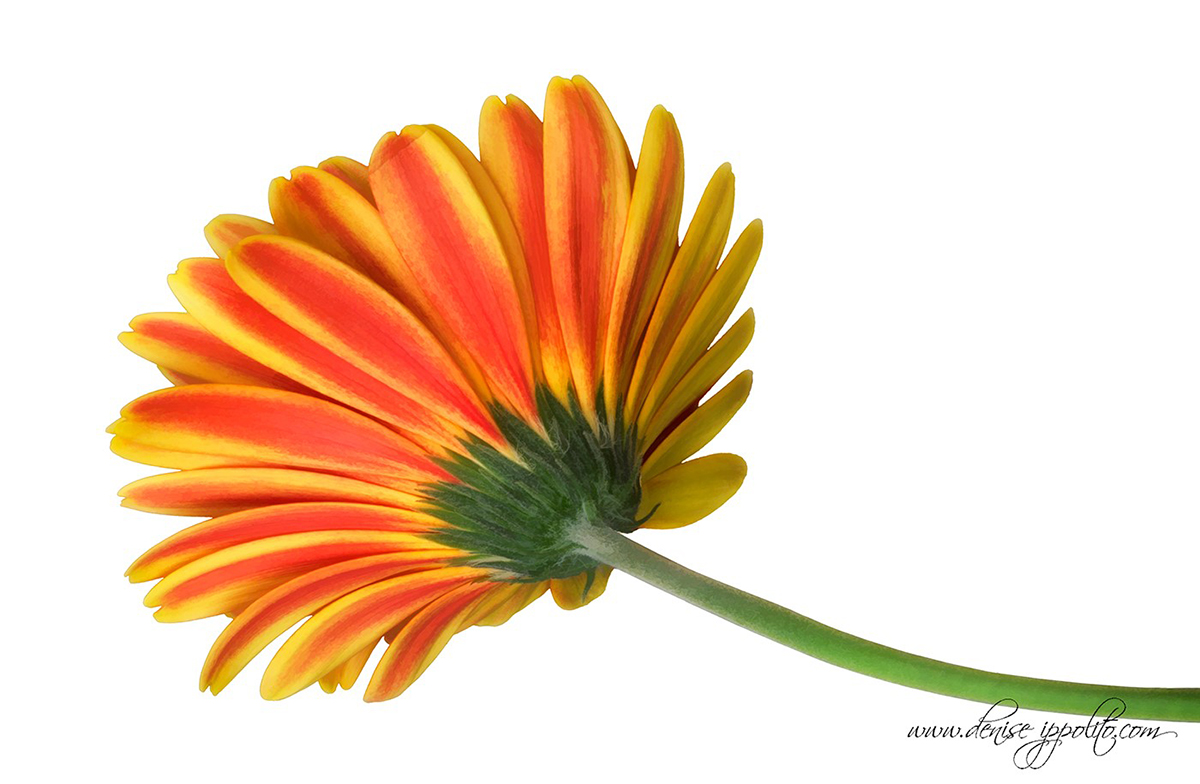 Gerbera Daisy after warping and rotation, Topaz Simplify BuzSim applied. Image copyright 2014: Denise Ippolito/A Creative Adventure.
Denise is as skilled and creative at the computer and in Photoshop as she is in a field of flowers.
Author Backgrounds
Denise Ippolito
Denise has been involved with flowers for much of her life. She is a fifth generation florist who owned and operated a successful flower shop. Subsequently, she then ran first one and then another garden center for the next ten years. Denise has since become a skilled flower photographer; and she has succeeded admirably. Her incredibly creative mind led her to experimenting with both in-the-field techniques and creative post processing effects using Photoshop and several plug-in applications to create the artistic flower renditions that are presented in this eBook.
Arthur Morris
Arthur is a world renowned photographer, and a member of Canon's "Explorers of Light" program. Although Artie is perhaps best known for his superb bird photography, with thousands of his images gracing the pages of numerous books, magazines, and other publications, he has recently extended his subject matter by redirecting his lenses to capture images of flowers that emphasize their form, pattern, and texture.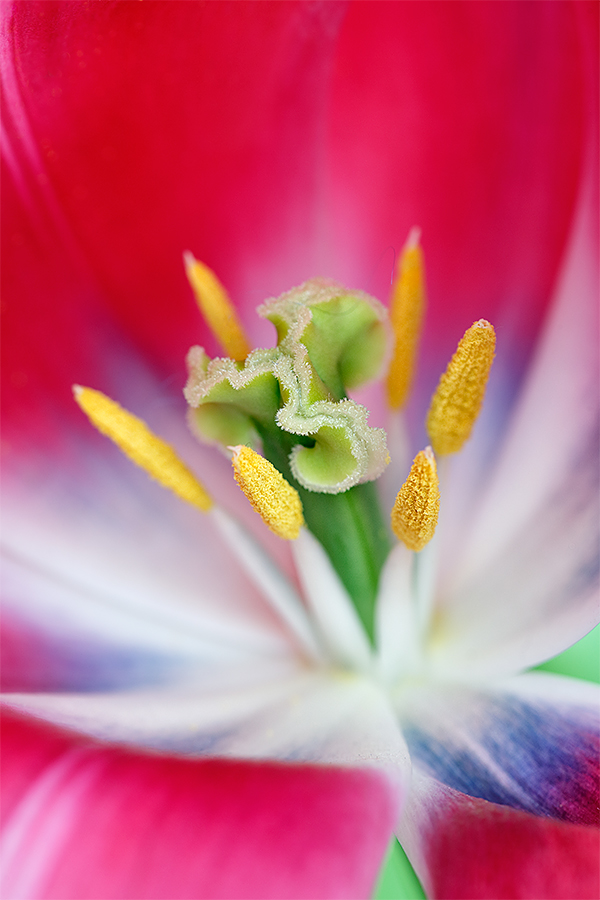 Tulipa Renown. Image copyright 2014: Arthur Morris/BIRDS AS ART.
On average, artie works with longer focal length lenses than denise. In this new eBook, he shares the techniques that he has developed for using super-telephoto lenses for flower photography. This image was created with the Canon EF 180mm f/3.5L Macro USM lens that denise owns but rarely uses as she much prefers the Canon EF 100mm f/2.8L Macro IS USM lens
The Team
The Art of Flower Photography combines the creative energy, the technical proficiency, and the artistic visions of Denise Ippolito and Arthur Morris. Together they form a dynamic teaching team that lectures and conducts seminars and workshops across the country and internationally. They are both multiple award winning photographers who specialize in making world class images of birds, flowers, wildlife, the natural world and Urbex subjects.
The First Review
The first review is in. From Carol Carson via e-mail:
Inspiration and instruction from two experts with different shooting styles–how can you top that? Denise and Artie have produced a must-have addition to the flower photographer's eLibrary.
Typos
In all blog posts and Bulletins, feel free to e-mail or to leave a comment regarding any typos or errors.