Your Fave?
Please be so kind as to leave a comment and let us know which of Clemens three featured 1DX Mark III images you think is the strongest. And why.
What's Up?
I enjoyed my morning off from photography and was thinking of making it two in a row. But the sky to the east was clear for the first time in more than two weeks, so I will be heading down to the lake early for a short drive-around. I did get tons of work done yesterday.
Today is Tuesday 22 June 2021. The forecast states that more clouds are coming along with a high of 90 degrees followed by thunderstorms. It absolutely poured late yesterday afternoon. Wherever you are, and whatever you are doing, I hope that you too have a great day.
This blog post took more than an hour to prepare and makes 178 consecutive days with a new one. Please remember that if an item — a Delkin flash card, or a tripod head — for example, that is available from B&H and/or Bedfords and is also available in the BAA Online Store, it would be great if you opt to purchase from us. We will match any price. Please remember also to use my B&H affiliate links or to save 3% at Bedfords by using the BIRDSASART discount code at checkout. Doing either often earns you free guides and/or discounts. And doing so always earns my great appreciation.
Sarah Vaughan – Broken-Hearted Melody
Words by Hal David
I heard this 1959 record on Sirius Satellite Radio on Sunday. The music and words are fantastic and I am not sure if you will every hear a sweeter voice than that of the late-Sarah Vaughan. She was an American jazz singer nicknamed "The Divine One." She won four Grammy Awards, including the Lifetime Achievement Award. She was given an NEA Jazz Masters Award in 1989. Critic Scott Yanow wrote that she had "one of the most wondrous voices of the 20th century."
Canon EOS-1DX Mark III
Owen Schmidt is offering a Canon EOS-1DX Mark III in like-new condition for a BAA record-low $3999.00. Less than 4,000 shutter actuations. The sale includes the original box and everything that came in it, a second battery, and insured ground shipping via major courier to lower-48 US addresses only. Your item will not ship until your check clears unless other arrangements are made.
Please contact Owen via e-mail.
The Canon 1Dx bodies have been solid performers under challenging conditions for many years. The autofocus performance of the 1Dx and 1Dx MkII had been lacking as compared to Nikon or lately Sony (A9) especially when it comes down to dynamic focusing using the whole sensor array or specific zones. on the 1DX Mark II, the Automatic AF area selection never did a great job of acquiring and tracking the subject; thus, that mode was pretty much useless for photographing birds in flight. Single-point AF or AF Expand (4 or 9 points) with the tracking sensitivity set at -2 often produced good results for me with flying birds, but the fact that you were limited as far as image design always bothered me. Nikon's dynamic focusing and Sony's tracking capabilities provided extra compositional flexibility. As a result, many bird photographers decided to leave Canon and switch to Nikon or a Sony a9 series body. I decided to stay the course with Canon for two reasons: my collection of great Canon lenses, and the fact that the development of sensor and AF technology is like an arms race: one day Nikon is ahead, the next day Canon is ahead. I was lucky enough to get the new Canon 1DX Mark III camera body from Steve Elkins just in time for my trip to Alaska to photograph the Bald Eagles. It was the perfect place to test the improved AF capabilities of the new Canon flagship body, the EOS-1D X Mark III DSLR with CFexpress Card and Reader.
The 1Dx Mk III is a hybrid camera with an Optical Viewfinder (OVF) and Live-View shooting making it a mirrorless camera at the same time that it is a rugged dSLR. There are a ton of other great new features, but I focused primarily on testing the new enhanced AF system. I was especially interested to see if the new dynamic 191-point Automatic AF selection and the AF zones would perform better than the previous versions of the 1Dx. The conclusion is that even under difficult circumstances — the first two days with heavy winds and heavy snow) — the camera had no issue focusing on the subject and keep tracking it with the Automatic AF selection mode. I used the center point to acquire focus and as soon as it locked the focus on the bird, it did a great job keeping multiple AF points on the subject and tracking it through the frame and through the snowflakes. The same applied for the Zones — smaller AF areas with multiple AF points active. Even with busy backgrounds, the AF stayed locked on the subject. The AF modes have been reduced to 4 compared to 5 in the previous 1Dx models. I primarily used Mode 2 (Continue to Track Subjects, Ignoring Possible Obstacles) and Mode 4 (For Subjects That Accelerate or Decelerate Quickly) but was not able to see a significant difference between the modes. Even with trying the "Deep Learning" Automatic setting (Tracking Automatically Adapts to Subject Movement) I did not notice a significant difference. They all performed really well. The conclusion is that Canon has produced a camera that is now on-par or even better than its competitors with respect to AF performance. Although I did not test the mirrorless capabilities yet, other tests show that this function is also equal to or better than the Sony A9 performance, the only difference is that you can not use the OVF in mirrorless-mode with the 1DX III and have to use the display on the back of the camera (the rear monitor) instead. Due to the fact you have to keep the camera away from your eye, this is somewhat awkward for photographing birds in flight. I am very happy with the AF performance as compared to the previous Canon models and am looking forward to testing it further on Florida birds this coming spring. Clemens van der Werf
The 1DX III sells new right now for $6,499.00. Grab Owen's almost new body, save $2500.00, and get an extra battery to boot! I remember how thrilled Clemens was with his then brand-new 1DX III in Homer. You can see some of his eagle images made with the 1DX iii in the Field-testing the New Canon EOS-1DX Mark III at Homer: World-Class Nature Photographer Clemens Van der Werf Shares the Skinny on Canon's New Flagship Camera Body post here. artie
Only at BAA: Levered-Clamp FlexShooters in Stock!
We have just one Levered-clamp Flex-shooter Minis left in stock. They are available in the US only from BAA. I ordered another dozen yesterday …
Folks with a big lens should, of course, be working with the Levered-clamp Flex-shooter Pro. This new head on just about any decent tripod like the Induro GIT 304L or the Induro 204L (for travel), is dead-solid-perfect for those whose intermediate telephoto or telephoto zoom lenses are their workhorse lenses for bird and nature photography, for all macro lenses with a tripod collar, and for wide angle lenses with a Wimberley P-5 Plate on the camera body. The levered-clamp is super-fast and secure. Though it weighs only 1lb., 2.4 ozs, this elegantly manufactured head is rock-solid. It takes only seconds to level all FlexShooter heads for smooth, square-to-the-world panning, and these innovative and patented spring-counterbalanced double ballheads will completely eliminate ballhead-flop.
We have lots of Levered-clamp Flex-shooter Pro heads in stock. Though they are the best head around for long lenses and for general purpose nature, B&H does not even carry them! I use and rely on mine most ever day that I am out there.
Please Remember
With income from IPTs now close to zero, please, if you enjoy and learn from the blog, remember to use one of my two affiliate programs when purchasing new gear. Doing so just might make it possible for me to avoid having to try to get a job as a Walmart greeter and will not cost you a single penny more. And if you use Bedfords and remember to enter the BIRDSASART code at checkout, you will save 3% on every order and enjoy free second-day air shipping. In these crazy times — I am out at least forty to sixty thousand dollars so far due to COVID 19 (with lots more to come) — remembering to use my B&H link or to shop at Bedfords will help me out a ton and be greatly appreciated. Overseas folks who cannot order from the US because of import fees, duties, and taxes, are invited to help out by clicking here to leave a blog thank you gift if they see fit.
New and Better Bedfords Discount Policy!
You can now save 3% on all of your Bedfords photo gear purchases by entering the BIRDSASART coupon code at checkout. Your discount will be applied to your pre-tax total. In addition, by using the code you will get 2nd day air shipping via Fed Ex.
Grab a Nikon AF-S Teleconverter TC-14E III and save $14.99. Purchase a Canon EOS R5 and your discount will be $116.97. Purchase a Sony FE 600mm f/4 GM OSS lens and save a remarkable $389.94! Your Bedford's purchase no longer needs to be greater than $1,000.00 for you to receive a discount. The more you spend, the more you save.

Money Saving Reminder
Many have learned that if you need a hot photo item that is out of stock at B&H and would enjoy free second-day air shipping, your best bet is to click here, place an order with Bedfords, and enter the coupon code BIRDSASART at checkout. If an item is out of stock, contact Steve Elkins via e-mail or on his cell phone at (479) 381-2592 (Central time). Be sure to mention the BIRDSASART coupon code and use it for your online order to save 3% and enjoy free 2nd-day air shipping. Steve has been great at getting folks the hot items that are out of stock at B&H and everywhere else. The wait lists at the big stores can be a year or longer for the hard to get items. Steve will surely get you your gear long before that. For the past year, he has been helping BAA Blog folks get their hands on items like the SONY a9 ii, the SONY 200-600 G OSS lens, the Canon EOS R5, the Canon RF 100-500mm lens, and the Nikon 500mm PF. Steve is personable, helpful, and eager to please.
Gear Questions and Advice
Too many folks attending BAA IPTs (remember those?) and dozens of photographers whom I see in the field and on BPN, are–out of ignorance–using the wrong gear especially when it comes to tripods and more especially, tripod heads… Please know that I am always glad to answer your gear questions via e-mail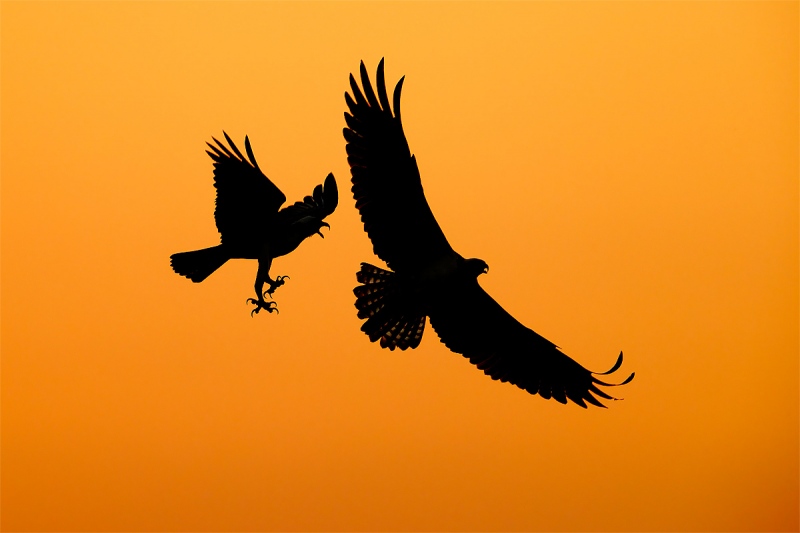 This image was created on 11 March 2021 down by the lake near my home at ILE. Standing at full height, Clemens Van der Werf used the tripod-mounted Canon 600mm f/4L IS II lens (now replaced by the Canon EF 600mm f/4L IS III USM lens), the Canon Extender EF 2X III, and the Canon EOS-1D X Mark III DSLR camera body. ISO 5000: 1/1600 sec. at f/9 in Manual mode. AWB at 7:32pm with some haze on above the western horizon.
Face Detection + Tracking/AF-C was active at the moment of exposure and performed perfectly. Click on the image to see a larger version.
Image #1: Ospreys Fighting at Sunset
Image Courtesy of and copyright 2021: Clemens Van der Werf

Your browser does not support iFrame.
Ospreys Fighting at Sunset
When folks visit ILE in winter and early spring, we head down to the lake to photograph the wading birds coming into their roost on the far edge of the marsh. At times, vultures, eagles, and Ospreys fly by. I was standing right next to Clemens when he made this image. Please do not ask me where I was as I never saw the squabble!
As for sharp flight photography at 1200mm, I can only say that the 1DX III is right up there with the mirrorless bodies.
Standing at Full Height?
It is difficult to figure out how Clemens was standing at full height when he made this low-perspective image. Here is the explanation: the beachfront in Southeast Florida is severely eroded. When you stand with your back to The Atlantic, you are a bit above the level of the birds that are nesting and hanging out close to the ropes. And the beach where the birds have set up their dry successful colony, slopes up a bit to the dunes and the condos. So by adding a TC to work the birds that are slightly upslope, you can produce lovely, intimate images that feature ground-level perspectives. And don't forget that Clemens is 6′ 6″ tall!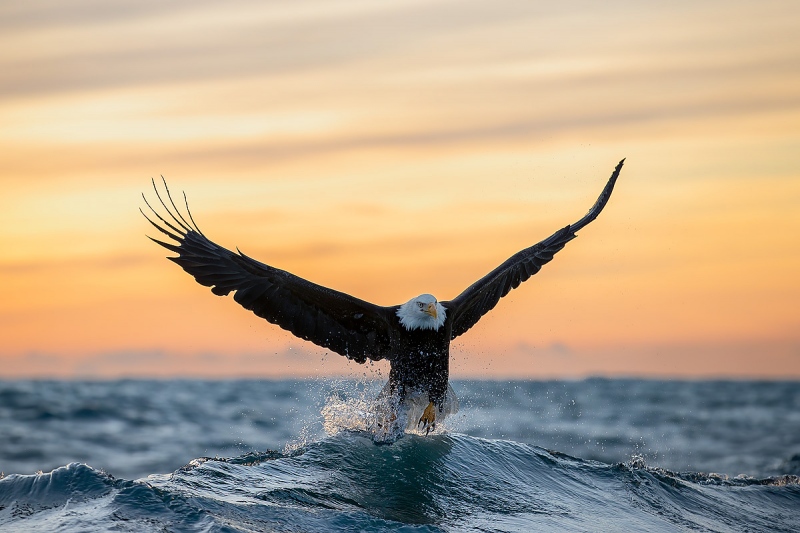 This image was created near Homer, AK by Clemens Van der Werf. He used the handheld Canon 70-200mm f/2.8L IS II (now replaced by the Canon EF 70-200mm f/2.8L IS III (at 170mm) with his brand-new latest greatest Canon body, the 20 fps Canon EOS-1D X Mark III DSLR with CFexpress Card and Reader. ISO 800: 1/3200 sec. at f/4.
Click on the image to see a larger version.
Image #3: Bald Eagle striking at breaking wave top with sunset color. Image courtesy of and copyright 2020 Clemens Van der Werf.

Your browser does not support iFrame.
Creative Vision plus Extra Effort Pay Off Bigtime
To get low enough to make this image, Clemens first envisioned it. Then laid down on the lowered gangway of the workboat. The bay was pretty darned rough. Need I say more?