What's Up?
It was a cold and clear 24 degrees on Tuesday morning. I found the owl right off the bat and am pretty sure that I made my best-ever Snowy Owl in the dunes image. The dark and drizzly afternoon was a complete bust as far as photography was concerned.
Be sure to scroll all the way down to learn a trick for cloning away junk that intersects with the subject.
Today is Wednesday 1 December 2021. Can 2022 be far behind? The forecast for tomorrow is for partly cloudy and a lot warmer — with a low of 35 degrees and a high of 46, with a west wind all day. Wherever you are, and whatever you are doing, I hope that you too have a great day. This blog post took about 90 minutes to prepare and makes 23 consecutive days with a new one.
Four new folks joined the SONY Alpha a1 Set-up and Info Group in the past two days. Details below.
Please remember that you can find some great photo accessories (and necessities, like surf booties!) on Amazon by clicking on the Stuff tab on the orange/yellow menu bar above. On a related note, it would be extremely helpful if blog-folks who, like me, spend too much money on Amazon, would get in the habit of clicking on the Amazon logo link on the right side of each blog post when they shop online. As you might expect, doing so will not cost you a single penny, but would be appreciated tremendously by yours truly. And doing so works seamlessly with your Amazon Prime account.
Please remember that if an item — a Delkin flash card, or a tripod head — for example, that is available from B&H and/or Bedfords, is also available in the BAA Online Store, it would be great, and greatly appreciated, if you would opt to purchase from us. We will match any price. Please remember also to use my B&H affiliate links or to save 3% at Bedfords by using the BIRDSASART discount code at checkout for your major gear purchases. Doing either often earns you free guides and/or discounts. And always earns my great appreciation.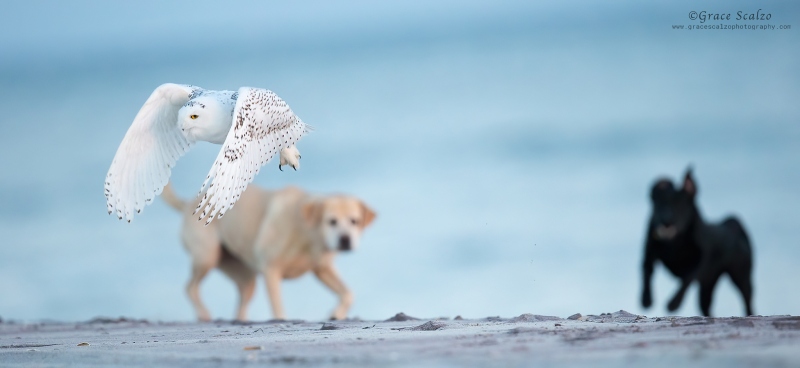 This image courtesy of and copyright 2013: Grace Scalzo Photography.
Snowy Owl flushed by dogs on the loose
Your browser does not support iFrame.
More On Dogs on the Beach: The Hunter Becomes the Hunted …
Via e-mail from old LI friend Grace Scalzo
Just saw your blog post. At least that woman's dog was leashed. This was a scary scene from 12/7/2013. The owl had its back to the dogs and they got quite close before it took off. I tried to speak to the people after the incident, but they were not interested at all, claimed it was their right to let their dogs run. I am not sure what the winter rules were regarding dogs out there on Dune road.
You can see more of Grace's fine work here.
In Case You Missed It
Larry Citra, commenting on yesterday's blog post:
November 30, 2021 at 12:11pm
The sign doesn't say "No Dogs." The person has the dog on a leash and obviously under control; seems like a responsible dog owner to me … The beach is not just for bird photographers. I'm a nature photographer and a dog owner; I also live on a beach.
Arthur Morris/BIRDS AS ART replied:
November 30, 2021 at 4:51 pm
Hi Larry,
You are correct in that dogs are allowed on this particular beach form 2 OCT through 31 MAR. I spoke to the woman. She knows about the owls and she know about the photographers. We were the only people on the beach. I was standing behind a 600mm lens in a bright yellow expedition parka. The owl too was in plain sight.
The fact remains that much to my horror, she walked straight at the bird and she and her dog flushed the resting bird. Responsible? Maybe … Ignorant? Not at all. Aware? Not so much. Oblivious? For sure. Uncaring? Likely.
with love, artie
ps: In the same situation, would you have kept walking right at the bird and the photographer because it is your right?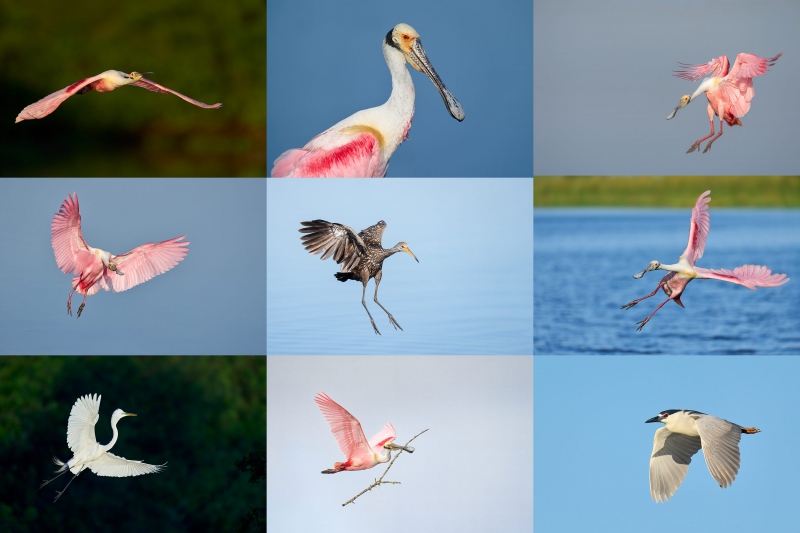 Click on the composite image to enjoy the incredible quality of the hi-res JPEG. Coming soon: An instructional video: Your JPEGs Do Not Have to Suck.
Clockwise from upper left back around to the center: spoonbill with mangrove background; spoonbill head and shoulders portrait; spoonbill braking to land; spoonbill dramatic landing pose; adult Black-crowned Night-Heron; spoonbill with nesting material; Great Egret returning to nest; incoming spoonbill; and Limpkin landing.
Stick Marsh IPT: #1: WED 9 March thru the morning of SUN 13 March 2022: $2,499.00. (Limit 6 photographers)

Stick Marsh IPT #2: MON 14 March thru the morning of FRI 18 March 2022: $2499.00 (Limit 6 photographers)
Do both IPTs back to back and enjoy a $300 discount: protect your travel and time investments against bad weather by signing up for both IPTs for $4698.00.
Stick Marsh, where the living is easy. Photograph incoming Roseate Spoonbills in flight at point blank range with intermediate telephoto zoom lenses. This year I will be trying the new Sony 70-200mm f/2.8 lens, often with the 1.4X TC. Longer lenses either on a tripod or hand held are best for the green background stuff. There will be endless flight photography opportunities with a variety of species; in addition to the spoonbills, we should have some excellent chances on Limpkin, Great Egret, Cattle Egret, Great Blue Heron, Little Blue Heron, Double-created Cormorant, Anhinga, Black and Turkey Vultures, and more. Folks with 500 and 600mm f/4 lenses will have lots of opportunities to hone their skills working on a tripod or hand holding.
There will be five morning photo sessions averaging four hours. We start in the pre-dawn. The first four morning sessions will be followed by a working brunch. The cost of brunch is included. There will be two after-brunch photo-sessions on sunny days (averaging about an hour) to try for bathing spoonbills, usually centered around 1:30pm. There will be one after-brunch photo critique session (probably on DAY 3). And there will be one Image Processing session after brunch.
We will be based in or near Vero Beach. The deposit is $799.00. Call Jim at the office any weekday at 863-692-0906 to pay by credit card. Balances must be paid by check.
What You Will Learn on a Stick Marsh IPT
1- You will learn the basics and fine points of digital exposure. Nikon and Canon folks will learn to get the right exposure every time after making a single test exposure, and SONY folks will learn to use Zebras so that they can be sure of making excellent exposures before pressing the shutter button..
2- You will learn to work in Manual exposure mode even if you are scared of it.
3- You will surely learn to evaluate wind and sky conditions and understand how they affect bird photography.
4- You will learn the pro secrets that will help you to become a better flight photographer.
5- You will learn to zoom out in advance (because the birds are so close!) 🙂
6- You will learn how to approach free and wild birds without disturbing them.
7- You will learn to spot the good and the great situations.
8- You will learn to understand and predict bird behavior.
9- You will learn to design pleasing images by mastering your camera's AF system.
10- You will learn to choose the best perspective.
11- You will learn to see and control your backgrounds.
12- You will learn to see and understand the light.
12- You will learn to see and create pleasing blurs in pre-dawn situations.
12- You will learn to be ready for the most likely event at all times.
And the best news is that you will be able to take everything you learn home with you so that you will be a better photographer wherever you are and whenever you photograph.
Travel Insurance
Travel insurance for both big international trips and US-based IPTs is highly recommended as we never know what life has in store for us. I strongly recommend that you purchase quality travel insurance. Travel Insurance Services offers a variety of plans and options. Included with the Elite Option or available as an upgrade to the Basic & Plus Options you can also purchase Cancel for Any Reason Coverage that expands the list of reasons for your canceling to include things such as sudden work or family obligation and even a simple change of mind. My family and I use and depend on the great policies offered by TIS whenever we travel. You can learn more here: Travel Insurance Services. Do note that many plans require that you purchase your travel insurance within 14 days of our cashing your deposit check or running your credit card. Whenever purchasing travel insurance, be sure to read the fine print carefully even when dealing with reputable firms like TSI.
Brand New and As-Good-As-Ever Bedfords BAA Discount Policy
Folks who have fallen in love with Bedfords can now use the BIRDSASART coupon code at checkout to enjoy a post-purchase, 3% off-statement credit (excluding taxes and shipping charges) on orders paid with a credit card. The 3% credit will be refunded to the card you used for your purchase. Be sure, also, to check the box for free shipping to enjoy free Second Day Air Fed-Ex. This offer does not apply to purchases of Classes, Gift Cards, and any prior purchases.

Money Saving Reminder
Many have learned that if you need a hot photo item that is out of stock at B&H and would like to enjoy getting 3% back on your credit card along with free 2nd Day Air Fed-Ex Air shipping, your best bet is to click here, place an order with Bedfords, and enter the coupon code BIRDSASART at checkout. If an item is out of stock, contact Steve Elkins via e-mail or on his cell phone at (479) 381-2592 (Central time). Be sure to mention the BIRDSASART coupon code and check the box for Free Shipping. That will automatically upgrade to free 2nd Day Air Fed-Ex. Steve has been great at getting folks the hot items that are out of stock at B&H and everywhere else. The wait lists at the big stores can be a year or longer for the hard to get items. Steve will surely get you your gear long before that. For the past year, he has been helping BAA Blog folks get their hands on items like the SONY a 1, the SONY 200-600 G OSS lens, the Canon EOS R5, the Canon RF 100-500mm lens, and the Nikon 500mm PF. Steve is personable, helpful, and eager-to-please.
Important Note
As an Amazon Associate, I earn a small percentage when you purchase from Amazon after using any of the links on the blog (including the logo-link immediately above). My link works with Amazon Prime and using it will not cost you a single cent. Huge thanks, BTW 🙂
Please Remember Also
Please, if you enjoy and learn from the blog, remember to use one of my two affiliate programs when purchasing new gear. Doing so just might make it possible for me to avoid having to try to get a job as a Walmart greeter and will not cost you a single penny more. And if you use Bedfords and remember to enter the BIRDSASART code at checkout, you will (still!) save 3% on every order and enjoy free second-day air shipping. In these crazy times — I lost about fifty thousand dollars in income due to COVID 19 — remembering to use my B&H link or to shop at Bedfords will help me out a ton and be greatly appreciated. Overseas folks who cannot order from the US because of import fees, duties, and taxes, are invited to help out by clicking here to leave a blog thank you gift if they see fit.
Gear Questions and Advice
Too many folks attending BAA IPTs and dozens of photographers whom I see in the field and on BPN, are–out of ignorance–using the wrong gear, especially when it comes to tripods and more especially, tripod heads… Please know that I am always glad to answer your gear questions via e-mail.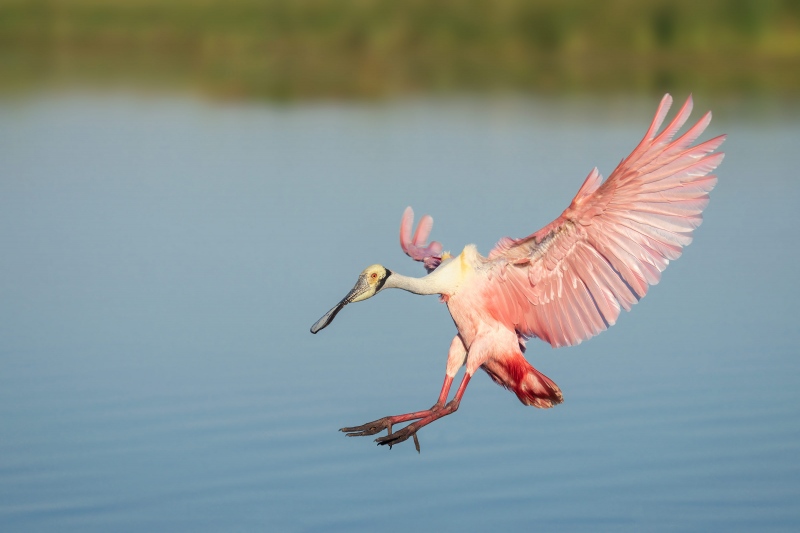 I created this image on 24 March 2021 at Stick Marsh. While standing, I used the hand held Sony FE 200-600mm f/5.6-6.3 G OSS lens (at 264mm) and The One, the Sony Alpha 1 Mirrorless digital camera. ISO 800. Exposure determined via Zebras with ISO on the rear dial: 1/3200 sec. at f/6.3 (wide open) in Manual mode. RawDigger showed that this image was about 1/3 stop under. AWB at 8:39am on a sunny morning.
Zone AF-C Bird/Eye Detection AF was active at the moment exposure and worked just fine. Be sure to click on the image to enjoy the hi-res version.
Image #1: Roseate Spoonbill incoming flight
Your browser does not support iFrame.
264mm? You've Got to Be Kidding Me!
Yes. On the Stick Marsh IPT I advise folks to zoom to about 300mm for the incoming spoonbills. Most mornings, there is tons of action. Some folks need to quit because their arms are to tired to lift their lenses. Do consider flying or driving and joining me for one or both of the IPTs.
The Image Clean-up
Removing the extraneous spoonbill head and the little brown thing at the bottom of the frame was child's play for the Patch Tool. Eliminating the bit of floating vegetation that merged with the bird's legs? No so much. I made a careful selection of the legs with the Magnetic Lasso, feathered the selection one pixel, and placed the selection on its own layer. Then I turned off the visibility for that layer (by clicking on the Eyeball icon) and worked on the layer below. I used the Clone Stamp Tool with impunity and cloned away the unwanted vegetation without worrying about cloning right over the legs. That done, I simply turned on the visibility of the leg layer and voila, perfection was achieved.
Saving the Whites
Notice the toned down whites on the neck in the after version. I used my two favorite techniques to bring up the detail. I am working on the Spoonbill Saving the WHITEs Video from the blog post here. (Bart: thanks for your patience.) If you would like to purchase a copy of that video, please send a PayPal for $37.00 to us at birdsasart@verizon.net and be sure to include the words Spoonbill Saving the Whites Video somewhere in the PayPal e-mail.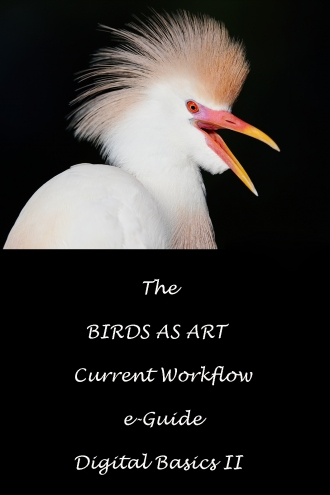 The BIRDS AS ART Current Workflow e-Guide (Digital Basics II).
You can order your copy from the BAA Online Store here, by sending a PayPal for $40 here, or by calling Jim or Jennifer weekdays at 863-692-0906 with your credit card in hand. Be sure to specify Digital Basics II.
The BIRDS AS ART Current Workflow e-Guide (Digital Basics II)
The Eye Doctor and clean-up techniques mentioned above and tons more great Photoshop tips and techniques — along with all of my personalized Keyboard Shortcuts — are covered in detail in the BIRDS AS ART Current Workflow e-Guide (Digital Basics II), an instructional PDF that is sent via e-mail. Learn more and check out the free excerpt in the blog post here. While the new e-Guide reflects my MacBook Pro/Photo Mechanic/DPP 4/Photoshop workflow, folks using a PC and/or BreezeBrowser will also benefit greatly by studying the material on DB II. Note: folks working on a PC and/or those who do not want to miss anything Photoshop may wish to purchase the original Digital Basics along with DB II while saving $15 by clicking here to buy the DB Bundle.
Folks who learn well by following along rather than by reading can check out the complete collection of MP 4 Photoshop Tutorial Videos by clicking here. Note: all of the videos are now priced at an amazingly low $5.00 each.
You can learn how and why I converted all of my Canon digital RAW files in DPP 4 in the DPP 4 RAW Conversion Guide here. More recently, I became proficient at converting my Nikon RAW (NEF) files in Adobe Camera Raw. About two years ago I began converting my Nikon and Sony RAW files in Capture One Pro 12 and continue to do so today.
You can learn more about Capture One in the Capture One Pro 12 Simplified MP4 Video here. The next step would be to get a copy of Arash Hazeghi's "The Nikon Photographers' Guide to Phase One Capture One Pro e-Guide" in the blog post here.
You can learn advanced Quick Masking and advanced Layer Masking techniques in APTATS I & II. You can save $15 by purchasing the pair.
SONY Alpha 1 Bodies in Stock at Bedfords!
Bedfords still has a very few SONY Alpha 1 bodies in stock. Order yours, save 3% by using the BIRDS AS ART discount code at checkout, enjoy free second day air Fed-Ex, and earn free entry into the BIRDS AS ART Sony Alpha a1 Set-up and Info Notes Group. As part of the attraction, the first e-mail that you will receive includes a .DAT file with my a1 settings and explicit directions on how to load my settings onto your a1; talk about convenience! Wherever you are, and whatever you are doing, I hope that you too have a great day. This blog post took more than two hours to prepare.
SONY Alpha a1 Set-up and Info Group
The SONY Alpha a1 Set-up and Info Group is going great guns as more and more folks chime in with thoughtful questions and experience-based answers. As the a1 is becoming more readily available, more and more folks are getting their hands on this amazing body. With another photographer joining yesterday, we are now up to an astounding 99 lucky and blessed folks. Early on, we discussed the myriad AF options. I gave my opinion as to the best one for flight and general bird photography. More recently, we have been in contact with folks at SONY sharing our thoughts, experiences, and frustrations with the EVF blackout problem.
All who purchased their Alpha a1 bodies via a BAA affiliate link will receive a free subscription to the Sony Alpha a1 Set-Up and Info Updates after shooting me their receipts via e-mail. (Note: it may take me several days to confirm B&H orders.) This same service may be purchased by anyone with an a1 body via a $150.00 PayPal sent to birdsasart@verizon.net indicating payment for Alpha a1 Info Updates. Alternatively, folks can call Jim weekdays at 1-863-692-0906 to pay via credit card. New members will receive composite e-mails that summarize all previous discussions.
Typos
With all blog posts, feel free to e-mail or to leave a comment regarding any typos or errors.