Which of Today's Featured Dan Cadieux Images is Your Favorite?
Why?
What's Up?
I walked the pier for a brief photo session before heading into town. And created 796 images. There was a young spoonbill in the marsh but … Then I had two good chances on fly-by juvie Ospreys. That was followed by a nice session with a fishing Green Heron on the short pilings next to the pier. Finally, I worked some ducks and made a few amazing frames of a drake Mottled Duck just after it blasted off.
Today is Thursday 16 June 2022. The forecast for ILE is for partly cloudy early with a gentle southeast breeze. Yup, I will be down by the pier. Wherever you are and whatever you are doing, I hope that you too have a great day. This blog post took about several hours to prepare and makes ninety-three days in a row with a new one.
Please remember to use the B&H and Amazon links that are found on most blog pages and to use the BIRDSASART discount code at checkout when purchasing your new gear from Bedfords to get 3% back on your credit card and enjoy free second-day air FedEx. Please, also, consider joining a BAA IPT. You will be amazed at how much you will learn!
On Never Owning the Very Best Gear
Dan's first Canon outfit was the EOS 7D and the original and much-maligned 100-400. He made many great images. Over time, he upgraded to the EOS 7D Mark II and the 100-400 II. He made many great images. Several years ago he added the 500mm f/4L IS II lens. Using that with the 7D II and often with a 1.4X III TC, he made many great images. All those years, he stuck with his less expensive, often maligned crop factor camera bodies rather than switching to one of the Canon Pro bodies in the EOS 1D series.
In November 2021, Dan went mirrorless with the (full-frame) Canon EOS R6 (rather than with the R5 that cost $1800 more Canadian dollars.) And guess what? Dan continues to create sharp, technically perfect, artistically pleasing images. His great strengths are his superbly artistic eye and his work ethic; when it comes to making great images, he is relentless.
This Image on BPN
You can see what others had to say about Dan's Great Blue Heron attempting to swallow Northern Pike image here in BPN's Avian gallery.
Dan on Dan
Having been born and raised in Ottawa, Canada, I was fortunate to have spent my lifetime (to date) in a big city encompassed by many natural areas within it and many more at very close proximity. Taught early on by my father to respect and appreciate nature I quickly grew a deep fondness to the avian world. Countless walks through neighborhood trails, snaking through forests and following the shores of the Ottawa River permitted me to observe many birds and animals and their behaviors, many of which I now wish were recorded on film. Photography was also always a part big part of our family, with a camera always following us on our endeavors. One day during my early teens I borrowed my father's camera to try to photograph those birds I'd been watching. It was something I would periodically do during the late 80's and early 90's. The photography bug grew steadily bigger, but remained mostly in the back of my mind.
Fast forward to 2004. I impulsively purchased a used Minolta X-700 SLR camera (the same model that dad had) along with a modest 70-300 third party telephoto lens and started shooting slides. That was it … I was hooked on bird photography! In 2005 I upgraded to the Canon EOS dSLR system. – proud father of two boys and two girls. I started with the Rebel XT, and then moved up to the Canon 40D. In November 2021, I purchased myfirst Canon mirrorless body, the EOS R6.
Marrying photography and birding together has been the ideal way of bringing my hobby into my home…and also to you via this website, dancadphotography.com. Although primarily a bird photographer, I have also taken a keen interest in photographing other aspects of nature from mammal to amphibians and reptiles to flora and the occasional landscape.
artie on Dan
Dan Cadieux, a Canadian federal government employee, lives with his wife Chantal in Ottawa Canada. He is the proud father of two boys and two girls and is an avid bird/nature photographer in his free time. He is a skilled, hard-working Super-Moderator in the Avian Forum at Bird Photographers.Net.
As of 5:27am on 16 June 2022, Dan has started threads and posted comments totaling 25,768. Most of the started threads include one of his great images posted for critiquing. In most of the comments, he is critiquing the work of others telling them what he likes, what he does not like, and offering suggestions for improvement. He is an invaluable member of the BPN staff.
The first post I did on Dan and his affordable camera gear was published in 2012. It is entitled How Dan Cadieux Masters Canon EOS 7D Image Files. With more than 60 comments, it remains one of the most popular blog posts ever. You can see read it here. The next was Dan Cadieux's ISO 800 and Higher Canon EOS 7D Mark II Gallery–Part I. I've done several additional blog posts featuring Dan's work. You can find more of those by typing "Dan Cadieux" into the little white box near the top right of each blog post page.
Can Images of Static Birds Take Your Breath Away?
Some folks dismiss all images that do not depict birds doing something interesting. They consider only photos that show interesting bird behavior or birds in flight or in action to be worth their while. I am the polar opposite of that. When I saw this image here on BPN, my jaw dropped. Here is what I wrote there:
Hey Daniel, I am envious as heck. This bird has eluded me for 46 years. The image is beyond stunning — the soft light, the complete reflection, the super-low perspective, the two-toned black hood, and the drop dead gorgeous bird leave me with my jaw hanging down. It is likely that most folks here (aside from Dorian), do not realize how rare this bird is. The head angle, the processing, and the placement of the bird are all perfect for me. I would not change a single pixel.
a
ps: I keep scrolling up to see it again and again.
Thanks, Dan!
Huge thanks to Dan for once again allowing me to share the artistic fruits of his labor with you in this blog post. I urge you to check out more of Dan's images by following the links below. Remember that one way to improve you own nature photography is to look at as many great images as you can. The BPN motto is Honest critiques done gently; it ain't just birds! And like me, it is not just birds with Daniel Cadieux. His small mammal image will either put a smile on your face or leave you in awe. He creates beautiful landscapes (often with a long lens), and he is a superb flower photographer.
You can see more of Dan's great work on his website here, on his blog here, at his Instagram page here, and in his galleries here. And while doing the research for this article I learned that Dan is prolific on Facebook. He already has posted a zillion R6 images on his FB page here.
Dan on the R5/R6 Guide
Thanks for sending the R5/R6 guide. Mirrorless is a whole new beast and I found the guide very helpful. Your method of changing switching AF methods is along worth the price of the guide. It is so much faster, easier, and more efficient than having to use the awkward M-Fn button that it is not even funny! So, thanks again.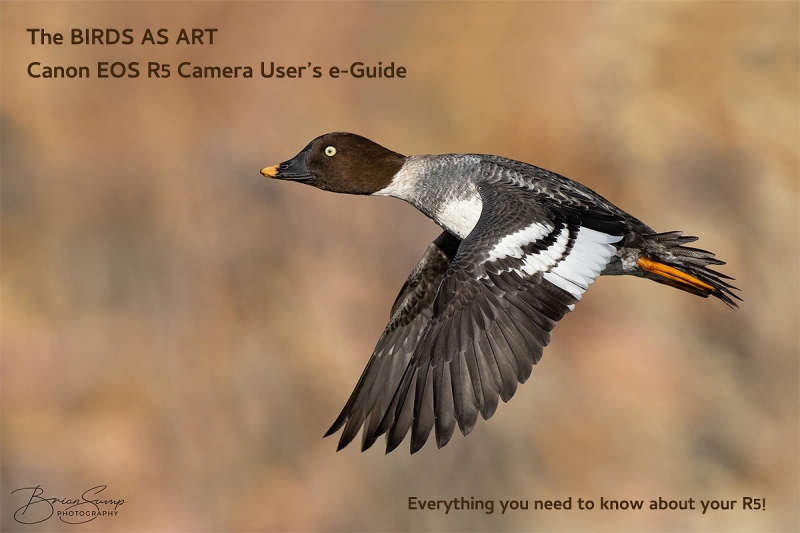 Cover Image courtesy of and Copyright 2021 Brian Sump (Sump scores!)
The BIRDS AS ART Canon EOS R5/R6 Camera User's e-Guide: $75.00
Purchase your RF body and or lenses using either my B&H links or from Bedfords, using the BIRDSASART code at checkout, and enjoy a discount on this great guide. You'll earn a $1 discount for very $10 you spend.
The guide is 82 pages long: 21,458 words. There are more than 50 DPP 4 Autofocus-depicting screen captures. And a 31 minute 44 second educational video. This guide took three and a half months of hard work and a ton of help from at least seventeen very helpful and generous folks.
The guide covers — in great detail — all Menu Items that are relevant to bird, nature, and wildlife photography. It does not cover video. The section on AF methods and the AF Gallery has been expanded from the R5/R6 AF e-guide. It remains the one of the great strengths of this guide. I share my thoughts on what I am sure is the single best AF Method for photographing birds in flight. As most of you know, the guide includes a simple and easy way to change AF Methods that was introduced to me by Geoff Newhouse. In the AF Gallery you will see exactly how Face Detection plus Tracking AF works. In the Educational R5 Gallery video, I share my favorite R5 images along with dozens of bird photography tips and techniques.
In addition, I teach you how to get the best exposures with your R5. Detailed instructions on using the great In-camera HDR and Multiple Exposure features will be appreciated by creative folks who like to have fun. The three shutter modes are explained in detail as well. Bruce Dudek solved the can't-get-to-Auto ISO problem that had stumped everyone at Canon. This information is of course shared in the guide. You will learn how to set up your EVF (Electronic Viewfinder) and Screen toggle options. Not to mention that the mysterious performance of the Q Button is revealed and simplified. Brian Sump's images reveal how well you can do when using the R5 with EF lenses using one of the three Canon EF-EOS R Mount Adapters (as Donna did with Image #1 below). You will learn how I use Customize Dials to put either ISO or EC on the Thumb Dial and how to set up and save Custom Shooting Modes (C1-C3) that can remember both your Customize Dial and Customize Button settings! That is something that none of the SONY bodies do. 🙁 Near the end of the guide I share my all-important MY MENU items with you.
Like all BAA educational materials, the R5 guide is written in my informal, easy-to-follow style. I am quite proud of this guide and look forward to hearing your thoughts on our hard work.
You can purchase your copy of the BIRDS AS ART Canon EOS R5 Camera User's e-Guide for $75.00 here in the BAA Online Store or by calling Jim in the office weekday afternoons at 863-692-0906 with your credit card in hand.
Typos
With all blog posts, feel free to e-mail or to leave a comment regarding any typos or errors.